Many of us might not be familiar with PDF Audio Reader. It is infact a text to audio program that allows you to read your PDF text out load. Here we would like to introduce you to several famous PDF audio reader for Mac, Windows, iPhone/iPad and Android. And you can learn how to choose the best PDF voice reader to read out loud PDF text.
Part 1: What is PDF Audio Reader?
Before we define what a PDF Audio Reader is, we must differentiate it from a PDF Reader, the two terms confuse both people and search engines alike. A PDF Reader is simply a software or program that is used to open, or, sometimes in the case of reader/writers, edit and create PDF files. A PDF Audio Reader on the other hand is a text to speech software (TTS). Its primary purpose is to convert text into audio, in other words, it reads text out loud.
Most PDF Audio Readers have the capability to read not just PDF files but also word, web (HTML), Kindle and other text file formats. Initially the software was created to assist the visually impaired, but now people with normal eyesight also take advantage of the software. Mostly these users are trying to avoid eyestrain like in the case of writers proofreading their own work. They use TTS software to read their work back to them so they can take a little break from staring at the computer screen. Other applications, usually in mobile devices like smartphones and tablets TTS Apps are used to convert important text messages and or emails to speech when the user is doing something that would occupy both the hands and the eyes like when driving for example. Others, simply like to relax and listen to the audio conversion of an e-book or long article instead of exert the effort of actually reading the text.
---
Part 2: Top 5 PDF Audio Reader for Mac
#1: Text2Speech
Text2Speech is a PDF Audio Reader that can be used with Mac. It is downloadable from the (Apple) App Store and for additional features you can purchase or upgrade your version into the paid version Text2Speech Pro. This TTS comes with 10 voices, but if you are running OS X Lion 10.7, it gives you the option of downloading additional voices from iTunes. Macs running OS X Lion can also download upgrades to support 26 additional languages. Text2Speech also has a Windows version.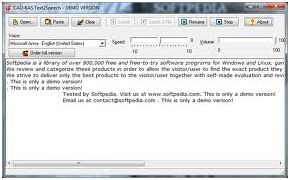 ---
#2: Voice Dream
Voice Dream is overflowing with features but despite that, it comes with a clean user-friendly interface. Some of the features of this TTS that stand out include its having 37 built in voices and the capability to purchase in app hundreds of additional voices from third party vendors Ivona, Acapela and Neo Speech, prices range from $2.00 to $5.00. Other noteworthy features include its ability to remember where your last session ended when reading long materials like e-books and making a playlist to queue short reading materials like articles. Voice Dream also has a sleep timer you can use when you want it to tuck you in and read you a bedtime story. There are more unique features in this PDF Audio Reader that you might like to check out on their website.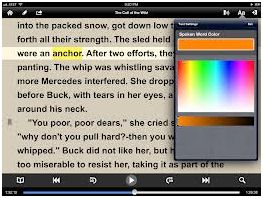 #3: TextSpeech Pro
TextSpeech Pro is not software. It can be purchased for $29.99. TextSpeech uses all Apple and Cepstral voices. As can be expected from a paid software TextSpeech Pro uses high quality voices and you have the option of downloading more voices. There are more features available if you purchase the more expensive De Lux version. TextSpeech Pro in total is a very good PDF Audio Reader, the only downside to this is its price.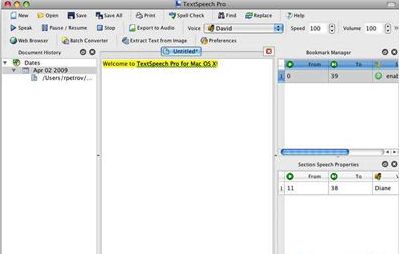 ---
#4: Toau for Mac
Toau is a light PDF Audio Reader for Mac that is light at 2.21 MB and thus is quite fast to download. There is no need to install the software and according user reviews has the fastest conversion time observed, there is very little processing lag, between the time the text is loaded to the time it is converted to speech. Toau though cannot download its own voices, it uses the default voice on your Mac so if you want it to change voices you need to do the download and the change through your Mac's system preferences and change the System Voice there. All in all though, Toau exceeds the expectation from software its size. Toau is compatible with Mac OSX 10.7 or later.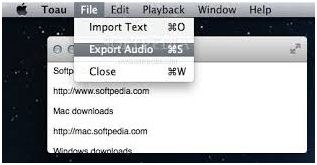 ---
#5: GhostReader
GhostReader is the Mac version of the PDF Audio Reader. It has almost the same features as its Windows counterpart, which includes bookmarkable audiobooks from your converted PDF e-books, a feature not found on the converted files of other converters. The downside of this software is that it can be a bit expensive and the additional voices are although to compensate, a newly purchased Ghost reader can have as much as 20 license credits to purchase additional voices.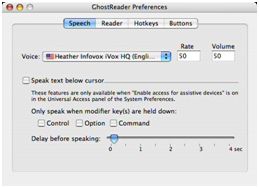 ---
Part 3: Top 5 PDF Audio Reader for Windows
1#: Natural Reader
The Natural Reader is a download Text to Speech software available in both Windows and Mac versions and also offers a paid version with additional features. This software allows you to control the reading speed and lets you customize the voices from a set of choices. This version only has one female voice; the paid version has more voice choices and the option of saving the converted text as MP3, WAV, WMA and other audio file types. Natural Reader can open and convert Word, PDF, PowerPoint, and more and if the file is in an unsupported format you can always copy and paste the text onto the text area and the software can convert it from there. I have tried Natural reader though, and I noticed that it converts text in segments and during the transition between segments the words tend to get either mumbled or skipped.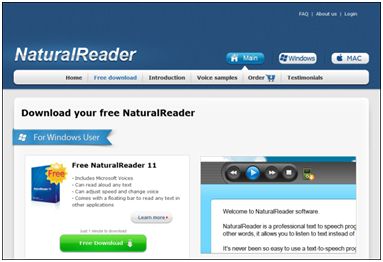 ---
2#: Balabolka
Balabolka is Windows based PDF voice reader, and since it utilizes Windows components, is not designed to work on a Mac. It utilizes Microsoft Speech API4 files to synthesize speech. Microsoft SAPI is usually bundled with Windows but if not it can easily be downloaded. Balabolka is capable of reading PDF, DOC, RTF, HTML and more. For unsupported formats, you can still copy paste the text directly on the Balabolka window. It saves the converted file in a variety of formats including MP3, WAV, WMA and others. Balabolka also highly customizable, you can change skins and it has the ability to download more voices from the internet, some for sale but many downloadable voices for Balabolka.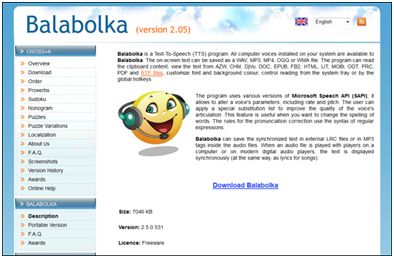 ---
3#: Deskbot
Deskbot is another Windows based application. Deskbot is capable of reading from the clipboard so all you have to do is highlight the text you want it to read and press Ctrl+C (copy) and Deskbot will read it for you. Another convenience this software has is the "Read with Deskbot" item on the browser context menu when you right click on a webpage, just choose it and Deskbot will read the contents of the page.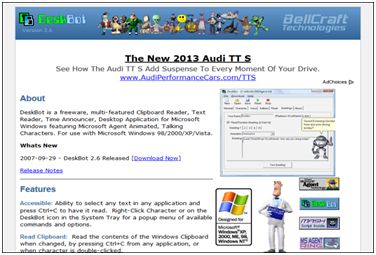 ---
4#: Dspeech
Dspeech is also a PDF voice reader for Windows that has all the standard reading and saving capabilities of top Text to Speech converters and more, its support goes all the way to giving you links to where you can download additional voices or where you can purchase them if you want to. Dspeech also utilizes SAPI and other Windows components so it is light to download. What makes this unique is that it has the capability to reverse the process; it has a voice recognition function where it can convert the user's captured voice into text. Dspeech also has an open source Multilanguage upgrade where you can download additional code to enable it properly read other languages including German, French, Japanese and Chinese among others, you can visit their website for the complete list. My only issue with Dspeech is that it has conversion speed issues and it sometimes cannot tell between homographs, I've noticed it says "red" for the word "read" in both present and past tense.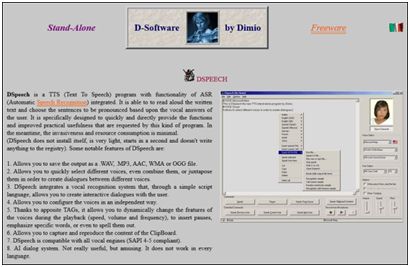 ---
5#: Ultra HAL TTS Reader
Ultra HAL comes on top not because of its high tech features but because of its simplicity. It boasts a simple and clean, user-friendly interface. It reads text either typed or pasted on its window and saves in WAV audio format. Not a lot of bells and whistles on this thing but its simplicity makes it very useful for the visually impaired who needs it the most.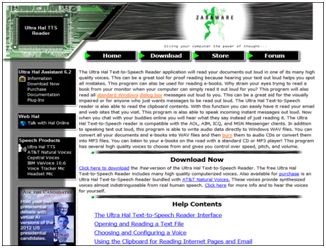 ---
Edit PDF before Reading the PDF out Loud with PDFelement Pro
If you work with PDF file most time, you might need to do some changes on the PDF text before turning it to audio. If so PDFelement Pro is the best helper for you. This PDF editor allows you to edit any text, pages, graphics and more in a PDF. You can also convert and share PDF if needed. Its OCR feature enables you to work on scanned PDF with ease. There are also secure options let you protect your PDF files.
Why Choose This PDF Editor:
Edit the text, images, links in your PDF easily.
Combine multiple files into PDF and split PDF into several files.
Convert PDF to Word, Excel and more formats and batch convert multiple PDFs.
Create PDF from other formats and create PDF forms easily.
Advanced OCR tool helps you to edit and convert scanned PDF files with ease.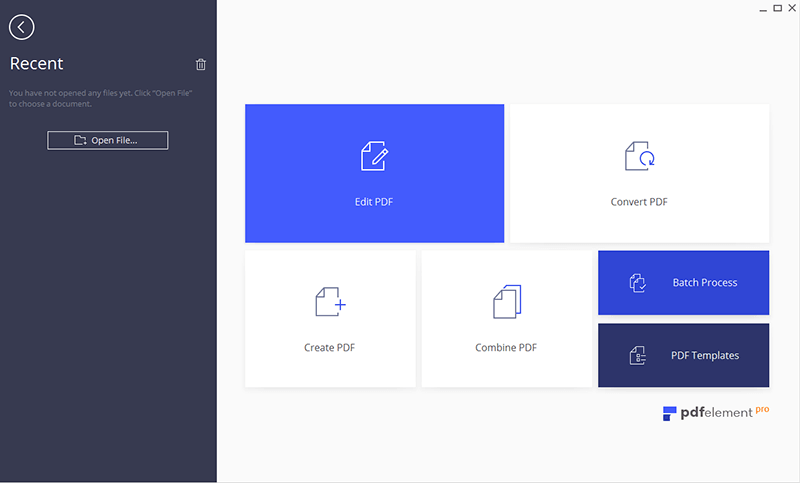 ---
Part 4: Top 5 PDF Audio Reader for Android
#1: Ivona Text To Speech HQ
Ivona is a Text to Speech app with a very good voice quality and a very big variety of voices to choose from, Ivona's voice packets could even be used on compatible TTS Apps and amazingly, they are downloaded both the app and its voice upgrades. Ivona is notable for its ability to achieve near natural speech, which could even be customized to user preference. The downside to this is that Ivona uses a bigger data package to achieve this quality and thus takes up a lot of disk space and, would need to download huge data files when adding new voices.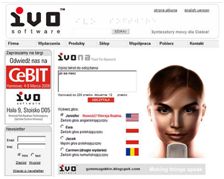 ---
#2: SVOX Classic
SVOX Classic is one of the most used TTS apps on the market. The reason could be its support for a huge number of languages, over forty of them, and a variety of voices as well. That is almost twice the number of languages that other TTS apps offer.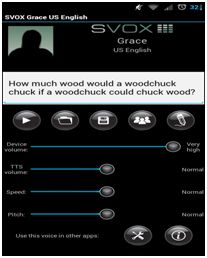 ---
#3: Loquendo TTS
Loquendo only offers one voice, Susan, but she is by far one of the quirkiest voices around. When reading posts, especially on social networks, this voice reads out emoticons by giving their equivalent sounds like laughing, crying, sighing, and a variety more sounds, this feature is unique to Loquendo. It does not seem to justify the app's high price though, considering that it has problems with reading long files like long articles and e-books.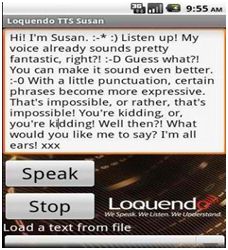 ---
#4: SVOX Pico
SVOX Pico is the version of SVOX and is often bundled in with the purchase of an Android device. The TTS is pretty functional but it has one of the most robotic sounding voices around, which leads us to think that it could be a move by SVOX to try and persuade a user to upgrade to SVOX classic which offers additional paid voices.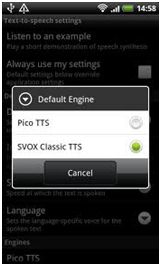 ---
#5: CereProc
CereProc is another playful Android TTS app. It has the functionality and voices common to other TTS apps but it has additional animal voices offered like, dog, pig, dodo etc. Although these voices are pretty incomprehensible, you can always use them to amuse yourself and your friends. The downside with CereProc is its playful nature, it doesn't seem like a serious business software.
---
Part 5: Top 5 PDF Audio Reader for iPad/iPhone
1#: Voice Dream for iOS
Voice Dream for iOS is a lighter version of Voice Dream for Mac, despite being light it is still packed full of features like its full sized big brother and still boasts of the same clean and easy to use interface. Some of its notable features include bookmarking for long documents and note taking capabilities. Unlike the Mac version though, it does not have the copy/paste option (Clipboard read) for unsupported formats. Voice Dream is optimized for both the iPhone and the iPad.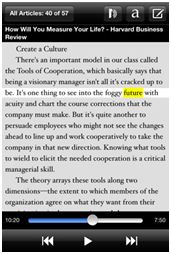 ---
2#: Voice Reader Text to Speech
Voice Reader probably has the best quality and most professional sounding voice around when it comes to TTS Apps for iOS. The app comes with 32 voices and supports 21 languages and is capable of multitasking, this means that you can listen to it translate a text document while doing something else on your phone or tablet. Voice Reader is optimized to handle online text like emails, RSS Feeds, social network posts and more. Voice Reader Text to Speech is supported by both the iPhone and the iPad.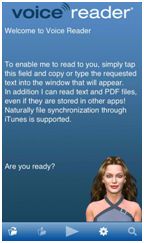 ---
3#: Speech Magnet
Speech Magnet has some of the characteristics of the Mac TTS software; it has clipboard reading capabilities. This means that you can copy the text you want Speech Magnet to read and then launch the app, there is no need to paste because the app directly reads from the clipboard. Speech Magnet also has auto start capabilities meaning it starts reading the moment the app is launched, it can also be run in the background. Speech Magnet is a simple yet powerful tool, unfortunately, it is only supported by iPhone but not on the iPad.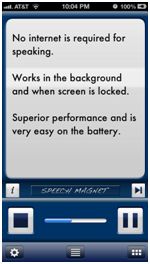 ---
4#: Voice Brief
Voice Brief Text to Speech app that is described as a voice assistant app developed for iPhone. As a TTS app, it has special features like having four high quality voices to choose from, customizable content and multitasking, the app has additional features more often associated with virtual assistant apps than with a TTS app. These fetures include a background listing option, an alarm clock, and a built in browser.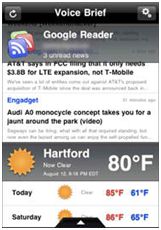 ---
5#: Web Reader
The Web Reader app is an iPhone TTS app optimized for reading web content like web pages, emails, blog and social network posts, and similar text files online. Standout features of Web Reader include its image-blocking feature to allow written content to load faster and auto speaking from background when multitasking. Web reader also works well with local sync apps like Dropbox. The downside with this App is that it is an iPhone only app and its features are more focused on the online functions than offline.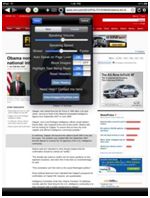 ---
Create PDF for PDF Audio Reader - iSkysoft PDF Creator
The above mentioned PDF audio reader is great. But what if your files are not in PDf format but in Microsoft Office format? No worry! iSkysoft PDF Creator for Mac (or PDFelement Pro for Windows) allows you to convert Word, Excel and PPT to PDF. View more features:
Create PDF from DOC, DOCX, XLS, XLSX, PPT, and PPTX.
Batch convert Microsoft Office files to PDFs in one time.
Make high quality PDF files with original formatting.