Most people cannot read PDF files easily. You have to download a PDF reader program yourself so that you can open and read a PDF. Search from the internet, you will find Cute PDF Reader. It is a free PDF reader but comes with many limitations. So here, we will share tips on how to use Cute PDF Reader to read PDF files without hassle. We also introduce you to a good alternative: PDFelement Pro.
Part 1: The Best Cute PDF Reader Alternative
Cute PDF readers do not provide text editing options, which makes your PDF reading experience uncomfortable if you need some modifications or annotations on the document. Here I highly recommend you to skip to the best alternative to Cute PDF reader - PDFelement Pro. This PDF reader allows you to read PDF with tools like zoom in, zoom out, move tool and more. What's more, you can easily edit or add texts, images, links and other elements to PDF.
Why Choose This PDF Editor:
Easily edit elements like texts, images, graphics, links, watermarks, and more.
Convert PDF to Word and create PDF from any other format.
Annotate or mark up PDF with multiple PDF annotation tools.
Combine several PDFs into one or split PDF files.
Fill out PDF or create PDF from many form templates.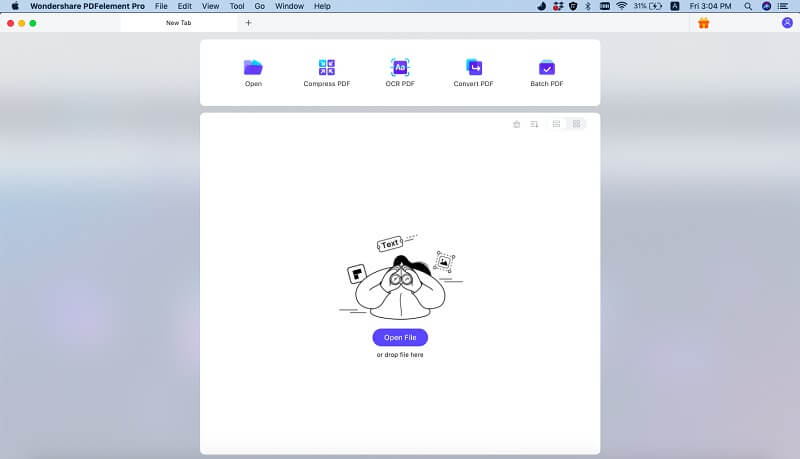 ---
Part 2: How to Read PDF with Cute PDF Reader
Cute PDF Reader is a piece of software that you can download from the official website for free. It allows you to open PDF files on your desktop and read them. Some versions of the software allow you to edit and create PDFs yourself, which is all for free.
There are paid options to the software that will allow you to convert and combine PDFs for a small fee. This is a one-off fee, not a subscription, which makes it more affordable and once you have all the software, they integrate together into one piece of software.
Steps to Read PDF with Cute PDF Reader
Step 1. Cute PDF Reader Download
Cute PDF Reader is a free download, so the first step is to download the program. Just go to cutepdf.com and select the download for your operating system. It will ask you if you want to run or save the download. Choose the option that you want and the program will begin to download
Step 2. Install Cute PDF Reader
Once the download is complete, you just have to double-click the new icon and the setup procedure begins. Accept the agreement that comes with any software and then click install. It should ask you if you want to download the editor as well, which is also a free download, if you want to do that, just follow the steps for the editor.
Step 3. Read PDF with Cute PDF Reader
For reading a PDF, once Cute PDF has been installed, you just have to double-click on the file that you want to read and Cute PDF will automatically open because it is the default reader for PDFs. Besides PDF reading, you also can create PDF from other documents.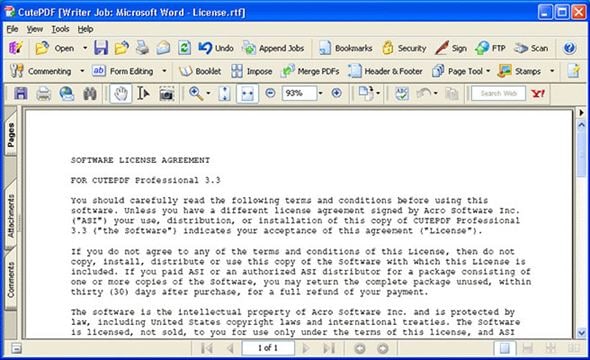 ---
Part 3: Cute PDF Reader Review and Troubleshooting
Cute PDF Reader Pros:
Cute PDF is a free download.
The user interface is very easy to use.
You are able to add hyperlinks to your PDF file.
Cute PDF Reader Cons:
No clear instructions on how to add media such as short videos or sound clips.
There is no text editing.
There isn't much content in the help section of the program.
Troubleshooting on Using Cute PDF Reader
1. PDF pages don't appear in the Cute PDF window
In your Internet Explorer, click options, programs and manage to add –ons. Find Adobe PDF reader and then click disable and enable. Restart the computer and the Cute PDF reader should open the file correctly.
If that doesn't work, there might be a problem with Adobe PDF Reader itself. So, open the program and click repair. Restart your system and Cute PDF should open again.
2. The download box appears when opening a PDF
There is a simple fix for this and it is all to do with the preferences in Adobe. There is no reason to download any file before you open it. Open Adobe Reader, click edit>preferences>Internet. You must make sure that "Display in browser" is checked. Click ok and PDF files will open normally.
3. When printing, the pages appear shrunken
This is a problem with your printer, not with Cute PDF. When you click print properties, make sure that you select none, not shrink to printable area under page scaling.