PDFelement Pro for Mac - Nuance PDF Reader Alternative
Another downside with Nuance PDF reader is that it only supports Windows, but you cannot get Nuance PDF reader for Mac version. Luckily, you are able to find the Nuance PDF reader for Mac alternative like PDFelement Pro. This Nuance PDF reader alternative provides you with many functional PDF viewing tools. And you can get many proper editing features while reading PDF.
Read PDF with zoom in, zoom out, move tool, and more.
Add or delete texts, images, links, watermarks, etc.
Convert PDF to Word with original layout and format.
Combine multiple PDFs and split PDF to several files.
Mark up or annotate PDF with various annotation tools.
Fill out PDF forms and fully control PDF pages.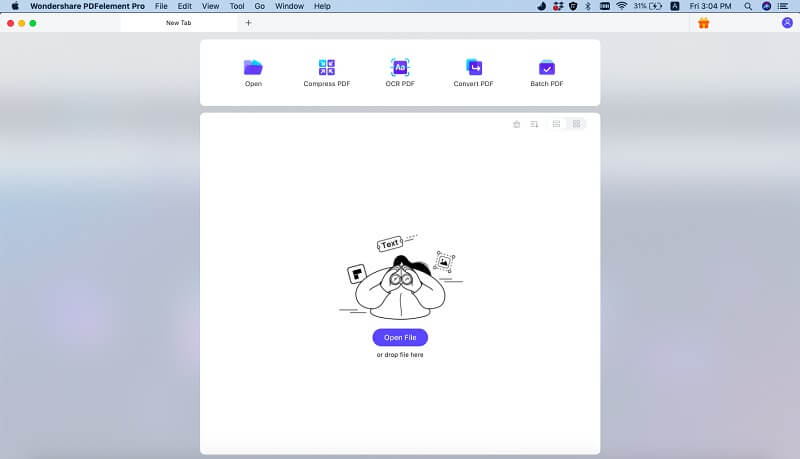 ---
Part 1: What is Nuance PDF Reader?
A lot of people are sick of Adobe Reader because of its constant security problems, long loading times and enormous size. There are many popular alternatives out there. Nuance PDF Reader is another efficient PDF reading software that is both lightweight and fast. For those who don't know, Nuance is the company that also manufactured Dragon Naturally Speaking, a well known voice recognition software. Nuance PDF Reader promises a lot more than just a PDF reader. It also contains multiple features including PDF conversion using an online service, annotation tools and form filling.
Part 2: How to Use Nuance PDF Reader
• Download Nuance PDF Reader
Before you can download the installer, you need to go to their website (http://www.nuance.com) and navigate to their free PDF software page. By clicking on the download button, it takes you to a page where you have to fill out your email address, name and country of origin. Make sure to fill your real email address because download information is sent there.
• Install Nuance PDF Reader
Once you have downloaded the installer, double-click on the icon and follow the onscreen instructions. Read through the license agreement before accepting, fill out the details and program folder location. You then get the option of whether you want to disable javascript. Enabling javascipt will let you enjoy all the features such as form calculations and dropdown lists. However, it can be also be a security risk so it is a fine balance. You then have the ability to set it as the default PDF viewer and choose between US and International English. Installation should be pretty quick and only take a few minutes. You can then choose to register the product if you wish to get information on product updates etc.
• Read PDF with Nuance PDF Reader
Nuance PDF reader is pretty easy to use and has a simple user interface. When you first open up the PDF reader, you will be faced with a blank screen. To open a file, simply click on the open icon or go to file then open. It should also allow you to open PDF files online when you are using your browser. There are to explore the features by reading the documentation or going through the different menus.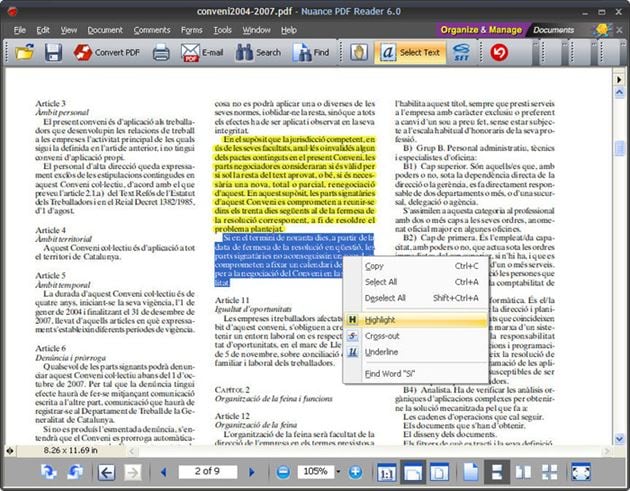 ---
Part 3: Nuance PDF Reader Review and Troubleshooting
Nuance PDF Reader Pros:
Simplistic interface and easy to navigate between different menus and options.
Multiple PDF viewing options including full screen.
Ability to annotate, underline and highlight text on all PDF files.
Links to online convertor if you need to convert PDF files to Word or other formats.
Nuance PDF Reader Cons:
No available tools to properly edit PDF files.
No tabbed interface to allow you to work with multiple documents simultaneously.
Not as much functionality as Adobe Reader X but makes up for it by its small footprint.
Unable to display pages with complex typesetting techniques.
Troubleshooting on Using Nuance PDF Reader
1. I don't know how to convert a file
Nuance PDF reader allows you to send the document to their hosted online convertor with an easy one click process. Just click on file and convert PDF and you would be diverted to their website. Upload the file and you can choose to convert to Word, Excel, RTF or Wordperfect formats. You get notified by email when the converted file is ready.
2. I cannot verify the signature of a file
You need to open the signature panel by clicking on the navigation panel icon and choosing the signature option. You can use this tool to verify the digital signature of a file, although you can't create them per se.
3. I cannot fill in a PDF form
Check that your file's security settings permit you to do this first. If it does support this function, then use the Hand tool and click in the various fields. You should be able to interact with checkboxes, radio buttons and lists without problems.
4. I need to search for something in multiple PDF files
Nuance PDF reader gives you a shortcut by offering you the option to search multiple files in the whole PDF package or a selected folder on your computer. You can copy several files to a temporary folder to initiate the search. For folder searches, you can use extra criteria such as creation date and author by clicking the advanced button.