Do you want to view multiple PDFs at once? Navigating across different files simultaneously is one of the best ways to read through PDF files, especially if you compare or look for specific content. While this is the case, finding the easiest way to do this can prove tricky, especially if you use basic PDF readers. Fortunately, there are plenty of proven ways to view multiple PDF files at the same time. However, you need the right PDF tool to make your work easier. This article takes you through a complete guide on how to open multiple PDF files in the same window.
How to View Multiple PDF Files on Mac
PDFelement Pro for Mac is arguably the best PDF solution tool that you can have on your Mac. This program has plenty of amazing features that make it an unmatchable PDF software. If you want to view multiple PDF documents, PDFelement for Mac gives you a seamless way to add multiple files on the interface and view them simultaneously. Other features of PDFelement include editing, annotating, converting, creating, protecting, compressing, sharing, and unlocking texts on images or PDFs.
Step 1. Upload a PDF File
Begin by running PDFelement on your Mac. When the main window is displayed, head to the top left and click on "Open" button. This action will allow you to upload a PDF file from your local storage. Choose the files you want to upload and open with the program.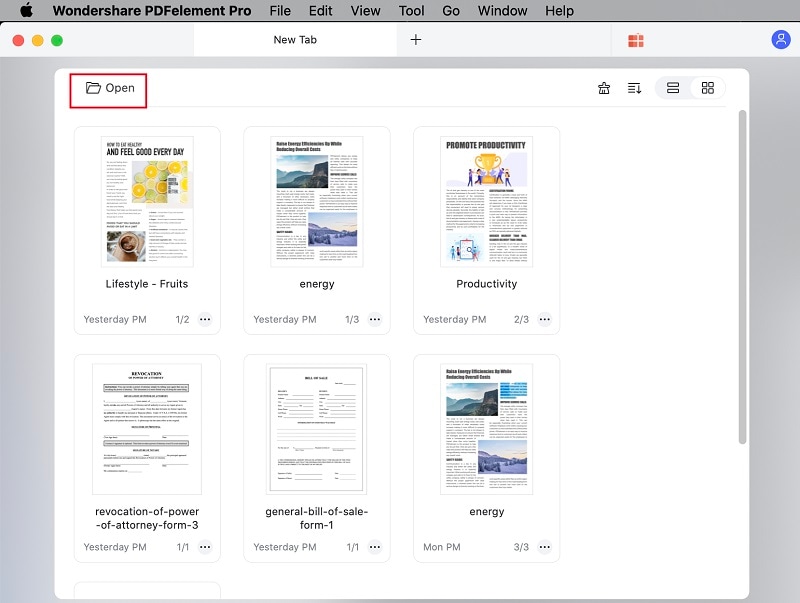 Step 2. Click to Open other PDF Files
With the first file now uploaded, you need to add the multiple files you want to view on PDFelement. Simply click the "+" button on top of the page and follow the on-screen instructions to upload other PDF files onto the PDFelement interface. When all the target files have been uploaded, you can switch the tabs to view each file independently.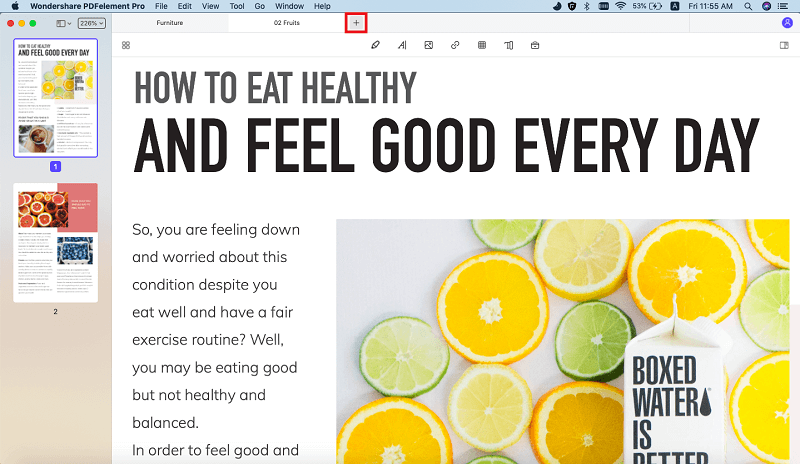 Step 3. Drag out to View Multiple PDF Files
Now that all the target PDF files have been uploaded, you can view them simultaneously instead of switching tabs to view each file. To do this, just select the respective tab and drag it onto the PDFelement interface. Place the PDF on the desired position and release it. Do this for all the other files so that they share the screen.