Converting PDF to grayscale may be necessary if you want to print in grayscale. Another plus to converting PDFs to grayscale is that the file size is compressed and the file can be more easily saved on your device without taking up too much space. Now follow the 2 methods below to convert PDF to black and white.
Method 1. Convert Color PDF to Grayscale with Preview
You can convert a PDF file to grayscale on Mac without needing a seperate application. Before you print your PDF, adjust the settings of the document to modify the color scheme. Preview can be used to convert PDF to gray scale, plus, you can save your grayscale PDF file without needing to go through the steps of printing the document.
Step 1. Open your PDF with Preview
Simply open the file with the Preview app by clicking on "File" and browsing through the directory where the file was saved.
Step 2. Export with Gray Tone
Click 'File' > 'Save As' > Select 'Gray Tone' under the 'Quartz Filter'.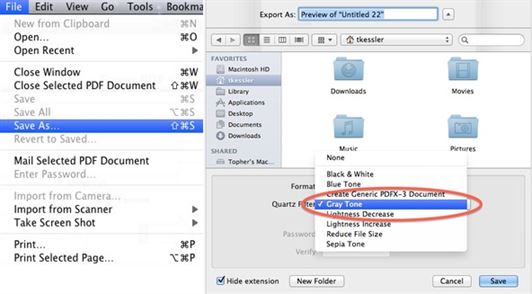 ---
Method 2. Convert a PDF File to Black and White with Adobe® Acrobat®
For Adobe® Acrobat® Pro
Click the 'Advanced' > Select 'Preflight' > 'PDF Fixup' > Click 'Convert to Grayscale' > Then click 'Analyze and Fix'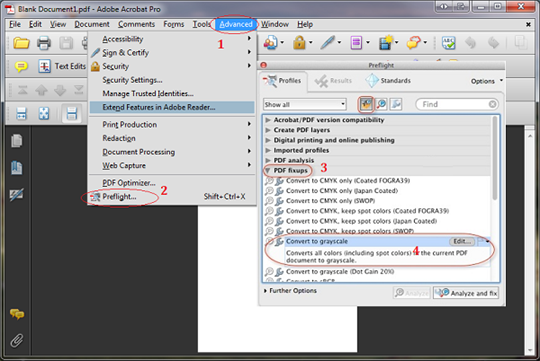 For Older Versions of Adobe® Acrobat®
Click the 'Tool' Panel > Go to 'Print Production' > Select 'Preflight' > 'PDF Fixup' > Click 'Convert to Grayscale' > Then click 'Analyze and Fix'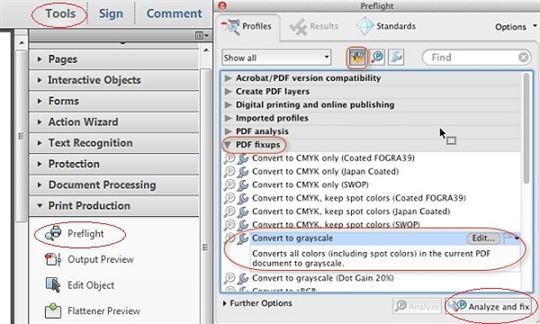 ---
PDFelement Pro - All-in-One PDF Converter & Editor & Creator
PDFelement Pro allows Mac and Windows users to do virtually anything you need to on a Mac device. The program comes with more features that make it an all-in-one solution for all PDF editing and conversion needs. You can change the background color of your PDF files as well.
Key features of PDFelement Pro:
Easily edit PDF files by editing, adding and deleting text. Simply change text color and font, and change the PDF background color.
Without the need of any other program or plug-in, you may convert PDF files to other file types like Word, Excel, PowerPoint, JPEG, BMP and much more.
With the program's powerful feature and design, you can trust that file conversion is done right without the usual distortions and misplaced data.
Aside from that, you can also add passwords to protect the file from being opened or edited. It also allows you to create, add, and fill forms.