You may need to change the font size, style or typeface in a PDF document. To change font in PDF may actual change how it eventually looks. This is especially important when you feel that the original look and feel may not resonate with your readers. This is why you need a great PDF font editor that will allow you to do this with ease. In this article, you will find 2 simple ways to change font in PDF files.
Part 1. The Best PDF Editor to Change Font in PDF
When you want to change the font in PDF files, then PDFelement Pro is your best option. This PDF font editor comes with a wide array of features which make it easy for you to edit the text font in your PDF documents. You do not have to send the document in the original format if it does not please you. Simply change some styles, colors and typefaces and your document will instantly become pleasing to the eye. Once you are happy with your PDF document, you can then add your own security permissions and digital ID to protect your PDF documents.
Guide on How to Change Font in PDF
Step 1. Start PDFelement Pro
After downloading iSkysoft PDF Editor 6 Pro, install it and then launch it to get to the welcome page.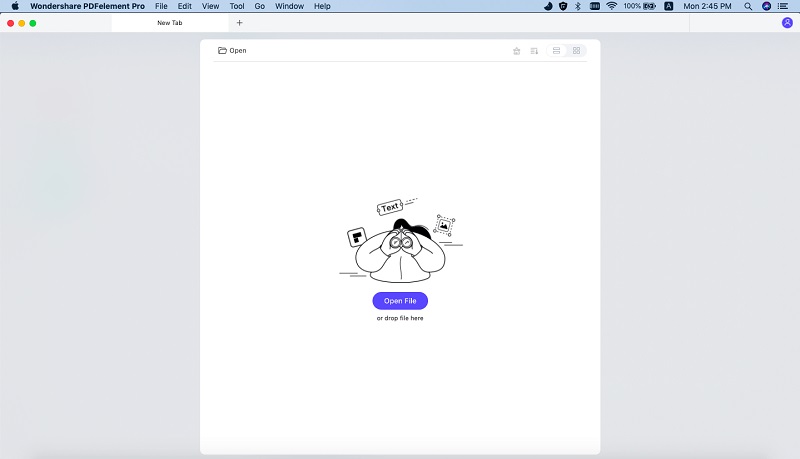 Step 2. Open a PDF File
You may simply drag and drop the PDF file into the welcome page interface or use the "Open File" features and then browse to where the PDF file is located. You will see all the pages properly displayed so you can decide on which one you would like to edit.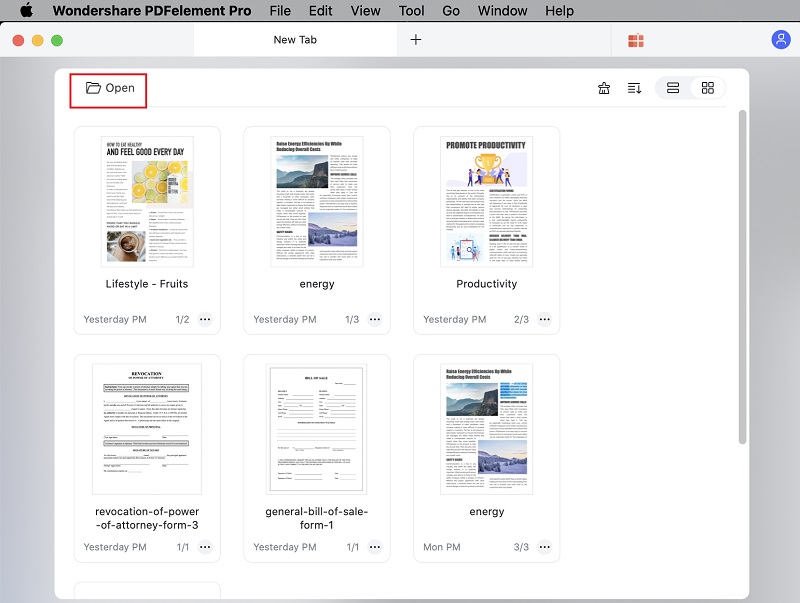 Step 3. Change Font in PDF
Go to the "Edit" feature and you will see several editing features displayed. On the right side of the screen, there is a panel that has all the font editing features that you need.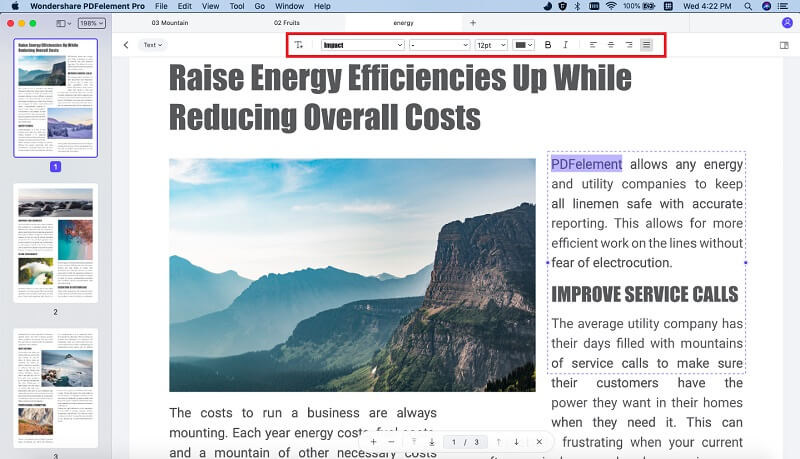 Change PDF Font Size Select the text content using mouse, and then "Text" editing panel will appear on the right side of the main interface. On the panel, you will find the font size drop-down list. Then you can click to change the font size of selected text content.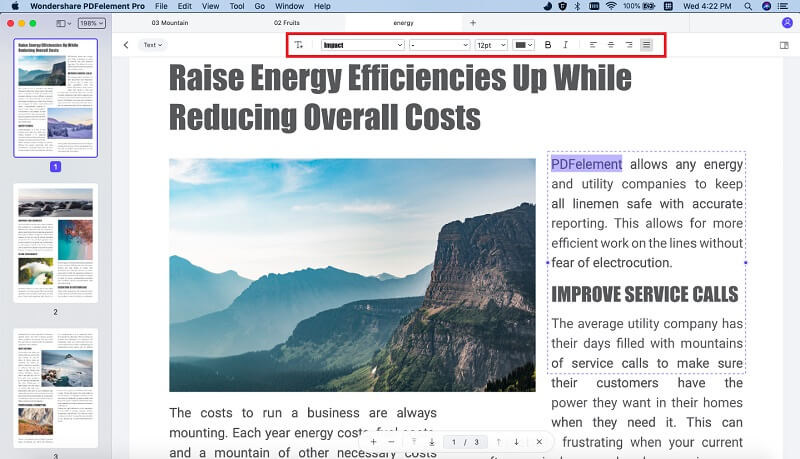 Change PDF Font Style On the right side toolbar, you can also find the access to change the PDF font style. Click on the "Inverted Triangle" icon, you can open the drop-down list with multiple font style. Then you can change the text font to the desired font style.
Change PDF Font Color Select the text and then go to the panel, where you will see several colored oval icons at the bottom, click on the color that you want to select it.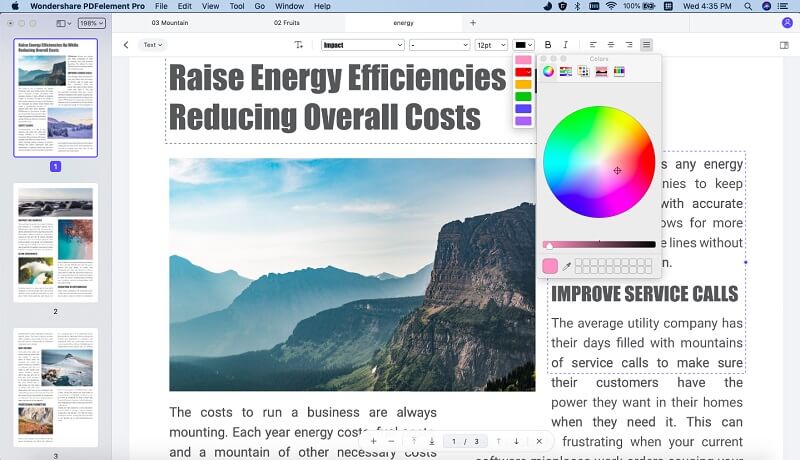 ---
Why Choose PDFelement Pro to Change Font in PDF
The powerful PDF editing features found in PDFelement Pro are comparable to those found in adobe Acrobat. This is the tool that you should use when you want to edit he font of your exiting document. It does so with ease since all the font tools are found in one panel on the right side of the screen. You access the panel when you click on the "Edit" feature and select your desired text. Here are some of the fantastic features of this tool.
Key Features of iSkysoft PDF Editor 6 Pro
Edit PDF Files - Edit PDF texts, images, links, pages and other elements in PDF files easily.
Create and Convert PDF – Exercise your creativity by creating wonderful PDF files from scratch. You may also convert PDF files into other file formats, such as Word, PPT and Excel etc.
Advanced OCR Feature – Using this feature, you can scan printed documents, pass them through OCR and turn scanned PDF into editable text.
PDF Forms – You do not have to look for PDF forms anymore. Simply create your own right from the beginning. You can also easily fill in an interactive and non-interactive PDF form.
Add Digital signature – Protect your intellectual property using a digital signature ID. You may also set the permissions of the PDF document.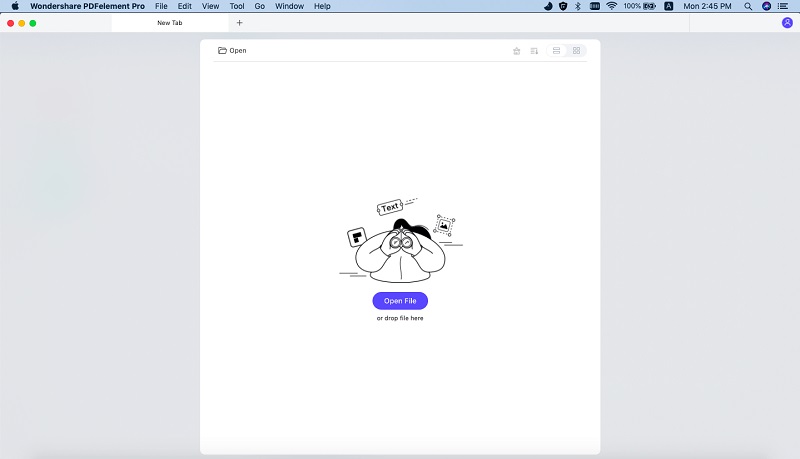 ---
Part 2. How to Edit PDF Font Online
There are several online PDF editing tools that you can use edit PDF font online. In this case, we shall look at PDFBuddy, one of the leading online PDF font editors today. PDFBuddy is fully free and you do not have to register in order to use the features. Although the editing features may be basic, it is a quick way of making quick changes to small PDF files.
Step 1. Load a PDF Document
Go to the PDFBuddy home page and drag your PDF into the page. You may also browse for the location of the file on your computer and then upload it. You will see you PDF file displayed when it is loaded. The tool panel can be found to the left.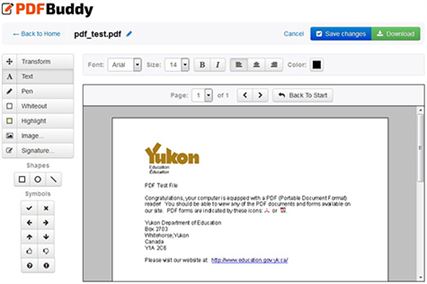 Step 2. Whiteout the Part to be Changed
Use the whiteout feature on the left of the screen and erase the part where you want to change the font. Remember that PDFBuddy, like most online PDF editors does not edit the original text of the document, but even when superimposed, one will not know that the new text was added to a whiteout box.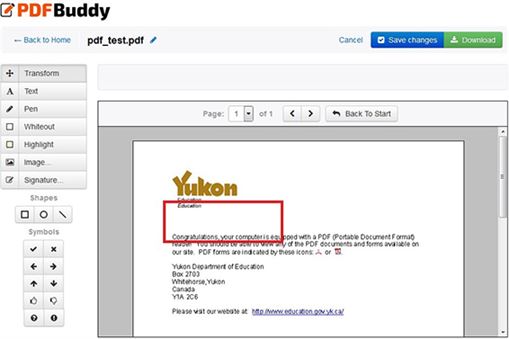 Step 3. Edit PDF Font Online
Use the text tool and then type out the same text, but using a different font. The font editing tools appear at the top when you select the text tool.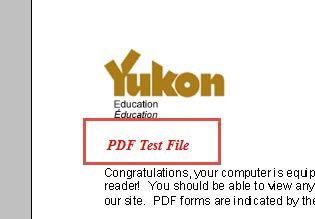 Step 4. Download your New PDF File
When you have finished changing the font on your document, you may now proceed to save and download the new file to your computer.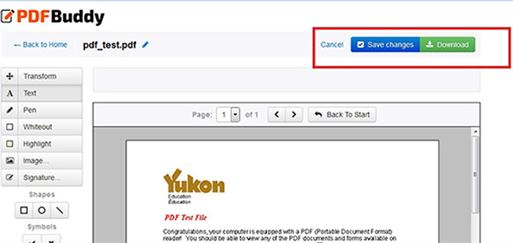 Conclusion and Recommendation
When you change font in PDF file, it instantly looks like a new document. This is a trick that may people used to revamp their work and arouse more interest. You can use any of the free online PDF font editors, since most of them have the ability to change the font color, style and size. If you want to add more text effects to make the document more beautiful, you should try iSkysoft PDF Editor 6 Pro. This tool will completely change the way of working with your PDF documents.