People who needs to work with PDFs on a regular basis might have the need to convert PDF to image formats like BMP. Despite PDF has many advantages, one of the biggest disadvantages of using PDF files is that they often end up compromising on the image quality to save on file size. Now worry! Below is the easiest way to convert PDF to BMP and other image formats. All you need is access to the right software - PDFelement Pro that lets you easily convert PDF to BMP file format. Read on and learn more.
Part 1. How to Convert a PDF to a BMP Image on Mac (macOS 10.15 Catalina)
Mac users wanting to convert their PDF files into the BMP file format can always depend on the PDFelement Pro for all their file conversion needs. This excellent software works seamlessly on various Mac OS X versions such as macOS 10.15 Catalina, Mojave (10.14), High Sierra (10.13), Sierra (10.12), EL Capitan (10.11). And PDFelement Pro for Windows is also available. With the help of this PDF to Bitmap converter, you can easily convert the PDF to BMP file.
Steps for Converting PDF to BMP
This step-by-step guide shows you the steps for converting PDF to BMP file with the help of PDFelement Pro for Mac.
Step 1. Add Your PDF to the Software
Select the PDF document that you wish to convert into the BMP file format. You need to open this document using the PDF to BMP converter. To do so, all you have to do is click on "Open File", and select the file that needs to be converted. Once the file opens, you can make any necessary changes before converting to the Bitmap file format.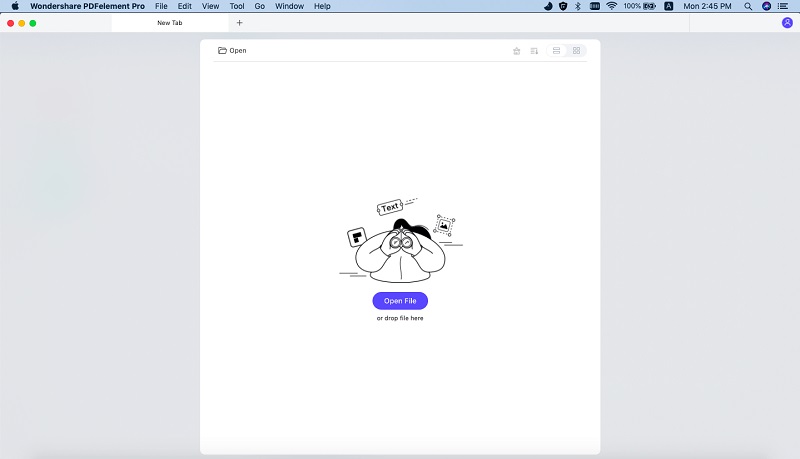 Step 2. Convert from PDF to BMP
The next step involves the actual PDF conversion. To convert your PDF file into a BMP file, you will have to click on "Convert". This option can be found on the very top of the toolbar. Once you click on "Convert", click on the "To Image" and select "BMP" as your output file format under the image category, and make any further setting changes that you need to by clicking on the "Gear" button.
Finally, click the "Convert" button, the software shall automatically convert the PDF file into the pre-selected format. You can also convert a PDF file to a BMP file online with online PDF converter, but iSkysoft PDF converter will bring you more stable PDF files conversion experience and provides you variety of useful functions to manage your PDF documents.
---
Why choose PDFelement Pro to Convert PDF to BMP
PDFelement Pro is not only an useful PDF converter, it is also a powerful PDF editor that allows you to edit texts, images, links and other elements in PDF files easily with multiple PDF editing tools. You can also use this PDF tool to create fillable PDF forms and extract data from PDF form to Excel easily.
Why Choose This PDF to a BMP Converter:
Convert PDF to images, Microsoft Offlice formats, EPUB, and more.
Offers a host of editing tools allowing you to edit images, texts, notes, watermarks, links, and more.
You will have multiple makrup and annotation tools to comment and annotate PDF files.
And it comes with PDF form filling abilities and file security features.
The OCR feature allows you to edit and convert scanned PDF files.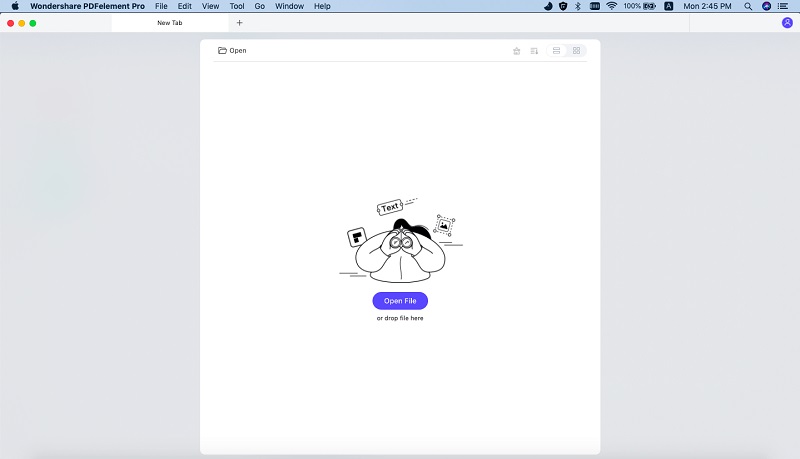 ---
Part 2. How to Convert a PDF to a Bitmap Image on Windows
iSkysoft has made life much simpler for Mac users, and it hasn't ignored Windows OS users either. PDFelement Pro for Windows is the perfect software for converting a PDF file into different file formats, one of them being Bitmap. The software works on Windows 10, Windows 7, Windows 8, Windows XP and Windows Vista.
What makes this PDF to a BMP converter software so special is that it doesn't act as a stand-alone converter. It also features highly powerful editing tools which allow you to edit the PDF documents with complete ease. Some of the main editing features that it offers include the option to merge/split PDFs, annotate and markup the PDF, password protection, add/edit text, data, tables, images, links, watermarks, and more.
Steps to Convert PDF to BMP
You can always bank on the PDFelement Pro for Windows when it comes to anything to do with PDF files on your Windows PC. Here is a step-by-step guide which shows you the detailed steps for converting PDF to Bitmap image format.
Step 1. Load PDF to the Program
Open the file using the professional PDF editor. In order to open the file, you have to click on "Convert PDF" and choose the document that you wish to convert into a BMP file format. Once you open the file using the PDFelement Pro for Windows, make any necessary edits that need to be made before file conversion.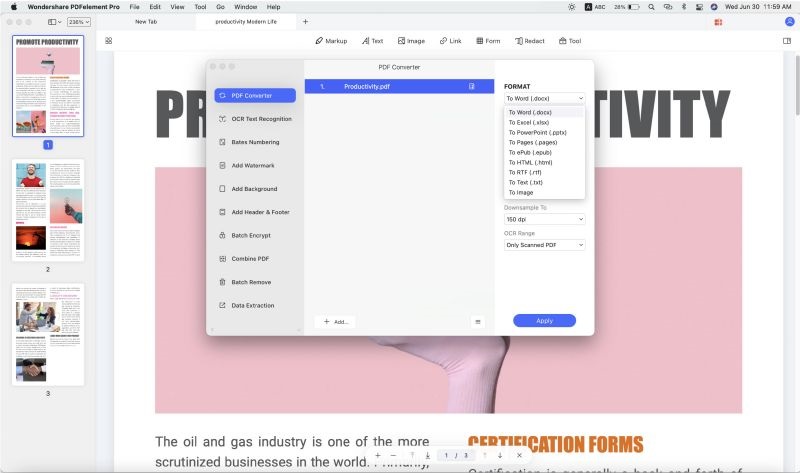 Step 2. Convert PDF to Desired Format
The next step is to click on "To Others" and select the "Convert to Image" option. And a new window opens up, which lets you choose between various image formats. Simply choose "BMP" from the various options and click on "Convert". The software shall convert your file and save it in the specified destination folder.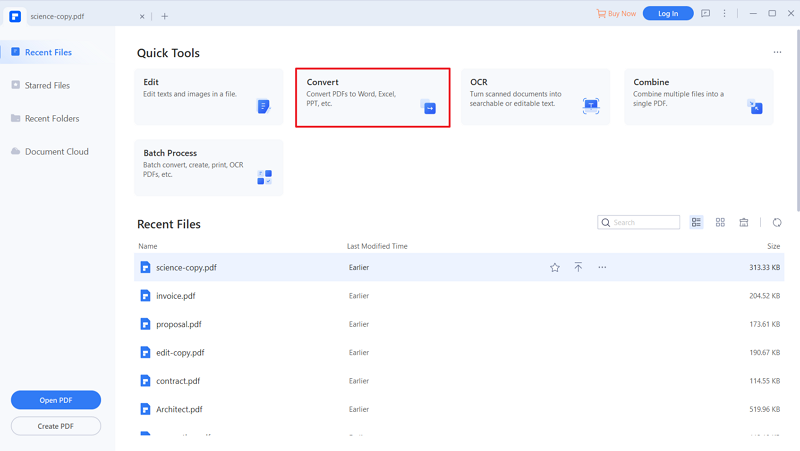 Converting PDF files doesn't have to be difficult or complicated. Irrespective of whether you use a Windows OS or a Mac OS, all you need is the right software. Choosing PDFelement Pro simply gives you added benefits in the form of a multitude of features, something which most other PDF converters don't offer.
---
Part 3. How to Convert PDF to BMP for Free Using Tipard
When it comes to convert PDF to BMP for free, we highly recommend you to use Tipard. It is a free PDF to BMP converter software, allowing you to get perfect BMP output at high speed. After you use Tipard to convert PDF to BMP free, you are able to keep you file with original forms, texts and layouts. With it, you can convert multiple PDF files to BMP once. Tipard PDF to BMP converter supports up to 10 multi languages. It comes with user-friendly interface, so even a technical green hand can handle it easily.
Steps to Convert PDF to BMP in High Quality with Tipard
Tipard PDF to BMP converter is easy to use. Only three steps is need for converting PDF to BMP file. Below we will shot you detailed step-by-step guide on how to save PDF to BMP for free.
Step 1. Download the PDF to BMP Converter Free Software
First, go to the Tipard site to download the PDF to BMP software for free. And then you can install the program easily by following the on screen installation wizard. After that, launch the program.
Step 2. Import PDF to the Program
In the main interface, click the "+" icon to select the PDF file you want to convert and import it to the converter. To convert multiple PDF files, you can click on the "Add Folder" icon and import the whole folder containing your PDF files.
Step 3. Start the PDF to BMP Conversion
Last, you need to set the output options. You can select the output color, define output resolution, and customize the output folder to save the converted PDF, and then click on the "Convert" button on the middle toolbar to start converting PDF to BMP file.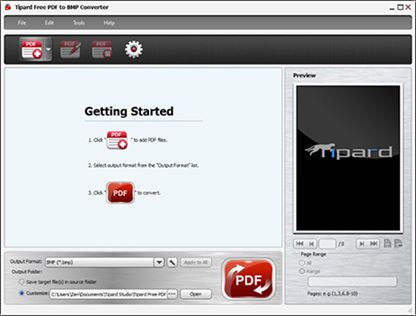 ---
Part 4. Top 5 Tools to Convert PDF to BMP Online for Free
When it comes to editing the images in pdf file, then it is best done by converting the pdf files into image format. Although there are many formats available, the best format for windows is BMP or bitmap format. Therefore, let us have a look at Top 5 tools to convert PDF to BMP online for free that can magically transfer pdf into bmp files
1. Zamzar
Popular among the users who frequently engage in converting file from one format to another format. Zamzar lets you convert not only documents but also image and audio files. This makes Zamzar popular among the people for it is versatile in its application. To convert the pdf file to bmp all you have to do is upload the file by clicking on choose file, then select the destination format(here it is BMP), then write your email id and click on the convert button. Voila, your file is ready.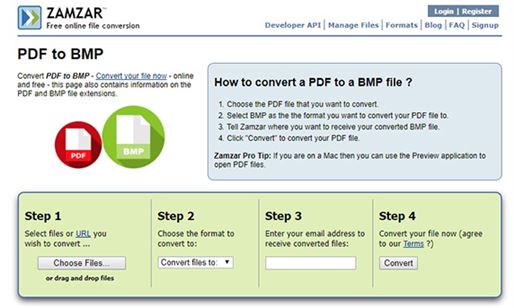 ---
2. Online-Convert.com
One of the largest repositories of converting tools, Online-Convert has to offer a lot of conversion tool that you can never imagine to exist. And all of these tools are available at free of cost. Unlike other sites, it offers a lot more option when it comes to formatting the quality or property of the exported file. This provides more control and better output of the file. To convert the file, you have to upload the file or drop it from google drive or Dropbox. Then you can make a selection according to your preferences and click on the convert button.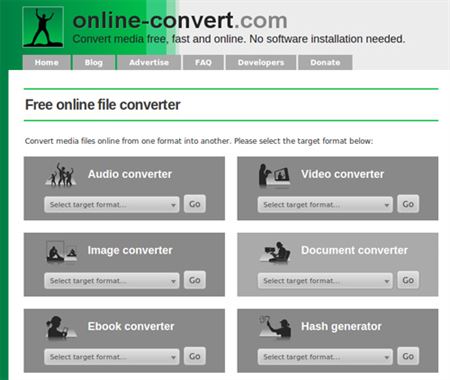 ---
3. Convertio.co
The Convertio site uses modern website interface which makes it user-friendly for the first-timers. The process is very simple and intuitive. The steps are represented in a pictorial manner to make it less daunting for the casual users. Although it offers free conversion, they are limited. On payment of premium fees, you can use the service unlimited number of times. Other than conversion it also offers OCR facility to convert scanned file to doc.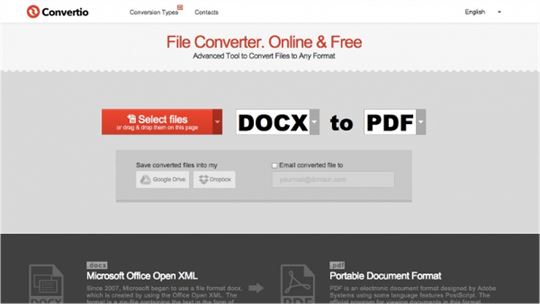 ---
4. PDFConvertOnline.com
Popular among the pdf user for its simple yet appealing interface, PDF Convert Online.com provides a detailed description of the process of conversion of pdf file to bmp format. Not only that it also provides detail about the file format which can come handy in case you are not sure about the file format. The conversion process is simple just upload the file and click on convert button.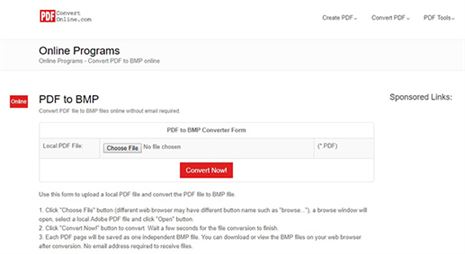 ---
5. Convertmage.net
The Convertmage makes liberal use of the image to indicate the conversion process. The process of conversion is simple and quite similar to as explained in the previous paragraph.