PDF Joiner is an amazing online PDF merger, which can be utilized to join PDF files into a single PDF. It is a powerful, fast, easy-to-use and free tool that helps you combine multiple PDF documents. Joining PDF files was never so easy, but with PDF Joiner it is possible to select several files and join them together in a single PDF document. The online application also lets to automatically insert page separator in between the individual files. Here are some useful tips on using this PDF Joiner, and recommend an alternative of PDF Joiner - PDFelement Pro.
Part 1: How to Join PDF with PDF Joiner
If you have multiple PDF files and you want them combined, then there is plenty of free solutions available including the PDF Joiner tool. It can quickly merge all your PDF files into a single document. Below are vital tips on using this tool:
Step 1: Firstly, begin with choosing up to 20 files in PDF format from your computer. You can otherwise drag all the files into the drop area of the tool.
Step 2: Upload the queue. Using Drag-and-drop file blocks you can change the merging order easily.
Step 3: You can preview the documents by clicking on the thumbnails.
Step 4: If you are ready to proceed, then simply click on the button saying "join all files".
Thus, by following the aforesaid steps you can use this excellent online tool PDF Joiner to join about 20 PDF files into a single document.
---
Part 2: PDF Joiner Troubleshooting and Reviews
PDF Joiner Pros:
Simple and quick solution to join PDFs.
Easy to use.
Works well on all browsers.
It's absolutely a free program.
PDF Joiner Cons:
It is possible to merge only 20 files at once.
Limited in functionality.
There is lots of advertising and upload is not greatly secure as well.
Troubleshooting on Using PDF Joiner
1. Unable to combine more than 20 files utilizing the PDF Joiner.
When attempting to merge more than 20 files using the PDF Joiner, it will show an error and not combine the files. This is because the PDF Joiner has been designed to combine the files only up to 20 at once. Thus, you are allowed to merge only 20 files at a time, if you desire to merge a large number of PDF files then you must look for the best alternative to PDF Joiner.
2. Only get one PDF version when merging files.
When merging multiple documents the resulting PDF document would be in one version. This can usually happen when combining more than 2 PDF files. If a different PDF version is required, then it is recommended to open the application the PDF document which was created and printing it in the required format.
3. Problem when merging 2 PDF files together.
This issue can arise if you try combining file sizes exceeding the 20MB in the PDF Joiner tool. Try to combine the PDF files by suiting the size limits following the merging instructions properly.
4. Problem when uploading the PDF files into the drop area.
If you find it difficult dragging all the files and loading them into the drop area, then make use of the select files option and choose the files to be combined from your computer and upload the files.
5. Issue when arranging the files.
The tool lets you arrange the files as per the preferred order, however, if want to change the order, then do not proceed with the merging task and make use of the clear queue button and arrange the files again.
---
Part 3: How to Join PDF Files with PDF Joiner Alternative
PDFelement Pro is a very useful PDF tool. It helps you to merge multiple PDF files and images into a single PDF file easily.
Simple Steps to Join PDF with PDF Joiner Alternative
Step 1. Launch the Program
After installing the alternative to PDF Joiner, run the program on your computer and click on the "Tool" button and select "Combine PDF."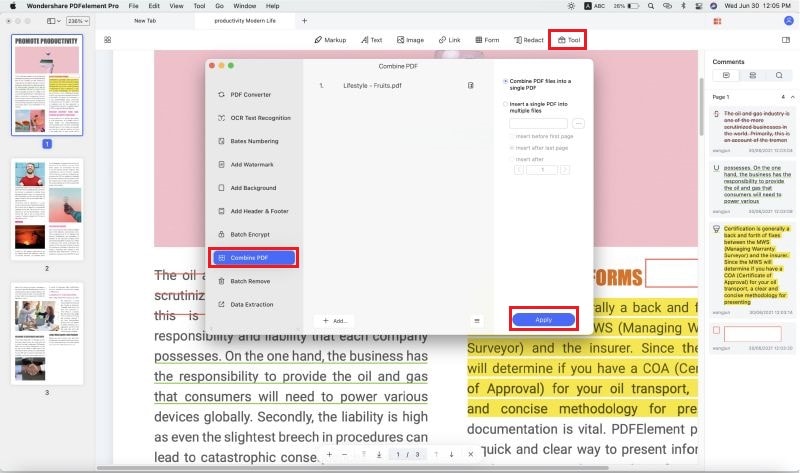 Step 2. Import PDF Files
Click the "Combine PDF" option and you can open a new window. Then click on the "Add" button to select the files that you want to combine from your local folder, and import them to the program.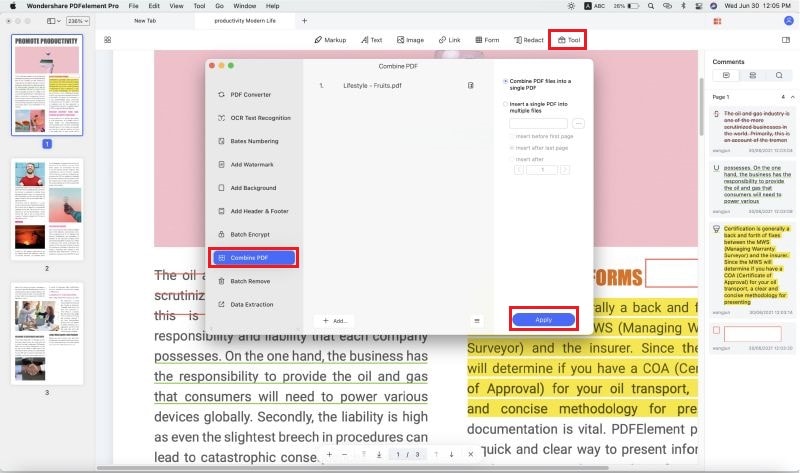 Step 3. Start to Join PDF
After you have imported the files into the program, you can select the page type on the right toolbar. Then click on the "Apply" button to start combining PDF files.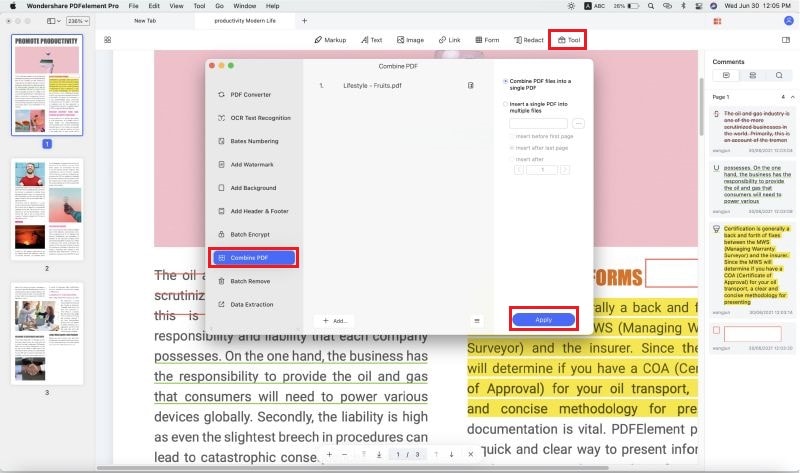 ---
PDFelement Pro - The Best PDF Joiner Alternative
There is quite a few amazing alternative software, which can aid you to join PDF if you do not desire to work with PDF Joiner. The best alternative to PDF Joiner is undeniably the PDFelement Pro. The tool helps you to efficiently and quickly combine the PDF files. You can import multiple PDF files or other file formats easily and combine them in a single PDF document. The software lets you arrange the order of the pages as well. Furthermore, it allows you to compress or split the PDF files with more ease. You can see more features:
Key Features of PDFelement Pro:
Easily combine multiple PDFs into one document.
Allow you completely edit PDF documents as it is done with Word processor.
Convert PDF files to Microsoft Office documents, HTML, EPUB, and lots more.
Create PDF files from existing PDF, text files, WebPages and HTML.
Annotate PDF with sticky notes, text boxes, and freehand drawings.
Secure PDF files with password and decrypt PDF without any fuss.
Fill out PDF forms. And you can import or export PDF form data.