One of the best ways to mark a PDF document for editing is to add crop marks to it. Done correctly this can make it easier for the next person working on the document to know exactly where to crop. Adding crop marks to a document can also be a great way to mark a document before cropping just to make sure you're cropping correctly.
In this article, we show you how you can easily add crop marks to PDF using two of the most useful PDF editors in the business.
Part 1. The Best PDF Editor to Add Crop Marks to PDF
It is one of the best PDF editors you can use to add crop marks to PDF documents. As a PDF editor, PDFelement Pro comes with a variety of features that make PDF editing easier. Its make-up also makes it one of the easiest PDF editing tools to use since it comes with a simple user-interface that makes navigation quite easy.
How to Add Crop Marks to a PDF
PDFelement is a professional PDF editor which will makes your work with PDF documents easy. If you want to add crop marks to a PDF file, you can follow the steps below to start the process easily.
Step 1. Start PDFelement Pro
Download and install PDFelement Pro to your computer and launch the program.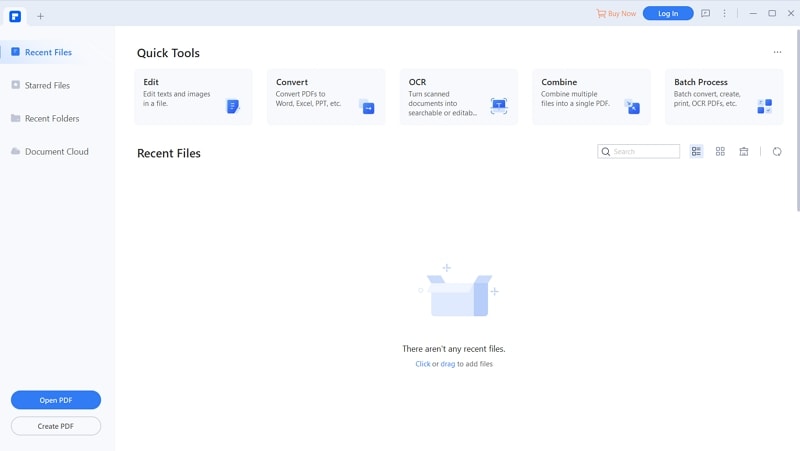 Step 2. Open a PDF
Now open the document you want to edit. To do that, you can simply click on "Open File" and then browse for the PDF file you need. You can also simply drag and drop the PDF file into the program's main window to open it.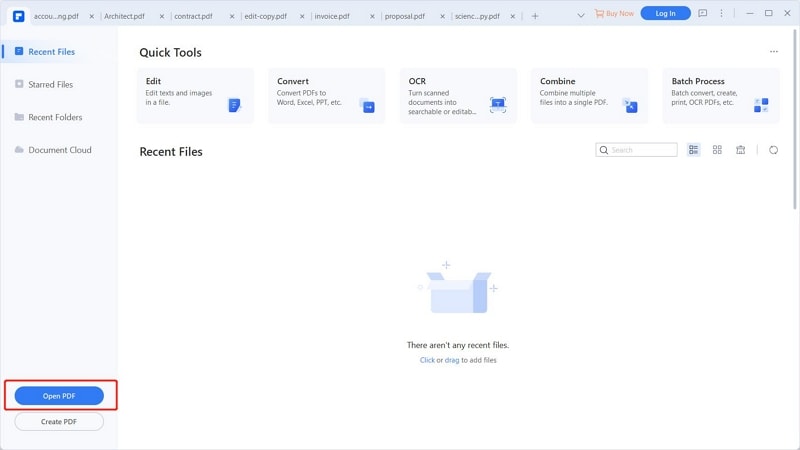 Step 3. Crop PDF Files
Click on "Edit" and then select "Crop." This will open a crop box as well as a crop control panel to the left. You can drag the crop box to start cropping the page. You can also enter the custom page size and page range in the crop control panel. Once you're happy with your measurements, click "Crop" to complete the process.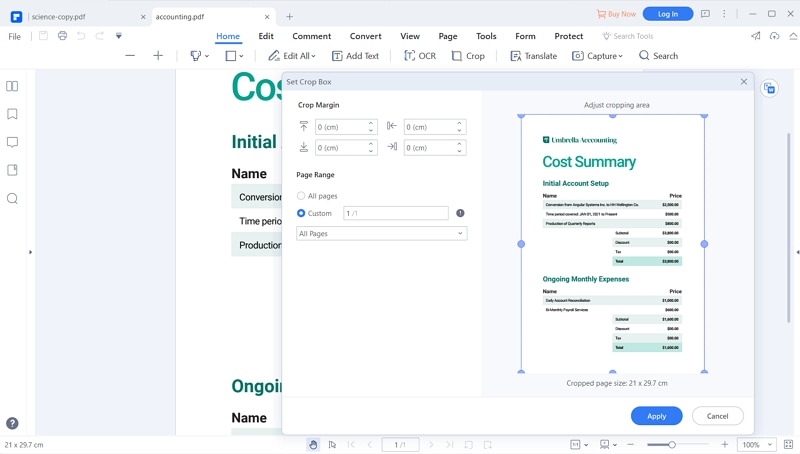 Step 4. Add Crop Marks in PDF
To add crop marks to a PDF document, you can click on the "File" button and choose the "Print" option. Find the "Poster" option under the "Print Mode" menu, and then you can click on "Crop Marks" button to add crop marks in PDF files.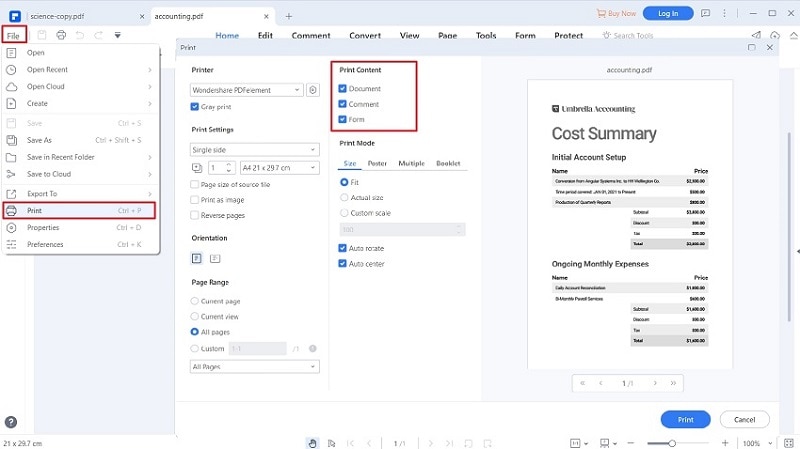 ---
Why Choose PDFelement to Add Crop Marks to PDF
Like we said before, PDFelement Pro is one of the best PDF editing tools to use. Not only is it easy to use, it can be used to create PDF documents in a single click. Converting PDFs to numerous other formats can also be done very quickly. It is the ultimate companion for anyone who uses a lot of PDF documents. It is ideal because of the many features working together to make PDF editing easier. These features include the following.
Key Features of PDFelement
You can use it to add crop marks or crop a PDF to the desired size.
It can also be used to edit both the text and images on the PDF document.
It also has features that allow users to add, delete, merge or split PDF pages.
An OCR feature allows users to edit scanned PDFs.
Its security features can be used to add a signature or watermark to a document.
It can also be used to convert PDF documents to other formats including Word, Excel, HTML and many more.
Creating a PDF is as easy as opening a document in the program's main window.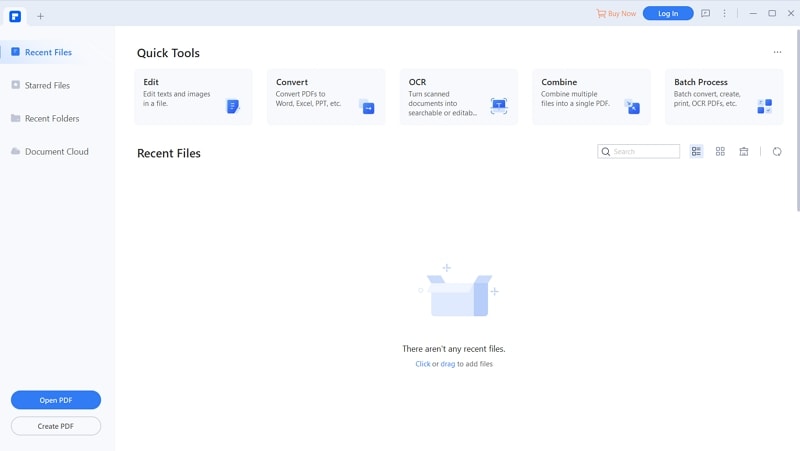 ---
Part 2. Add Crop Marks to PDF in Adobe Acrobat
Adobe Acrobat is the go-to PDF editor for most people and with good reason. It offers a lot of good PDF editing features that include the ability to add crop marks in a PDF document. It is ideal for both beginners and advance users.
If you don't already have Adobe Acrobat, install it on your computer and then follow these simple steps to add crop marks to a PDF document.
Step 1:Open the PDF document you want to edit in Adobe Acrobat.
Step 2:Once you've done all the necessary editing and are ready to print or send the file to someone else, click on "File >Export".
Step 3:In the dialogue box that appears, click on the "Marks and Bleeds" section and make sure that the "Crop Marks" is checked. In the Bleed and Slug section, make sure that "Use Document Bleed Settings" is unchecked and set all the four sides to 0.125inches.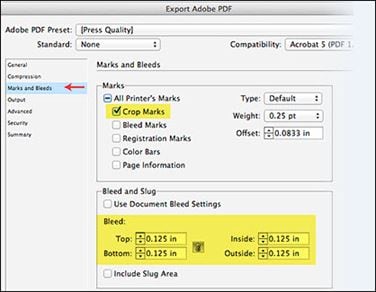 Common Issues on using Adobe to Add Crop Marks to PDF in Adobe
But as useful as Adobe is in editing PDF documents, it does have a few problems that users have to overcome in order to add crop marks into the document easily. Some of these problems include the following:
First, the cropping process can be quite lengthy and there is no option for automatic cropping.
Sometimes the cropped area can fail to register once the document has been printed.
Beginner users may find the process of using the cropping tool to drag across the document quite challenging. It is likely you may select an area you don't want to crop.
Image-rich documents may present a challenge when cropping.