You have been trying to add pictures to your PDF file and you have not managed to add them? Worry not, we have all been there and we have a solution for you. To successfully add picture to PDF, you need to use PDFelement, a great PDF tool. In the next section below, we give you a guide on how to add a picture to pdf file using PDFelement Pro.
Method 1: Add Picture in PDF with PDFelement
PDFelement is a PDF tool that will allow you to edit your PDF file by adding images, texts, objects, links, headers and bates numbering. It's easy to use and all the processes can achieve within a few clicks. Once you are done, making changes you can either save your PDF locally or export it via Google Drive, Dropbox, or Wondershare Cloud.
With that being said, let us look for a guide on how to add pictures into PDF with PDFelement.
Step 1: Open a PDF
Open the installed PDFelement program on your computer. A home menu will open up. Select "Open Files," which is the first option from the list. Next, choose the PDF file from your computer and click on "Open" to add it to the program.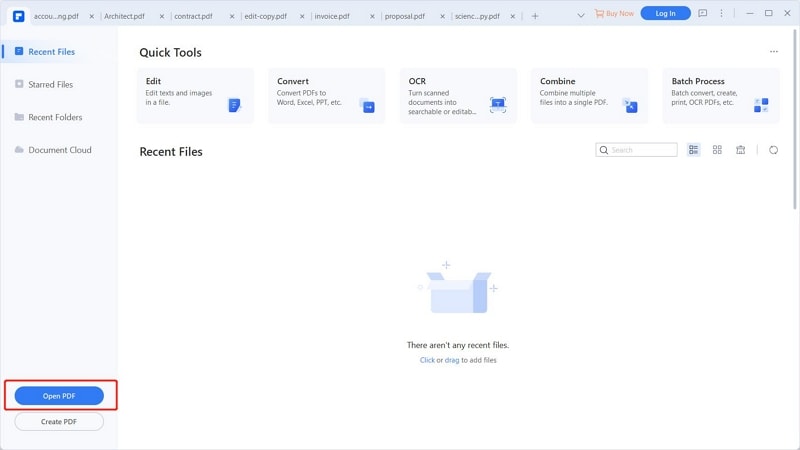 Step 2. Click the "Add Image" Icon
The PDF file will open up on the PDFelement. Next, you need to activate the editing option by clicking on the "Edit" menu. You will then see the editing formatting menu and you can now click on "Add Image" to add a picture.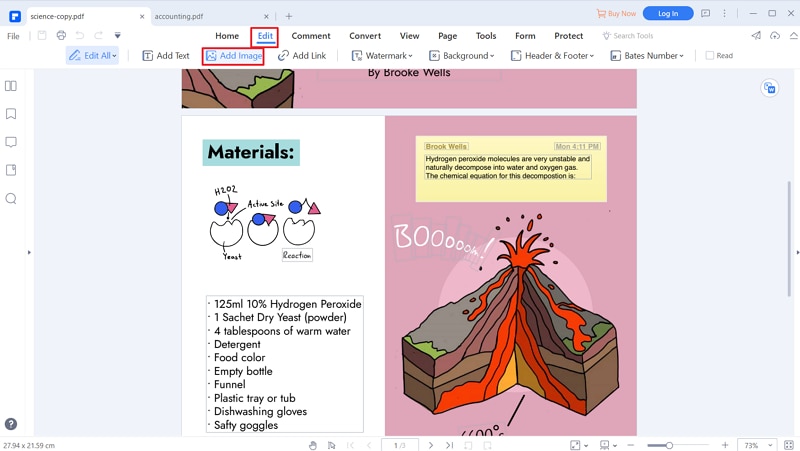 Step 3. Add Picture to PDF
Now you can add a picture to your PDF file. Select the right picture from your local folder and click on "Open" to add it to the PDF file. Next, click on the image and adjust its position and size.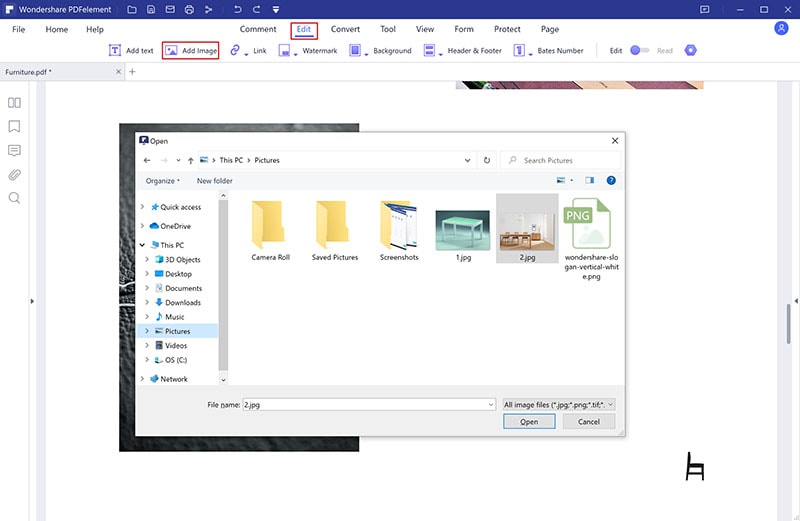 ---
Method 2: Another Way to Add Picture into PDF
Alternatively, you can add a picture to PDF using PDFelement by right-clicking on a blank field and then adding the image. Here are the steps to guide you.
Step 1. Click the Edit Icon
Open the PDF file that you want to add a picture to it by clicking on "Open Files" on the home window. After that, click on "Edit" and enable the "Edit" mode at the far left on the edit formatting menu.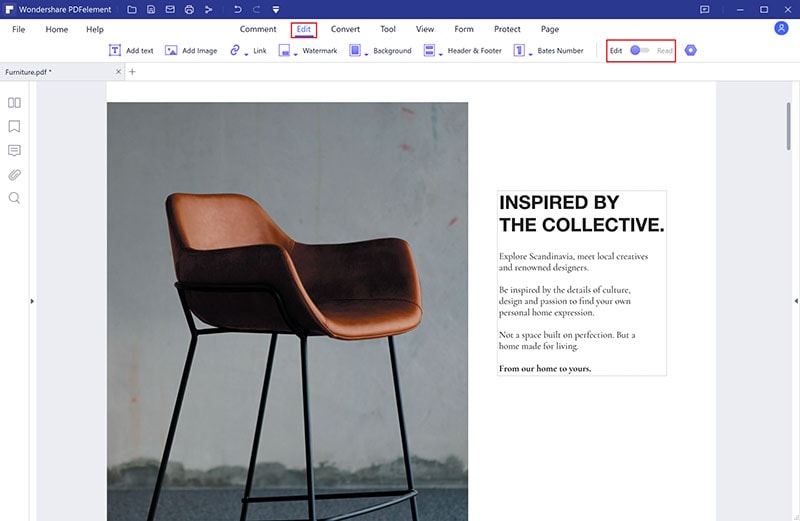 Step 2. Select Area to Add Picture to PDF
Next, hover to the PDF section that you want to add an image and right-click on it. You will see a drop-down menu. From the list, click on the "Add Image" button.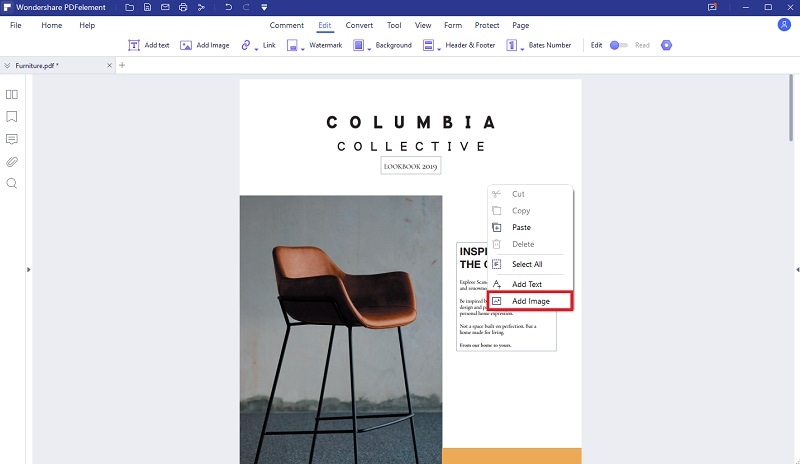 Step 3. Add Picture on PDF
You can now choose the photo that you want from your local file. Select the photo and click on "Open" to upload. The photo will now appear on the PDF file. You can now adjust the photo to the right position.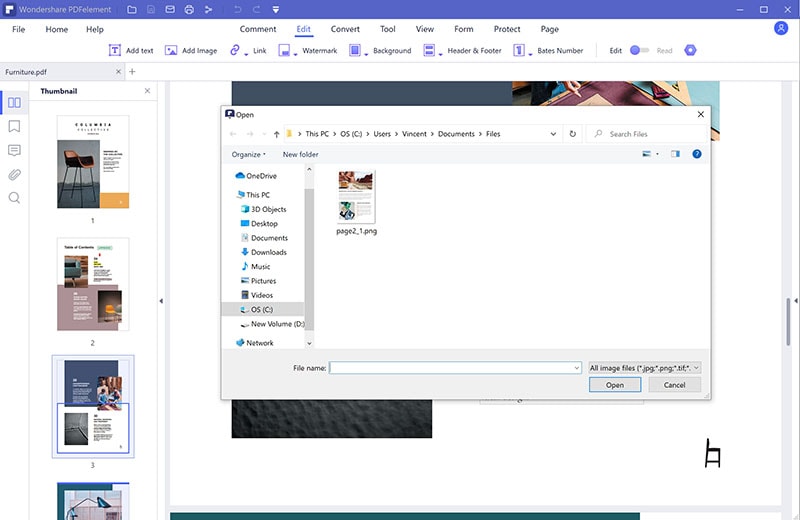 ---
Why Choose PDFelement to Add Picture to PDF File
When it comes to handling PDF files, you need to be using PDFelement. This program is a one-stop-shop for all your PDF needs. You can create, edit, convert, share, encrypt and OCR your files using this software. Other than that, it is cross-platform since it supports Mac and Windows operating system. Now, let look at some of its key features.
Main Features of PDFelement
It is built with a powerful editor that can edit images, texts, pages, background, headers, etc.
Protects PDF files with strong passwords and enables permissions.
Creates PDF files from many editable file formats.
It makes collaboration easier since you can comment and annotate PDF.
Creates fillable PDF forms and fills out forms easily.