PDF is a popular format for storing information, particularly in business sectors, presentations, web pages, reports, and case studies. Hence, it is important that we make sure that the documents are presented perfectly. Perfection includes the option to change line spacing in PDF when needed. Let's move on to know the best 3 methods with which you can change the line spacing in a PDF document.
Method 1. How to Change Line Spacing with PDFelement
PDFelement Pro is a versatile, accessible all-in-one PDF editor which can help you to easily change line spacing in PDF documents. There are very few PDFs editing programs on the market that can match PDFelement for accessibility and flexibility. You can also change the text font size and font color according to your needs just like working with Word document.
Step 1. Open a PDF File
Download and install the software. Open the PDF file you want to change line spacing by clicking on the 'Open File' dialogue box. Or you can drag and drop the selected PDF file into PDFelement to open the PDF file directly.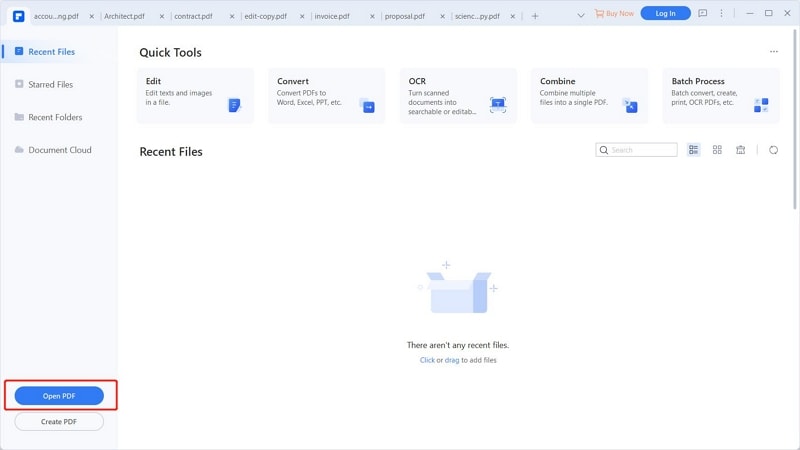 Step 2. Change Line Spacing in PDF
In the top left corner of the main toolbar, click on the 'Edit' button, then select the text you want to change line spacing. Right-click these text and choose "Properties". A "Properties" window will show on the left, and you can choose the specific number value or click on the up or down icon to customize the line spacing value.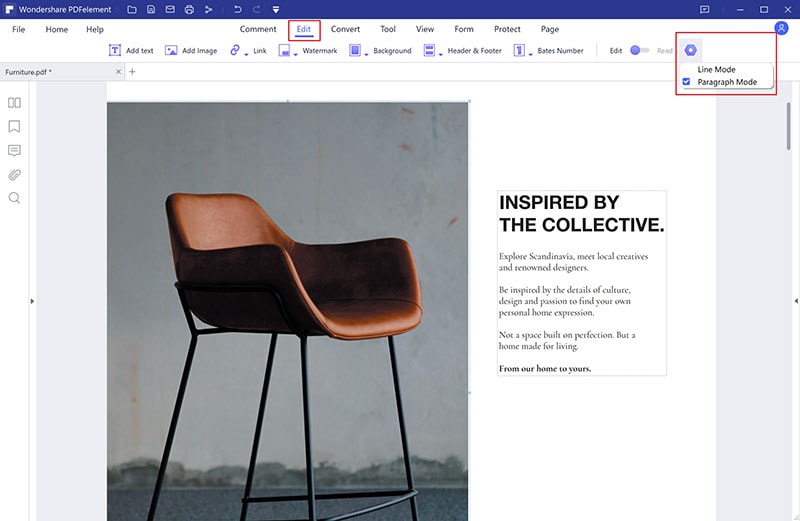 Step 3. Save Changes in PDF
After you changed line spacing in PDF file, you only need to click on the 'Save' icon to save your line spacing changed PDF file. And PDFelement can also help you to add text and image, secure PDF files, sign PDFs and so on.
---
Method 2. Change Line Spacing in Microsoft Word
It would be a good option that changes line spacing in Microsoft Word. You can change the vertical space between the lines of text in your Word document by changing the line spacing. If you want to change PDF line spacing in Microsoft Word, you need to convert PDF document to Word document firstly. Here, we will provide the easiest way to convert PDF to Word and change line spacing quickly.
Step 1. Convert PDF to Word file
To change line spacing in Word, you need to convert PDF format to Word format. Open PDF in PDFelement Pro, click 'Convert' > 'To Word', then select a local folder to save, and click 'Save'. Only a few seconds, the PDF file was converted to Word file.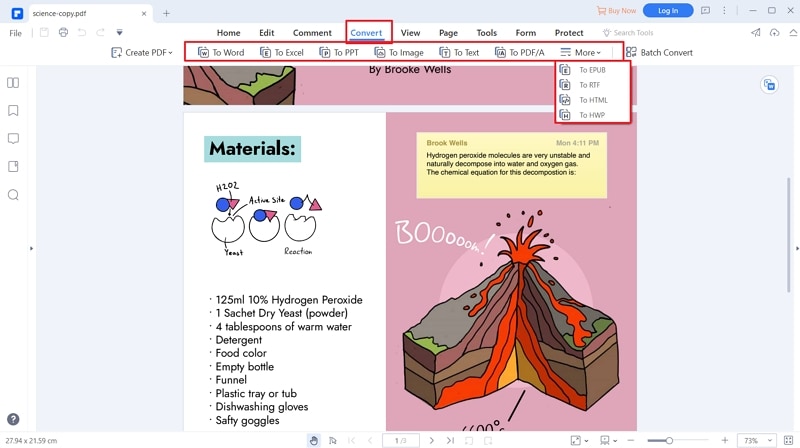 Step 2. Change line spacing in Microsoft Word
Select one or more paragraphs to change line spacing, go to 'Home' > 'Line and Paragraph Spacing', then choose 'Line Spacing Options' and select an option in the 'Paragraph' box > 'Spacing'. When you selected prefer line spacing, click the 'OK' button.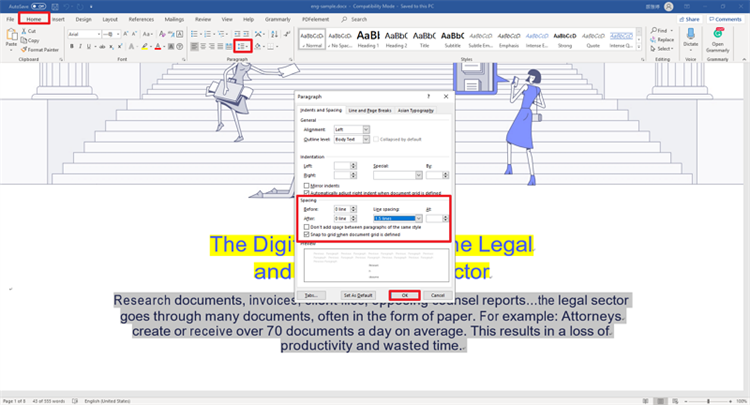 ---
Method 3. Change Line Spacing with Adobe Acrobat DC
Adobe Acrobat Pro is the name of a suite consisting of applications and Web services that allow users to read and edit documents stored in the portable document format (PDF). This editing tool because it lets you edit documents like it was Microsoft Office documents.
Steps on changing line spacing in Adobe Acrobat Pro
To change line spacing with Adobe Acrobat Pro, you need to follow these steps:
Step 1. Go to 'Edit' Panel: You can edit PDF documents by going to the 'Edit' option. Navigate Tools > Edit PDF > Edit.
Step 2. Erase the Text to be changed: You must choose which set of text you want to edit. The text is arranged in different elements.
Step 3. Change Font Size: To adjust the line spacing, you need to go to the 'Format' pane on the right side of the document. Click on 'Advanced options' to access the line spacing option.