PDF is the file format for a neat presentation and many employees refer to it to present a file. If you want the best contrast scheme for your PDF text, we recommend you to change PDF background color. You can even change the text of the PDF color but it won't be much attractive instead try to use PDF background changer application. If you are wondering how to change background color in PDF file, then don't as we have the best and trustworthy solution to your question. Are you still waiting to change background color? Spend a few minutes to read this article till the end.
Part 1. The Best PDF Background Changer to Change PDF Background Color
As foremost said we have the responsibility to introduce trustworthy software which helps you to change background color in PDF. It is none other than, PDFelement Pro . It is essentially designed for PDF users from top to bottom edit as single rounder software. It is pretty easy now to change PDF background color for printing with this professional PDF editor. You can convert the PDF into Excel, Word, PowerPoint, HTML and ePUb. Do it as vice versa too. You can extract, convert, merge, split and highlight the content whenever you want. Create the username and password to protect the document if it is confidential. It is your choice and we can assure that the PDF will be under your full control.
Step 1. Launch the program
Download the PDFelement Pro from the website and install it as the procedure. After installation you can easily change PDF background color on Mac or Windows.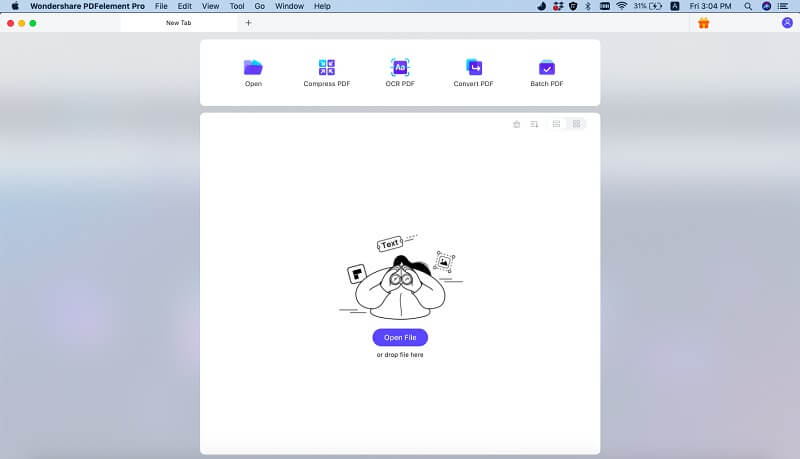 Step 2. Open a PDF File
Once if the download and installation finished, then just download the PDF file from the computer. You can see the main interface displayed after the installation completes. Click the option "Open File" present below.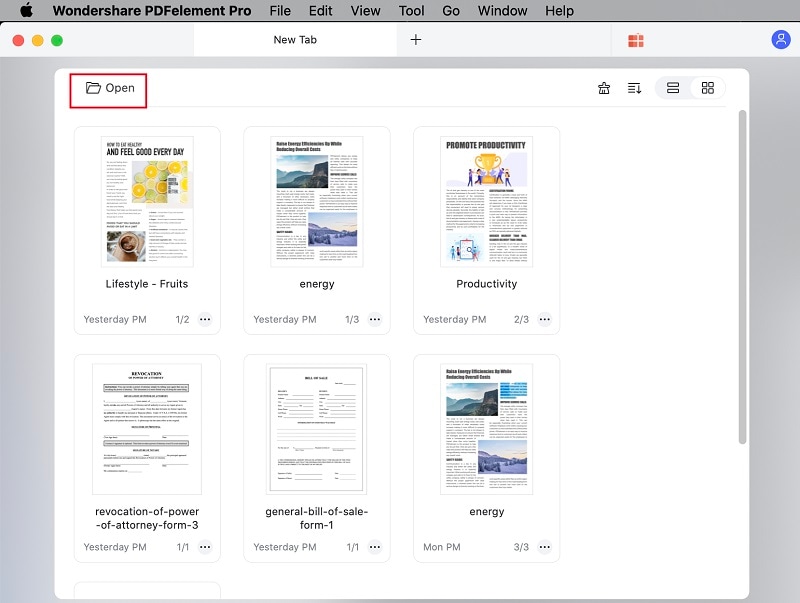 Step 3. Change PDF Background Color
Open the PDF file using the PDF Editor. Then choose the option "Edit" and select the option "Background". You will get three choices in form of a drop-down. From the list, choose the option "Update".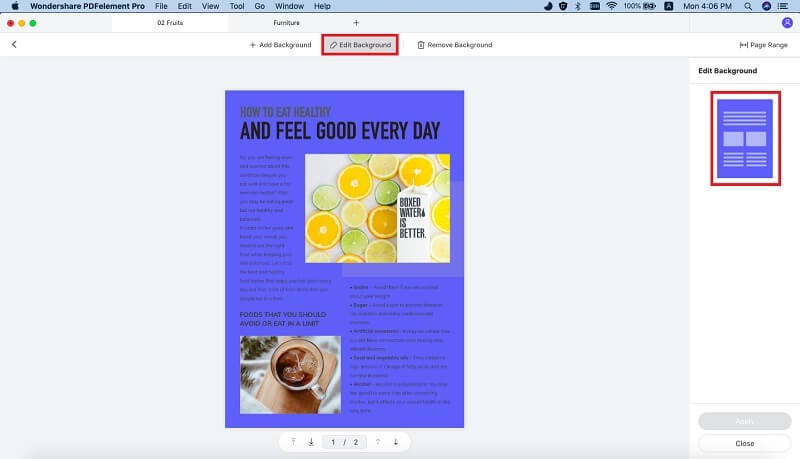 Step 4. Change PDF Background to White
Remove existing PDF background: You may catch in a situation to change PDF background color to White for printing the PDF file. So, you have to remove the previous background definitely. Choose the option "Edit" and select the "Background" option. As foremost said – you would get drop-down list with the options add, update and remove. Select the option "Remove".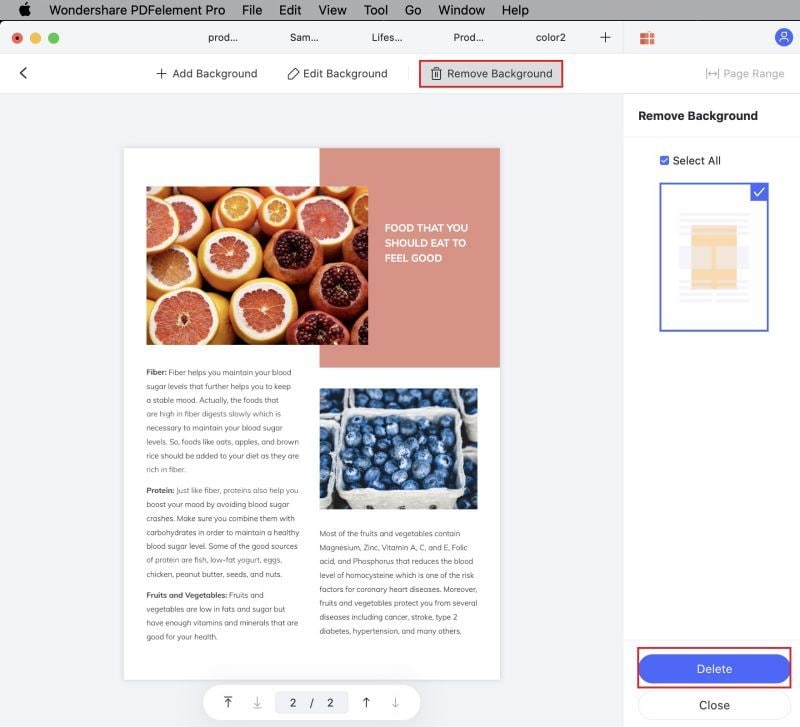 Adjust opacity: Except removing background, you can also adjust opacity to change PDF background to white. To do so, you can click on the "Update" button under the "Background" menu. Then click on "Appearance" on the right side toolbar and set opacity as 0.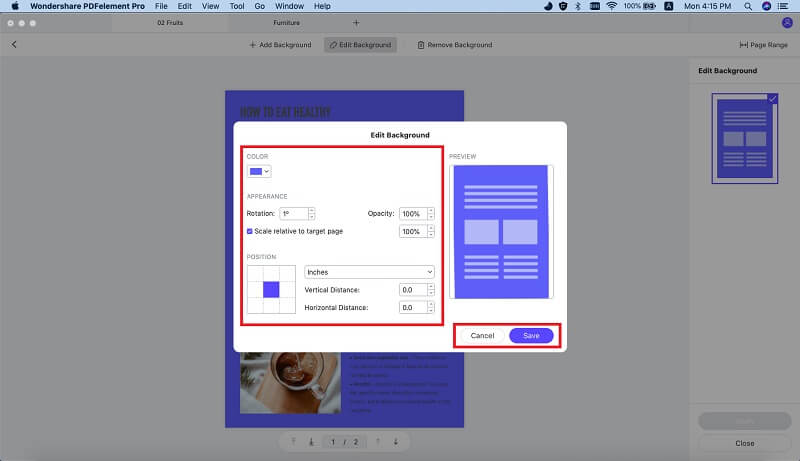 The process of PDF change background mentioned above is quite easy to understand and we hope that now you would know how to change the background of a PDF file.
---
Why Choose PDFelement Pro to Change PDF Background Color
PDFelement Pro has ample benefits. Besides changing the Background color you can convert the PDF into Excel, Word, HTML, PowerPoint and ePub. It works like a complete solution for all PDF editing; transferring tasks as well provides full protection with its Password enabled services. This software comes with detailed explanation for all processes and its interface is quite good with all round customer support availability. This software has been set-up in 23 languages.
We know that you would have a genuine concern that why you should choose PDFelement Pro to change the background color in PDF. Am I right? Well, I must agree to the fact that it is very essential to raise such question and is our duty to explain a valid reason. So, let us read some points to know why to choose PDFelement Pro for PDF file background color change.
Some of its key features are as follows:
Create the PDF forms and fill it up by using the PDF free templates.
You can edit the link, image, text and pages.
Watermark the PDF file to make it authorized.
To work on with multiple file use batch process for converting and editing.
If you want to convert scanned file then use the OCR function which is not available in other software.
You can extract, annotate and highlight the text by using the PDFelement Pro.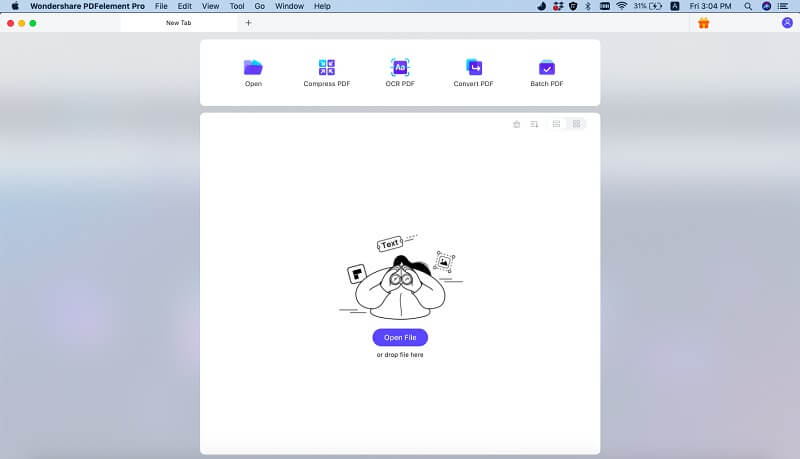 ---
Part 2. How to Change PDF Background Color in Adobe Reader
Adobe acrobat reader is the proprietor for the PDF file format. From beginning, many professionals use the adobe acrobat reader to change background color PDF. They have considered it as the PDF reader to change background color. So, if you want to learn – How to change the background color of a PDF using PDF Reader? Then in the following mentioned steps, you can understand better to change PDF background color to White as well to other colors.
Also, to attract the users and pull them to comfort zone they have added many things in point of users. There is the option to choose the user guide to know – How to change PDF background color in Adobe? Very simple and elegant to learn the steps:
Step 1. Download the adobe acrobat reader from adobe website.
Step 2. Install the software into your computer.
Step 3. Open the PDF file from adobe acrobat reader.
Step 4. You can see primary options available at the top of the window. From the options, choose tools and edit PDF.
Step 5. Select more options and background tab. Then select "From color". You will be listed with many colors in the rectangle shape. Select required color and tap on it. Click "OK". That's it.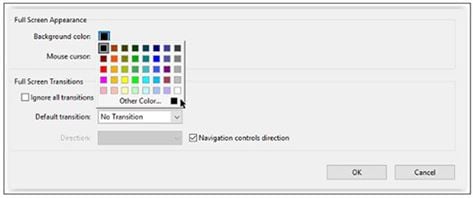 Note: You have changed the PDF file background color. It is easy and no confusion while doing the steps.