Adding a background to PDF is a challenge if you don't have the proper tools. The Portable Document Format (PDF) is an excellent format because it presents documents in high resolution. However, PDF documents are difficult to work with. There are plenty of functions that are wrapped around a difficult interface. Thus, it is challenging to edit PDF by adding a background unless you have the appropriate source. Fortunately, we will take a look at the best PDF tools to change PDF background online. For desktop users, you can try to use PDFelement Pro.
Part 1. Top 6 PDF Editor to Change PDF Background Online
1. Smallpdf Online PDF Editor
Smallpdf is the quickest way to edit PDF background. You need to upload the document onto the software, make changes and download the changed document onto your computer. There are no hidden fees, and you do not pay extra for watermarks. You can edit background text, images and convert PDF to different formats.
Pros:
Can import shapes.
All features are free.
Add more text/background/images to PDF.
Can load PDF from different sources.
Cons:
Cannot edit existing text.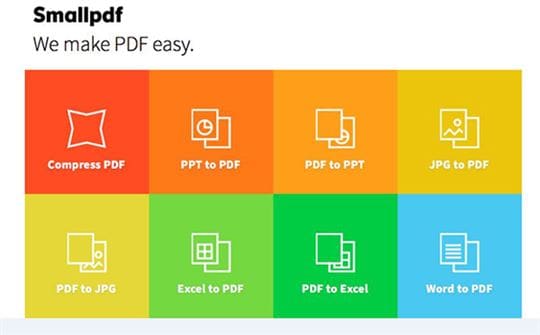 ---
2. PDF-XChange Editor
PDF-XChange Editor offers lots of features free of charge. You can add, edit and delete text or import images to apply as background from different sources. However, the tool has an excellent User Interface, and all features are properly categorized and organized. You can even highlight fields in PDF form. It is quite easy to use for everyone, belongs to any area of users.
Pros:
A portable version carried via flash drive.
Import different images and shapes.
Add QR codes to PDF.
OCR to identify the text.
Cons:
More advanced features must be paid for.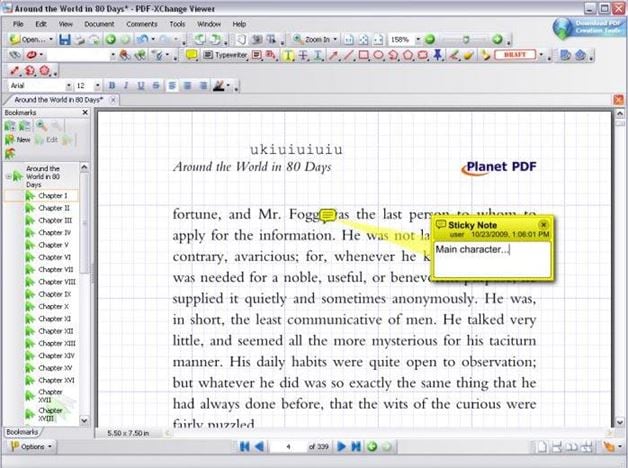 ---
3. Inkscape
If you want to add color and images to your PDF document, then Inkscape is the best choice. Inkscape is a graphics editing program similar to GIMP and Adobe Photoshop. Inkscape is an excellent tool to perform specific functions like change PDF background color to white online. It is good for Photoshop work and the graphic design field, as well as carries various tools related to background editing.
Pros:
Lots of tools for editing images
Can manipulate graphics
Edit PDF text
Cons:
It is not as versatile compared to other tools in this list. If you decide to use Inkscape, use it with another PDF editor.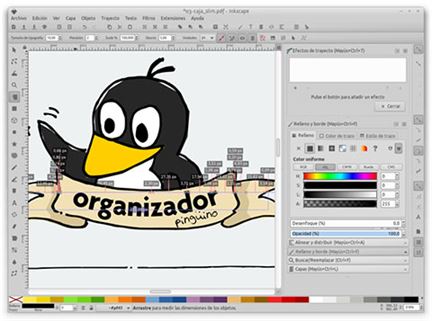 ---
4. Sejda PDF Editor
Many free PDF editors come with certain caveats. Some PDF editors offer a free trial, while others hide features behind a paywall. Sejda PDF Editor does not hide features or have a free trial. When you upload a document onto PDF editor, you have access to a wide variety of features. Features include adding background/hyperlinks and images to a document. If you need to alter documents without paying, use Sejda PDF Editor without any hassle.
Pros:
Support whitening out parts of a page.
Insert images and shapes.
Edit existing text.
Has a signature tool.
Cons:
I cannot edit PDFs with more than 200 pages.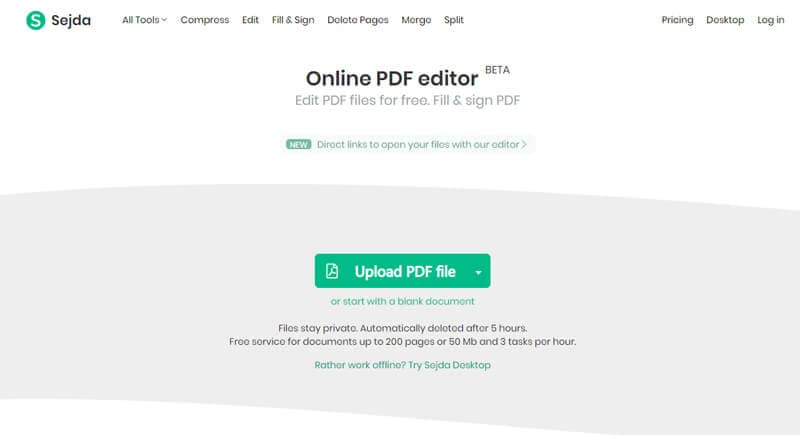 ---
5. FormSwift's Free PDF Editor
FormSwift's Free PDF Editor is the best chance you have of getting a 100% free PDF Editor. FormSwift is completely free, unlike other editors, offering a free trial as an additional benefit. Features like adding text, editing text, adding a background, adding pages and reorganizing pages are free. Thus making it very easy to customize your PDF background by adding various effects.
Pros:
Add text/images.
Delete/add PDF pages.
Offers lots of background editing tools.
Works through the web browser.
Cons:
Cannot edit PDF documents larger than 100MB.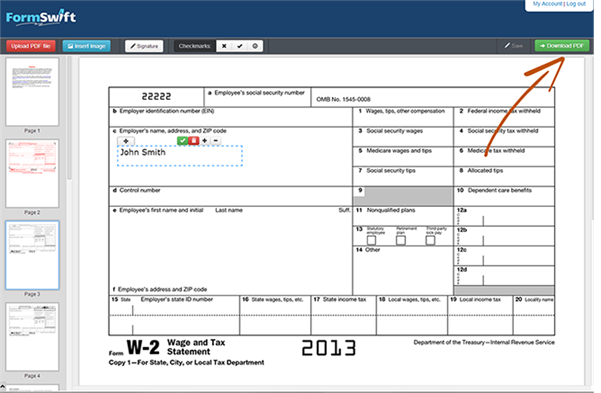 ---
6. PDFescape Online PDF Editor
A PDF editor that lets you edit and transform PDF pages without charging a cent. That is the best way to describe PDFescape, a web-based PDF editor. PDFescape offers lots of background editing options. You can change the color of text, draw shapes, add sticky notes, change PDF background online and even crop pages. Few PDF editors give you the same level of freedom without charging a cent.
Pros:
Add your own text and images.
Lots of tools provided.
Delete and add PDF pages.
Works through a web browser.
Cons:
Cannot edit large PDF files.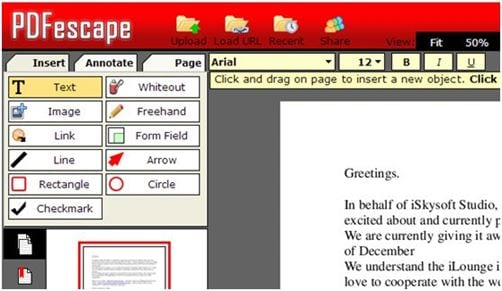 ---
Part 2. The Best Desktop PDF Editor to Change PDF Background
The best desktop PDF editor is PDFelement Pro because of its scope and accessibility. These features range from creating fill-able PDF forms to adding background images/ text/ colour and a lot more. PDFelement Pro lets users create and edit PDF pages within minutes. PDFelement Pro is an excellent software package for businesses and freelance professionals. Office workers save time because they do not have to learn Adobe Systems. PDF Pro Editor 6 is a great example of 'plug and play'; the software will start generating results as soon as you install it. PDFelement Pro offers lots of features but is presented in an accessible user interface. PDF Pro editor is an excellent program to use.
Simple Steps to change PDF backgound color in PDF
Step 1. Launch the Program
Download and install PDFelement Pro. Launch the program to get the homepage below.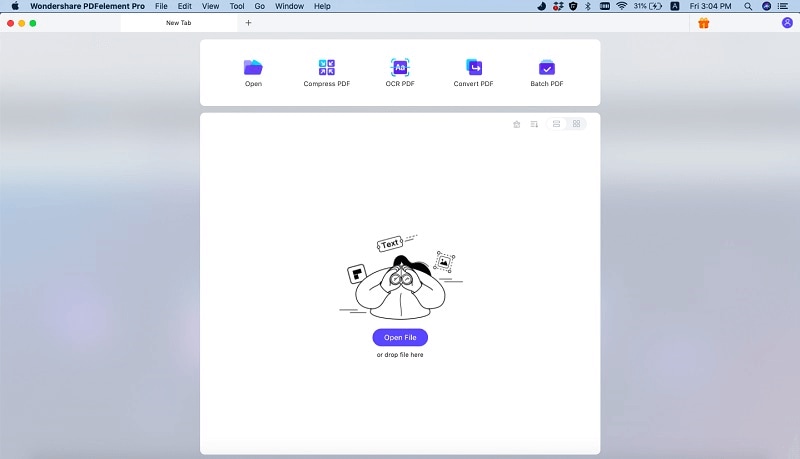 Step 2. Import a PDF File
Open a PDF file by clicking on the "Open" button to choose the PDF file you wanted to import.
Step 3. Change PDF Background Color
To change the background color, follow the navigation path "Tool" > "Add or Edit Background" > "Update Background". Then you can change the PDF background according to your needs.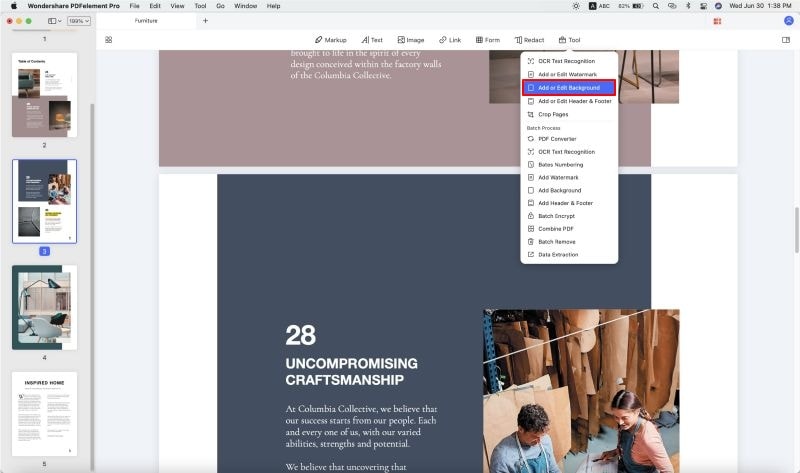 ---
Why Choose PDFelement Pro to Change PDF Background
If you value the time, you will choose PDFelement Pro PDF editor is accessible and easy to grasp. Different functions like altering images, adding a background color, and watermarking documents can be done in minutes. There is an online guide for any function you don't know, like how to change the background of PDF files online. PDF Pro Editor 6 is an excellent tool for secretaries, freelancers, and businessmen. These professionals do not have much time to spare and need work done quickly.
It is not just about editing; it is about creating new documents. PDFelement Pro lets you create brand-new PDF documents. Use PDFelement Pro to create a brand-new form, letter, brochure or technical manual. Creating new PDF documents is extremely simple, a two-step process that can be done quickly. PDFelement Pro gives you a choice to create a single PDF page or multiple PDF pages. If you need a software suite to create new PDF pages, look no further than PDFelement Pro.
Some of its key features are as follows:
OCR technology to edit scanned pages.
Create new PDF pages from .jpeg, .png, .html, .txt and much more.
Fill in PDF forms.
Highlight and hand draw on PDF forms.
Combine and split PDF pages.
You can add your own custom-made image, or custom color.
Easy to add a background image or color to any PDF document.