Portability is what PDF is all about. This cannot be achieved if the files are not merged into a single readable document. It fosters portability and lets the user transfer files in a single go. There are certain programs which can be used to combine PDF files on Windows. However, the online services are also available for the same. The developers of every software claim that it has the best functionality. It is not the case. The software is considered as the best if it has a complete set of tools and is easy to use. Even a novice user should make full use of it.
Method 1. Combine PDF Files on Windows with PDFelement Pro for Windows
PDFelement Pro for Windows - The Best Way to Merge Multiple PDF Files into One on Windows
The PDFelement Pro is the most professional and advance software that has been built to perform the functionality. With the help of this PDF tool, you can easily combine multiple PDF files into one. There are many tools and techniques which make the use of this program very easy and reliable. It has a GUI which allows even novice users to get what is required. The best part is that the developers of the program are working to make this program even better with the passage of time.
Why Choose This PDF Editor
Edit and OCR PDF documents with accuracy and great compatibility
Mark up, Annotate and stamp PDF files easy and quickly
Fill and create customizable PDF forms. Perform form automation and recognition
Watermark, Redact and share PDF files. Apply passwords to secure your PDF files
Bookmark and customize PDF with perfection. Add bates number and perform access control to set permissions
---
How to merge PDF files using PDFelement Pro for Windows
Merging PDF files has never been as easy as it is with PDFelement. The program almost runs on autopilot mode which means that minimum user interaction is required. The process of PDF merging on PDFelement Pro has been explained as under:
Step 1. Open PDFelement
Download, install and register PDFelement Pro. Registration is highly recommended as some features might not work without it.
Step 2. Select "Combine File" Option
Press the recent tab from the left side of the main interface. Choose combine PDF from the window which appears next.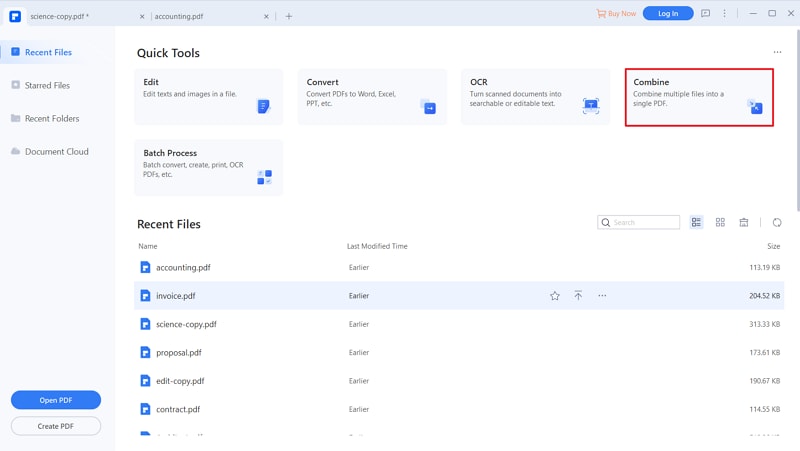 Step 3. Import PDF Files
Import files from the dialogue box by clicking the add or open button depending upon the version of windows used.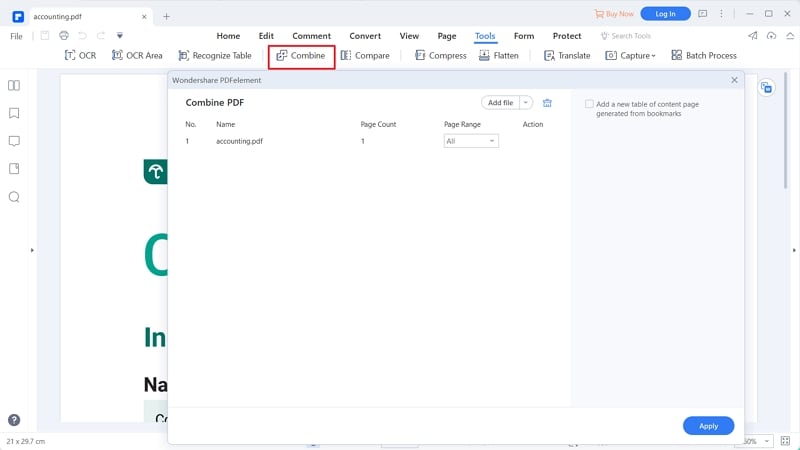 Step 4. Combine Multiple PDF Files
Click "Next" on the lower right of the interface to start off with the process of PDF merger. Then combined file will be shown in a new window. To save the fiel, you can click on "File" and choose "Save As" option.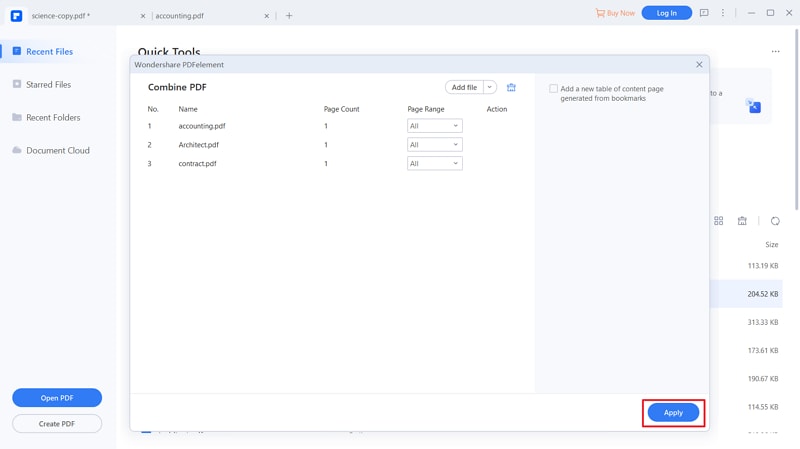 ---
Method 2. Merge PDF Files on Windows with Online Tools
There are many online sites which are working for the user who want to merge PDF files. These sites can also be regarded as easy to access tools which perform the function with ease. However, they are never recommended as the data security is never a priority of such websites. In addition to this there are several other disadvantages. Three of the most common websites in this regard are discussed as under:
#1. How to merge files using PDF Merge
PDF Merge has a simple interface and allows users to merge up to 4 files by default. The number can be increased up to 5 maximum if required. It is free to use and unlimited PDF mergers can be done without any problem.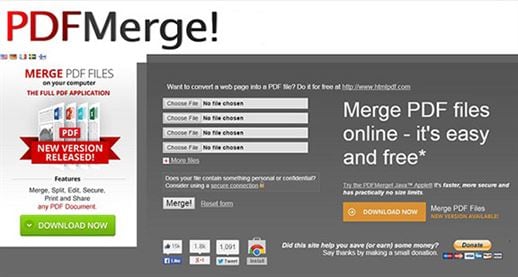 #2. Merge PDF using Combine PDF
With a variety of converters and mergers to choose from Combine PDF also provides a helping hand for free and fast conversion. There are many others conversion techniques to make the best use of this tool. The process is clear, concise and simple. The conversion is performed within minutes.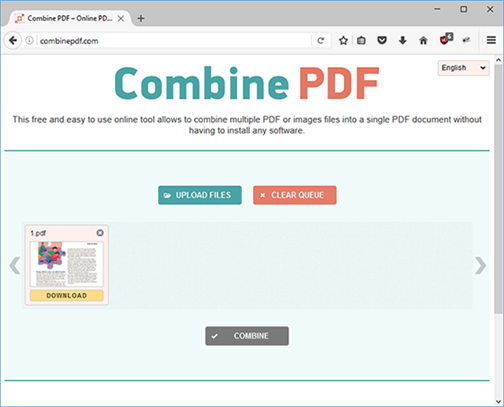 #3. How to merge files using iLovePDF
iLovePDF is another simple tool which can be used to merge PDF files with ease. The process associated is simple and can be completed within minutes.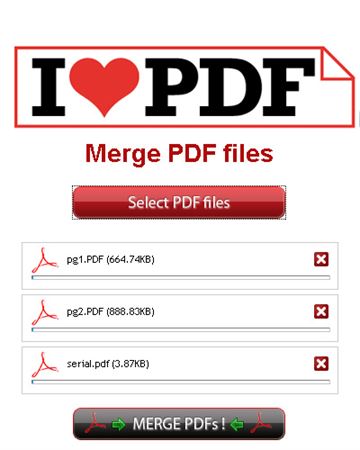 Limitations of online PDF mergers
Most online tools are not as rich as offline ones which means less options and lack of performance
There is often a limit to merge the PDF files. However, when it comes to PDFelement Pro there is no limit at all
It is a known fact that such websites and online tools save a copy of PDF files which is a sensitive issue. It could compromise organizational and business security if fallen in wrong hands.
Online PDF mergers are very slow and in most of the cases delay the PDF conversions unlike offline tools.