When you have two or more different PDF files that you would like to bring together, you may need a PDF editor that can combine PDF online. When you merge two or more PDF files, their pages will appear in a certain order depending on which file will be first, and which ones follow. Some tools will allow you to reorder the pages once you have merged the files, while others will not. If you do not have a PDF editor on your desktop, you can try some of those that are found online. There are certain sites that have dedicated themselves just to merging PDF files. In this article, you will come to see 5 of these online tools that you can use to merge your PDF files. If you are desktop users, please try to use PDFelement Pro.
Part 1. Top 5 Tools to Combine PDF Online on Mac
1. PDF Merge
PDF Merge is a secure online facility for merging PDF files. You can merge up to 10 different files in the order that you want them to appear after they have been merged. All you have to do is upload the filers and then click on "Merge" once you are done. Your PDF files will be merged within a few minutes. Since you are merging our files on a web browser, the tool will work on all operating systems. The beauty of the site is their efforts to maintain the security of all files. They use a secure merging system and all files are expunged from their servers within one hour.
Pros:
It is easy to use and fast.
It is a secure way of merging your files.
You get your merged document within a few minutes.
Cons:
It does not work well with slow Internet connections, with uploads being stopped in the middle and one has to start all over again.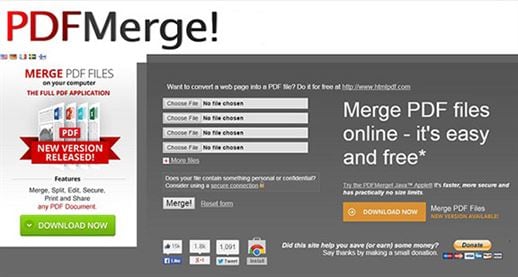 ---
2. SmallPDF
SmallPDF is a great PDF merging tool for Mac. It allows you to drag and drop your PDF files, and then arrange them in the order that you want them to be. The pages will follow the same order. It has the ability to reorder pages, but that can only be done after you have received the merged file. The tool will also give you a preview of your merged PDF file, so you see how it will look before you commit it for merging. The [processing of the PDF files is done on the Cloud so your resources on the computer are not affected at all.
Pros:
It allows you to review the merged files before they are merged.
It does the processing in the cloud to save your computer resources.
The service is safe and secure.
It works across all operating systems so anyone can use it.
It can combine PDF files from other online storage facilities like Google Drive and Dropbox.
Cons:
There are none at the moment.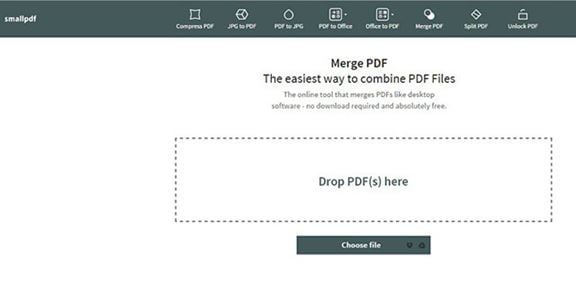 ---
3. DocuPub
DocuPub is a free online PDF merging tool, which enables you to combine PDF online. Where many other free online merging tools require that the files to be merged to be in PDF format, Docupub will take files of multiple formats and then combine them all into one PDF file. This is great for people who have to merge several formats into one paper. You may have an Excel spreadsheet and a Word document that you would like merged into one PDF file, and this is the best tool to do this quickly and securely. All you have to do is to click on the "Choose File" button to add any type of file. However, you cannot upload files that are larger than 10MB.
Pros:
Can merge files from several formats at once.
There is no limit to the number of files one can add.
The site is safe and secure so you have no worry.
Cons:
Maximum file size is 10 MB which may affect your work.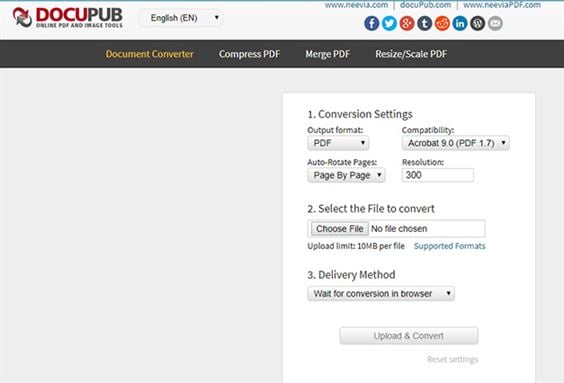 ---
4. FoxyUtils
The PDF Shaper is a great free online PDF merging tool, which allows you to merge files from several different formats. The tool is found on the cloud so none of the resources on your computer will be used in the conversion and subsequent merging. Te interface is very easy to work with, and you just add the files in the order that you want them to be merged. You simply have to drag the files onto the page and they will be uploaded. Once they are uploaded, you have the option of changing the order in which they will be merged. You also get to see how many pages the final file will have.
Pros:
It can merge files from several different formats at the same time.
You can change the order of the files before you merge them.
The site has wonderful security measures.
All operations are handled in the cloud.
Cons:
You can only perform 5 operations in a day.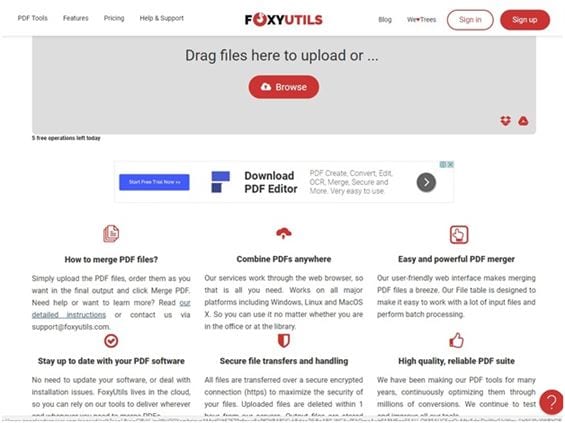 ---
5. PDFJoin
PDFJoin is PDF tool that can also be used to combine PDF online. This means that you can upload files of different formats and they will be converted before they are joined into one single PDF file. You can upload a maximum of 20 different files of any size. The site is safe and secure and all files uploaded are deleted within an hour. The simple user interface makes it easy to upload, arrange and merge the files. When uploaded, you can still change the order that you want the files to be in. Similarly the whole system is encrypted for added security.
Pros:
It is a safe and secure site so sensitive information is not leaked.
Offers a lot of space for merging 20 files.
Easy interface makes it simple to merge files.
Cons:
The limit of 20 files may not be good for people who have many small files to combine into one.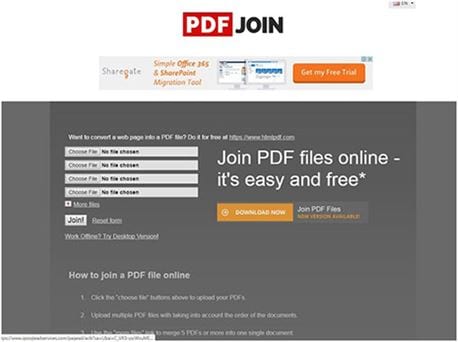 ---
Part 2. The Best PDF Combiner
PDFelement Pro is a versatile tool that you can use to merge your PDF files on your desktop. With the help of this PDF cmbiner you can also rearrange the pages of the new file.
Easy steps to Edit PDF Text in PDFelement Pro
Step 1: Download and install PDFelement Pro.
Step 2: Click on "Combine File" button to import PDF files to the program.
Step 3: Add files on the new open Window and click on the "Combine" button to start combining PDF files.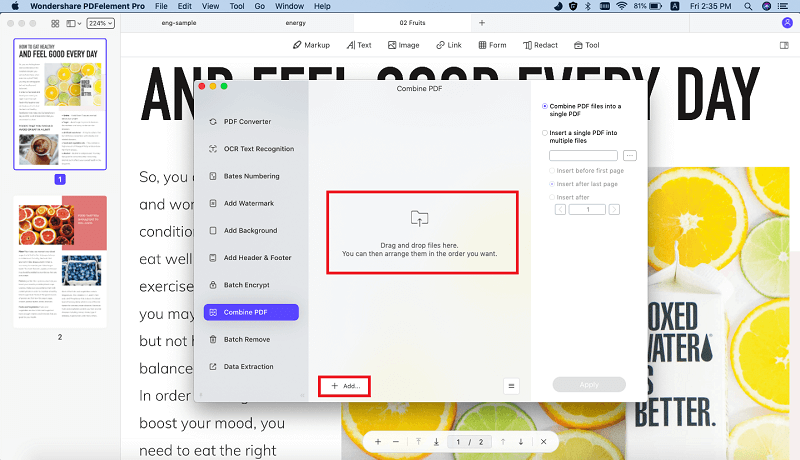 Why Choose PDFelement Pro to Combine PDF Files
With PDFelement Pro you can extract pages from different PDF files and then rearrange them before merging them into one file. You may also merge the files, edit the pages, and then save to a new PDF file. This is a powerful PDF editing tool, and here are some of the main features below.
Key Features of PDFelement Pro
Creation of PDF forms – With this tool, you can create your own original forms and not go getting templates from the Internet. You may also fill and edit forms from other sites.
Create and convert – if you are feeling creative, you can build a PDF file right from the bottom. You can also create a document in another software and the convert it to PDF.
Fantastic user interface – you will find it very easy o use since the interface is intuitive and easy to follow.
Digital signature – use your own unique digital ID to mark your documents. You will also add security to your PDF file.
Edit & OCR – you can now create documents from scanned pages. With OCR, you will have the scanned images turned into text within no time.