There can be a need for you to do some sort of revision of data and other things on important official documents. During such situations, you may have to compare two PDF files with the help of certain tools. Such tool can help you compare PDF documents side by side and find out the slightest of differences in a short time. You can review the differences between two documents at a single glance, and see what all changes are needed to be made in the file. Also, you can easily visualize the changes you wish to do, and edit them through these tools. In the coming paragraphs, we shall study such tools which can help in comparing two PDF files side by side.
Part 1. The Easiest Way to Compare PDF Documents Side by Side
In this section, we will tell you the name of one such tool which can help you compare PDF documents side by side and is the best alternative to Adobe Acrobat. We are talking about PDFelement Pro which will completely redefine your experience of working with PDF documents. This PDF editor will also help you to make any type of changes to a PDF document such as texts, pictures, page size and other graphics apart from allowing you to compare PDFs side by side. It is undisputedly the best tool which can be used to manage PDF on both Mac and Windows based systems. In view of the aforesaid points, it can be concluded that PDFelementfessional is the best way to compare PDFs side by side.
How to Compare Two PDF Documents Side by Side
Step 1. Launch PDFelement
First of all, download the program on your PC and run the same.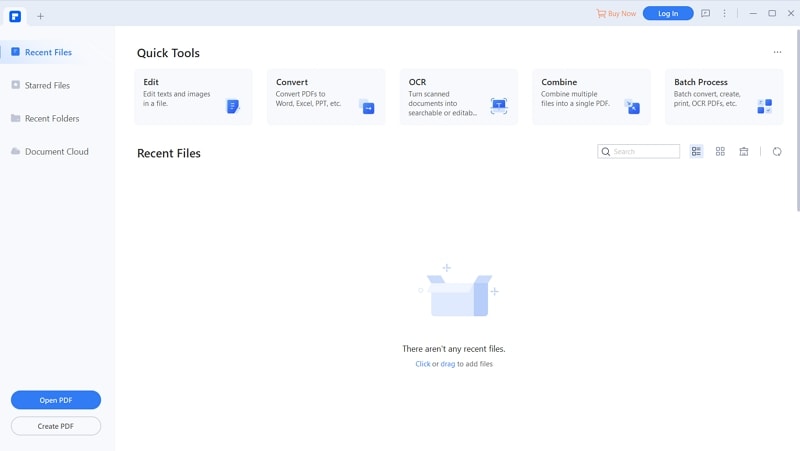 Step 2. Import a PDF at First
Go to "Open File" section and click to import the selected file. The file will get loaded into the software.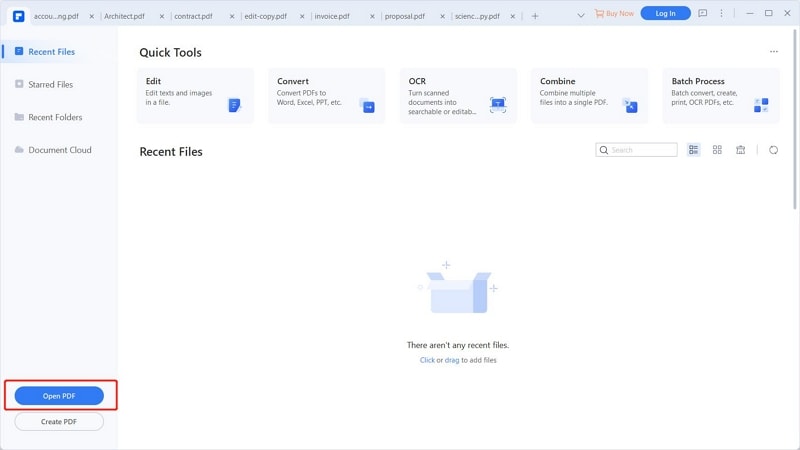 Step 3. Comparing two PDF Documents Side by Side
To compare 2 PDFs side by side, you can open two or more PDFs at first. This professional PDF editor enables you to open 2 PDF files at once, you can click on the "+" icon and select the needed PDF file to open.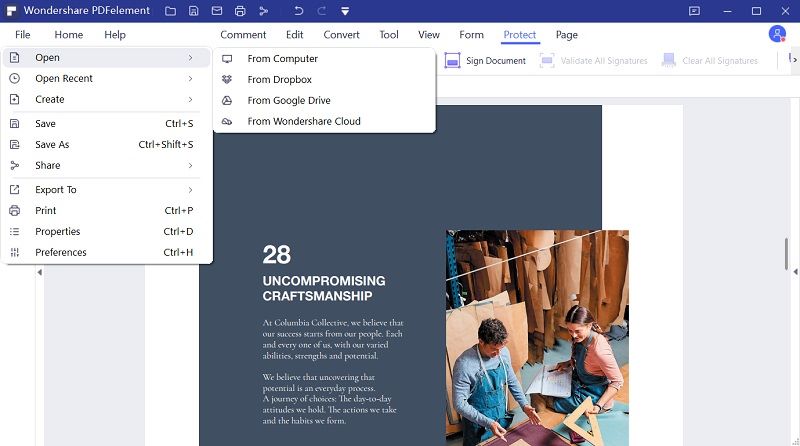 After this, you can now open the "View" menu and click on the "Title" button. On the pop up window, you can choose to compare PDFs horizontally or vertically.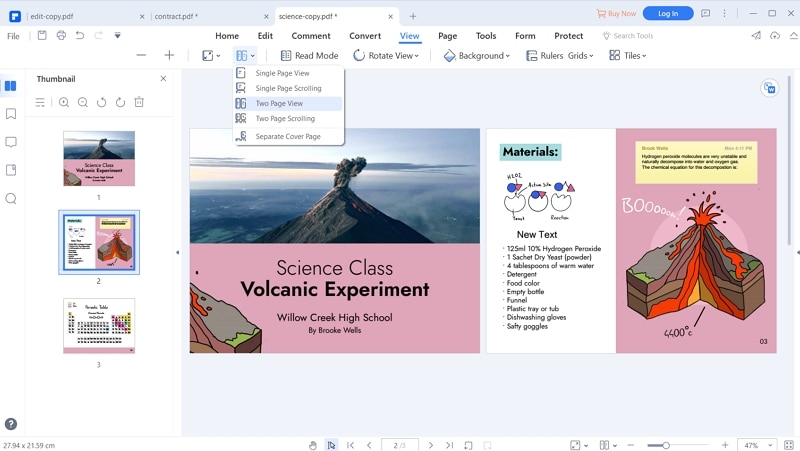 ---
Why Choose PDFelement to Compare PDF Documents Side by Side
PDFelement Pro has many advanced PDF editing features that make a user feel at ease during usage, such as you can not only do comparison task alone but you can also crop, edit, convert PDF files, form creation, OCR, split document and a lot more. iSkysoft provides a proper guidance for all the functionalities and customer support is available at all around the clock. If any problem persists then give a call to iSkysoft PDF Editor Team. They will respond to you immediately.
Key Features of PDFelement:
With this tool, you can create the PDF on your own whether it is form template or normal document.
When it comes to security, the iSkysoft PDF Editor gives the functionality to create the password or you can sign up the document digitally.
Here, you can combine, split, merge, batch, redact and perform OCR easily.
Create annotate, markup and highlight the important words in the document.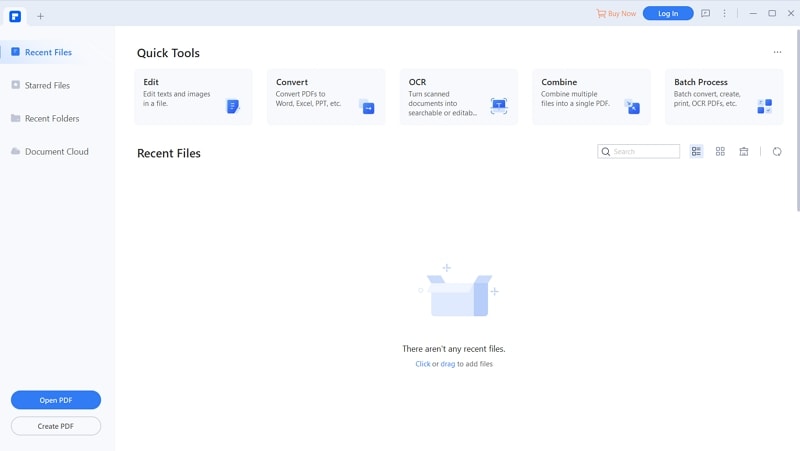 ---
Part 2. How to Compare two PDF Files Side by Side in Adobe Acrobat
With the introduction of the new "Compare 2 PDFs side by side Files" tool in Adobe Acrobat DC, you can quickly compare two PDF files with a lot of ease and proficiency. You can compare, summarize and edit the files. By comparing two PDF documents side by side, you can be sure that you have spotted every difference. With the new tool, you can snippily and perfectly detect the differences between two versions of PDF'S. After comparing the two files, you would get a detailed report of every alteration such as text, fonts, graphics, and even the sequence of the pages.
Step 1. Start Adobe PDF editor and go to "Document" tab then choose the option "Compare Documents".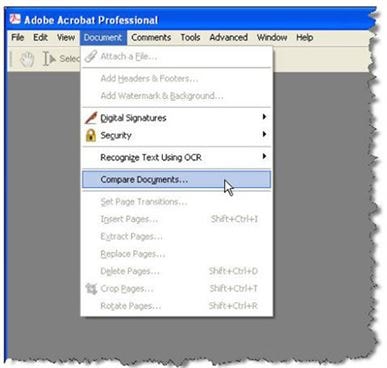 Step 2. Select the previous file by clicking the "choose" menu. You will be displayed with the older name in the field compare (older document).
Step 3. Select the type of new file which you want to compare with the old one. Again, click on "Choose" and the new document name will be displayed in "To (newer document)".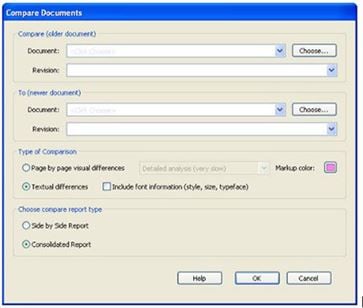 Step 4. Then, you can compare the document by three options such as Page by page visual differences or text differences as per your requirement.
Step 5. Again, choose the comparison type report either side by side report or consolidated report. Click "OK" to start.
Common issues on using Adobe to compare PDF files side by side:Adobe Acrobat is undoubtedly one of the best tools to work with your PDF, whether it is creating, editing or compare 2 PDF files side by side. However, there are certain issues which we have listed below pertaining to how to compare two PDF documents side by side.
If you want to make a comparison of the text-based documents, you will have to choose the Textual differences tool that will let you have the side by side report format.
If you are not using an updated version, then you are definitely going to face issues as the new compare 2 PDF documents proper side by side view for a better experience in identifying differences only on a modern UI.
Any day, the single page view is more comfortable than the side by side view. There is the lesser strain on the eye. And the consolidated report is also better in case of single page view.
---
Part 3. Tips about Comparing PDF Documents
As you already know that in situations where you may need to compare the two PDF documents in hand you will be required to use certain tools to do so in an effective way. There are certain ways in which you can compare the 2 PDFs effectively:
Side-by-side view: You may use the Side-by-Side (Ctrl+\) view to see a parallel view of the comparison results where the differences are displayed in highlighted bands. The first file is shown on the left side and the new file on the right, displaying the changes highlighted in each band corresponding to the same rows in the files for a better review. You can click on a band to view a pop-up describing the changes within that specific part. You can also click on the highlighted portion to open the pop-up description.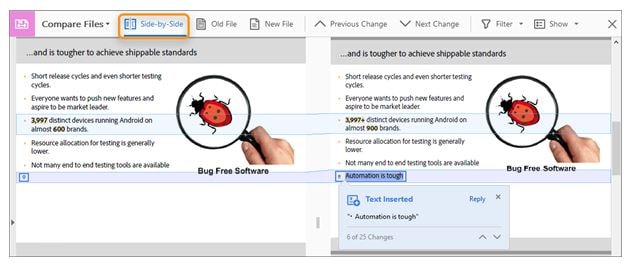 Single page view: Here, instead of displaying two files, only one file will be displayed. use the old file or else the new file button. The option will be there on the toolbar and check the individual file and you will see all the changes that have been highlighted.