Your PDF file size it is important when you are trying to send it as attachment via email. If you have received a notification with undeliverable message, this is happening probably because it is too large. By compressing your PDF file size will be reduced. Besides the limitation of your email provider for your file size, compressing the PDF file will also make the receiving of email message smoother.
A reduced, compressed PDF file need smaller place on your Mac, also. With so many files that we need to keep our work and probably the life better, always we are looking for ways to reduce the space occupied by our files on our devices. This article will teach you how to compress PDF for email on your Mac with simple steps.
The Tool You Need for Compressing PDF for Email
PDFelement Pro - The Best Way to Compress PDF
PDF is still the most secure and efficient file format, for viewing and exchange. You should know that infos storage and retrieval are faster using PDF format. This why many people use this file format, but when sending emails the file size could be an issue. Images and big volume of data from file increase its size. A large PDF file is quite difficult or even cannot be attached for emailing. It can happen to take a very long time to download in order to view it.
There are several tools for helping you to compress a PDF file for email. The must-have tool is PDFelement Pro for ensuring great compressing results. This optimization of your PDF file can be done by using this amazing compression tool. The output PDF file is compressed in size and gives the best way to retain the quality for this kind of compression. In any case keep the format intact as in the original.
The four options delivered with PDFelement Provv give you the possibility to select the best method for your file size needs. The major benefit of compressing the PDF file size before emailing is reducing the time during attaching and downloads it when received for viewing. Capacity for a resized pdf document fits better in bandwidth. Also, a compressed pdf file use smaller space on the system memory from Mac.
Why Choose This PDF Compressor:
Easily compress your PDF files and share PDFs via Email.
Convert PDF to images, Word, Excel, PPT, EPUB and more formats.
Edit PDF text, images, links with multiple PDF editing tools.
Create PDF from other formats and create PDF forms easily.
Mark up and annotate PDF files with multiple markup tools easily.
Combine multiple files into PDF and split PDF into several files.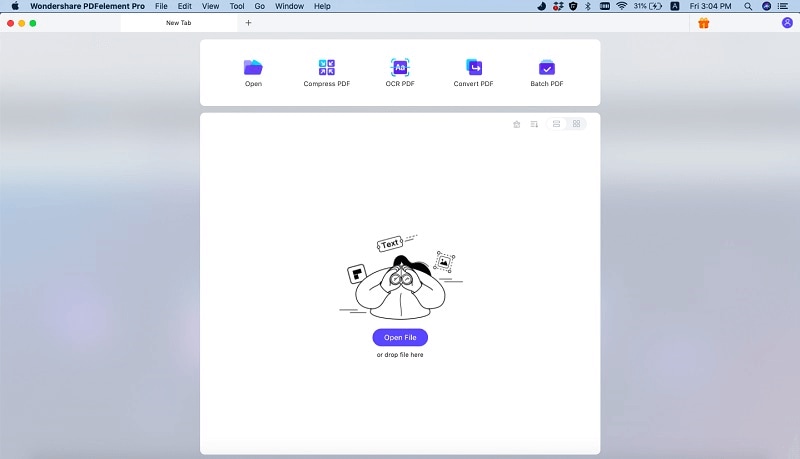 ---
How to Compress Your PDF File for Email Transmission
The following steps will show you how to compress your PDF document in order to obtain a smaller size for email.
Step 1. Import Your PDF File
After you have downloaded and installed the Pro version, you then need to launch it and load the PDF file you want to compress. To do this, you can click the Open File button at the bottom left corner to browse the target file on your computer.
Step 2. Access the Compression Options
After the file has been completed load, you can then navigate to the gray header bar. Click File to open the drop-down menu. Then select Optimize to open the compression window.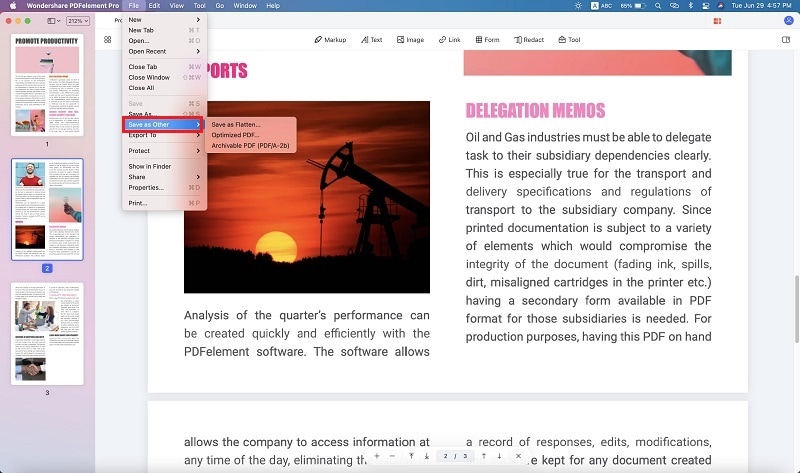 Step 3. Make Your PDF Smaller
The four options give you different output files. In this case, you need to choose Web Quality. This option means that the compressed file will be much smaller and with lower quality, and it can be utilized for sending email attachments. Then click Optimize to start compression.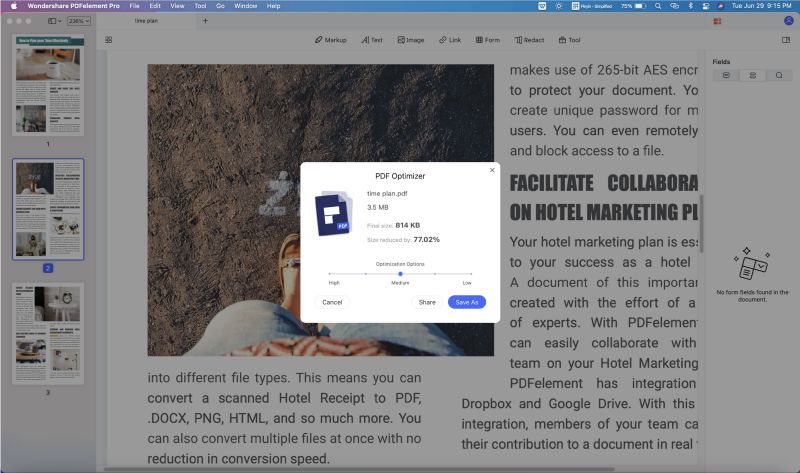 By compressing your PDF file for email, the recipient of your message will receive the smaller resized PDF file and it would be easier to open, download the attachment and view the file. Data exchange via online network is made faster and less expensive due the MB downloaded. Usually more than one PDF file can be attached in an email message if the size for every file is compressed.