Bookmarks appear as a separate list in a pane when viewing a PDF file and they are pretty useful to savvy PDF users. They can link to a specific page or to an anchor in one's publication, for example, a piece of text or a graphic object. If need be, one must export this bookmark either from one PDF to another or any other set destination. Well, how do you do this? Let's get started! This article explores some of the tools and ways one could use with ease to export bookmarks from PDF to the desired destination and the rationale behind the need to export or import bookmarks from a PDF file.
Part 1. How to Export Bookmarks from PDF
As explained in the introduction, bookmarks can also be termed as a set of links displayed when consulting the PDF file, in Adobe Reader, for example, and enable the user to navigate within the document.
Using Debenu PDF Aerialist to Import and Export Bookmarks from A PDF File
Debenu PDF Aerialist 11 is one of the tools used by Windows operating system users. It's straightforward to use since it is relatively straightforward, especially when exporting bookmarks from a PDF file. The steps below will show you how to export bookmarks from PDF files easily.
Step 1. In Acrobat, select Tools> Debenu PDF Aerialist 11> bookmarks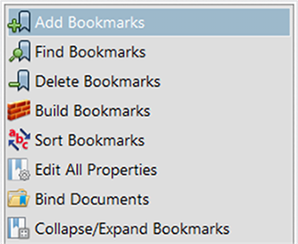 Step 2. From the list that opens downwards under bookmarks, select "add bookmarks."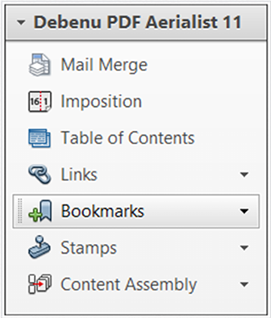 Step 3. A window will open. Click on import.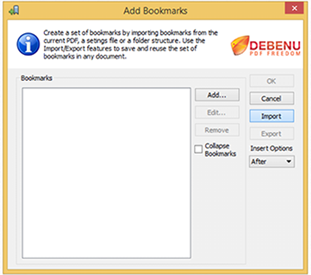 Step 4. Another small window will open, select "From current PDF" and click OK.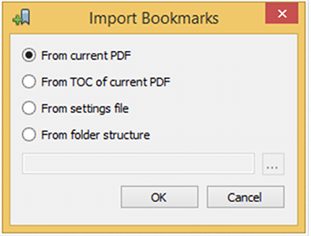 Step 5. A list will appear containing all bookmarks locations in the previous window (Step 3). Click the "export" option.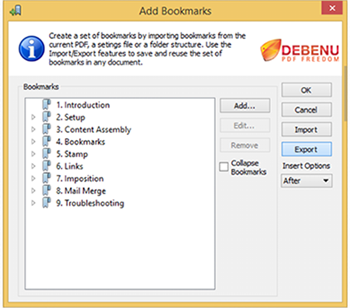 Step 6. Another window will appear. In this window, pick the destination by selecting file name and location and finally click Save.
With the help of this tool, you can easily export PDF bookmarks to Text or to Excel format. You can easily download and learn how to export PDF bookmarks.
---
Part 2. Tips about Export and Import Bookmarks from PDF
Under various circumstances, will you find the need to export bookmarks from PDF files. Depending on the workflow, one might need to apply the same set of bookmarks to multiple PDF files. This can be important in a case where regular reports follow the same format, pagination included. Having the ability to import and export PDF bookmarks to a text file or to Excel file format can be an essential time-saver in such a situation. This way, the bookmarks need only be manually created once and applied to each new document once prepared.
The addition of bookmarks means one can go directly to the main sections of the document. Bookmarks create a clickable summary of a text which can be displayed beside the pages. Importing a marker or creating one helps in the navigation of the document.
Pros of exporting and importing PDF bookmarks include:
In cases where one needs to apply the same bookmarks to multiple PDF files or documents, such skills of exporting and importing bookmarks will be useful.
It helps in time-saving since one can apply the same bookmark in thousands of documents at the same time.
When various documents have the same points within them, they can be linked by the same bookmark for easier location by the reader thus, one only needs to create one bookmark and export them to the rest of the documents.
In cases of pagination, one may need the skill of exporting and importing PDF bookmarks.
---
Part 3. The Best PDF Bookmark Editor for Mac (macOS 10.15 included) and Windows
It goes without doubt that PDFelement Pro is the most outstanding program when handling PDF files. It is sturdy yet very economical. PDFelement Pro is compatible with Windows and Mac, including macOS 10.15. Moreover, there is a free trial program that enables you to experience its awesomeness before you purchase it.
Exporting bookmarks has been made effortless by PDFelement Pro. The program enables users to add and create bookmarks for PDF in a hassle-free manner. All you need to do is download the app, install on your computer, launch it and follow instructions presented on windows. It has a user-friendly interface, making its usage even simpler.
Some of the exemplary features embedded in PDFelement include the ability to:
Edit and convert PDF. You can easily edit texts, images, pages and make comments on the PDF files. You can also convert PDF to various formats like Excel, Word among others.
Create PDF and combine or split PDF files. PDFelement Pro enables you to create PDF from WebPages, text or image data. You can also merge several PDF files into a single one or split large files into smaller PDF files.
Create and fill PDF forms and secure them. You can create templates and encrypt your files with a password and also add a watermark to them.
Redact PDF. This means you can eliminate sensitive texts or images from PDF files.
Bates numbering. You can apply labels to PDF pages which makes organization easy.
Batch processing. In simpler terms, you can perform various tasks in multiples like multiple PDF conversions or data extraction.
This program, PDFelement Pro, is the best Adobe Acrobat Alternative. Explore it and discover other many features that we have not mentioned above.