It is not easy to find a flatten PDF online file editor that allows not only to edit and add text, but also to change images, add graphics, fill out forms etc.
Generally, there are two types of PDF forms. One is an interactive PDF form and the second is a non-interactive PDF form. An interactive form contains fields that can be selected or filled out. Users can easily fill out a form by hovering over a field on the form and directly entering the required credentials. Non-interactive PDF forms are forms that contain only simple PDF files with text and spaces / lines.
In this article we are going to share the top 3 PDF flattening online, so all you have to do is simply upload the PDF file to the site, make the desired changes and then save it back to your computer.
Best 3 PDF Flatten Online Free Tools
#1. Sajeda: Flatten PDF Online
Sajeda is an online PDF editor that can flatten PDF and edit the existing text in the PDF free of watermark. Most editors only allow you to edit the text that is added, or they support changes but by inserting full-fledged watermarks. In addition, this tool can run completely in the browser. All files uploaded to Sejda are automatically deleted after five hours.
Pros:
Allows you to upload PDFs from other sites; images, shapes and links can be inserted.
Allows you to edit an unlimited number of documents.
It has no page or time limit.
Cons:
You can only use it on three PDFs per hour composed of less than 200 pages. It does not edit files larger than 50 Mb.
It is not as secure as other PDF editors.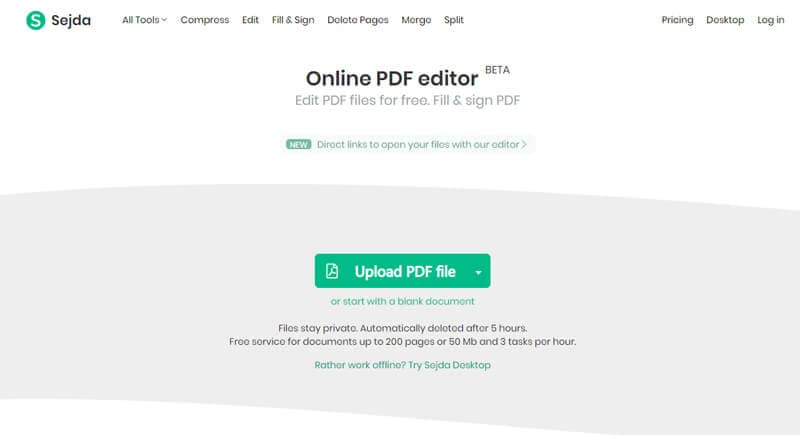 ---
#2. Smallpdf: Flatten a File for Free
SmallPDF is a full-featured PDF tool that includes operations such as compression, conversion, editing, splitting, merging, unlocking, and signing. It is one of the fastest ways to add images, text, shapes or your signature to a PDF with SmallPDF. This PDF flattening online tool allows you to upload a PDF, make changes and save it again on your PC without the need to create an account or pay to prevent watermarks from being printed. It is possible to open and / or save the PDF on Dropbox or on a Google Drive account (as well as on the computer).
You can import three shapes into a PDF: a square, a circle and an arrow. You can change the color of the main object and the color of the line, and also the thickness of the border. The text can be of any size, but only three fonts are available. If you edit two PDFs within an hour it is essential to upgrade to Smallpdf Pro if you want to continue using the tool.
Pros:
Completely free; allows you to add text to the PDF; import of shapes; upload and save PDFs from various sources.
The free version is quite complete.
Cons:
It does not allow you to edit existing text; only two editable PDFs per hour.
A slowdown is possible for some types of documents.

---
#3. Free Tool Online: An Easy to Use Online PDF Tool
This is completely free tool use to flatten online PDF or convert HEIC files to JPG format. It is simple to use and just a drag and drop procedure.
Pros:
It is a free online tool which is very simple to use.
Before converting HEIC, you can adjust the quality of the output image by dragging the slider.
Cons:
Only 50 HEIC files are convertible at a single time.
HEIC files larger than 30MB cannot be converted.
For ads, there is a "Start Now" button that can cause confusion and reduce user satisfaction.

---
The Best PDF Editor to Flatten PDF on Desktop - PDFelement Pro
The best way to flatten PDF is to use the most popular flattening tool PDFelement Pro. This editor is free but, like others unfortunately, it places a watermark on each page of the PDF. This watermark does not cover too large an area of the page. On the other hand, the program contains many really useful editing features. PDFelement Pro is a best application that can handle all aspects properly. Even the most discerning users have to be convinced by its powerful features.
How to Flatten PDF on Desktop with PDFelement Pro
PDFelement Pro user guide can help you solve various problems encountered during the use of the product, including creating PDF, editing PDF, encrypting PDF, etc. With this 3 Step approach you can easily flatten PDF with PDFelement pro.
Step 1. Download PDFelement Pro
First, you need to download the software. You can download PDFelement Pro clicking the button below:
Step 2. Open PDF form
Click 'Open' to open a PDF file. When you open an interactive PDF form, it will automatically identify the areas that can be filled. When you opens a non-interactive PDF form, you can click the 'Form' on the upper column, click 'Form Recognition' to help you identify the parts that can be filled in the form. After you add some text field, check box, radio button, you can click 'Close Form Editing' in the upper left corner, and you can fill it out.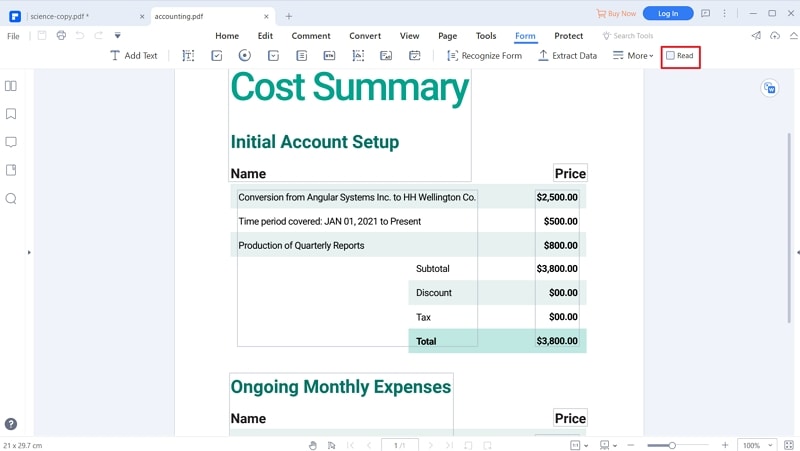 Step 3. Flatten PDF form
Now you are ready to flatten PDF files. Go to 'Home' on the top tool bar, click on 'Flatten File'. Flattening a PDF file means, the ability to delete edits and add document values by separating the form data and adding it as text / image. Like regularly scanned documents, standard PDF files, edited by the receiver, PDF files will no longer be interactive.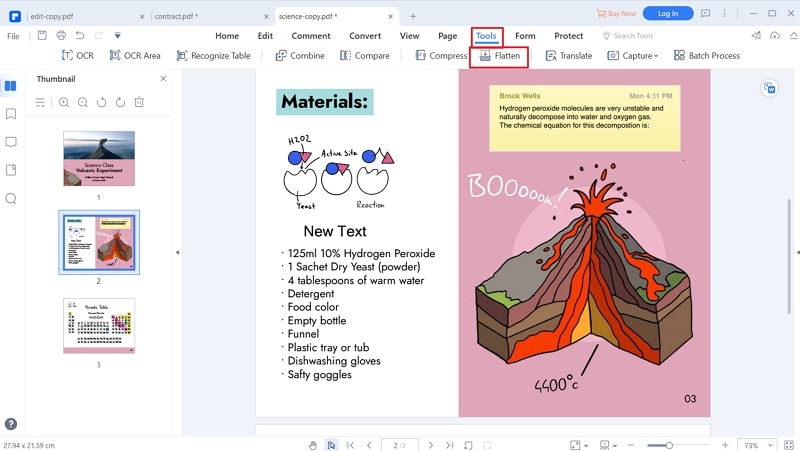 Key features of PDFelement Pro:
The easiest way to edit office documents without changing format and layout.
Use powerful OCR recognition to scan and text in photos and convert them to editable, searchable and selectable PDF files.
Turn any non-fillable form in Word, Excel or other Office applications into an editable PDF with one click.
Using intelligent form automation technology, you can extract hundreds of PDF form data.