PDF format files can help you to send important memos, invoice clients, or maintain company records in a consistent format. When transferring or sharing documents within your company or on a network, you can be sure that the formatting will be maintained. It does not have the same formatting issues associated with Microsoft Word and other processors. The only challenge is when you want to edit PDF documents. You need a software program to do this. In this article, we've outlined a list of the best free PDF markup software to help you work with your PDF documents.
Top 10 Free PDF Markup Software
The following are free PDF markup tools that should be considered when marking up your PDF documents.
1. PDFelement Pro (Windows & Mac)
PDFelement Pro is a great PDF markup software with different markup tools such as highlighting, lines, circles, comment boxes, and more. In addition, it is also a complete PDF solution with many features for editing, converting, sharing and protecting PDF files. PDFelement is a very easy-to-use PDF markup software because it has a very simple interface, and you can access all functions from the main interface without the need for navigating elsewhere. There is a thumbnail block for navigating between pages and an adjustment panel that you can use to change functions such as thickness, color, opacity, style, and so on.
Pros:
It provides multiple PDF markup tools to annotate PDF files.
It has high-security features to protect your PDF document.
It comes with professional editing tools and an advanced OCR feature.
It is very easy to use for creating a fillable PDF form.
Cons:
You can try this PDF markup tool for free but files will be saved with a watermark.
---
2. Microsoft OneNote (Windows & Mac)
Microsoft OneNote is available on Windows and Mac, mobile devices, and the web. It is a free PDF markup software and features a lot of storage space. You can pull up your content from wherever you are very easily, even if you are offline. It is very close to Evernote when it comes to functionality.
Pros:
It's good for taking basic notes and always being smooth and fast.
It is very reliable
All note content is treated as distinct pages
Cons:
Sometimes you will meet the syncing issues.
Search in the web app is very poor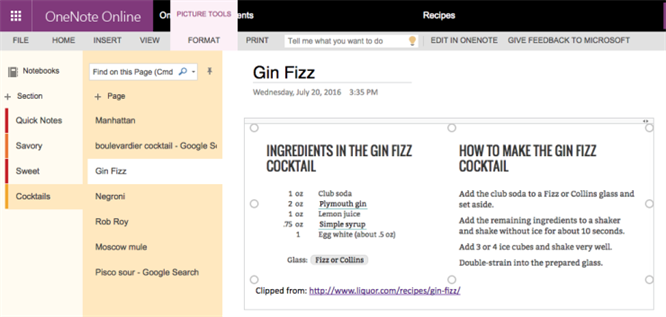 ---
#3: Foxit Reader (Windows & Mac)
Annotating and opening PDF files is easy with Foxit Reader markup tool. You can use it to open even large files in seconds. Other useful features include markup tools, the comment feature, striking through text, underlining, and so on. It works seamlessly with other software programs and services.
Pros:
It comes with a handy JavaScript security feature.
It allows you to create PDFs from scanned documents.
It has web browser plugins.
Cons:
Its interface is quite cluttered.
Most of its features rely on other products.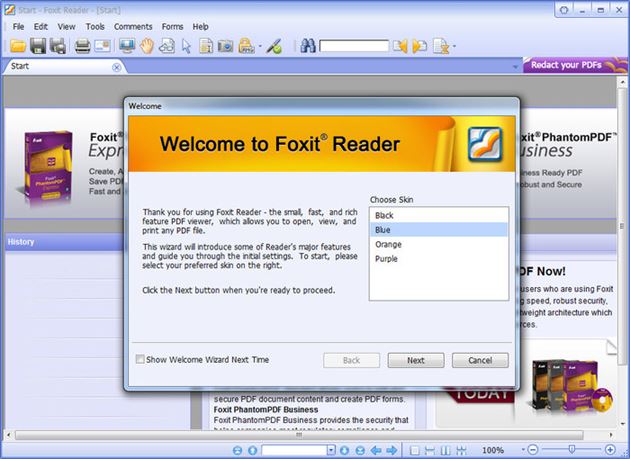 ---
#4: Adobe Acrobat Reader (Windows & Mac)
With Adobe Acrobat Reader on your Mac or PC, you will be able to read, markup, navigate and enter information into PDF files very easily. The simplicity of its interface makes it very easy to use. Only essentials are shown on the interface, and it is faster and more reliable than most other free PDF markup tools.
Pros:
It supports full-screen reading.
It has very good accessibility options.
It features improved security.
Cons:
It takes up a lot of space on your PC or Mac.
Sometimes, it is very slow to checkboxes or write in text fields.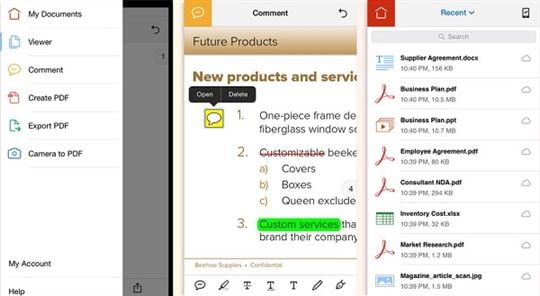 ---
#5: Markup Hero (Windows & Mac & Online)
With Markup Hero, you can view and annotate your PDF files online without any difficulties. And you can also use this free PDF markup tool to take screenshots, add signatures, share links and more. You can choose to download it to your computer or visit its official website and use it directly. It provides a clear and uncomplicated user interface and won't take too many times to learn how to use it. It's very nice for new users.
Pros:
It is a great tool for making notes on PDFs and saving your markups as PNGs.
The ability to edit/re-edit saved screenshots quickly.
It has a very intuitive interface.
Cons:
The writing cannot be centered or started from right to left.
It cannot take a screenshot of a part of the screen, it is always full screen.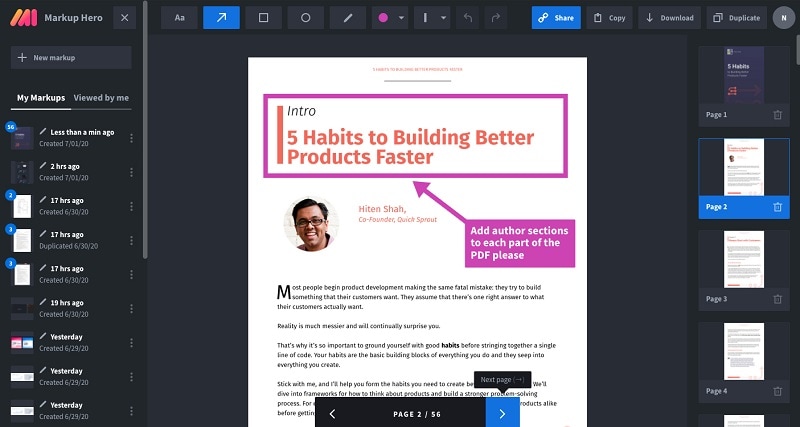 ---
#6: PDFescape (Online)
There is a lot you can do with PDFescape. You can use it to edit PDF files, fill out PDF forms, annotate PDF documents, password protect PDF files, create basic PDF forms and so on. It is easily installed as a Google Chrome extension and accessing it is very simple. You just need to click on the link that you would like to view.
Pros:
It is a great tool for making notes on PDF and filling out PDF forms.
It can be used without account registration.
It has a very intuitive interface.
Cons:
It is not a full-featured PDF editor.
To enjoy using most of its features, you have to buy the premium version.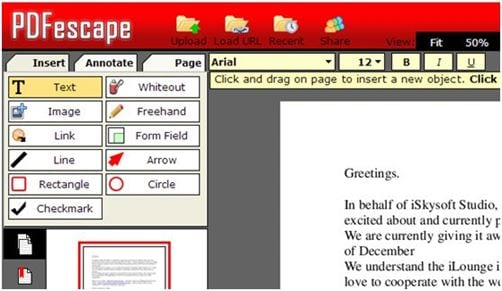 ---
#7: Nitro Reader (Windows)
If you want to markup your PDF documents for free, this is the application for you. Nitro Reader is one of the best free PDF markup software that is very useful for all basic tasks that you perform every day with your PDF documents. You can also use it to create PDFs from scratch. The PDFs that are created are totally compatible with other PDF readers as well.
Pros:
It allows you to convert documents to PDF format.
It features a complete set of free PDF markup tools.
It has a nice interface.
Cons:
OCR does not work well on large documents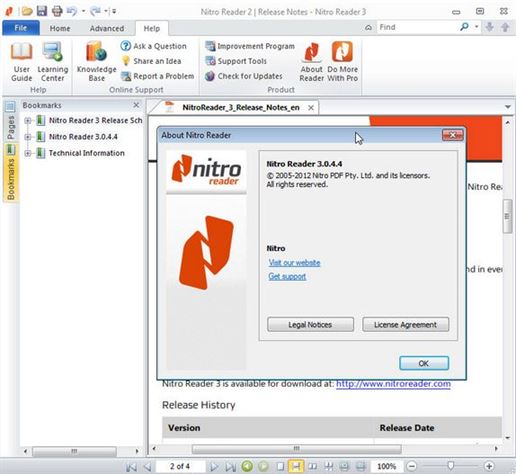 ---
#8: Qiqqa (Windows)
Qiqqa is a useful PDF markup tool if you have your PDF documents littered across multiple locations. It enables you to keep your PDF secure and organize them, making them instantly accessible as well as searchable across all devices. You will never have to waste time hunting for missing PDF documents again because of the automatic tagging, identification, and categorization that it features.
Pros:
Faster downloading of multiple PDF papers.
Ability to hide items with no PDF.
Ability to open PDF documents directly from the internet or email.
Cons:
Viewing and annotating PDFs can be difficult.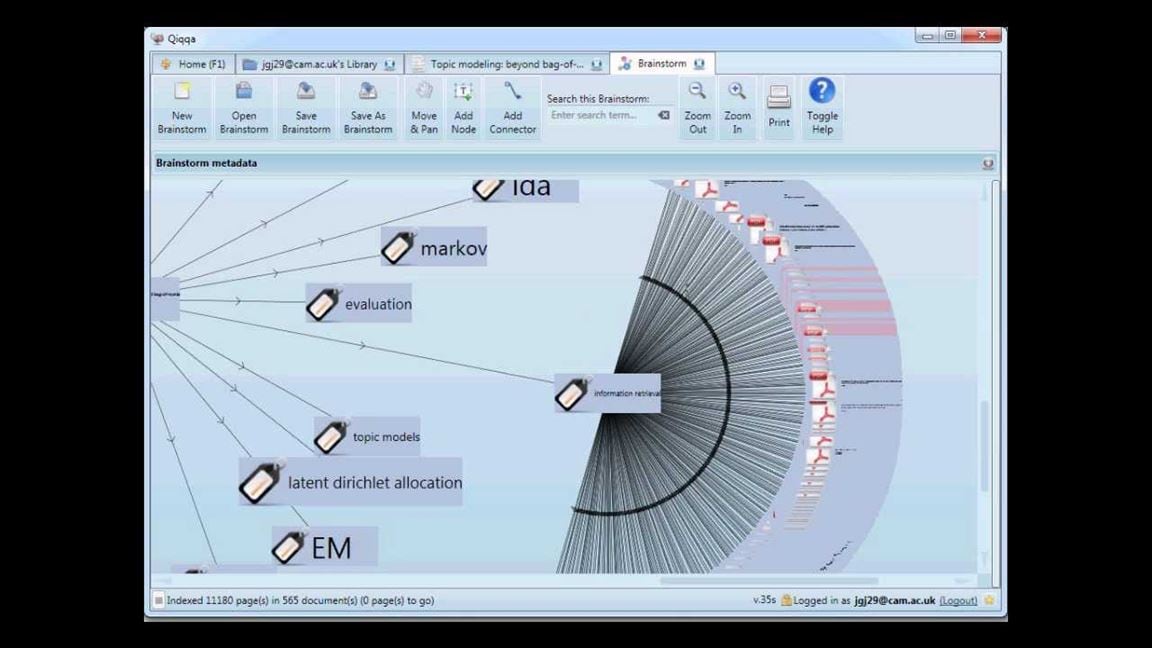 ---
#9: Preview (Mac)
Preview allows you to view and edit PDF files as well as image files. You can use it to view, markup PDF, and combine as well as edit PDF files without any difficulties. When you are done editing the files, you can share them on a local area network or online very easily. Another thing that you will love about this free PDF markup software is the ability it gives you to add a digital signature to your PDF documents.
Pros:
It includes an icon previewer that allows you to view PDF files in their respective thumbnail icons.
It allows you to digitally sign your PDF files.
Apart from editing PDF files, you can also use it to edit images.
Cons:
Editing photos can be more complicated.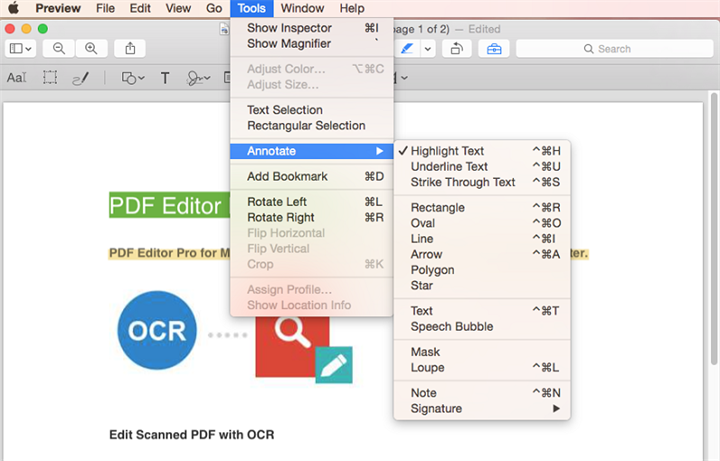 ---
#10: PDF Expert (Mac)
PDF Expert is a free PDF markup tool that allows you to read and annotate PDFs easily on Mac operating systems. You can also use it to modify existing text and images. You can insert stamps and modify document outlines and annotations created either from PDF Expert. It is very fast and reliable.
Pros:
Great support service team.
It features the ability to edit text and images
It makes modifying document outlines very easy
Cons:
Free download but need to pay for advance features.