"I have a few pages from a 50-page document that I would like to send to my family and friends. Can I separate these pages without investing an amount of money on a software that I will not use frequently?"
The answer is: Yes. There are definitely ways for you to split a multi-page PDF file without forking out a single penny. Below are our picks for the Top 7 free PDF splitters, and one of the best way to split PDF on desktop is to use PDFelement Pro.
PDFelement Pro - The Best Way to Split PDF Files
To save multi page PDF into separate pages, a multi-function and professional PDF Editor can lend you a hand. Here I highly recommend you to use PDFelement Pro to split PDF files. With the help of this smart PDF editor software, you can easily split a PDF file by page ranges and edit the PDF pages, texts, images, links by a simple step.
Why Choose This PDF splitter:
Easily split specific page ranges in high quality.
Mark up PDF documents by adding highlight, underline, or strike through.
Edit PDF texts, links, images, pages as easy as working on Word files.
Convert PDF to Word, Excel, PPT, EPUB, images, and vise versa.
OCR scanned PDF and allow you to combine, split and compress PDF files.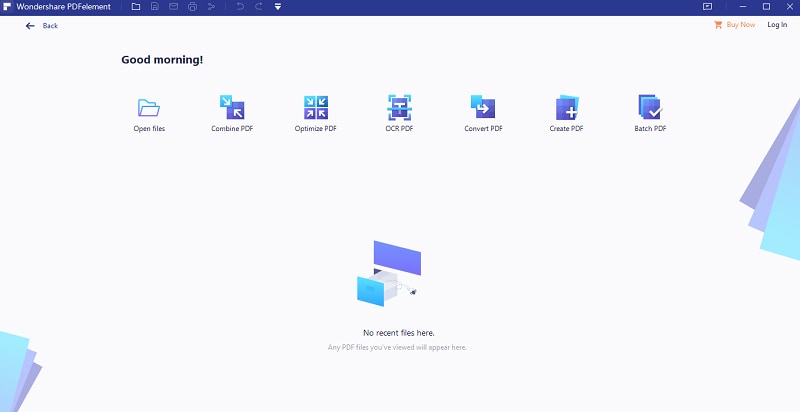 ---
Part 1. 7 Recommended Freeware for Splitting PDF Files
1. CutePDF
Although this "printer subsystem" was developed to publish printable non-PDF files into PDF versions of themselves, you can manipulate its printing function. It is simple to use (as easy as clicking "Print") and have been consistently reliable. This free software is top on our list simply because it is an existing software on our system that is used rather frequently, i.e. it is not a standalone software that is not frequently used.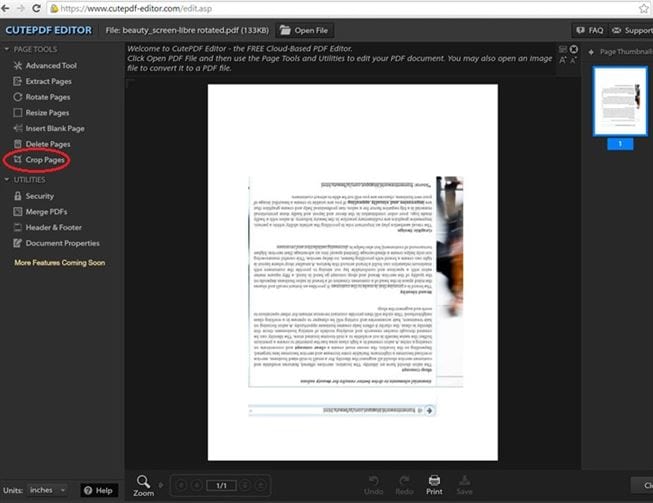 ---
2. Free PDF Splitter
This professional and independent software is easy to use with its no-fuss interface layout. If you need to process the extracted PDF pages a bit, this free PDF splitter will give you some options to play around with. Not only does it allow users to extract page(s) into one separate file, but it can isolate multiple page ranges into multiple batches. You can also opt to rearrange the sequence of the extracted pages if that is what you please.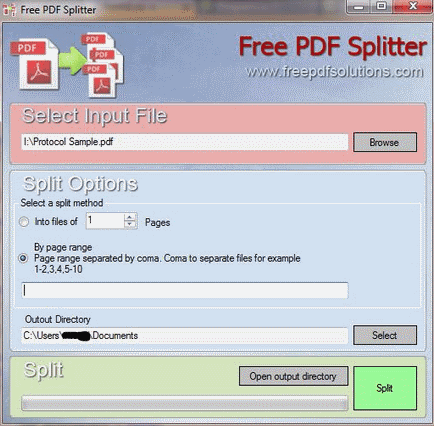 ---
3. Google Chrome
Did we mention that we love it when we can utilize software that is already installed on our computers? I bet that your Google Chrome browser can help you split your PDF files (psst… we did not know this initially either!). All you need to do is drag and drop the PDF file into your Google Chrome browser and wait for the "Print" window to pop up. You can then key in the page(s) you want to extract and choose the destination where you want to store the new PDF file.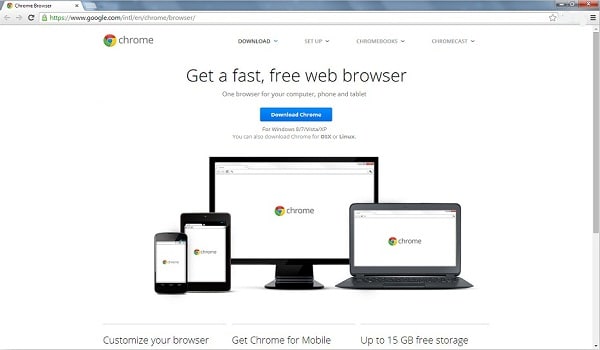 ---
4. PDFSplit!
If you are not keen on installing a new software to your computer, this online solution is great to play around with. All you need to do is upload your PDF file from its source (on your laptop or in cloud storage), indicate the pages you want to extract and click on the "Split!" command button. It also supports batch processing so that you can save different range of pages in different files.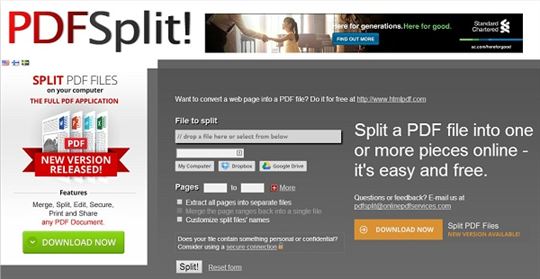 ---
5. Split PDF
Like the previous online solution, this free PDF splitter is really easy to use and allows users to upload their PDF files from their computer or cloud storage. What sets it apart from the previous one is that it allows users to preview and select the needed pages in a visual interface. It also ensures users that uploaded documents will be deleted from their server within the first hour of upload – a handy information to know if you are dealing with confidential documents.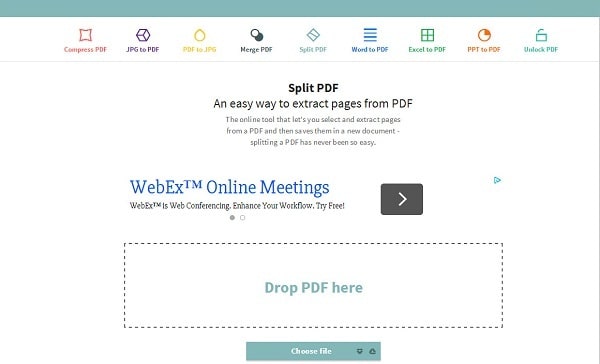 ---
6. Coolmuster PDF Split and Merge for Mac
Unlike the previous offering, this is a specialized piece of software that accomplishes the one task, splitting or merging PDF files. It is a relatively easy program to use, small in size and includes the ability to batch process files to split a large number of files quickly. It can add security settings to the split files, such as needing a password to view, and has equally comprehensive merging features as well. A very good package for splitting PDF files, although limited to that one task.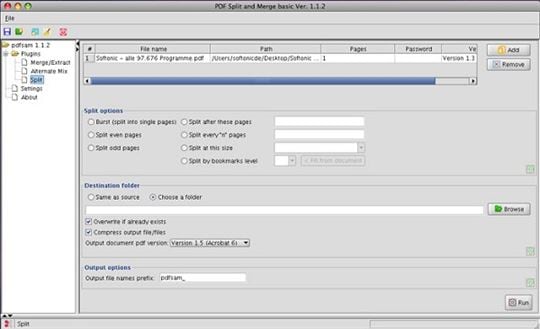 ---
7. iPubsoft PDF Splitter for Mac
Another dedicated PDF splitter and joiner, PDF Splitter can split any PDF file into up to 200 separate files, and includes comprehensive folder options to keep file continuity after the split. It presents a very simple interface that makes the process easy, and either splitting or merging files is accomplished quickly and easily. Again, the software presents a small footprint and does its job very well, but as with split and merge, the scope of its abilities are limited in comparison to the PDFelement Pro.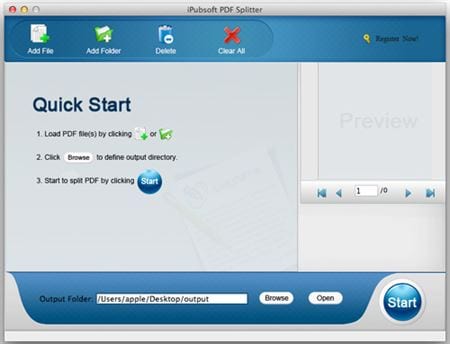 ---
Comparison of the above PDF Split Freeware
Features

Supported OS
Pros
Cons
Other Remarks

CutePDF

Windows

PDF printer – can create PDF files from non-PDF documents
Intuitive to use
Reliable – no bugs have been reported by past users

Can only be used by one operating system
Cannot customise the quality of the saved file
No batch processing

---

Free PDF Splitter

Windows

Straightforward interface
Batch processing
Ability to customise the pages

Can only be used by one operating system
Can only work as a PDF splitter

Updates have caused some users to experienced missing texts in the extracted files

Google Chrome

Windows, Mac OS

Can access PDF files from your computer and online URL
The ability to preview the pages

Cannot edit the document
Cannot customise the quality of the saved file
No batch processing

If you are not currently using Google Chrome as your main browser, we encourage you to try to do so because it is very dynamic and fast.

PDFSplit!

Windows, Mac OS, Linux

Can access PDF files on your computer or from the cloud
Can use the same link to merge files
Batch processing

Cannot split an online PDF file directly

The developer has a reminder saying that if the document is confidential, they recommend using a secured connection.

Split PDF

Windows, Mac OS, Linux

Can access PDF files on your computer or from the cloud
The ability to preview the pages that you want to split
Files will be permanently deleted from the server within one hour after upload

Cannot split an online PDF file directly
No batch processing

---
As you can see, each free PDF splitter software or online solution comes with its own pros and cons. We highly encourage you to try them out and choose one that is most suitable for your working needs – tablet users on-the-go may find the last two options most useful, while if you work on your desktop and have a lot of pieces to share with others, the second option may just be the most ideal.
---
Part 2. The Best Solution to Split a PDF
A fully featured package with a low resource cost, PDFelement Pro is unique in this comparison in that it offers features beyond the ability to split and merge PDF files. Whilst it can do these tasks easily, it also has the ability to create, convert and edit your PDF documents. Although filled with features, it retains a simple, easy to understand interface that means anyone can accomplish these tasks quickly and easily, making for a very useful package for everyone. Although the wide range of features is what differentiated PDF Editor for Mac from the others here, it is its ability to offer all of this functionality whilst remaining easy to use that is truly impressive. A complete package suitable for all levels of ability, it has much to recommend.
Using PDF Editor for Mac is simplicity itself, as we said, indeed, splitting files can be accomplished in just a few steps as we see:
Step 1. Open File in the Program
Start the program and open the PDF you want to split by clicking the Open File button (located at the bottom left corner of the interface). Then navigate to the document Menu bar (located on the top of the interface) where you can find the various editing options. Click Customize to add the Split Document option to the Menu bar.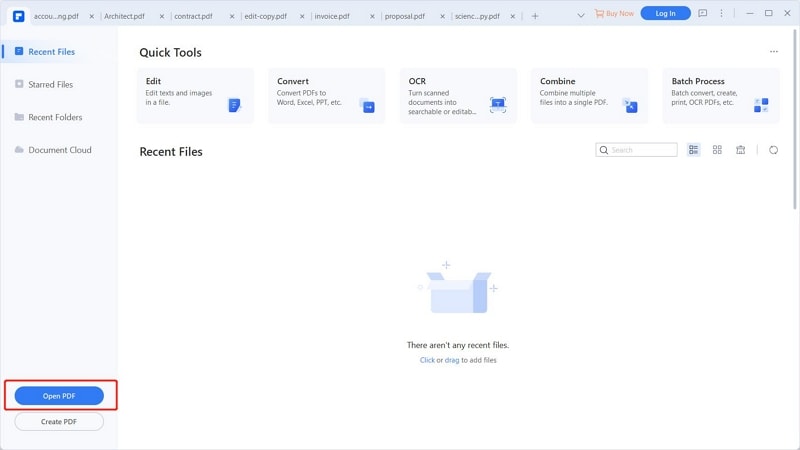 Step 2. Free Split PDF into Multiple Files
Clicking the "Split" button under the "Page" tab will activate a dialogue, where you choose the number of pages per split file, or a range of pages included in the split file, to ensure you have the division you want. Once you select the destination folder to ensure everything stays in order and together, and then click Split to start the task.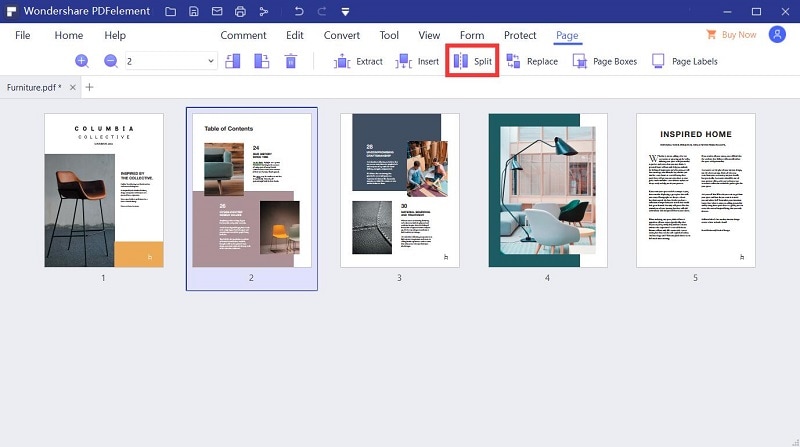 Tips: There are a few things to bear in mind when splitting PDF files, the first is making sure that the resultant files are kept together and in order, which means creating an appropriate folder for them and ensuring the software is placing the split files in it. This may sound a small thing, but makes using those split files much easier once the operation is complete. Also make sure that you set the number of pages, or page range, per split file correctly for the result you are looking for, the default is each page separate, which can be useful but not necessarily what you want each time.