Want to crop a PDF File? Do the pages in your PDF File have extra margins on the top, bottom or sides? Don't worry and stay tuned to help you solve this error. It is very common to scan documents and save them as PDF Files. But how many us know how to adjust the page margins to avoid the extra space on the top/bottom/sides. Also, if a PDF File contains unnecessary information and you want to delete it, but not permanently, cropping a PDF File page is a good option. So how does one crop PDF File on a Windows PC? It is simple and with the help of PDFelement Pro for Windows, the task of cropping a PDF File does not even take longer than a few seconds. To crop a PDF file still saves the cropped version as a PDF Document and retains its font and text size.
Part 1. The Easiest Way to Crop PDF Files on Windows
Want to know the easiest way to crop any PDF files on your Windows computer, then look no further, and get PDFelement Pro today. PDFelement Pro is designed to set you free from all kinds of tedious tasks, for example, editing, securing, creating, signing, splitting, watermarking, merging, and more. Just use this software to do all of these tasks.
How to Crop PDF Files on Windows
Follow the step-by-step guide given below to easily crop pages in a PDF Document:
Step 1. Import PDF Files to The Program
Firstly, download and install PDFelement Pro for Windows on your computer and launch the program. On the main interface, there will be an option to "Open File". Click on this tab to browse your PC and import the PDF File which needs to be cropped. Once your File is imported to the software, move on to the next step.
Step 2. Edit PDF Files
You file will either automatically open before you displaying all its content and pages or you may click on it to view it. Now navigate to the "Edit" tab on the top left corner as shown in the image below to see a wide range of options to edit your file and its content.
Using the options you may add text, add image, add link, watermark the file or simple change its background/header/footer, etc.
You can also add bates numbering which help in indexing and organising the PDF File in the future.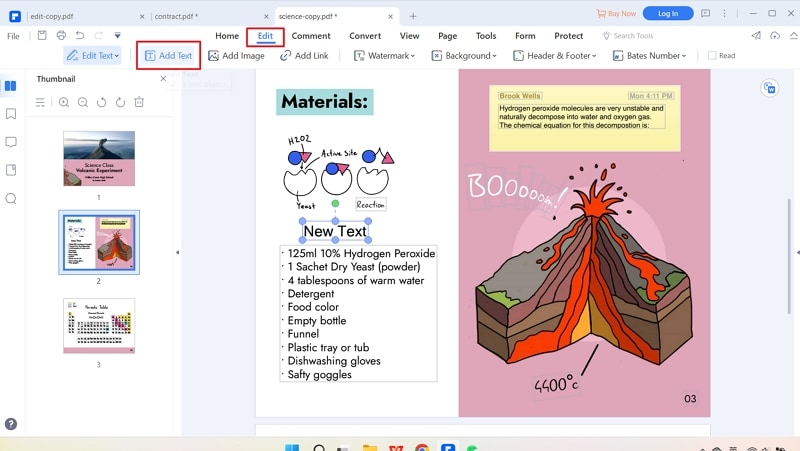 Step 3. Crop PDF Pages in a PDF Document
In this step, firstly navigate to the page which needs to be cropped and then hit the "Crop" icon under the "Edit" tab. You will now be able to crop a section the selected page by a dragging one end of the rectangular box. As soon as you select the region in the rectangular box, you will prompted to choose other settings, such as margins, etc. Finally, click "OK" and your page will be cropped to size.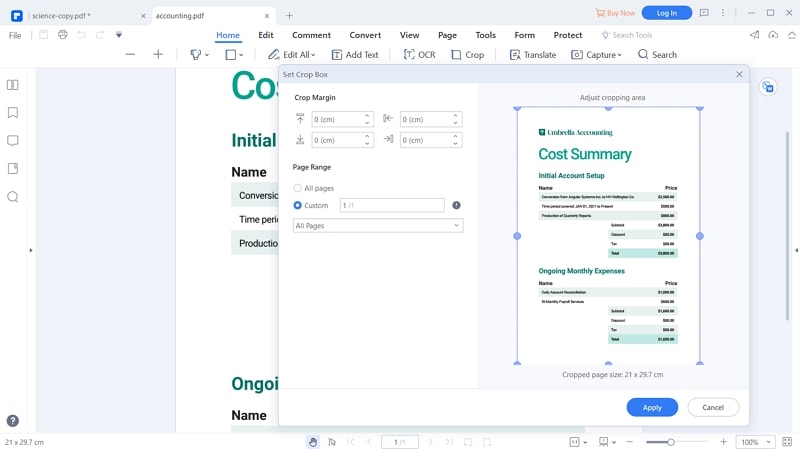 You can also use "Page Boxes" feature to crop PDF pages. To do so, you can click on the "Page Boxes" under the "Pages" menu. Then you can choose different PDF page boxes according to your needs.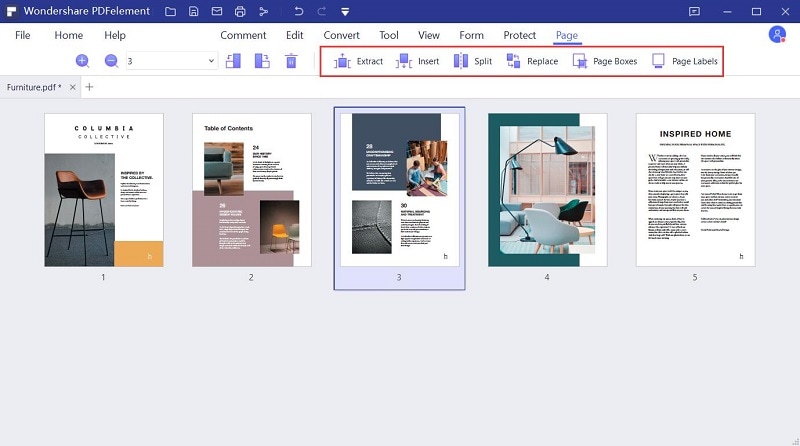 That's about it. Simple, no? The process of cropping a PDF File and its pages is as simple as demonstrated in the guide above. Try out PDFelement Pro yourself to believe how efficiently it crops texts, images and extra margins from your PDF Files and also gives you an option to adjust mini settings before you actually give the crop command.
The best part is that all the changes made by this software get saved as a new PDF File on your Windows PC, giving you an option to go back to its previous version as and when you like.
---
Why Choose PDFelement Pro to Crop PDF Files on Windows
PDFelement Pro offers to all its new users a free trial of this amazing product to test its effectiveness and understand it working by practical experience. This PDFelement Pro for Windows is fully compatible with Windows 10 and allows users to edit the PDF Fie before cropping pages in a PDF document.
Why Choose This PDF Editor:
Trims off extra margin and crops PDF Files to suit your requirements.
Allows you to edit PDF Files before cropping by adding notes, text boxes, comments, images, etc.
Batch processing, i.e., dealing with multiple PDF Files in one go is possible with the help of this toolkit.
Its OCR Technology helps in making scanned PDFs editable.
Adding security passwords and sharing PDFs in safe manner is also one of the striking features on PDFelement Pro for Windows.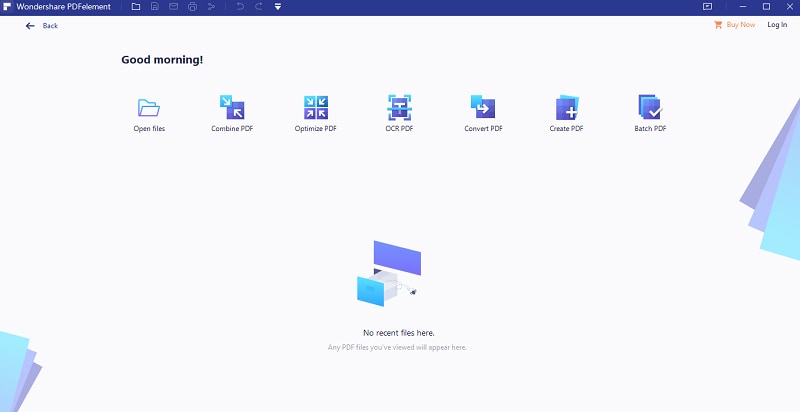 ---
Part 2. How to Crop a PDF File on Windows
Microsoft Word provides a surprisingly easy way to edit PFD documents. You can use this program and other functions of your Windows system to crop a PDF file. In this article, we show you how to crop a PDF in Word on Windows with ease.
Step 1. Open a PDF document on your computer. You can use a PDF program like Adobe to open the PDF. If you don't have Adobe, you can download it for free.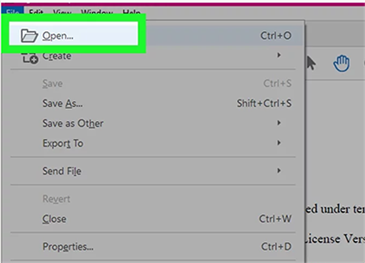 Step 2. Scroll through the PDF document to find the page you'd like to crop. It is important to make sure that the page is open before you continue.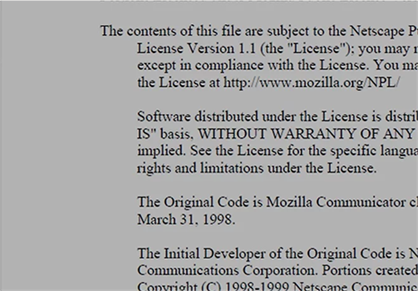 Step 3. Once you've selected the section you need. Click on the search icon next to the Start button and then type in "Snipping Tool." This will search for the snipping tool on your computer.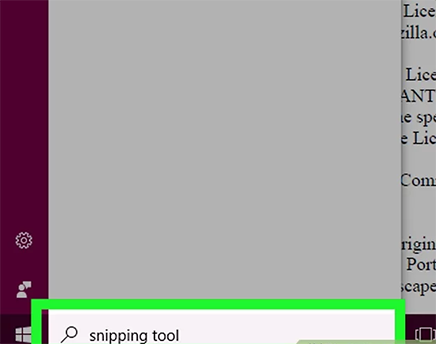 Step 4. Click on it in the options presented. This will open the "Snipping Tool" window at the top of the PDF file you opened.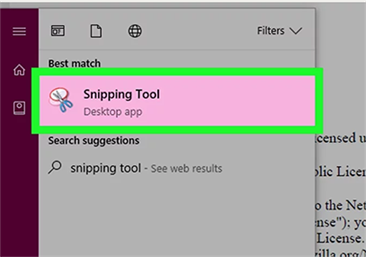 Step 5. Click on "Mode" at the top of the Snipping Tool window and select "Rectangular Snip" from the drop-down menu. This will place cross-hairs on your mouse cursor.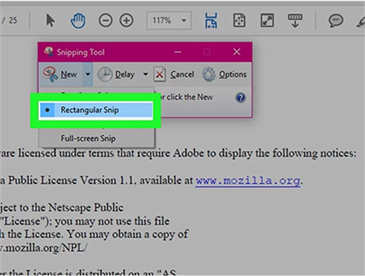 Step 6. Now simply drag your mouse with the crosshairs to select an area of the PDF you want to crop. Release the mouse when you're happy with the selection. Click "Save" to save the cropped area.