What is PDF stamping? Stamps in PDF are important when marking a PDF document. They can be used as a document identifier and also as a way for the document owner to communicate information that may not be on the document content itself. Adding a stamp to a PDF may therefore become necessary for various reasons. In this article, we are going to show you how to create stamp in PDF documents with ease.
Part 1. The Best PDF stamp creator to Create Stamp in PDF Files
To easily create stamp in PDF document is to use a tool specifically designed for that purpose. One of the best tools to use when you want to add a stamp on a PDF is to use PDFelement Pro. This tool is a comprehensive PDF editor that can make the process of adding, editing and removing stamps from a PDF quite easy.
Steps on How to Create Stamp in PDF with Ease
Download and install the program on your computer and then follow these simple steps to know how to create a digital stamp for PDF.
Step 1. Launch the Program
Once iSkysoft PDF Editor 6 Pro is installed on your computer, double-click on the program's icon to launch the program.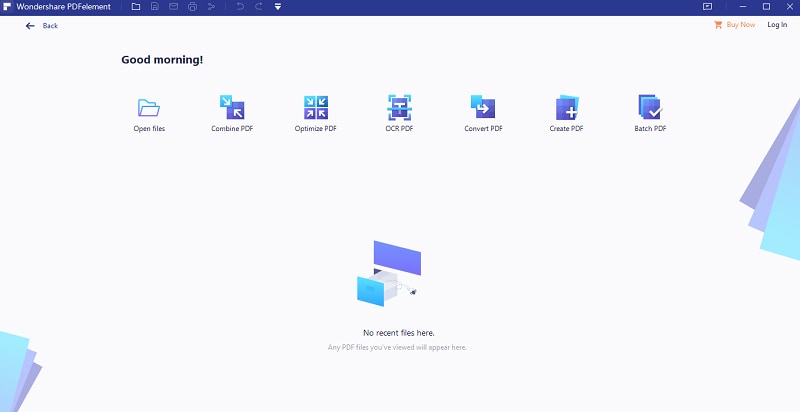 Step 2. Import a PDF File
You then need to import the PDF file you'd like to add a stamp to. To do this, you can drag and drop the PDF file into the program's primary window. Alternatively, you can click on "Open File" in the main window and then browse for the file you need on your computer.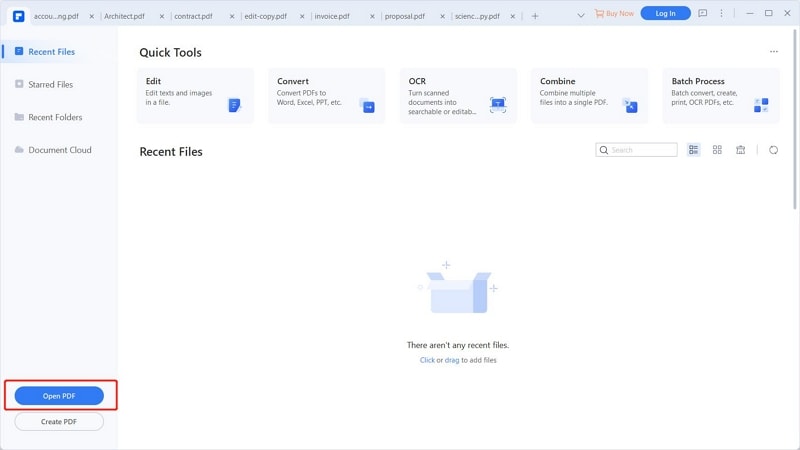 Step 3. Create Stamp in PDF
Create a Custom Stamp for PDF: To create a custom stamp for PDF documents, click "Comment" in the main menu and then select "Create Stamp". Under this tab, you can easily create PDF text stamp and PDF dynamic stamp.
This will open a dialogue box that will allow you to upload a picture that you can use for the stamp and add a name for the stamp. Then you can easily customize the PDF image stamp.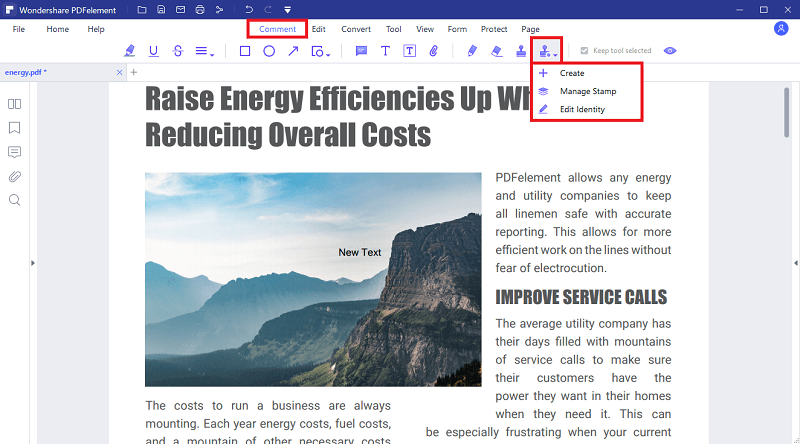 Create PDF Signature Stamp: You can also create a stamp to indicate a location on the PDF for the signature. To do that, click on "Comment >Stamp > Sign Here" and then place the stamp icon where you need it to be on the Document.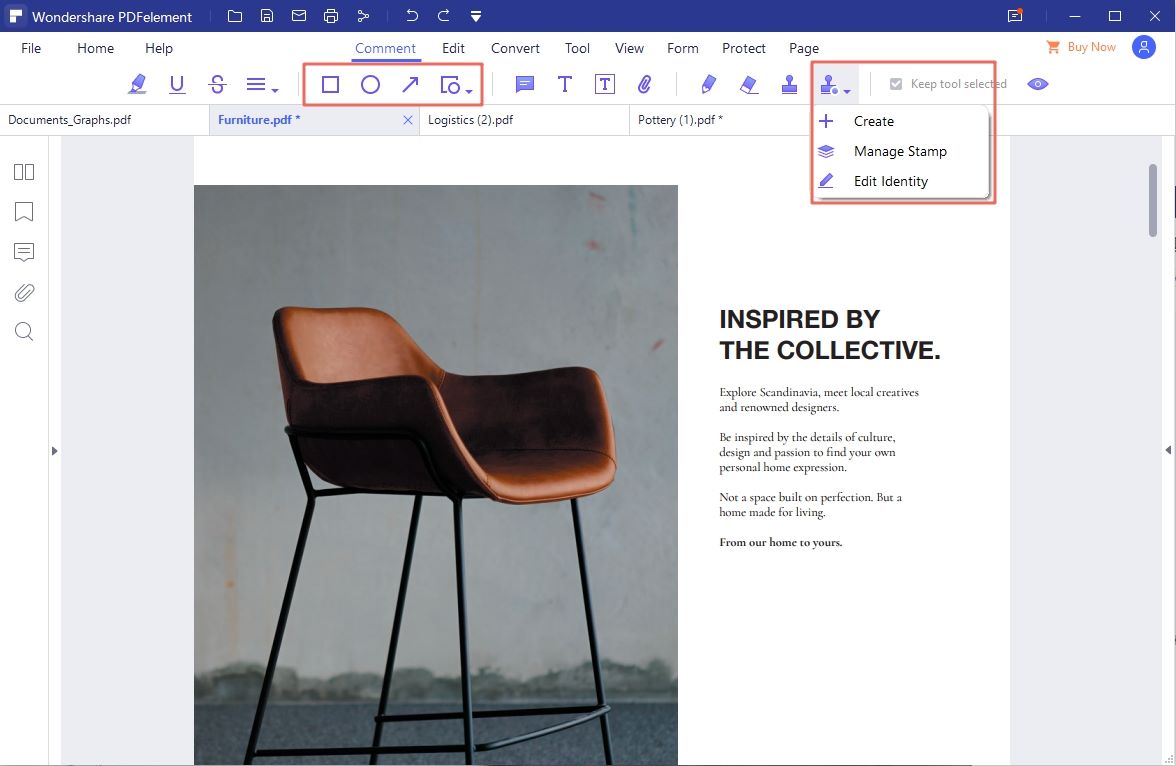 PDF Dynamic Stamp: This PDF editor is also a PDF dynamic stamp creator which allows you to add dynamic stamp like PDF time stamp to the PDF document. To add a PDF dynamic Stamp, you just need to click "Comment >Stamps" and under "Dynamic" select the stamp to add to the document. You can then simply place the stamp wherever you need it on the document.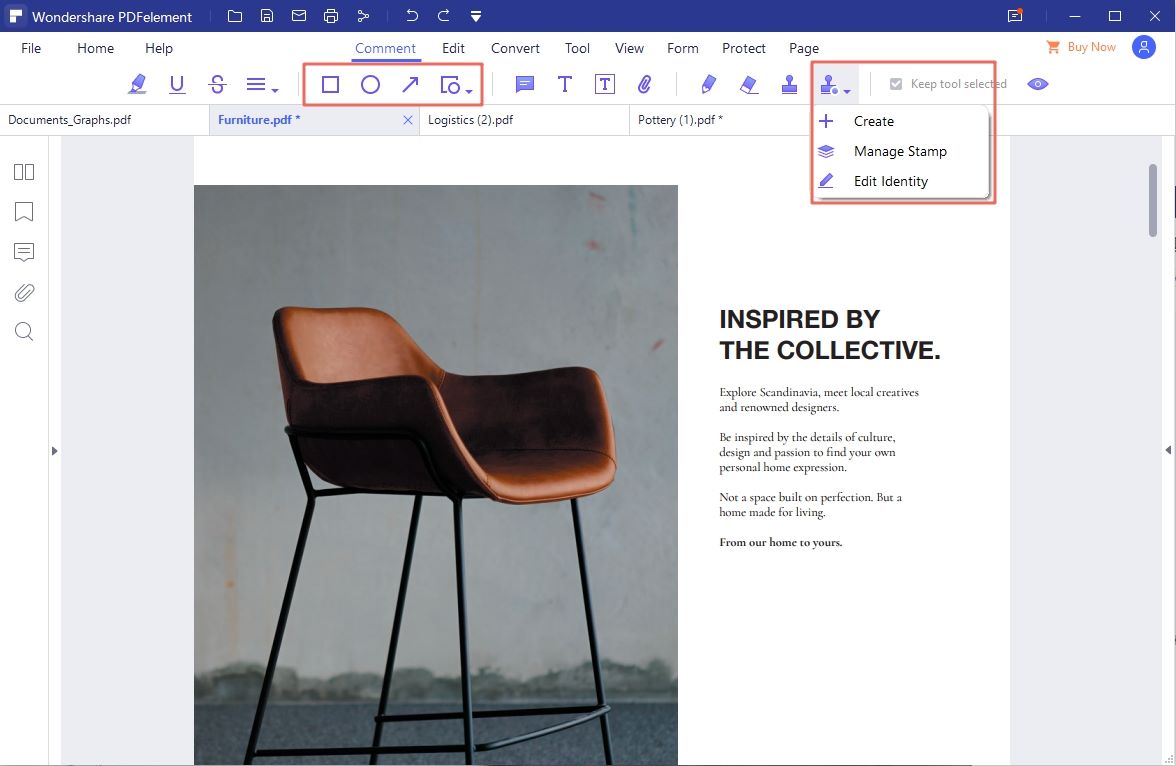 Step 4. Copy Stamp for PDF
If you need to, you can simply copy a stamp on a PDF document. To do that, you can simply right-click on the PDF and then select "Copy".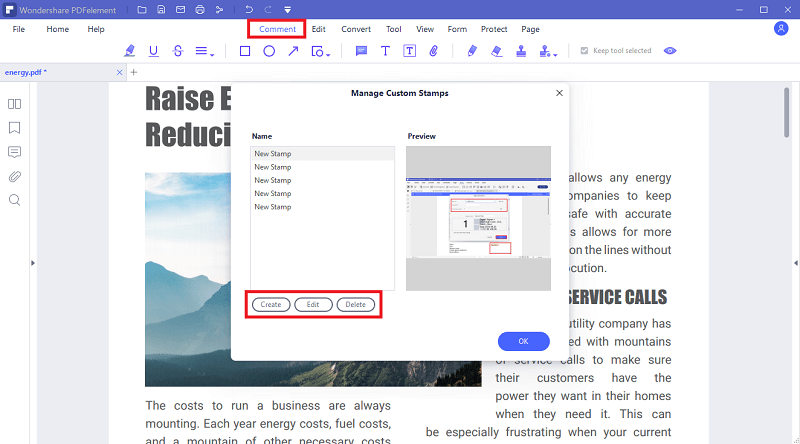 Here, you can set the page range to create the stamp for multiple pages. You can also name the stamp and select its category. Click "OK" when you're done.
Tips about PDF Stamps
Stamps can be quite useful on any PDF document. Every PDF editor that comes with this option will allow users to create custom stamps or even select from the pre-created ones. Some even come with more elaborate paid stamps that are often used for business related PDFs. Some of the uses of a stamp include the following.
They can be used to checkbox for a document.
You can also use them to provide additional information about the document to the recipient.
They are also useful when you want to add a signature to a document.
---
Why Choose PDFelement Pro to Create Stamp in PDF
Its ease of use is not the only advantage PDFelement Pro brings to the table. It also has a wealth of other features that can be very useful when editing a PDF document. It is also ideal when you want to create PDFs, allowing users to automatically create a PDF document by opening a document in any other format. You can also convert the PDF to a number of other formats including Word, Excel, HTML, TXT and many others.
Some of the features that make it the ideal tool include the following:
It has extensive editing features. You can edit text and images on a PDF by simply adding and redacting text, or adding and removing images.
The interface makes editing text as easy as it is on a Word Processor.
It can also be used to edit the pages on a PDF. You can add new pages, rearrange the pages or even remove some pages from the document.
Creation of stamps on a PDF document is very simple. You can choose from one of the many stamps available within the program or create a custom stamp to use on all your documents.
It also has an OCR feature that can be very useful for editing scanned PDF documents.
It has annotation features that make it easy for you to highlight, mark-up text and even underline text images.
---
Part 2. How to Create PDF Stamps for Free
You can also use the PDF-Online tool to stamp PDF online for free. This tool is freely available on any browser and allows users to simply upload a PDF document and then add a stamp to the document. The following step by step guide will show you how to stamp PDF online for free using PDF-Online.
Step 1: Go to the official website of PDF-Online on any browser.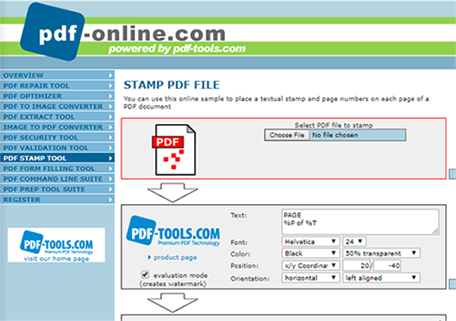 Step 2: Click on "Chooses File" to browse for the file you need to open it on the program. Click on "Load PDF" when you have selected the right file.

Step 3: In the next section, enter the text you'd like to appear on the stamp and then customize it by selecting the font, color and size of the text. You can even choose to add a watermark to the document by checking "Evaluation mark".

Step 4: This will generate a stamp that will be automatically added to all the pages on the PDF you've uploaded. You should see a preview in the bottom box. To save the stamped document, click on "Save As".

---
Part 3. Using Bluebeam to Create Stamp from PDF
Bluebeam offers another great way to create stamps for a PDF document. In this article, we share with you an easy way to create stamp in PDF documents using Bluebeam. Follow the steps below to start stamp PDF.
Step 1: Install Bluebeam Revu on your computer. It will come with a number of stamps templates already to use. The first step once the program is installed is to locate these stamps. You can find them on the program data files. For example, go to the folder C//:ProgramData/Bluebeam…. Click on the one you need.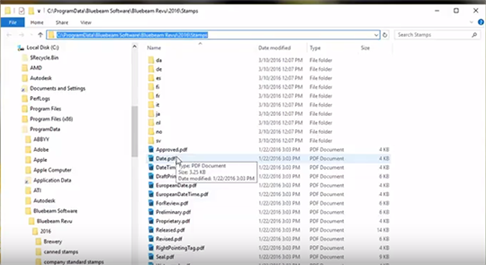 Step 2: This will open the stamp in Bluebeam as a PDF that you can then edit.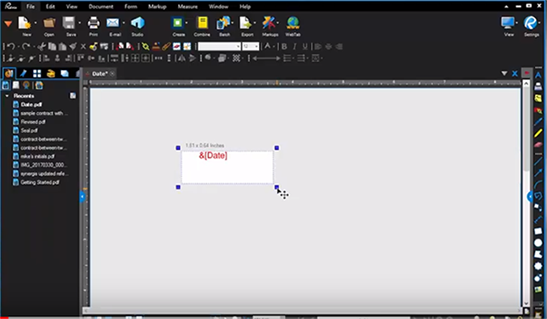 Step 3: To add a signature image to the stamp, click on "Mark-up >Image" to browse for the signature image you need.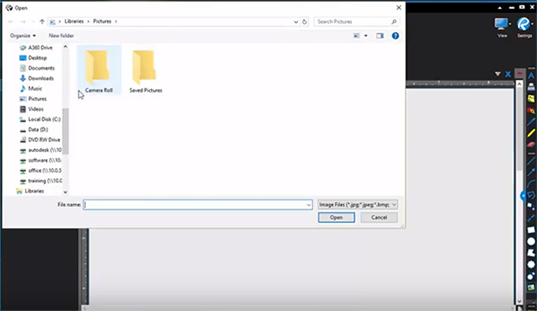 In the same way, you can also add initials or even custom text and checkboxes.
---
Part 4. Using PDF-XChange Editor to Create Stamps in PDF
PDF-XChanger editor is an useful PDF editing tool which will help you to view and edit PDF documents with ease. This PDF editor comes with multiple PDF editing tools, you can also easily PDF-XChange Editor to create stamps in PDF. Here's how to do that.
Step 1: Install PDF-XChange Editor Plus to your computer and launch it. In the "Home" tab, click on the drop down arrow to reveal the stamps tool. Click on the "Stamps Palette" to open it.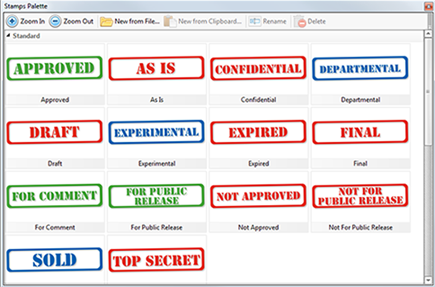 Step 2: Click "New from File" and select the file you'd like to use to create the stamp. The "Add New Stamp" dialogue box will appear.