One of the most popular ways to edit a PDF document is to crop PDF pages. Cropping PDF pages can often allow you to create brand new PDF documents from existing ones. You can also easily use cropping to remove pages with less than accurate information or a page that may not fit in to the overall document.
If you're looking for the best way to crop PDF pages and get your document just the way you want it, this article will show you how.
Part 1. The Best PDF Editor to Crop PDF Pages
To crop PDF pages correctly, you need a tool that id designed to help you edit all aspects of the PDF document. This tool is PDFelement Pro and it comes with all the features you need to fully edit your PDF document. To crop pages from PDF with PDFelement is very easy because the software itself comes with a simple to use interface that is very navigable. Here's how to crop a page in PDF using PDFelement.
How to Crop a Page in PDF
Step 1. Launch PDFelement
Download and install PDFelement to your computer. Double-click on the program icon to launch it.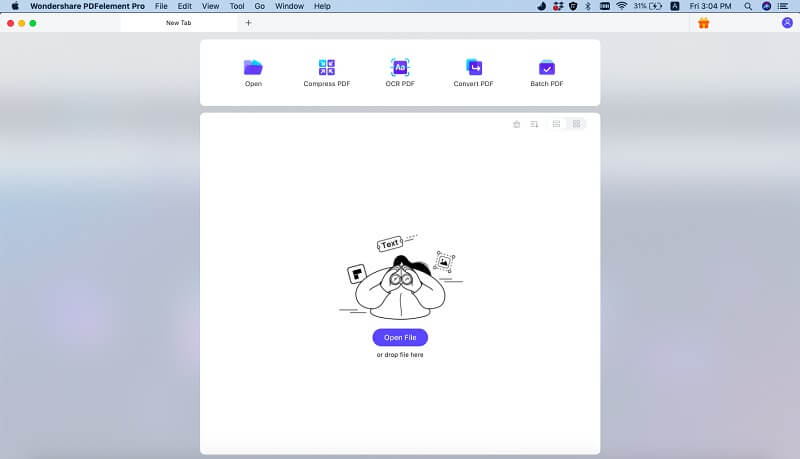 Step 2. Import PDF Files
The next step is to open the PDF document you want to edit. To do that, you can simply drag and drop the file into the program's main window. You can also click on "Open File" and then browse the file you need to open.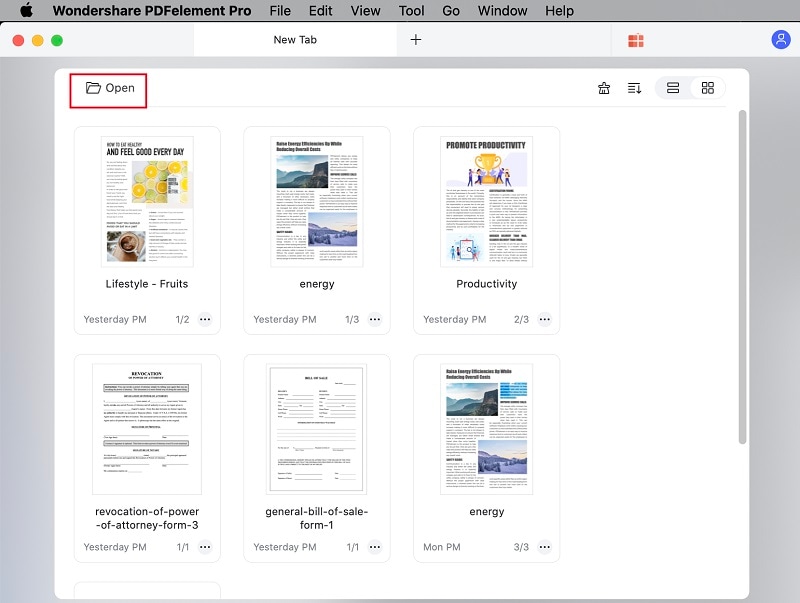 Step 3. Crop PDF Page Size
To crop the PDF page sizes, click on the "Page" menu and then select "Page Boxes." In the dialogue box that appears, under "Margin Setting" make sure "CropBox" is selected in "Apple To" and then set the margins as desired.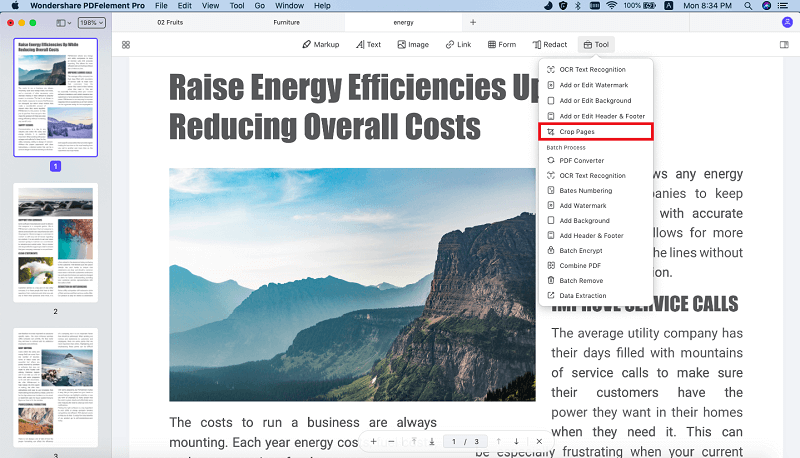 Step 4: Crop All PDF Pages
If you'd like to crop all the pages on the document, simply select "All Pages in range" under "Subset" menu.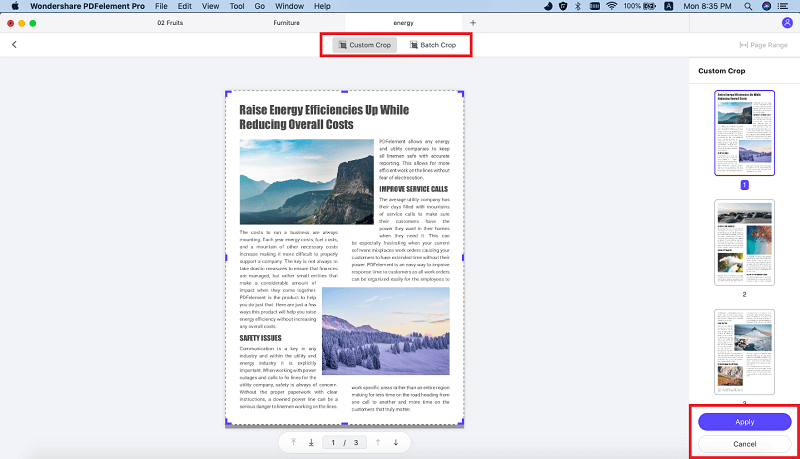 ---
Why Choose PDFelement to Crop PDF Pages
One of PDFelement most impressive features is the fact that it is so easy to use. The interface is simplified enough to make it easy to get around even for the beginner user. But that's not the only feature that makes it the ideal tool to edit PDF document. The following are just some of the other features it comes with that will help you edit a PDF document easily.
Cropping PDF pages is as simple as adjusting the size of the PDF.
You can also edit all the text and images in the PDF document quite easily. You can change the size, color and font of the text and even change the size and location of the images.
It is also ideal for annotating a PDF document. You can underline text, add highlights to the text and even mark-up the document any way you want to.
It can also be used to add security features to a document including adding signatures and watermarks.
It has a pretty useful OCR feature that you can use to edit scanned PDF document.
Once editing is complete, you can easily share, save or print the document.
It also comes with conversion features that can be very useful. You can convert PDFs to multiple other formats including Word, excel, HTML, TXT and many more.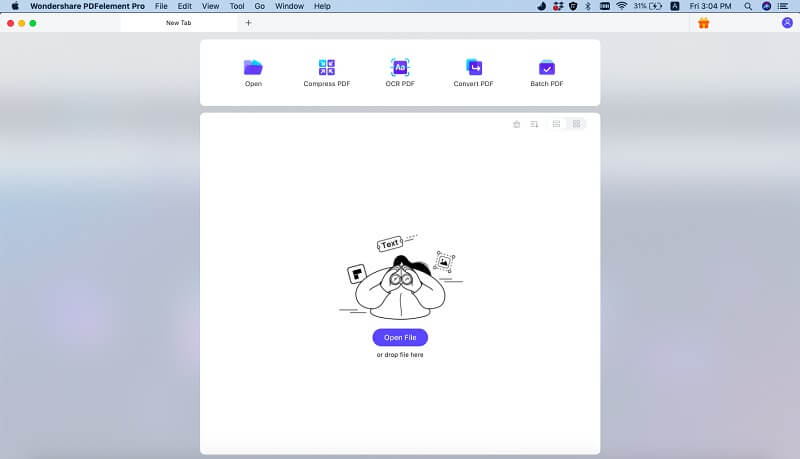 ---
Part 2. Crop PDF Pages online for Free
You can also decide to use one of the numerous online PDF editing tools to crop PDF pages online for free. While there are very many online PDF editing tools, not very many are reliable. The following are 3 of the best online PDF crop tools you can use.
#1. Sejda PDF Editor
Sejda online editor also offers a simple and very easy way to edit a PDF document. There are lots of options to edit a PDF document using this service. One of them is cropping including trimming PDF margins and changing the PDF's page size.
Pros:
Like most online tools, it is quite easy to use; all you have to do is upload the document and you're ready to crop.
It also comes with additional PDF editing features that can be useful.
Cons:
It doesn't allow for cropping multiple PDF documents.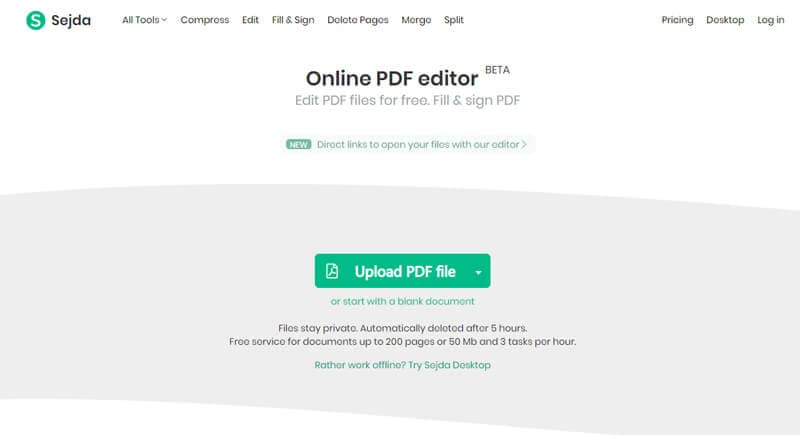 ---
#2. PDFResizer
PDFResizer offers a great an easy way to crop PDF pages on any PDF document. All you have to do is upload the PDF document in question, select the area you'd like to crop and click on "Crop to Selection."
Pros:
It is easy to use; uploading a document is quick.
It also comes with an Auto-crop feature that can be used to trim white margins in the document.
You can upload and crop multiple files at one.
Cons:
There is no way to change the size of the document when cropping.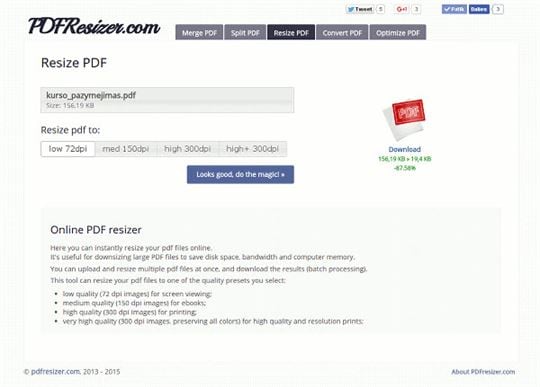 ---
#3. PDF Candy
PDF Candy is another online tool that you can easily use to crop PDF document. Its user-interface makes very clear the steps you need to take to crop a PDF document and it also comes with a wide-range of other a PDF editing tools.
Pros:
Adding a PDF to the service is very easy. You can drag and drop the file, browse for it on your computer or even add it from Google Drive and Dropbox.
Cropping the PDF document is also quite easy. All you have to do is select the area to be cropped and the program does the rest.
Cons:
It doesn't support batch PDF processing.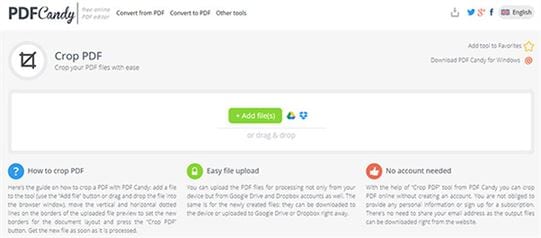 ---
Part 3. Crop PDF pages in Adobe Acrobat
Adobe Acrobat is another very reliable tool you can use to crop PDF pages. As the original PDF editor, many people often turn to Acrobat when they need to edit PDFs and with good reason. It is easy to use and comes packed with all the features you will need when editing any aspect of the PDF document. Here's how you can crop PDF pages using Adobe Acrobat.
Step 1.Install Adobe Acrobat on your computer if you don't have it already and then open the PDF document you want to crop.
Step 2.In the "Tools" section of the Task Pane, select the "Crop" tool. When you do this, the cursor will acquire crosshairs. You can then simply drag it over the area you want to remain visible.
Step 3.Once you have your desired section, double-click within the cropping rectangle to finish the cropping. This will open the "Set Page Boxes" section where you can see the document's new parameters. You can also choose to change the margin size of any page. In the "Page Range" section, you can choose to apply the crop to all pages on the document.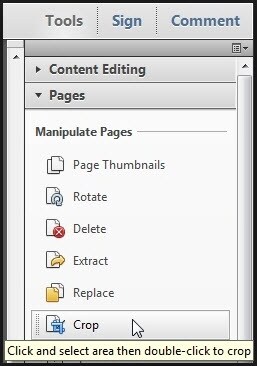 Common Problems on Using Adobe to Crop PDF Pages
As reliable as Adobe Acrobat is, it does have a few problems when cropping a document. They include the following:
First, the cropping process can be quite lengthy and there is no option for automatic cropping.
Sometimes the cropped area can fail to register once the document has been printed.
Beginner users may find the process of using the cropping tool to drag across the document quite challenging. It is likely you may select an area you don't want to crop.
Image-rich documents may present a challenge when cropping.