When you work with documents in general, you would have the need to make changes to the page, for example, editing text, altering images, deleting pages and adding pages to a document. You all would agree that PDF is not that easy to edit, and you must have the right editing software to get the job done.
Fortunately, in this article today, we will explore three different options to insert pages into a PDF document, including with the help of PDFelement Pro. So that going forward you are able to insert the pages with ease as per your choice and requirement. This way you can better customize your PDF file by adding single or multiple pages. Below we shall be moving on to know the best ways to insert page in PDF.
Part 1. The Best Way to Insert Page in PDF
When editing PDF files, PDFelement Pro is a PDF editing tool that can be used to insert pages in PDF files easily. This professional PDF editor comes with multiple PDF editing tools which will make PDF documents easy to work with. The PDF editor tool gives you the means to make significant changes to any PDF, including converting to different formats. The program makes PDF documents more accessible and easier to deal with. Hereby, we recommend you try this tool to experience the best result while adding pages to PDF and all PDF editing tasks. Give it a shot and you will realize that it made your working life easier and more organized than ever. Let us now move on to know in detail how PDFelement can help us work on PDF to insert PDF page into PDF:
How to Insert Page in PDF using PDFelement
Step 1. Launch the Program
Free download and install PDFelement Pro. After installation, launch the program and you will get this home page.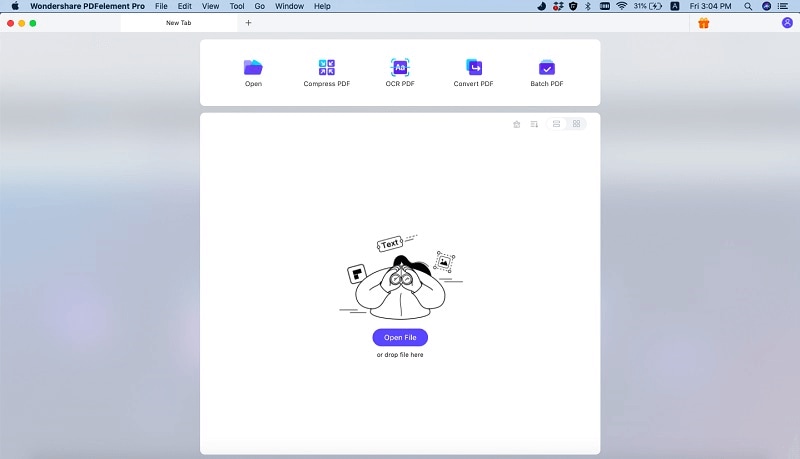 Step 2. Import a PDF File
You can open files on the program by clicking on the "Open File" option and selecting a file from your computer. You can also click on the "File" option and select your page from there.
Step 3. Insert Page in PDF
Insert Blank Page in PDF: To insert a blank page in PDF files, you can click on the "Organize Page" button and then choose the "Insert" option to insert one or more blank pages in PDF with ease.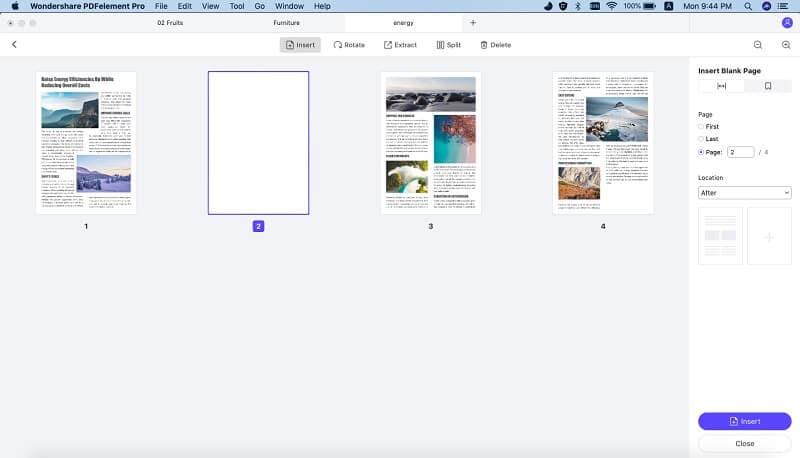 Insert PDF Page into PDF: This PDF editor also enables you to easily insert PDF pages into PDF. You can choose the "Insert from File" option under the "Insert" menu. Then you can select the PDF file you need to insert from the local file folder. On the right side toolbar, you can choose to insert a PDF page into a PDF document or insert multiple pages into the PDF file.
Step 4. Organize PDF Pages
If you wish to reorganize the pages in a PDF document, simply click on the "Organize Pages" tab again. To change the order of a PDF document, rotate PDF page, delete and insert pages in PDF, etc.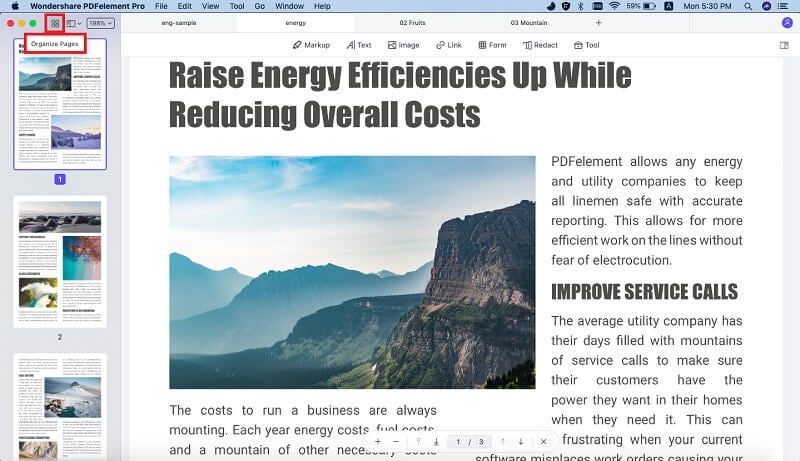 ---
Why Choose PDFelement Pro to Insert Page in PDF
If you want to edit PDF documents, you will not find a better program than PDFelement Pro. The software is versatile, allowing you to complete different functions from one software package. If you are a businessman, writer, web designer or secretary, PDFelement is incredibly useful for you. The software allows you to cut corners when handling PDF documents because it is so accessible. PDFelement gives you additional options few other PDF editors offer, like the option to organize PDF pages. PDF pages can be organized through bate numbering, headers, and footers. There is even a built-in OCR tool that allows users to scan and edit PDF pages.
You can use the software to complete many different functions including:
Insert and delete pages in PDF files.
Edit text and images in PDF documents.
Add passwords to PDF documents.
Convert PDF documents into any file format.
Customize PDF pages headers and footers.
Share PDF documents via email.
Redact sensitive texts, images, and pages in PDFs.
Extract data from PDF forms.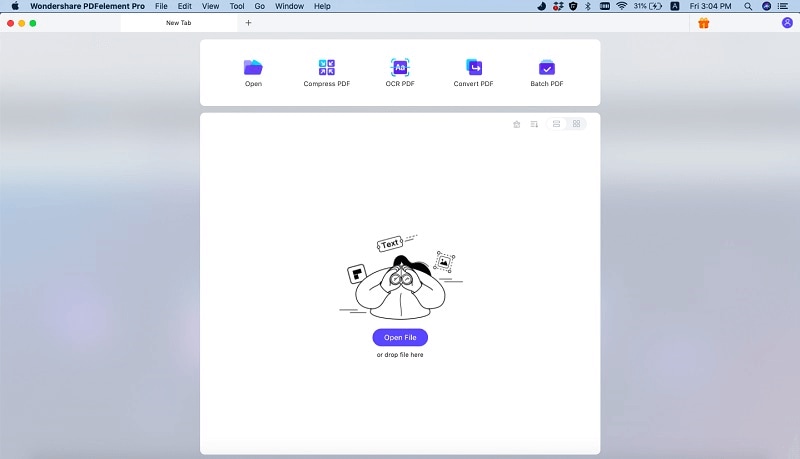 ---
Part 2. The 3 Best Online PDF Editor to insert Page in PDF online
#1. DocHub
DocHub is a free PDF online tool geared towards collaboration and sharing. DocHub is perfectly suited for professionals who need to share documents with others, insert pages into PDF for free, etc. You can upload documents to DocHub, insert a page in PDF online or makes changes online. If you are working with a remote team then DocHub is perfect for you. The online software comes in two versions: free and premium. Free lets you use the basic features without any expenses (you need only register to start using it). The premium takes a monthly fee but offers additional perks in return, for example viewing and editing unlimited documents.
Pros:
Dropbox and Google integration.
Excellent annotation tools.
Works on mobile devices.
Lossless editing.
Cons:
The resolution is too small.
Free version access is limited.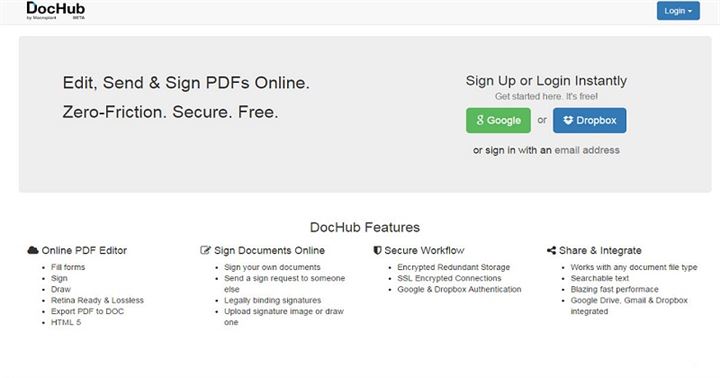 #2. PDFescape
PDFescape is one of the best online tools to help you to insert a page in a PDF file online. The most popular tech websites like Mashable, CNET, Lifehacker, and PC World have praised PDFescape. You will find a rich variety of features that allow you to make changes to PDF documents. Some of these features include creating, editing and annotating forms. PDFescape is completely free, but those who need more features can upgrade to a premium account. If you need a tool to edit your PDF documents, then you should give PDFescape a try. Some of the changes include annotations, inserting text and even adding images.
Pros:
Create a fill-able PDF form with a dropdown list, checkbox, and more.
Add new text to a PDF file.
Can add images and links.
Annotate PDF documents by using a highlighter, freehand tools, and other markup tools.
Delete, rotate and crop pages with PDF documents.
Can distribute PDF documents to others without additional software.
Cons:
Users cannot see results after cropping pages.
Cannot delete text.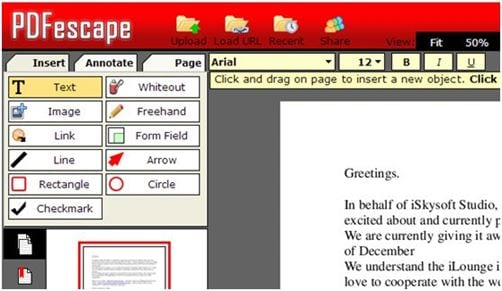 #3. CutePDF Editor
CutePDF Editor is a cloud-based PDF editing toolkit that allows you to insert PDF pages into PDF online. You can use the tool to make basic changes to PDF documents in a secure environment. The online editor contains the essential tools you need to work with PDF pages. You can fill out forms, make comments and secure documents. CutePDF works on all browsers, including Internet Explorer, Opera, Firefox, Safari, or Chrome. CutePDF offers several functions like PDF security and editing completely free. There are no premium versions of the online software, so there are no features gated behind a paywall. You only need a web browser with Flash 11 enabled.
Pros:
High security and privacy measures.
Create brand-new forms.
Modify existing forms to collect data and Combine, multiple PDF pages.
Rotate, delete and resize pages.
Add passwords and set security options.
Add headers and footers on a page.
Extract, reorder and duplicate pages. Plus 32 & 64-bit support.
Cons:
Does not have advanced options for creating/editing PDF documents.
There is a limit on document size: 10MB.
Some features are not necessary.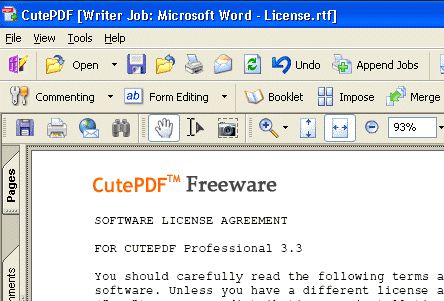 Part 3. How to use Adobe to Insert Page in PDF
Adobe refers to the suite of systems developed by Adobe Systems, one of the most popular developers of software products. Adobe Systems are the pioneers of the Portable Document Format (PDF). Adobe Acrobat Pro is the latest version of Adobe Acrobat, the PDF editor from Adobe Systems. Acrobat Pro comes with several features that make Adobe Acrobat more accessible. Acrobat Pro gives you options to customize the interface to suit your needs. Some new features include editing text in scanned pages and making corrections to OCR documents. Add and delete pages from a document. It is a simple process that can be completed quickly if you are familiar with Adobe Pro.
These are the steps you need to follow to add pages to a document:
Step 1. Open the PDF DocumentOpen the PDF document in the Adobe Acrobat Pro. The right-hand pane features the 'Organize Pages' tool.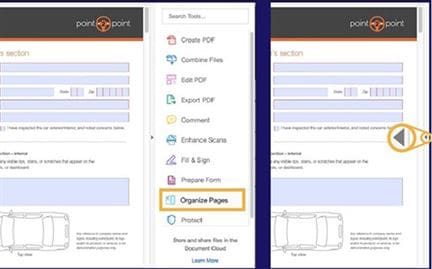 Step 2. Add a new page from an existing file to add a new page, move your cursor to the right of the thumbnail until a plus icon appears. Go to select 'Insert File' and choose your file from a local folder. Click on 'Select' to insert the page into the document.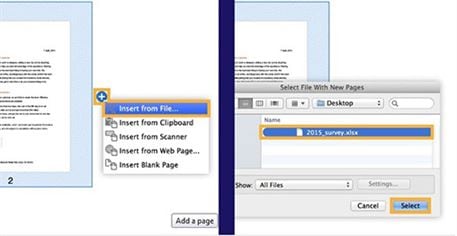 However, it should be noted that Adobe Acrobat Pro is not perfect. The software has a prohibitively high price, particularly when compared to other PDF editors. The average user may not be willing to pay so much money for a PDF editor, especially when there are free alternatives available. The large volume of features available justifies this high price. While Adobe Acrobat Pro has a lot of features, many of them are not relevant to the average user. Normal users may only want to perform basic operations, like editing text, and may not use other features. Overall, Adobe Acrobat Pro is better suited to professionals like developers and analysts who need advanced features.