PowerPoint is a professional presentation tool. It can be a challenge figuring out how to insert PDF into PowerPoint presentation. Would you like to adjust the timing settings of your PowerPoint presentation? Display your PDF content on a slide, or add the PDF file as a supporting document that is linked to and presented during your presentation. Below, we will show you how to insert PDF file content into a PowerPoint with PDFelement Pro.
Method 1. Insert PDF into PowerPoint with PDFelement Pro
PDFelement helps you to convert PDF to PowerPoint, Word and many other file formats easily without losing the original layout. You can follow the simple steps below to convert PDF to PowerPoint or add PDF to PowerPoint.
Step 1. Download and Launch PDFelement Pro
Download and install PDFelement Pro to your Mac or Windows. Launch it and click 'Open' to open the PDF file.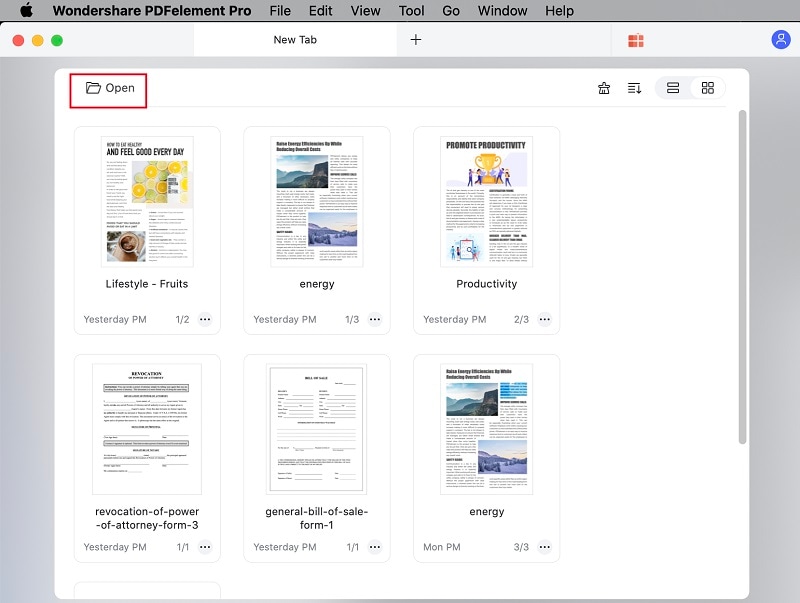 Step 2. Convert PDF to PowerPoint
Click the 'Tool' menu in the left toolbar, choose 'PDF Converter' under the 'Batch Process' list. Then drag and drop files into the pop-up window, or you can directly click 'Add' to add PDF files. Select 'To PowerPoint' under the 'FORMAT' drop-down menu, then click the 'Apply' button and choose a local folder to start the conversion.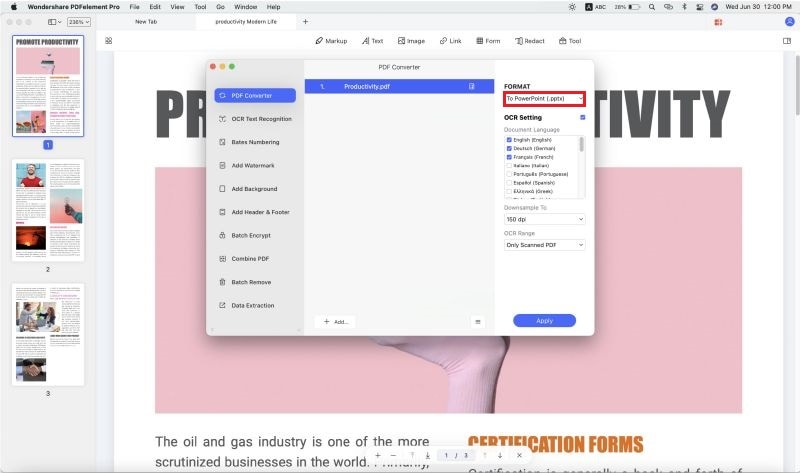 Step 3. Insert PDF into PPT
Open the converted PDF in PowerPoint; then you can insert PDF pages in PPT.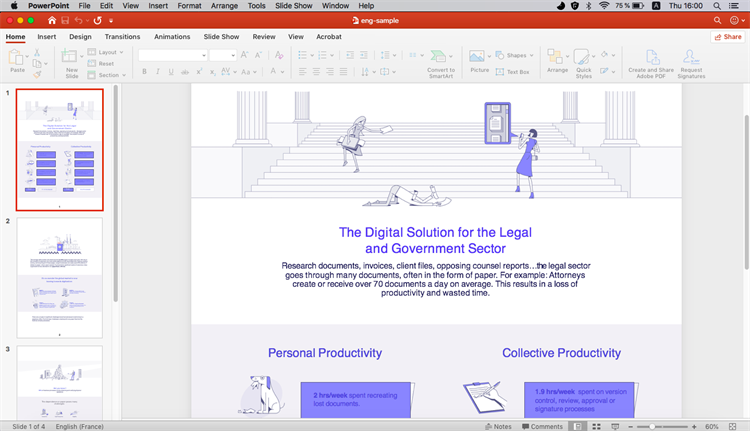 ---
Method 2. Insert PDF into PPT as an Image
This method is a bit of a workaround, but it does allow you to integrate the content quickly and with the best possible results.
Step 1: Launch PowerPoint and Open a File
You will need to enter PowerPoint first and then click on the slide to which you want to add the content.
Step 2: Insert PDF as a Screenshot
Go to 'Insert' > 'Images' > 'Screenshot,' and then click the 'Screen Clipping' function that you will find under Available Windows.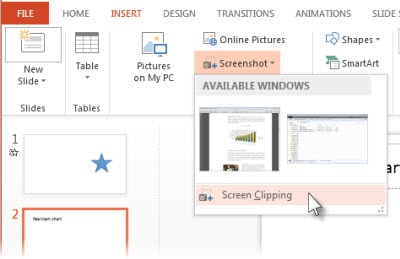 Step 3: Capture the Screenshot and Insert
When you choose this option, the PowerPoint will minimize automatically and now you will be able to focus on the PDF file. At this particular time, the cursor will transform into a crosshair, so all you have to do is drag a box around the content you want to clip, as this will help you take a screen capture. Be aware that if you press the Escape key at any given time, you will cancel the process and thus have to start again.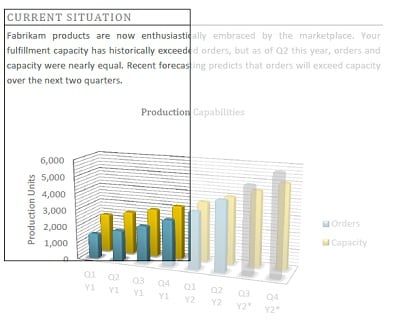 ---
Method 3. Insert PDF File into PowerPoint as an Object
If you want to add your PDF as a support document for your slide, then you can also do so with PowerPoint. Follow these instructions to learn how to add PDF to PowerPoint quickly and easily.
Step 1: Launch PowerPoint and Open a File
First, open PowerPoint, select the slide where you want to add your file.
Step 2: Insert PDF to PowerPoint as an Object
Then press 'Insert/Object'. This will open a new box where you will have to select the 'Create from File' option, Locate your PDF and then click to choose the Open function. Once this is done, you will receive an Insert Object box, which you need to click OK in order to finish.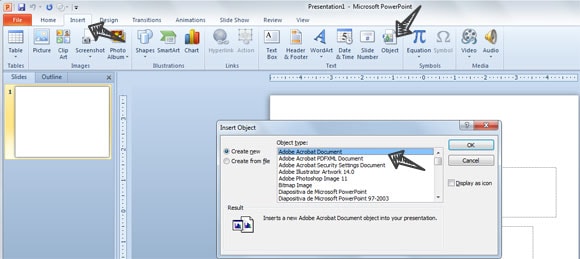 Optional: Add Links or Actions on it
If you want to use the PDF file you attached to the PowerPoint slide, all you need to do is go to the slide, click the PDF icon, and then click on the 'Links/Action' function. Click on the tan, and then proceed with the object. Choose to activate the content from the list.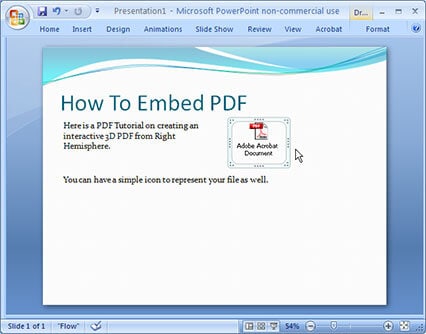 With the help of PDFelement Pro, you can easily integrate your desired PDF content into any presentation. There are multiple options for adding a PDF to PowerPoint. With the help of our instructions, you should now be able to obtain quick and easy results. This is how easy it can be to insert a PDF file into a PowerPoint presentation!