How do I insert a photo in PDF? To insert a photo into a PDF file, you need to have a software that supports the editing of PDF files and allows you to add images. You may be working on a project and you need to insert images to your PDF document to support your argument. Well, it is possible to insert photos into PDF using PDFelement Pro. This tool allows in two different simple ways that we are going to show you in this article. Keep reading the article until the end.
Method 1: Insert Photo in PDF with PDFelement
In this section, we will show you the first way you can insert a photo into PDF using PDFelement. With PDFelement, you can add photos of any format, replace or delete existing photos. Its editor also allows you to edit texts, objects, pages, links and the background of the PDF file. Moreover, PDFelement also enables you to create, convert, merge, encrypt, OCR and share PDF files. Without further ado, let us look at the first method of inserting a photo in a PDF file using PDFelement.
Step 1: Open a PDF
Begin by installing the PDFelement on your computer. After that, you can now open the program and click on "Open Files" to upload the PDF file that you want to insert image/s. A new window will pop up that allows you to choose a PDF file from your local folder. Select the correct file and click on "Open" to upload the file.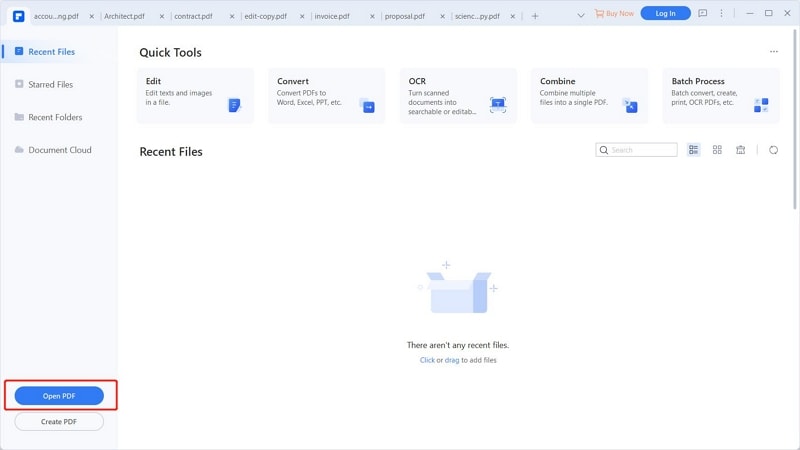 Step 2. Click the "Add Image" Icon
PDFelement will upload and open your PDF file. Next, head to the main menu, click on "Edit," and then choose "Add Image" to add images to the PDF.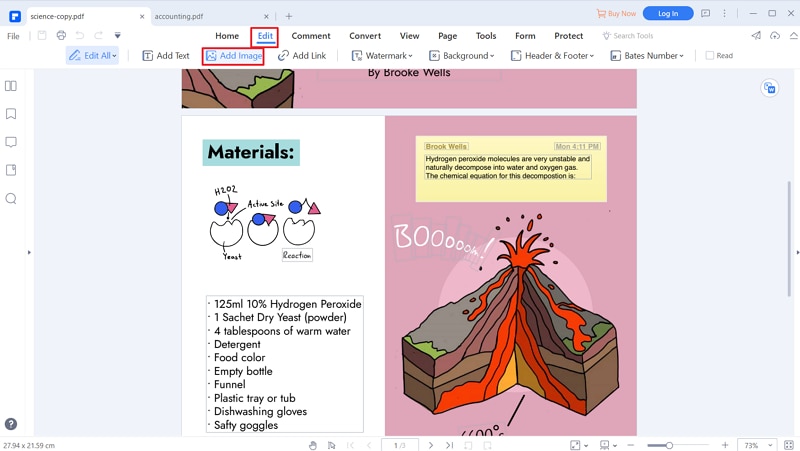 Step 3. Insert Photo to PDF
Once you click on the "Add Image" menu, a pop window will open up to allow you to choose the photo that you want to insert into your PDF. Browse and select the image. The image will then be inserted into the PDF file. From there, you can drag and position the image you want to the appropriate field in your PDF file. Finally, save the changes.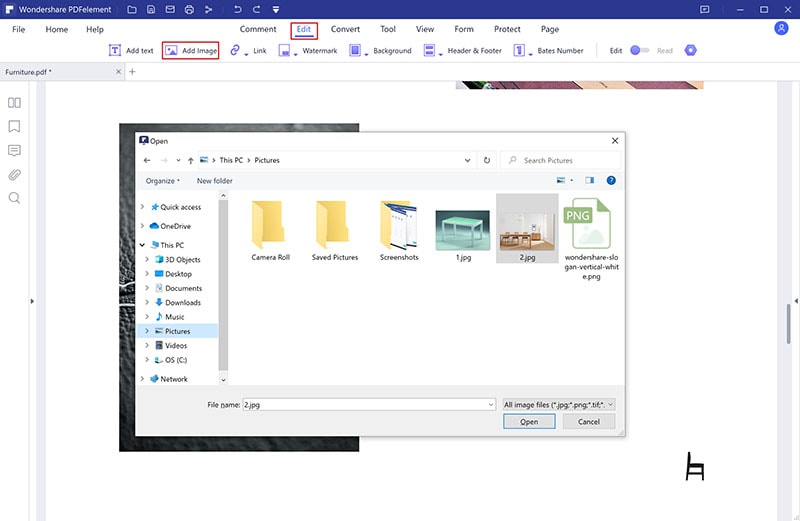 ---
Method 2: Another Way to Insert Photo into PDF
PDFelement also offers an alternative method to insert photos into PDF file. This option is available when you edit your PDF file content and you find the need to insert a photo. Follow the steps below to learn a second way to insert a photo into a PDF.
Step 1. Click the Edit Icon
Once you have opened the PDF file on the PDFelement, click on the "Edit" icon. Now, ensure the document is in edit mode. By default, it is always enabled in edit mode.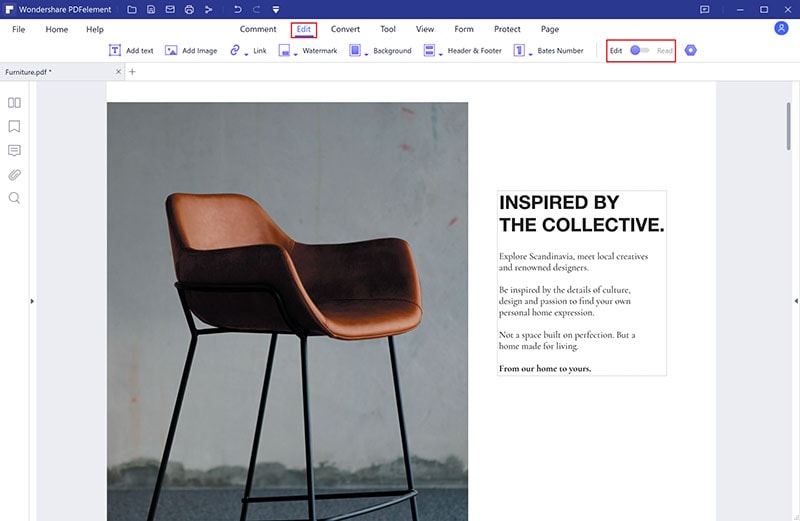 Step 2. Select Area to Insert Picture to PDF
After that, move to the section that you want to add the image and right-click on it. From the drop-down menu that appears, click on the "Add Image" option.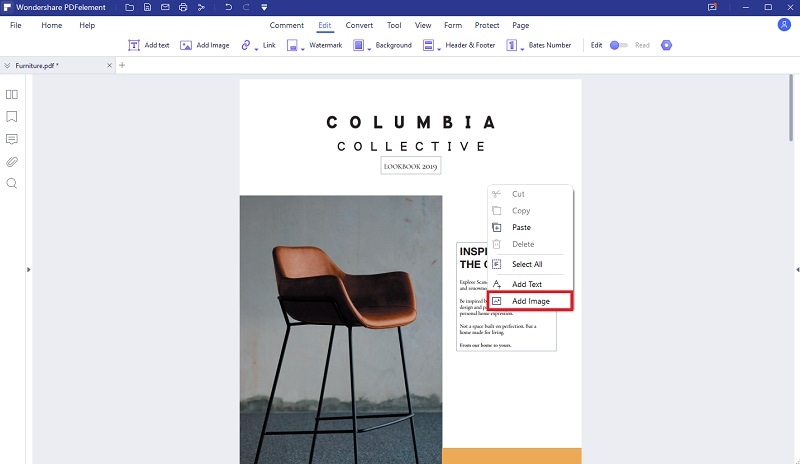 Step 3. Insert the Photo into PDF
Next, select the image from your local folder that you want to insert into the document by clicking on open. The image will appear on the PDF file and you can adjust its size using the cursor.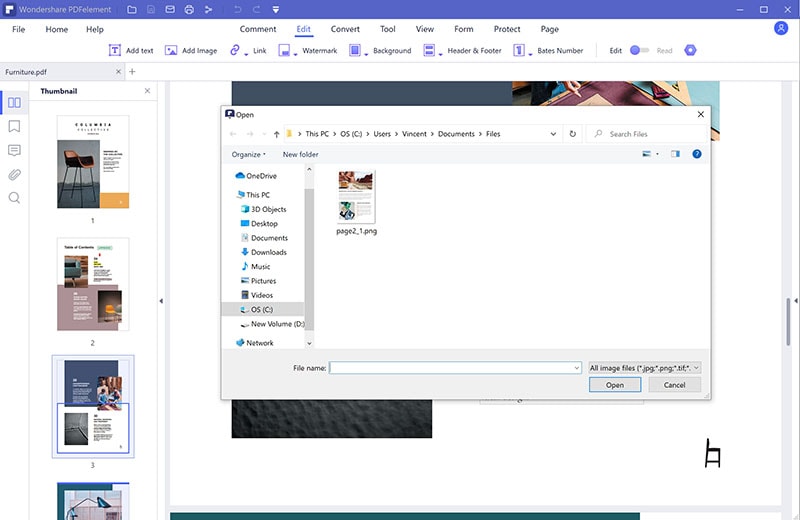 ---
Why Choose PDFelement to Insert Photo in PDF File
We have seen and proven that PDFelement allows you to insert images into a PDF file. It supports images of different formats like PNG, JPG, BMP, TIF and GIF. But what exactly is PDFelement? PDFelement is an all-in-one PDF tool that enables you to manage your PDF files easily. Its functionalities range from editing, conversion, sharing to the creation of PDF files. This software can be installed on both Mac and Windows operating systems. Moreover, it is easy to install and use. It's also one of the most secure PDF tools because it's 100% secure. With that being said, it is important to look at some of its key features.
Main Features of PDFelement
Built with numerous PDF comment options such as highlight, strikeout, underline, notes, sticky notes, textbox, etc.
Its editor allows you to edit images, texts, links, background, headers, footers and bates numbers.
Converts PDF files to formats like Word, Excel, PowerPoint, Images, HTML, eBooks, PDF and Rich Text.
Supports batch conversion of PDF files and you can also change conversion settings.
Allows you to personalize texts by adding digital signatures and removing signatures.
Creates PDF forms, fills forms, extracts data from forms and recognizes PDF forms.