The PDF file format is extremely versatile, you probably need to work with PDF files and have to include many different kinds of content in your documents. Maybe you are filling out an online job application, and need to insert a picture into a PDF document as identity. It may sound challenging and tough as PDFs are not editable. Luckily, there is an easy way to insert picture into a PDF that is usually not editable. Then, all you need is PDFelement Pro.
Method 1: How to Insert Picture in PDF
PDFelement is a well-rounded PDF editor that offers a wide range of PDF editing options to create, edit, convert and sign PDFs in Windows and Mac as well. It has a neat and easy to use interface, makes it easy to add images, stamps, links, watermarks, headers, footers, Bates numbers, etc.
Today we'll take a look at how to insert an image into a PDF document. When using PDFelement, there are two ways to insert images into a document. Let's start with a step-by-step explanation of how to insert an image into a PDF using PDFelement.
Step 1: Open a PDF
First of all, install the PDFelement on your computer. Once installed, open it, on the homepage you'll see, "Open files" button. Click on the "Open files" button and select the PDF you would like to edit.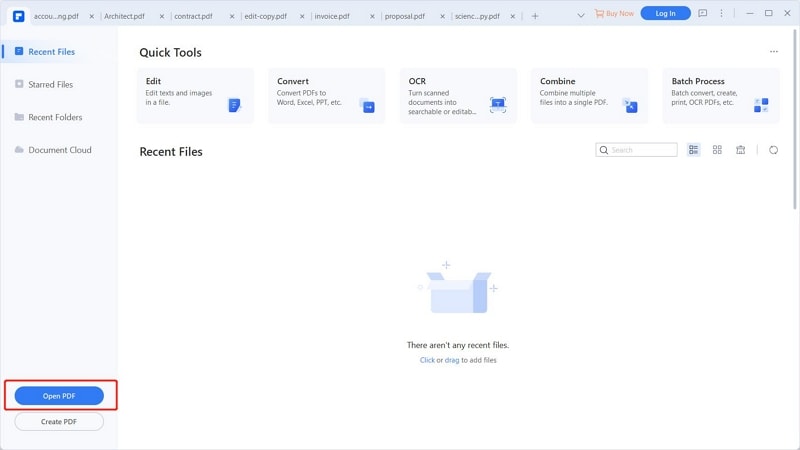 Step 2: Click the "Add Image" Icon under Edit Menu
Now that the PDF is open on the PDFelement, select the Edit tab from the top main menu. This will allow you to access all edit features and add an image to your PDF. Further, click on the "Add Image" option under Edit Menu.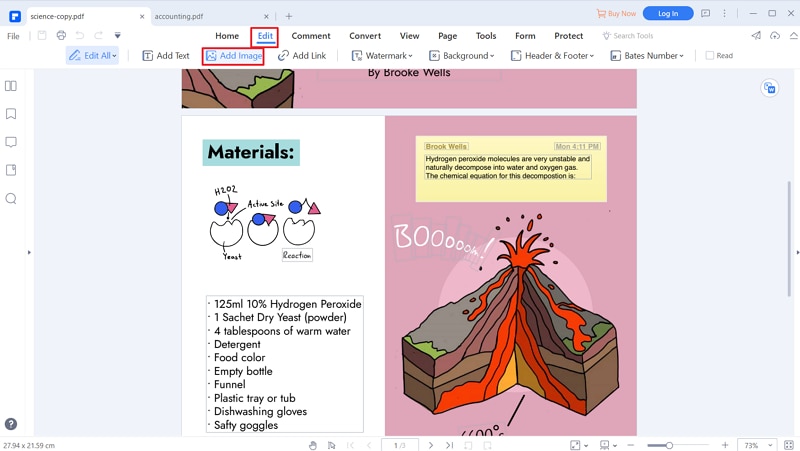 Step 3: Select and Insert Picture to PDF
Select the image from the new dialogue box, which allows you to select images from the computer location. Once the image is selected, click on the "Open" button. This will import the image into PDF. You can select multiple images as well.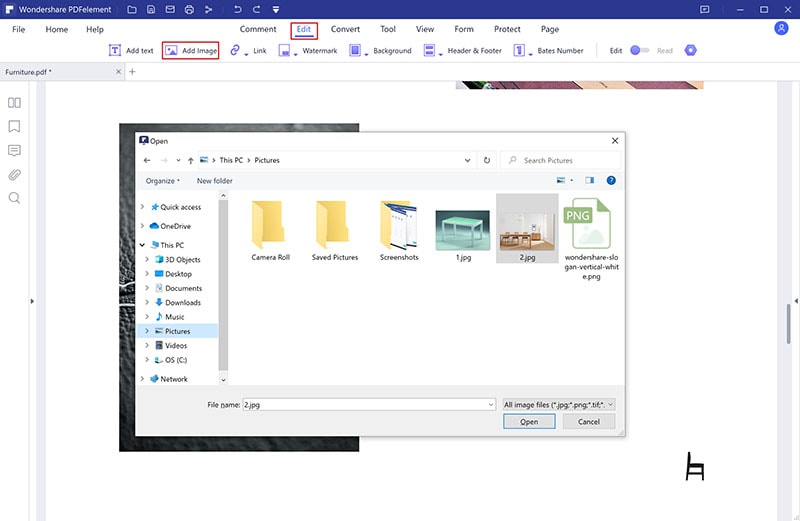 Step 4: Edit image properties
You can edit the properties of the added image. For that, Right-click the image and select properties. The properties panel will open up on the right side, you set the properties like can rotate, overturn, align, clip object, replace image, etc.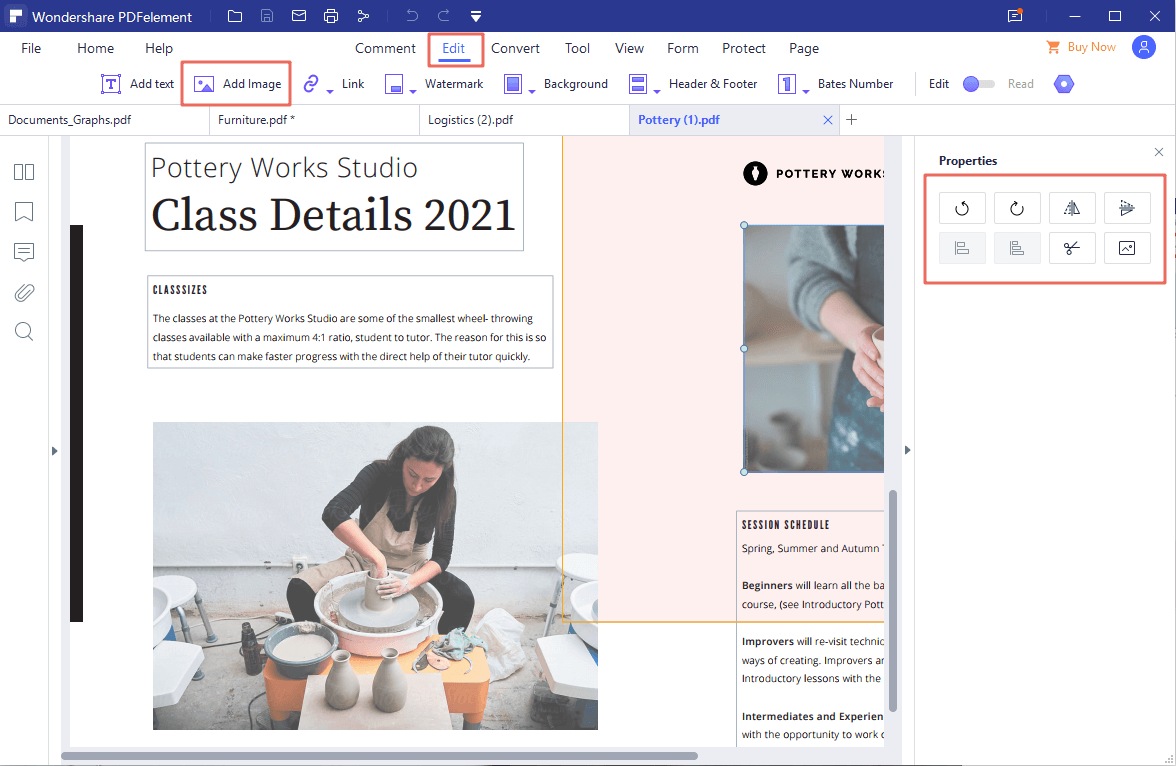 ---
Method 2: How to Insert a Picture into PDF
PDFelement is very versatile and it offers flexibility to its users in the use and functionality. In this section we will explain another method to insert a picture to PDF, using the "Edit" mode. Just like the first method, it is an easy and straightforward method, and any user can use it with ease.
Step 1: Click the Edit Icon
First and foremost, make sure that the PDF is open in the PDFelement interface. If not then click on "Open File" from the Home page and open PDF into PDFelement. Click the "Edit" icon from the Main Menu and then toggle the "Edit" tab from Ribbon Bar and your PDF is in edit mode.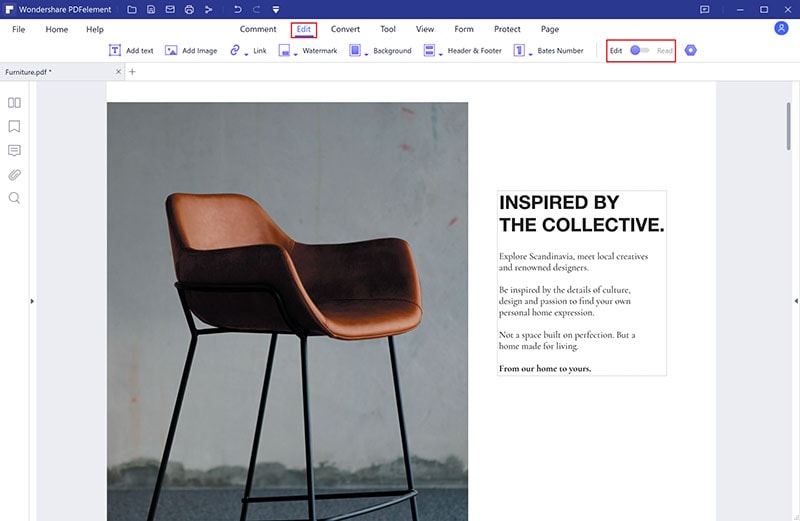 Step 2: Select Area to Insert Picture to PDF
Afterward, locate and select the area where the image needs to be inserted into PDF. Right-click on the selected area and choose "Add Image" in the dropdown menu.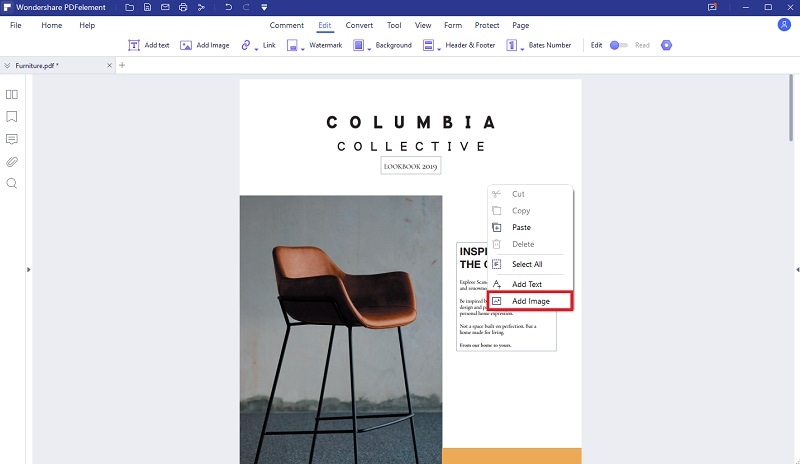 Step 3: Insert the Picture into PDF
Finally, choose the image from the open dialogue box and click "Open" to insert the picture into the PDF selected area of the PDF. Save the changes by clicking on the "Save" button from the "File" on the Main Menu.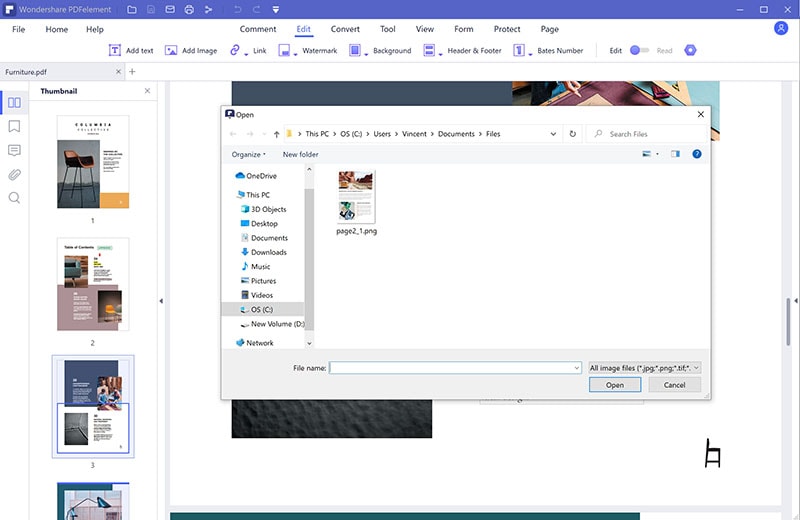 As seen and explained PDFelement allows two methods to conveniently insert a picture into PDF documents, users can choose as per their choice. In the next section we will talk about the main and useful features of PDFelement.
---
The Best Tool to Insert a Picture into PDF - PDFelement
PDFelement is a powerful PDF editor for Windows. The highlight of this software is that it offers better control over PDF editing, whether it's about modifying a PDF file, annotating a PDF, or converting a document into editable PDFs, the software has covered all the vital aspects of editing. Moreover, it is integrated with the most advanced OCR technology in more than 25 languages that easily turn any scans into fully editable documents. Plus, it also provides security features to password protect, redact, and even more.
Key features of PDFelement:
Provide features for adding annotations, highlight, and add notes to the documents.
Encrypt sensitive documents with passwords, or permanently redact.
It can convert the PDF to various formats Word, PPT, Excel, RTF, HTML, etc.
You can create interactive forms and recognize form fields automatically.
Provide the best ORC feature that convert any scan document into editable document.
Batch process to convert multiple documents simultaneously.
In the end, we hope you are well versed with the efficiency of the PDFelement. The best part of it offers flexibility in different ways to edit PDF like in this article we explained how you can insert picture into PDF with PDFelement in two ways. Apart from this we have given an outlook on the main features of PDFelement that you can use any time to improve your PDF to its best.