You are in a situation to send huge files to your higher officer's desktop and immediate changes needed to insert text into PDF on Mac. None of them was configured in PDF before. How you will face this state of affair? Do you have any idea? To be frank, without any help from others; you can handle it in your own way. We have introduced a software called "PDFelement" which can help in achieving these targets by helping you insert text into PDF on Mac. Now it will be easy for you to send files to your boss's desktop within a minute using PDFelement Pro as the major and simple work software. Quite interesting! Isn't it?
Now phrase your original content as first layout to insert text into PDF on Mac. Art of PDF is simple as ABC this day. You can accomplish your task immediately and grade your task completion along with your salary increment.
The Best Tool to Insert Text into PDF on Mac
How will you predict the software is good enough to configure PDF? Any guess? Instant response, result with double outcome, minimizing your work, increase in target and at last very less volume in license. Is that all the major points? If so, if I tell you all your points are collaborated in profitable software then what will be your reaction?
Let me open the treasure box for you right here! PDFelement software is the best companion for your office work. Even so that it may be your second-guesser or right hand person in your office. The PDF editor will help you to insert text into PDF with ease. Except for this, you can also edit texts in PDF according to your needs.
How to Insert Text into PDF on Mac (macOS 10.15)
It is possible to insert text into PDF on Mac using PDFelement Mac. This software gives you the fast running work response and many PDF experts still recommend this software as the "No: 1 PDF Editor for Mac". Then why are you waiting still, go for the steps mentioned below:
Step 1. Start the program and import PDF Files:
Firstly, download and install PDFelement and you will be directed to the main window. The window displays several option and you choose the "Open file" present at the left side corner.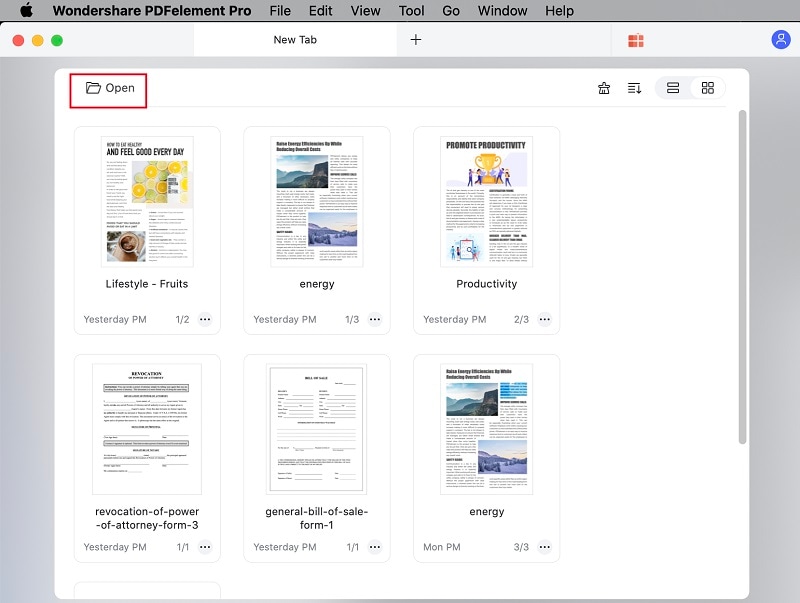 Step 2. Insert Texts from PDF:
Now to insert text into PDF on Mc, choose the "Edit" option at the top of the window and select the "Add text" for inserting text into PDF. You can insert the text by doing this step easily.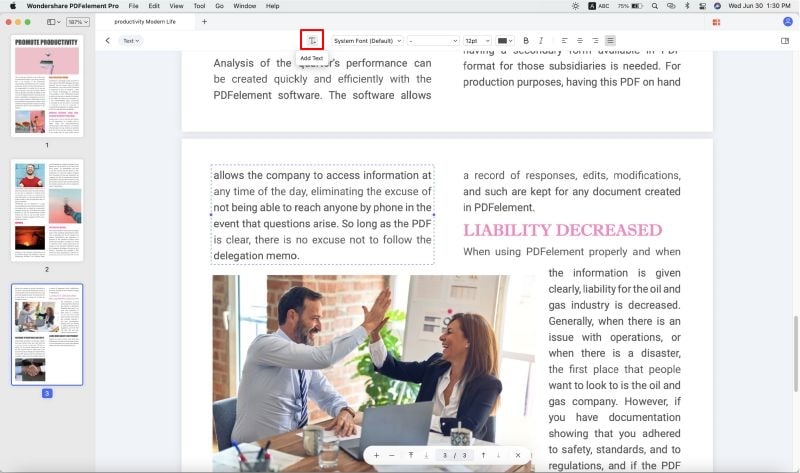 Step 3. Edit text in PDF
After inserting the text into PDF; you will be able to edit text in PDF files easily. Under "Edit" tap, you can change the font, font size and color of the selected text with ease. In addion to this, you can exercise also many options along with, such as add image, linking, cropping, changing font style etc.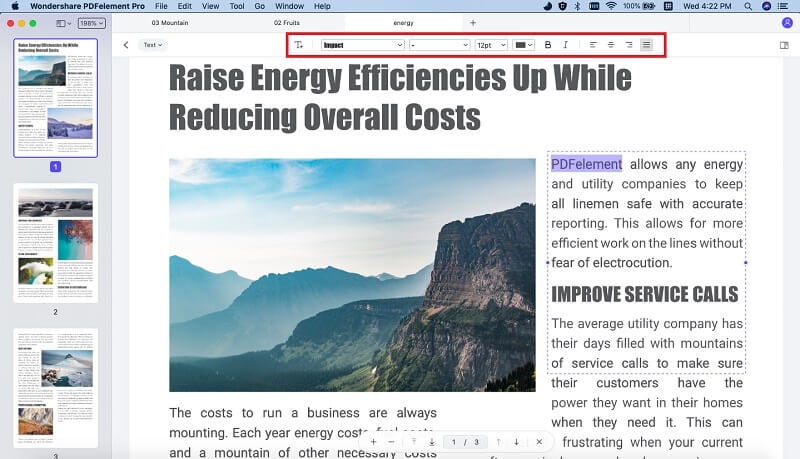 That was it! You have successfully inserted text into PDF on Mac using PDFelement for Mac. Except inserting text into PDF files, you can also use this PDF editor to convert and manage PDF files easily. Click here to get the full guide on how to use PDFelement Pro to manage and organize your PDF files easy as Word documents.
---
Why Choose PDFelement Pro to Insert Text into PDF
Don't go for a long thinking process to use PDFelement Pro. It's simple and elegant in its feature. It gives you the protection for your PDF by applying password, watermarks and digital signature. Also, the established OCR feature is efficient for your conversions from one PDF file to another format or from Word to PDF etc. Now you are at a right path to configure PDF as per your requirement. But still if you have a slight confusion; let me clear that too with detailed features of PDFelementfessional Mac.
Key Features of PDFelement Pro:
It's easy for you to insert text into PDF on Mac and you can copy, edit, insert images, and convert to another format.
It is multi-functional so multi -tasking is easy.
It gives you privacy and 100% security, which is needed for business growth.
You can even use it to batch OCR of multiple scanned files.