There are several extensions available on chrome to ease your PDF experience. Kami Chrome Extension is a PDF viewer, annotation, and markup tool for your browser. Whether you are a business professional or a teacher, a well-annotated document helps to present your thoughts. With a Kami extension you can annotate, highlight, underline, and strikethrough text in PDF and other document formats. Using a Kami annotation feature, you can easily turn any document into an interactive learning environment.
PDFelement Pro is an equivalent alternative to Kami extensions that is similar in terms of features from viewing and editing, to merging and splitting, almost anything you need.
How to Highlight PDF with Kami Extension
Kami Chrome extension is an online web application developed for education learning. It offers a variety of attributes to transform a digital file into an interactive visual learning experience. Let you edit, annotate, take note, highlight, add comments and share it. You can annotate in a variety of manners incorporating different colors, shapes, and text styles.
Here is the step-by-step guide on how you can highlight PDF with Kami extension:
Step 1: First and foremost, you need to install the Kami extension, and then it will be automatically added to the right of your Window. Open the PDF on the Kami extension. Once the PDF is opened on Kami, you will be able to see its tools on the left side.
Step 2: Locate and click on the Markup Tool from the left side of the toolbar. Select a Highlight tool; choose the color of the highlight.
Step 3: Click-and-drag over the text you wish to highlight. You can also use a box highlighter option to highlight the larger section of text. To save the highlights click on the "Save" icon in the top right corner.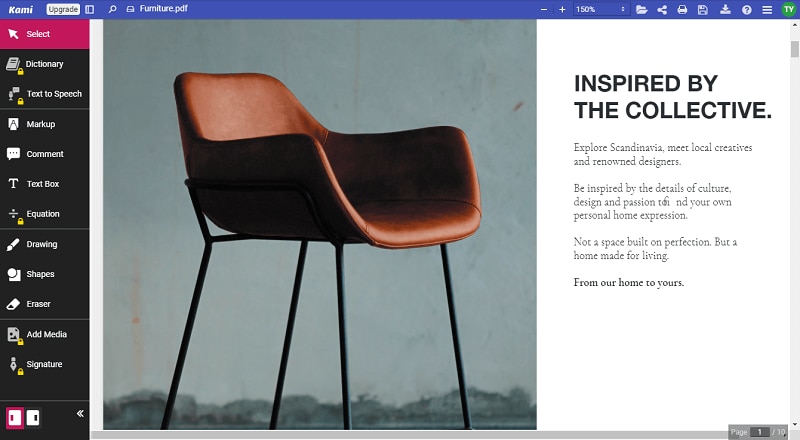 ---
How to Highlight PDF with Kami Extension Alternative
PDFelement Pro is a leading PDF solution that provides fast, affordable, and secure PDF solutions. From enterprise-level to education level, PDF editing and conversion features allow individuals to enhance and highlight their PDF documents to make them more interactive and increase productivity. PDFelement, just Kami, lets you edit, annotate, highlight, import a PDF file from your local drive or Google Drive, or Dropbox and modify a PDF file with ease. Besides, PDFelement has a full-set of markup tools to review and annotate. Let's see how easily you can use PDFelement to highlight your PDF document.
Step 1: Open PDFelement to load a PDF document
To add a highlight to the PDF you have to Install PDFelement from the official website and launch a PDFelement on your computer. Open the PDF file, to do that click on the "Open File" on the home page. Choose the desired file that needs to be highlighted and click on "Open" to open it to the interface.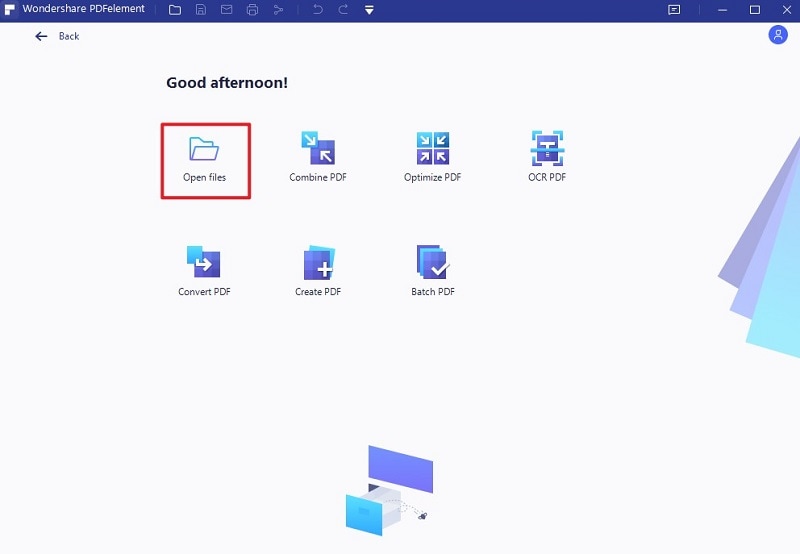 Step 2: Click Comment tab to highlight PDF
Click the "Comment" tab from the top to use different highlight features. Use the cursor to select the shape you want to use as a highlight.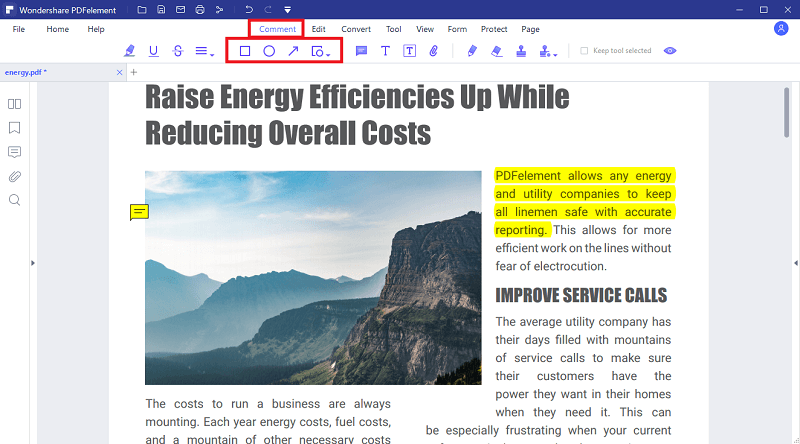 Step 3: Right-click the shape to choose "Properties"
If you want to change the appearance of the added shape, right-click the shape to choose properties, the "Properties" window will appear on the right. Use this section of properties to set the "Color," from the color pallet, select the color you want to use as a highlight. Furthermore, you can set other properties like you can alter the opacity of the highlight or use them as a default setting.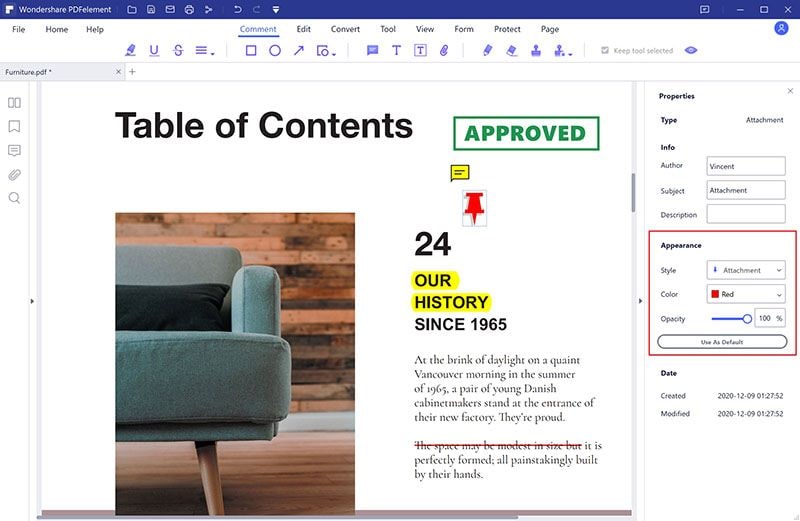 Step 4: Save the PDF file
To save click on the File in the menu bar and click on the Save option from the drop-down menu. You can also use the "Ctrl+S" shortcut, doing so saves the highlights done.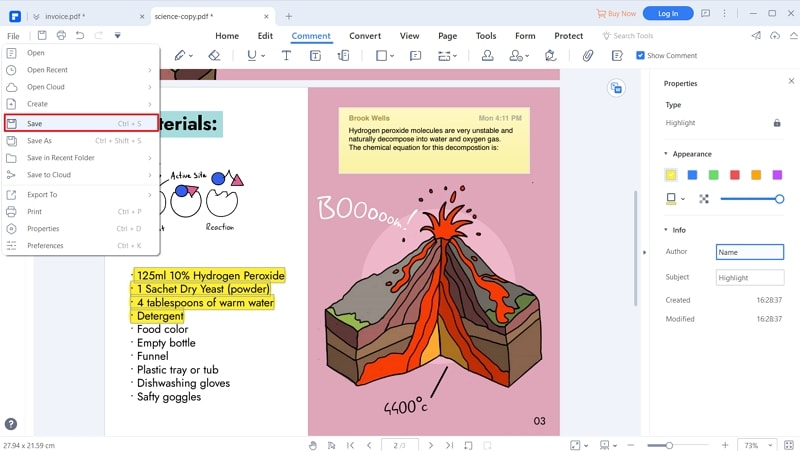 PDFelement is an ultimate alternative and a cross-platform PDF editor, viewer and annotator. With it, you can easily edit the document and sync with Google Drive, Dropbox and save and share it online. Choosing the right PDF editor can help you to increase your work in more innovative ways. We are sure this article gives you a clear understanding of Kami extension, its alternative PDFelement and will help you choose the best one.