Combine PDF files on Mac OS X with Preview is very simple. As Preview comes in all Mac OS X, you do not need other thrid-party program for merging PDF files on Mac OS X. However, merge PDF in Preview might stop working on your Mac sometimes. If you also encounter such problem when merging multiple files into one PDF document with Preview, you will be lucky to find out this guide. Here we will share tips on how to merge PDF files on Mac in Preview easily.
Part 1: How to Merge Multiple PDF with Preview Alternative (macOS 10.13 High Sierra Compatible)
Though you can merge PDF files or pages easily using Preview on Mac OS OX, it has some issues as well. Thus, to make your PDF files merging task much easier you can make use of the amazing Preview alternative PDF Editor Pro for Mac. With it you can combine multiple PDF files into one, and you also can merge other file formats into a PDF.
Step 1. Launch the program
Launch the program and click "Combine Files" to open the merging windows.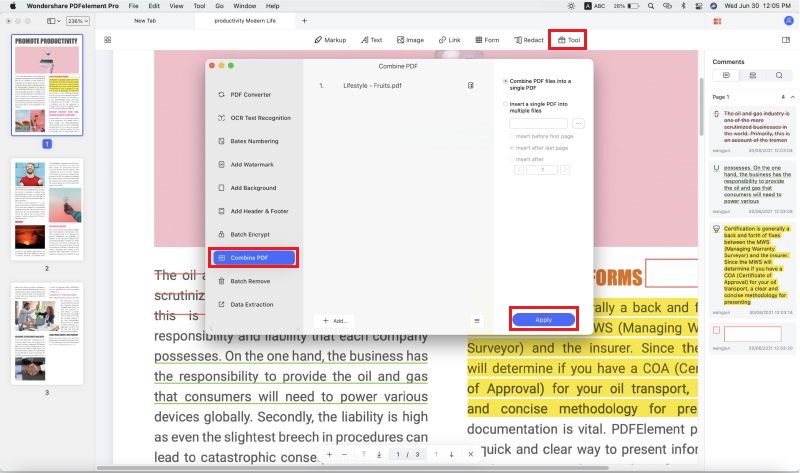 Step 2. Import PDF files
Drag and drop the PDF files you need to import them to the program. Alternatively, click on the "Add Files" to select the files and import them to the program.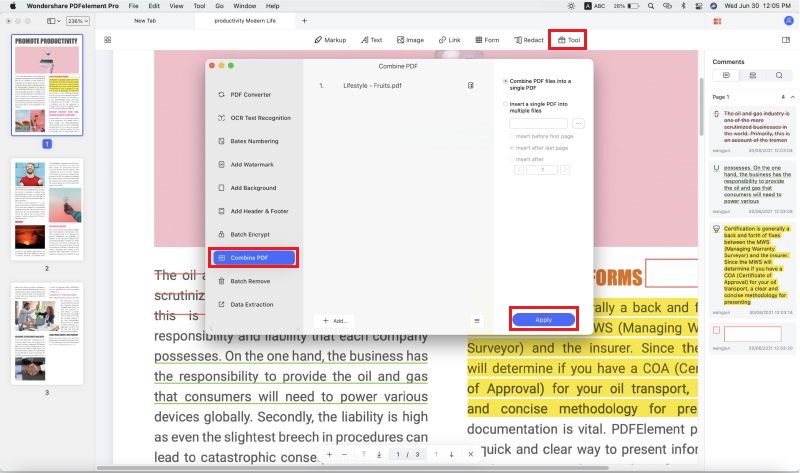 Step 3. Start merging PDF
Click "Combine" to start the merging process. And you will get the new file opened with the program.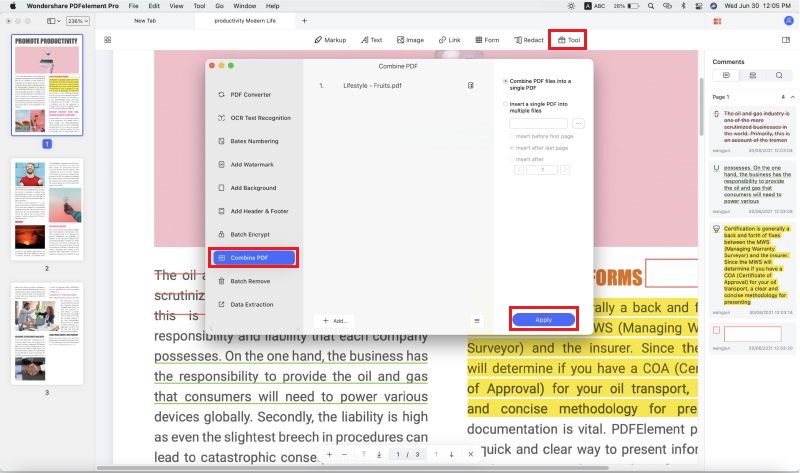 ---
PDFelement Pro is exclusively designed as a powerful PDF editing tool that lets you to completely edit and add notes, links, images, texts, watermarks and lots more. It enables easy conversation of PDF files to other Microsoft Word documents as well. (And PDF Editor Pro for Windows is also available.)
Why Choose This Preview Alternative to Merge PDF
Converts PDF documents to Word, Excel, PPT, HTML, Text, Images, and more.
Split large PDF files and compress PDF to make it smaller.
Create and fill out PDF forms. Annotate and markup PDF.
Convert scanned PDF files to editable documents.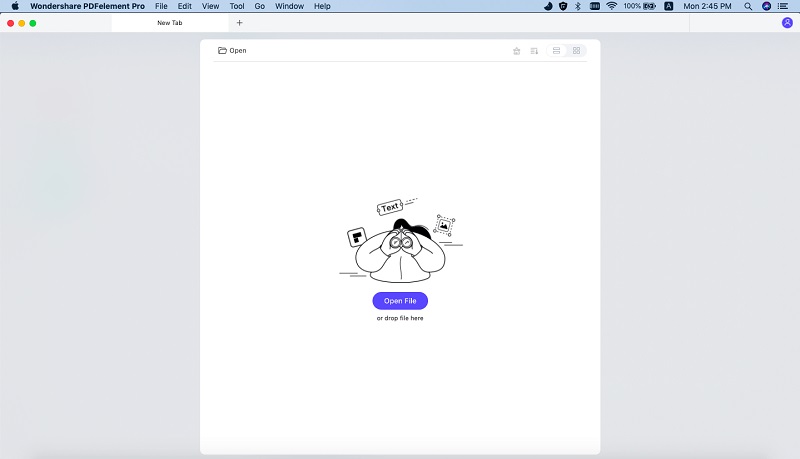 ---
Part 2: How to Merge PDF Files Using Preview on Mac OS X
The process of combining many PDF files into one document has never been that easier. However, using Preview you can easily merge multiple PDF files on Mac OS X. You can do this by two different methods.
Method 1:
Step 1: Firstly, you need to open the PDF files which you desire to merge in Preview.
Step 2: Once your PDF file is opened, ensure to select the thumbnails in your view settings.
Step 3: Then, simply drag and drop the file which you want to merge into your opened document.
Step 4: You are capable to arrange the PDF files in the desirable way as per you requirements by dragging it down or up.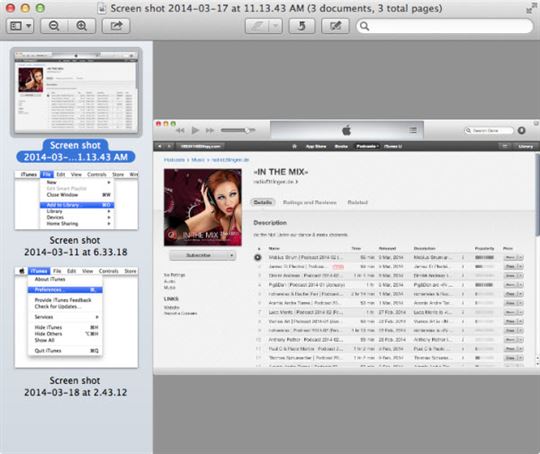 Thus, by following the above mentioned steps you can easily combine PDF files in Preview.
Method 2:
Step 1: Open the PDF documents that you need to merge side by side. Ensure that in the view setting the Thumbnails options is enabled on the documents which you want to combine.
Step 2: Then, easily drag and drop the PDF pages into the document that you desire it to be merged into. You can rearrange the files or pages in any order by dragging the page down or up.
Step 3: Now, your PDF files are organized neatly into a single document!
By the way, here you will get many more solutions about PDF.
---
Part 3: Troubleshootings on Using Preview to Merge PDF
Troubleshooting on Merging PDF Files in Preview
1. Problem when combining specific PDF pages with other PDF document.
You can combine the desired PDF pages from one Pdf document with another simply by selecting only those pages you desire to copy and drag them over the thumbnail of the destinations PDF document.
2. Pages in the destination PDF document are displayed in the wrong order.
This can be solved easily by following these simple steps; you need to click on the gray comprising an arrow which appears above the PDF document's thumbnail, so that makes the arrow to point towards right and drag the thumbnails of every individual pages in the preferred order.
3. Problem when saving the merged file.
After the destination PDF document includes all the pages you desire to combine and the pages are arranged in preferred order, you need to select file > save as option to save new PDF document comprising all the merged pages or otherwise you can simply select file > Save option to replace the original PDF document version to the destination PDF with the new version including all the combined pages.
4. Problem when rearranging the PDF pages using Preview on Mac OS X.
To rearrange the pages order in your PDF document in Preview, ensure thumbnails are displaying: View (top menu bar) and thumbnails. Now you just need to rearrange your thumbnails. You can do this easily by; click and drag the pages or thumbnails into the desired order.
5. Combining PDF files cannot be executed.
This happens if you do not follow the proper procedure. Ensure you open the PDF files in the Preview and open the document in the thumbnail view and drag the PDF files or pages which you want to merge. Follow these steps to combine PDF files easily and quickly using Preview on your Mac OS X.