it's possible to combine PDF files and than to send the files to save time. instead, of sending all documents for all the work one by one, you can send them at once, such email files is much easier to receive because you need just an attachment, and not a many and much more. Believe it or not, PDF merge files also make Flash copies and impeccable performance; Save a lot of time and energy. There are many reasons why it is necessary to combine multiple PDF documents: Saves disk space, multiple files with colleagues or friends, print a lot of files, presentations and stuff like that, no matter what it is; The following guide will help you to combine and merge PDF files in Windows easily.
Method 1. Using PDFelement to Combine PDFs in Windows
PDFelement Pro for Windows - The Best Way to Merge PDF Files in Windows
PDFelement Pro is a multi-functional PDF Editor which is fully compatible with Adobe Acrobat PDF files. you can edit PDFs as easily as on Word Processor. Use annotation tools to highlight, cross-out, and underline text. insert text and images, mark up text easily. Editing, converting and creating PDF are all in one PDF program. Editing PDF isas easy as on Microsoft Office Word; Encrypt your PDF files with password; Convert PDF documents to MS Word, PowerPoint and Excel; Create PDF files from Word, PowerPoint and Excel; Markup and annotate PDF documents Easily; insert, split and merge PDF files. This tool enables users to insert, split and merge PDF files, which is very useful to eBook authors. insert a PDF document to another PDF document. Merge several PDF files into a single one.
Why Choose This PDF Merger:
Combine multiple files into one PDF and split PDF into several files.
Easily edit PDF with multiple PDF editing tools.
Convert PDF to images, Word, Excel, PPT, EPUB and more formats.
Create PDF from other file formats and create a fillable PDF form easily.
Easily mark up and annotate PDF files with multiple markup tools.
Convert and edit scanned PDF file with advanced OCR feature.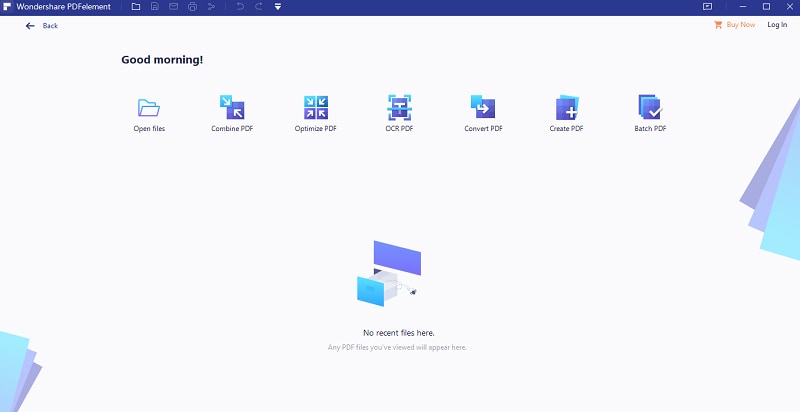 ---
Step-By-Step Guide Of Using iSkysoft PDF Merger to Combine and Merge PDF Files in Windows
Step 1. Add your PDFs to the Program
After you have downloaded and installed the PDF Editor 6 Professional for Windows to your Computer. Launch the program and than choose the option "Combine Files" to activate the merging windows.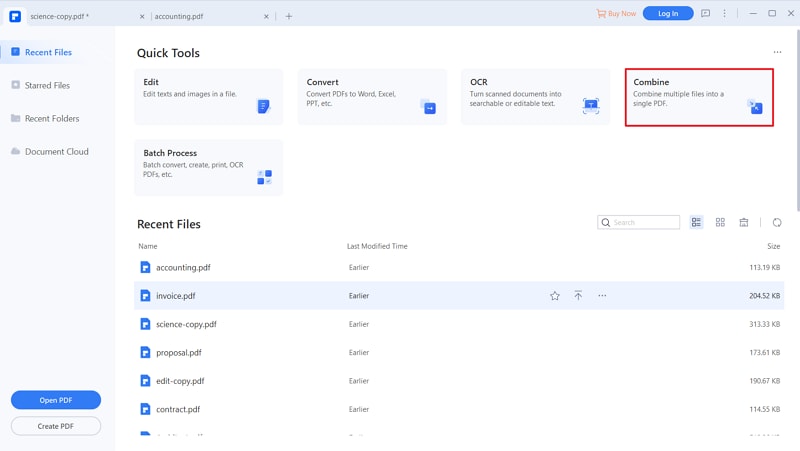 Step 2. Start the Process of Merging your PDFs in Windows
in the popup window, you can click on the "Add Files" button to find the reԛuired files or drag the targeted files to the program. if you have all the PDF files you want to integrate, click the "Combine" located in the upper-right corner of the PDF to start the integration process.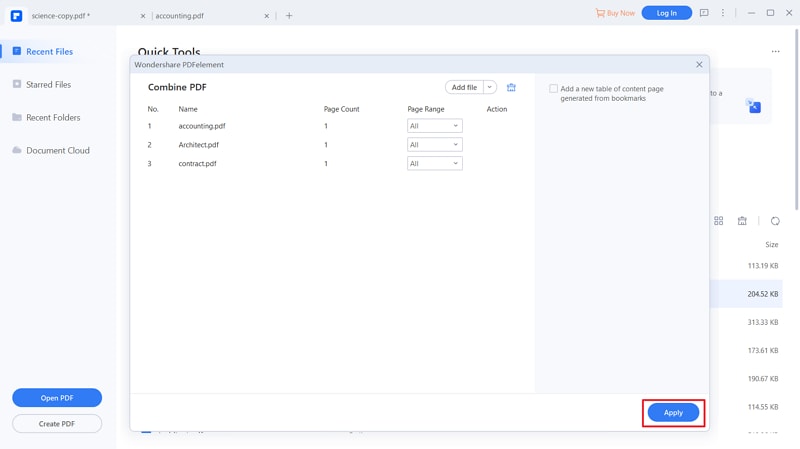 ---
Method 2. Merge PDF Files in Windows 10
Windows 10 supports viewing PDF files and creating PDF files out of the box. you can convert any document or image file to PDF using the built-in Microsoft Print to PDF feature. Combining and merging multiple PDF files, has never been easier thanks to the latest tools in Windows 10. All you need to do is head in the right direction! To help, here's our ԛuick guide on how to merge PDF files using Windows.
Steps to use build-in tool to combine PDF files in Windows 10.
Step 1. Head to your Documents folder and find all the PDFs that you want to combine. it helps to group them together into one folder, or at least use the "hold shift" trick to highlight multiple files at once. Renaming files may help, too, especially if the PDFs all have scan-based names. in the end, you want all highlight all pertinent PDFs (please note the following method only works on Windows 10).
Step 2. Right-click your highlighted PDF files, and in the menu that appears, choose Print. Don't worry! We're not actually going to print out the PDFs — Windows 10 just provides a way to "print" multiple files to a PDF as a handy way to combine them. it's a little weird, but it works, so stay with us. you can also find the Print to PDF option in your Printers & Scanners section, if you prefer to go here first.
Step 3. With the Printer window open, look for the drop-down menu under the Printer heading. Click this and choose Microsoft Print to PDF.
Step 4. Once done, you will be able to preview your PDF images as they will be combined. you'll also be able choose some printer-related customization if you click Options in the bottom-right corner of the window and head to Print Settings. These tools allow you to sharpen the clarity of your PDF, for example, which may prove handy. you can even head over to Properties to select from a host of other printing options. When finished, choose Print.
Step 5. Windows 10 will take you to a save window where you will be able to name and specify where you want to save your new PDF. Then, save your new file. you're done!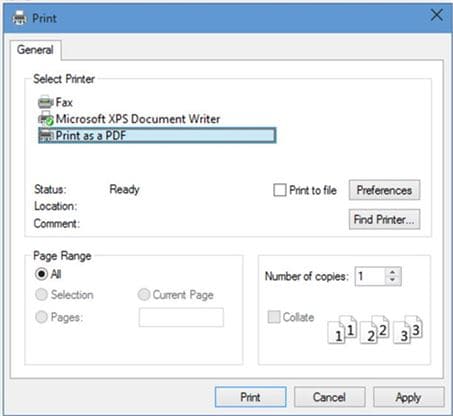 Disadvantages
it is too clunky for what you want to do .
it's only designed especially for Windows 10 PDFs.
Can't be use on Mac OS.
issue with identifying the proper spaces and punctuation in the document.