You have multiple PDF files and you wish to have just one file with all information from all your multiple documents? It is very easy to merge PDF online. There are many free online PDF mergers that you can use this kind of tool. You can resort by using merging tools when you wish to put together. For instance, if two pdf files have different information, graphics, images, you can merge or combine them in one file. This can usually be achieved by merging the files by hand, picking the wanted changes from both pdf files. In these cases, you can also use free online merge tools from websites. For desktop, you can use PDFelement Pro.
Part 1. Online Solution to Crop a PDF Page
PDFMerge! is a free website where you can merge pdf files, using files up to 15MB. You can select the language from the five available. The website is for online merging and you should nothing to install or you don't need to register. It is easy to use.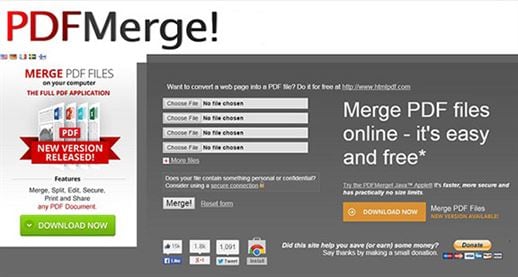 ---
It is a free website, with no file limit and no ad watermarks, where you can find an efficient tool to merge your pdf files exactly the way you want it. With the feature drag-and-drop, you can easy use the box from there and merge your documents. After you have done the work, just save your new pdf file on your hard drive.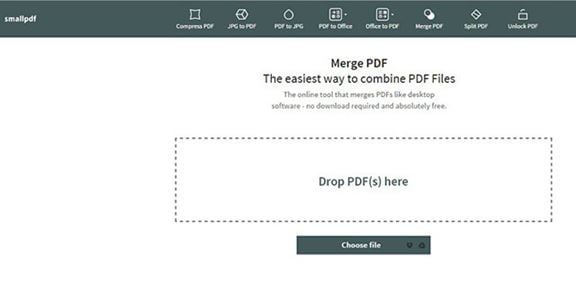 ---
With ilovepdf you have more options to edit your pdf files, including the possibility to merge online the pdf files for free, quick and easy. By using the free version, you can upload up to ten pdf files to merge them and a total of 80 MB size for all pdf files to upload.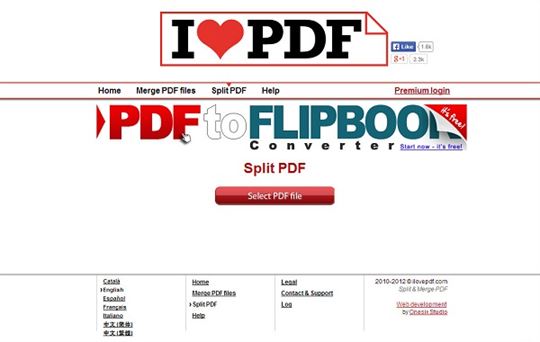 ---
Part 2. Steps for Merging PDF Pages into One File
The smallpdf.com website can be utilized for free to merge, split, convert, PDF files. There are many languages to be selected for a good user experience. The website works very well on different operating systems like Windows, Mac and Linux. Open the website and follow the steps in order to merge online your PDF files:
Upload your PDF files: Now we have two files uploaded and we want them merge in one single pdf file. After the upload, you have to use "Merge PDF!" grey button from below.
One PDF file combined: The process for merging is very quick and easy. After click on Merge PDF button, we have now one pdf file with the content from both pdf files.
Get final result: You receive a confirmation that your files were merged. Next, you can download the new single pdf file or start over a new merging process.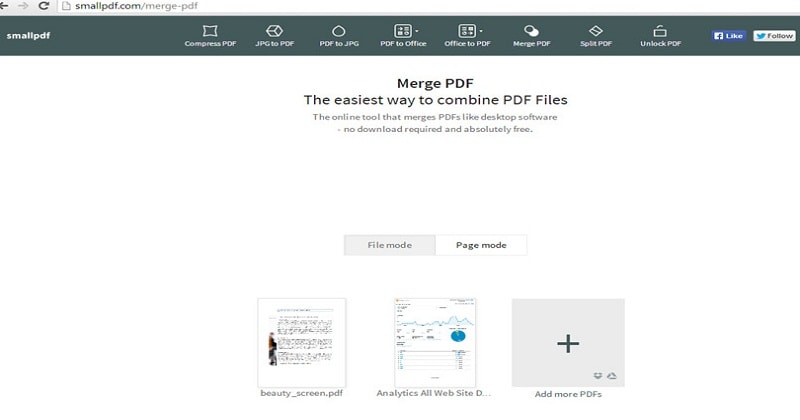 You can use merge tools for having one PDF file from two or many PDF files. This feature can be used with different online free tools to merge the documents. For any project you may have, with many different content from different saved PDF files, you can use the merge feature online and free of charge. To combine two separate PDF files into one document you need to drag all original PDF files into the box for drag and click on Merge button. Then it will merge the two pdfs together. After, you can save the new merged PDF.
---
PDFelement Pro - The Best Tool to Merge PDF files
For merging PDF files, I highly recommend you to use PDFelement Pro. With the help of this PDF Merger, you can merge multiple PDF files in simple steps. In addition to this, you can use this tool to edit, convert and OCR PDF files with ease.
Why Choose This PDF Merger:
Merge multiple PDF ffiles in a few steps.
Edit PDF texts, graphics, images, links, watermarks with ease.
Convert PDF to Word, Excel, PPT, Image and other formats.
Create PDF from other formats and create PDF forms easily.
Easily mark up and annotate PDF files with multiple markup tools.
Convert and edit scanned PDF files with advanced OCR-Tool.