We all have heard of the term, PDF. As a refresher, it means Portable Document Format. This is very useful for a lot of people, particularly students and professionals. This tool is used to save reports and the like in a PDF format, and not worry about having unwanted changes happening to your files. However, it can be difficult to make notes on a document that can't be edited. It is a good thing that there are numerous apps that provide us with tools that allow us to annotate, make notes, highlight, and many more on your PDF files. Highlighting is an important part in everyone's lives, because it allows us to point out something in a document without having to go through the entire thing to look for it. You can just flip the pages and find what you are looking for easily, because it was previously highlighted. Whether you have an android device, an iPad, or iPhone, it is now possible to use a PDF highlighter app.
Part 1: How to Highlight PDF on iPhone, iPad and Android
There are many Apps that you can use to highlight PDF on iPhone, iPad and Android devices. The basic steps to highlight PDF files on mobile devices are almost same. You can download the PDF highlighter App on your devices, open the PDF file with the APP and then find the PDF annotation tools to highlight and annotate the PDF file on your mobile devices. PDF highlighter for Mac and Windows will also help you to highlight and edit PDF files with multiple PDF editing and annotation tools. You can also use the desktop PDF highlighter App to share the highlighted PDF file to your mobile devices with ease.
The Best PDF Highlighter App for Desktop Users
PDFelement Pro is a useful PDF highlighter. With the help of this PDF tool, you can easily highlight the text in PDF. Apart from this, you can use this tool to edit texts, links, and other file formats in PDF files. This tool comes with advanced OCR feature that allows you to convert and edit scanned PDFs with ease.
Why Choose This PDF Highlighter:
Easily mark up and annotate PDF files with multiple markup tools.
Convert PDF to images, Word, Excel, PPT, EPUB and convert multiple PDFs in batch.
Create PDF from other formats and create PDF forms easily.
Combine multiple files into PDF and split PDF into several files.
Add watermark, signature and password to PDF with ease.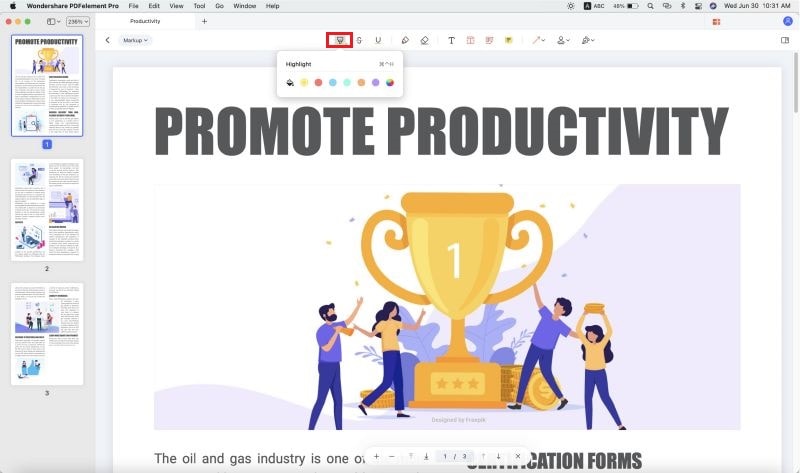 ---
Part 2: The Top 5 PDF Highlighter App For iPhone and iPad
Annotate, Sign, and Edit PDF Documents – This is one of the most popular apps used for viewing, signing, and annotating files. It also makes it possible to make notes on your documents with just a few taps. In addition to that, you can now also send and backup your important files. Click on this link to know more about it.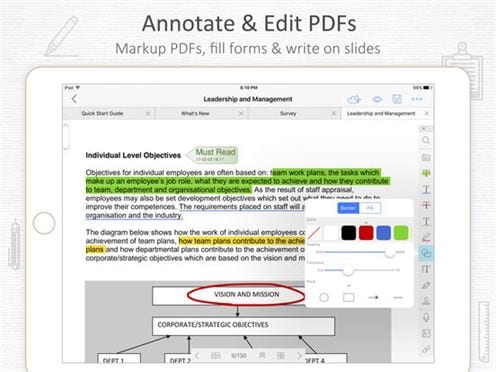 ---
As the name says, it makes it possible for you to share files in PDF, ppt, doc, and image files. Annotating files has never been that quick and easy. Additionally, it has numerous options that you can choose from aside from its highlighting feature. These are some of them:
These are some of them:
Pen
Typewriter
Strikeout
Straight – line
Note
Stamp
Voice recording
Photo
Date stamp tools
Click on this link to know more about it.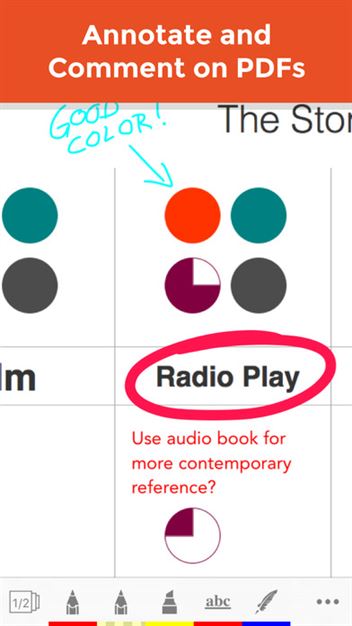 ---
you can now start make changes to PDF files. It is now possible to add your signature, sign, add images and text, edit text, fill out forms, add notes and comments, draw, and organize documents using folders, and retrieve and even save files found on your iCloud drive and other online storage apps. Click on this link to know more about it.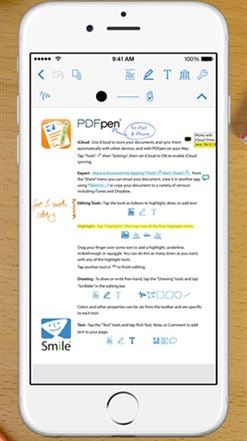 ---
This PDF highlighter app also has other interesting functions.
Such as:
Tools that make it possible for you to add text in a text box.
The first and only PDF viewer that incorporates embedded multimedia, such as video and sounds, into a file.
Add sticky notes to a document.
Draw lines, arrows, rectangles, ovals, you name it! You can even go for freehand drawing.
Add memos, change its colors and resize it. You can also move them around if you like.
Underline.
Cross out texts.
Flatten annotations.
Customized viewing.
Text to Speech feature that supports Chinese, Korean, English, and Japanese.
Click on this link to know more about it.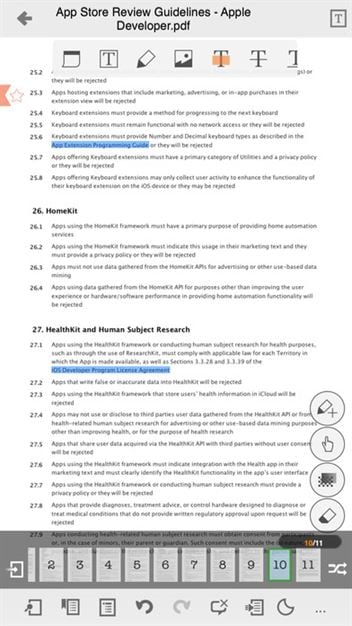 ---
This is one of the powerful apps for highlighting PDFs. It can also mark-up documents, add stamps, text, and even sign documents. In addition to that, it also allows you to merge different PDF files together. To top it all off, you can actually edit the PDF text, hide sensitive data, and change the images in the file. Editing functions of this app is available as an additional in-app purchase. Click on this link to know more about it. https://itunes.apple.com/us/app/ PDF-expert-5-fill-forms-annotate/id743974925?mt=8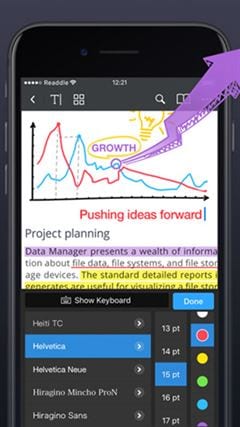 ---
Part 3: The Top 5 PDF Highlighter App For Android
From the makers of the PDF record, we give you another advancement from Adobe Reader. This straightforward PDF highlighter app is very attractive. It's straightforward, productive, and takes care of business without disrupting everything. Additionally, it allows you to manipulate the pen size, color, and the like for the tools that you use to annotate your documents. This is highly recommended for those who are on a budget and don't want to spend their money on apps, because these don't have pesky ads that pop up every now and then. Click on this link to know more about it.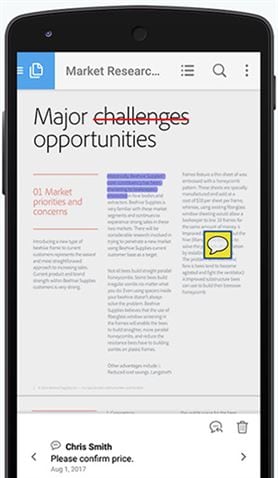 ---
It has an attractive appearance, but don't let it fool you, because it is also packed with plenty of useful features such as adding text and comments, creating shapes, drawing, and a lot more. Click on this link to know more about it.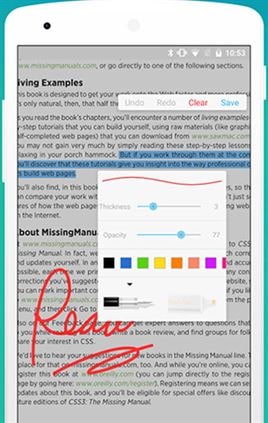 ---
#3: PDF Max
This has all the necessary annotating features that you would want in an app. This has been helping numerous people save the environment by going paperless on a daily basis. To know more about it and what it has to offer, click here.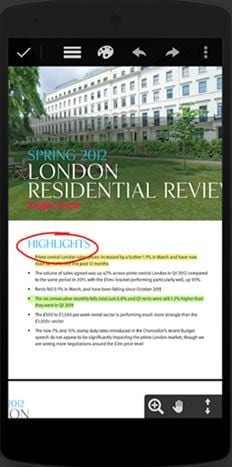 ---
#4: PDF Max Pro- The PDF Expert
It has a lot of useful features such as smart zoom, PDF Text to Speech, it allows you to open files in various tabs, and many more. In addition to that, it has a user-friendly interface. Click on this link to know more about it.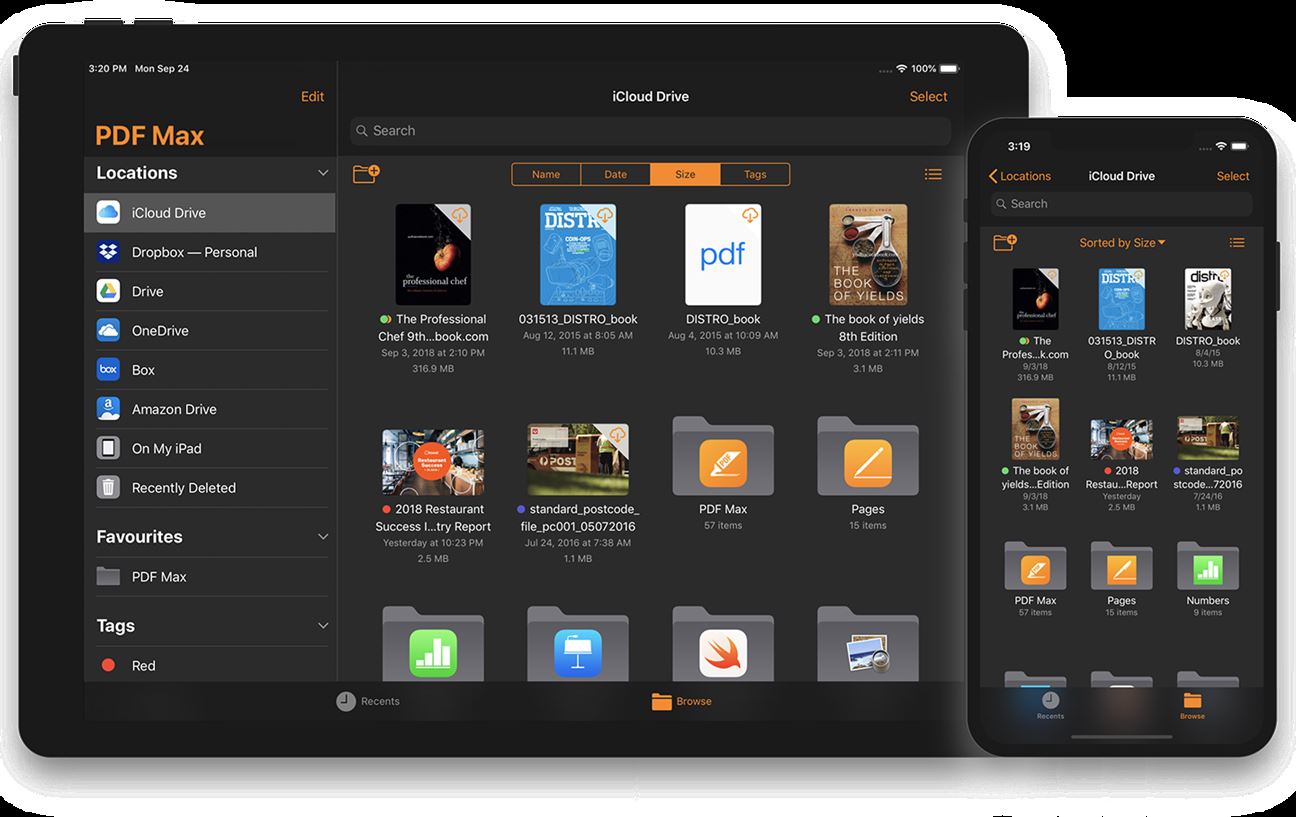 ---
This is one of the fastest PDF viewers out in the market. This powerful, and professional app is also user-friendly. To top it all off, it is completely free, so you won't have to worry about purchasing it in order to use it.
Here are more features that will catch your interest:
Full page zooming without having to see mosaic blocks forming the closer you zoom in on the document.
Draw on the content that you want to share, and send it through email. It's that simple.
Numerous views when you organize your documents. Choose from shelf, built-in file browser, and list view.
In case someone borrows your android, you can keep important files safe from prying eyes with its simple privacy control feature.
To know more about what it can offer, click on this link.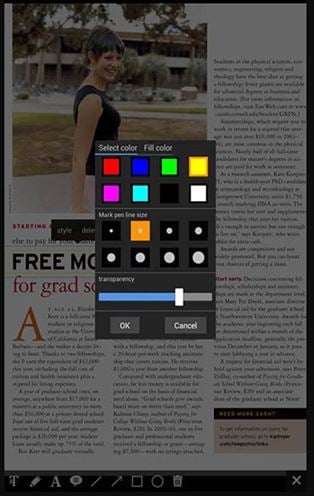 As you can see, you no longer have to waste paper and hurt the environment just so you can point out certain parts of an important document, not when you can simply find apps for highlighting PDFs. Aside from the fact that it saves paper, it also saves you some time. You will be able to do everything more quickly on your android, iPhone, or iPad. It's just a matter of finding the right app that will suit your needs. With that said, do make it a point to try the abovementioned, so that you will be able to see for yourself what these have to offer. By the time you are done with each and every single one of them, you will be able to make a well – informed decision, one that you will be definitely happy with.