You might have wished to use the photo that you saw on one of your favourite e-books, or you might have liked a collection of designer dresses on one of the fashion e-magazines and wanted to store the picture of the dresses. So, within few seconds your hand goes to take a screenshot.You can just upload the PDF, and voila, all your pictures will be available in the image format? Therefore, it is essential to use PDF image extractor (PDFelement Pro) that allows you to extract the images without facing the problem.
Part 1: Top 5 Best Free PDF Image Extractor Software
1. PDFelement Pro
PDFelement Pro is the most trusted PDF photo extractor when it comes to handling the PDF and any operation related to PDF data. Other than extracting the images from PDF at original quality, it can also merge, split PDF, add a watermark to a PDF and side notes. It is the best software for handling the PDF documents so far. Read this simple example to know how you can to extract images from any of your PDF files that to in just three easy steps using PFF image extractor.
Step 1: Download and launch the program on a Mac or Windows computer.
Step 2: Import a PDF file with images to the program.
Step 3: Open "Home" menu and click on the image. Choose "Capture" option to extract images from PDF files easily.
Pros:
It allows you to convert PDF to Excel, PPT, Word and other file formats easily.
It enables you to edit and convert scanned PDF files.
It provides multiple PDF editing tools to edit texts, images and other elements in PDFs.
Cons: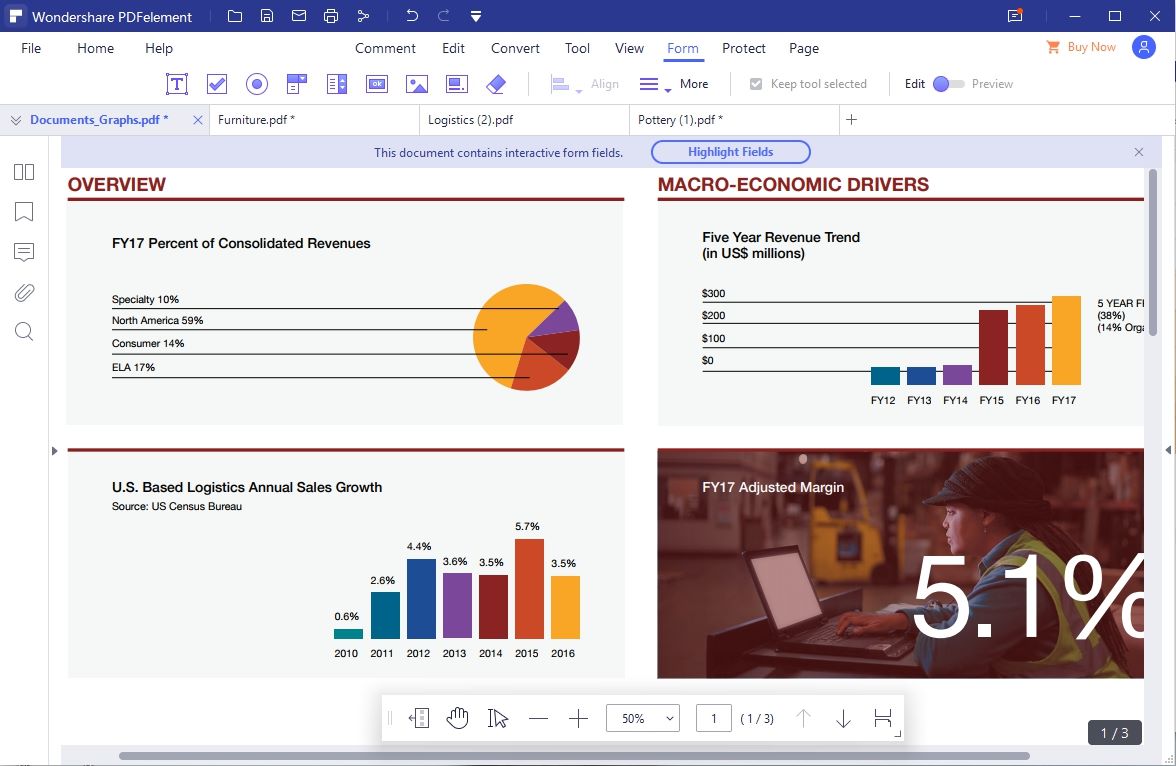 ---
2. PDFArea
PDFArea is a freeware that is specifically designed to extract the image from the PDF file and export it in jpeg, bmp or any other image format of your choice. The free PDF image extractor is fast and does not take much space on the computer. Since it is available at free of cost, it can be downloaded on any computer to get the same result.
Pro: Specialized in extracting images from the PDF.
Con: It cannot perform any other task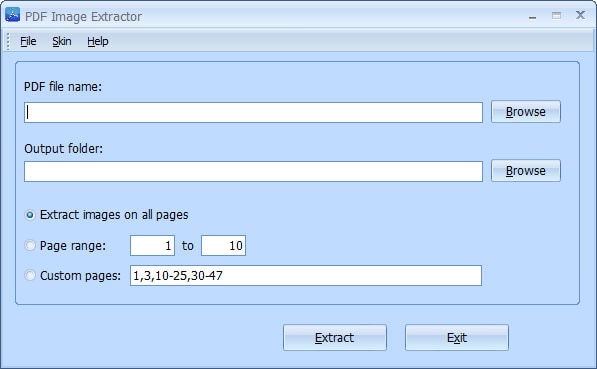 ---
3. PDF Image Extractor 4dots
PDF Image Extractor 4dots is a free PDF image extractor software by 4dots-softwares and is one of the lightest yet powerful image extractors that you will get online. The software is free to use and can be used to perform some image extraction task which is an advanced version of the PDFArea software.
Pro: Specialized in extracting operation and hosts exporting ability in 18 formats.
Con: Interface is outdated.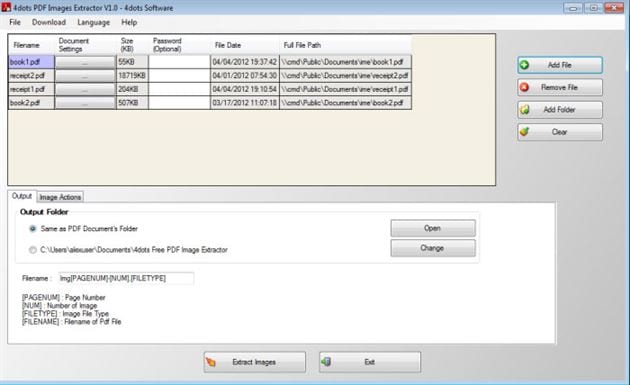 ---
4. A-PDF Image Extractor
This software is the second in the list of paid application. The A-PDF Image Extractor specializes in photo extraction work, and it contains some feature that makes it compatible with heavy-duty image extraction work.accounts to convert entire email folders to PDFs. Extracting pages and exporting in batch is also available.
Pro: Contains exclusive operation for automating image extraction work.
Con: The cost is bit pricey.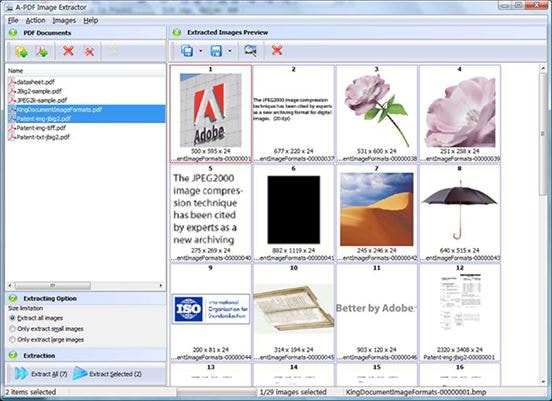 ---
5. Pantera PDF
The only open source software on the list. Pantera PDF is an effort to bring all the PDF related operation on an open source platform to make the tools accessible to everyone. The software can be downloaded at the given link.
Pro: Open source software which makes it accessible to everyone.
Con: The software contains a lot of glitches.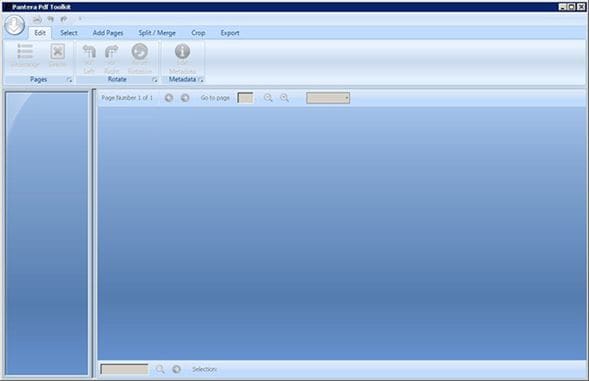 ---
Part 2: Top 5 Best PDF Image Extractor Online Tools
1. PDFaid.com
The PDFaidF is intuitive and straightforward in its use. The online PDF image extractor features some tabs such as blogs, tutorial, FAQ, and different web application where you can find web-based services. The website introduces the user with various file formats and is also easy to use when it comes to online extract images from PDF.
Pro: It does not give any information regarding the size limit of PDF to be uploaded.
Con: It does not give any information regarding the size limit of PDF to be uploaded.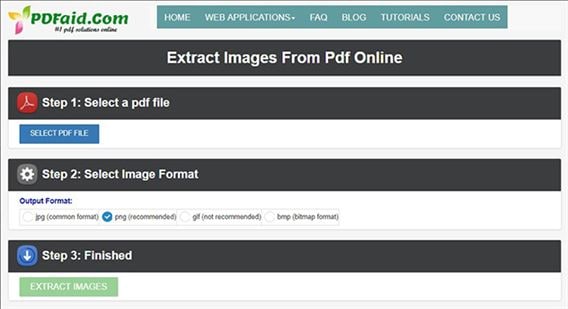 ---
2. ExtractPDF.com
ExtractPDF is dedicated explicitly for extracting image, text, and fonts from the PDF. The website is a part of a family of websites that cater to the specific uses. The design of the interface is simple, and powerful online software works on the site. All you need to do is upload or else place the URL of the site, then you can extract images from any online PDF document.
Pro: The interface is simple there is not complexity.
Con: It lacks additional feature.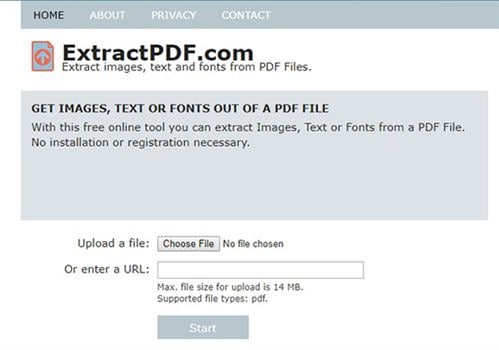 ---
3. SmallPDF
SmallPDF is another PDF image extractor online which is purely devoted to editing and converting PDF, the site has got many tools under its sleeve to handle your all types of PDF related tasks. You can directly drag and drop the file, or you can upload the file from Dropbox or google drive account.
Pro: The website comes as a total package of handling PDF related task.
Con: The number of the trial is limited, and also you need to sign up before using it.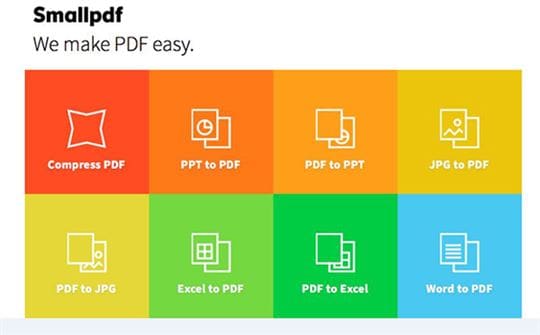 ---
4. PDFconvertonline
The fourth online PDF image extractor in our series which purely revolves around PDF. The PDFconvertonline has got a simple interface along with instruction and additional notes that describe the process and different file format. The procedure is simple all you need to do is upload the file and click the convert button.
Pro: Simple to use and no email is required to download the image.
Con: The size of the PDF is not mentioned which can be problematic.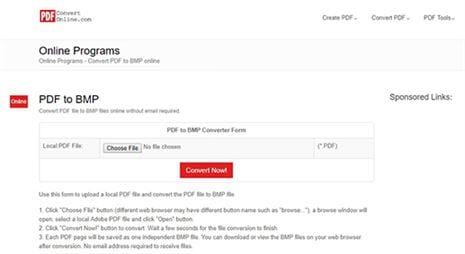 ---
5. Sejda
Sejda offers a simple yet an intuitive screen which provides a seamless process of extracting the images from the PDF free online. Also, with the premium pack, you will get a lot of other features which makes it easy for the user to operate on PDF unlimited number of times.
Pro: The site provides a simple yet beautiful interface, and process is fast.
Con: The number of documents handled is limited. You will need to pay for the unlimited offer.