PDF has become a standard way of sharing electronic documents and notes online. There may be times when you need to highlight important points in a document, add explanations, or remove unnecessary content. Fortunately, there are PDF markup applications that allow you to add notes to, highlight, and underline PDF files. Here is a list of the best PDF Markup Apps for iOS and Android devices.
Part 1: Top 5 PDF Markup Apps for iOS
#1: PDFelement Pro for iOS
PDFelement Pro for iOS is one of the best markup App for iPad and iPhone devices. The PDF markup app allows you to add annotations to your PDFs with stamps, notes, strikeouts, comments, highlights, and more. It also allows you to add text in fillable forms and draw personal signatures on your PDFs. The app also enables you to transform your PDF files into different formats such as Word, Excel, and PowerPoint.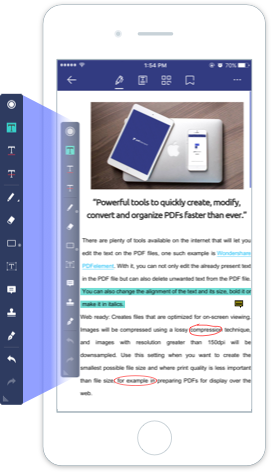 ---
#2: PDF Expert
PDF Expert is an excellent app for marking up PDFs on your iOS device. This software is compatible with Adobe Acrobat and Preview, so when you save changes to your PDF document, there is an option for previewing and reading them through these programs. The app has an excellent structure that utilizes standard icons and buttons, and pop-up menus to prevent clutter on your screen. One of the most impressive features of this app is the menu that has a list of all previous annotations. It allows you to remove any undesired changes with a single click.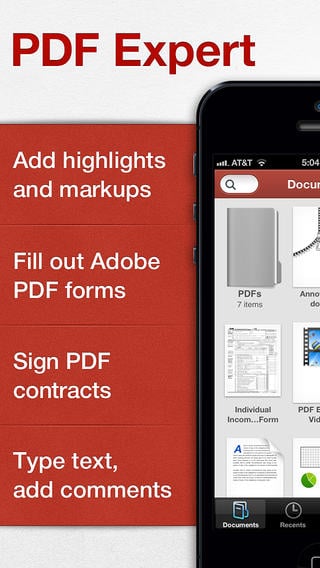 ---
#3: Annotable: Annotation & Markup
Annotable: Annotation & Markup is an all-in-one image markup tool. You can also highlight text on screenshots of apps like Notes, Twitter, and Safari. It feels like magic, and can save the day when you want to share a web page screenshot with some words highlighted but forgot to select the words when you took the screenshot. Most Features of this PDF markup app are free, but some are unlocked with purchases.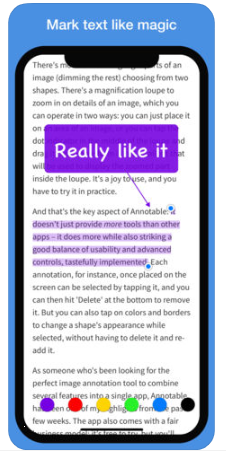 ---
#4: PDF Pen 5
PDF Pen 5 allows you to sign contracts, fill out applications, comment on presentations, make corrections, and more. The software consists of an intuitive UI and can synchronize with iCloud. Additionally, with this app, you can modify an original PDF, change text, images, and even create new PDF documents. The tool also supports freehand highlighting while still maintaining the original documents.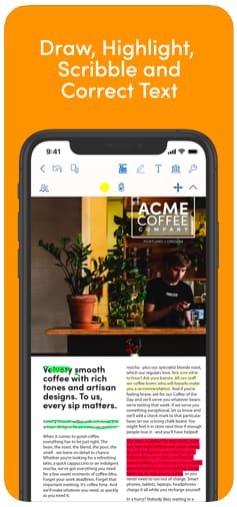 ---
#5: iAnnotate PDF
iAnnotate PDF has comprehensive features and an intuitive interface that is efficient for markup and sharing of files on your iOS device. The app is popular for making notes on lecture slides, annotating business documents, revising screenplays, and grading papers. The application also has features that allow you to manipulate PDFs.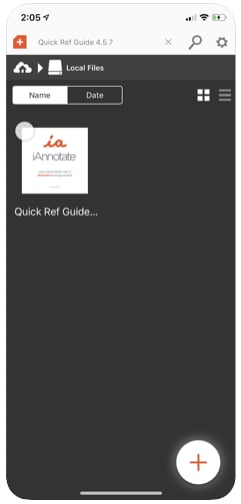 ---
Part 2: Top 5 PDF Markup Apps for Android Devices
#1: Qiqqa for Android
Qiqqa for Android is known for its Windows version which is recognized as an efficient research management system for academic and business use. The software can analyze PDFs and organize them according to tags and metadata. Qiqqa is popular for its ability to sync documents to your android phone and enable you to view them offline. It also supports reading, highlighting, and taking notes from PDF files.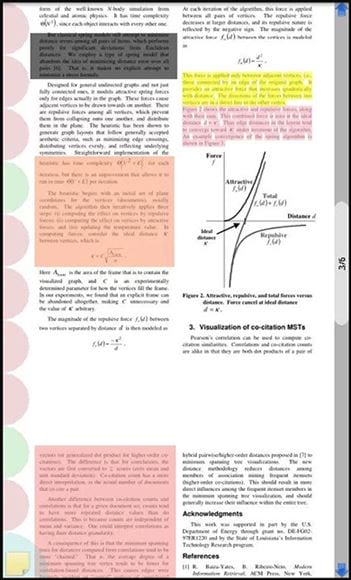 ---
#2: Xodo PDF Reader
Xodo PDF Reader is one of the best PDF markup apps available with all the basic features of annotation. It is both a beautiful and easy to use tool. One of the striking features of this app is the ability to fill forms and add signatures. Xodo Connect is another feature of this tool that enables you to collaborate with others online through Dropbox integration which lets you store files on the cloud.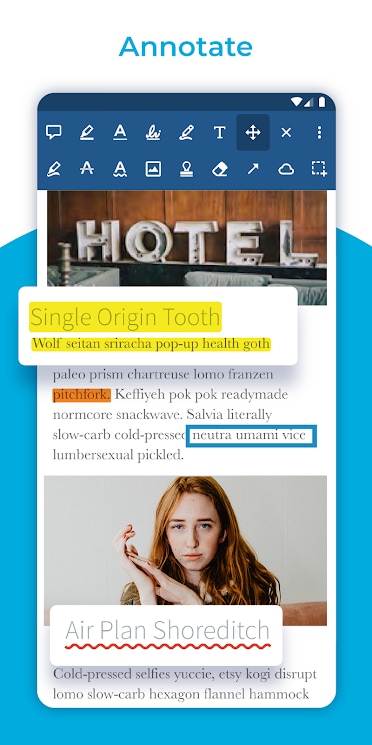 ---
#3: ezPDF Reader
ezPDF Reader works as both a PDF reader and markup app. This markup PDF Android allows you to view dual pages like you would when reading a document on a computer. It also enables you to highlight text, color text, take sticky notes, resize, and draw on your document. Other good features include the signing of PDFs and filling forms. Another interesting feature of this tool is that you can play multimedia files within the app.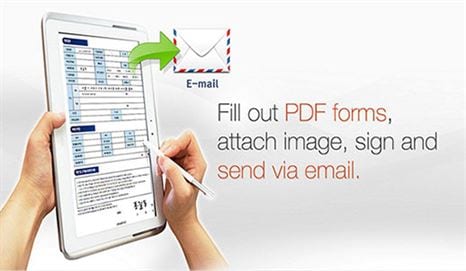 ---
#4: Adobe Acrobat Reader
Adobe Acrobat Reader has commenting and annotation features for marking up PDF documents. The comments and markups that are saved on the PDF can be opened and edited on Android devices. The app has a fast search and zooming function which is handy for small mobile phones. This tool has three viewing modes and also allows you to leave comments on your PDFs using drawing tools, and markup and highlight text with markup app.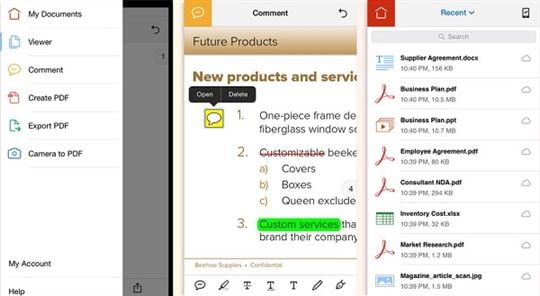 ---
#5: PocketBook reader
PocketBook reader is a reliable PDF markup app for reading, editing, and annotating PDF files from Android devices. This PDF markup app can help you to read comfortably, ad-free, and free of charge on Android devices, it not only online but also without connecting to the Internet.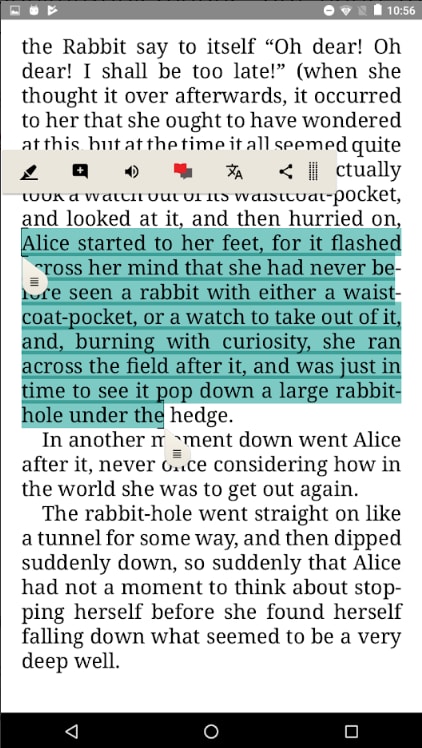 PDFs provide a convenient means of sharing files electronically. This document standard is lauded for many of its strong features including the ability to remain constant when used with different devices and the ability to compress large amounts of information to a relatively small file size. PDFs work on any operating system and make it easy to integrate non-text elements. Despite all the benefits provided by PDFs, they have one major weakness; you cannot markup or annotate them. Luckily, there are applications that you can use to perform these functions. PDF markup apps make it easy to manipulate PDFs in many ways, from adding text to highlighting text, coloring text, taking notes, filling forms, inserting signatures, and so much more. The apps mentioned above are some of the highly-rated PDF markup apps for iPads, iPhones, and Android devices.
---
Recommend the Best PDF Markup App for Desktop Users
PDFelement Pro for Windows and Mac is an all-in-one PDF editor that can help you edit PDF, markup PDF, convert PDF, secure PDF, and more. With this markup app, you can markup PDF easily. When you choose 'Markup', there are several tools you can choose to markup your PDF files, such as highlight, strikethrough, underline, pencil, text box, shapes, stamps, and more.
Key features of this markup app:
It provides different kinds of PDF markup tools to annotate PDF files.
It provides high-security features to protect your PDF files.
It comes with professional OCR tools and you can edit your scanned PDF document.
It can help you to digitally sign your PDF files