If you get sent a PDF file and find that you need to sign it, the only way to do it through Adobe Acrobat is if you use the paid version. Signing a PDF file is a good way of being able to turn in documents with your signatures without having to scan an image. These scanned images might end up being low-quality, which will only ruin the integrity of your signature. Once again, this is something that can only be unlocked after signing up and subscribing to Adobe Acrobat. In this article we will show you how to sign PDF in Adobe Acrobat alternative with ease.
Part 1. How to Sign PDF with Adobe Acrobat Alternative
The Best Adobe Acrobat Alternative to Sign a PDF
A good alternative to Adobe Acrobat is a program called PDFelement Pro. The PDF editor comes with multiple PDF annotation tools. With the help of this PDF editor, you can easily sign PDF and add comments to PDF files easily.
How to Sign PDF in Adobe Acrobat Alternative
Step 1. Import PDF to the Adobe Acrobat Alternative
In order to be able to sign a PDF file, you must have one to begin with. So have that file prepared. Of course, in order to use PDFelement Pro, you're going to have to download and install the program. That is pretty easily rectified. Just download the installer from its official website. After that, launch PDFelement Pro and click the "Open File" option. This will cause a windows pop-up to appear, which will prompt you to choose which PDF file you would like to sign. Once you have found it, all you need to do is click "Open" and you're good to go! The PDF will load, and you'll be able to apply the markups you need to make.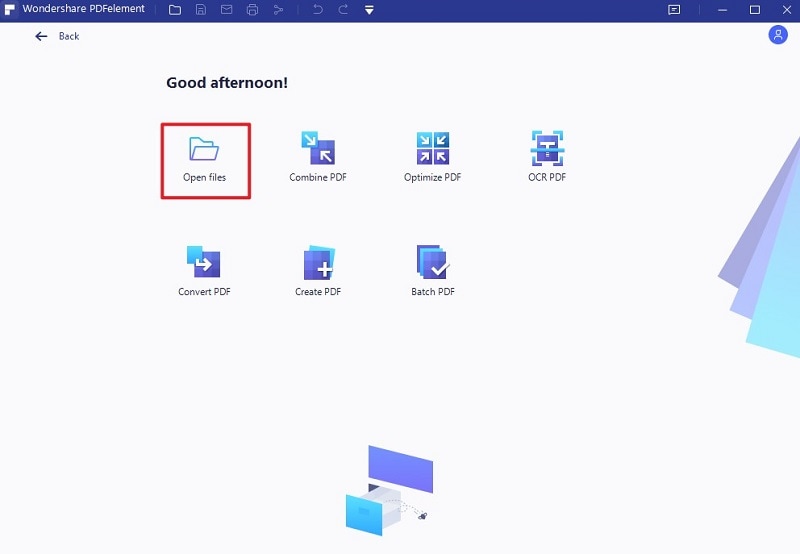 Step 2. Add Signature to PDF
Now, in order to add a signature on your PDF, all you have to do is press the "Protect" tab and look for the "Sign document" option. Click this, and it will reminds you to select a place that you want to sign. Click on "OK" and move the cursor to draw a text box, then you can sign your PDF document according to the hints easily.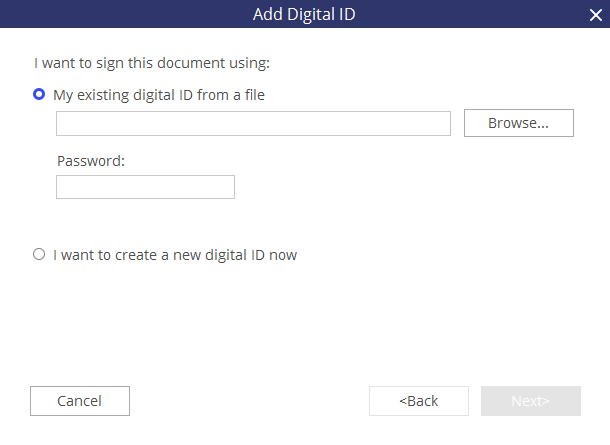 Step 3. Save the PDF File
After you have added your signature, you can make a couple of changes if need be. Perhaps you might want to edit some of the text or images. Do so now, and make sure that that you are completely satisfied with how the PDF is before saving. If you want to save the PDF into another file format, you can do so too under the "File" tab. This will open up a brand new screen that will allow you to save, convert, optimize, etc. your PDF. However, if you just want to get it done. All you have to do is click "Save." After that is that, you will now be an owner of a signed PDF, and you can do whatever you want to do with it.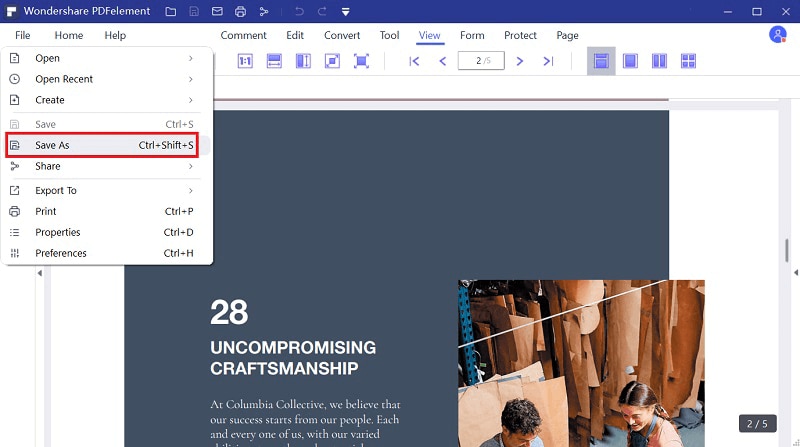 ---
Why Choose PDFelement Pro to Sign a PDF File
PDFelement Pro is a professional editor which not only allows you to sign a PDF document easily, but also provides you multiple PDF editing tools to edit PDF texts, images, links and pages easily. This PDF editor will make your work with PDF documents as easy as Word documents.
Key features of PDFelement Pro:
Easily sign your PDFs and add comments to the PDF file.
Create PDF files from Word, PPT, Excel and other popular file formats.
Edit texts, images, links, pages and other elements in PDF files easily.
Advanced OCR tools allows you to edit and convert scanned PDF files with ease.
Convert PDF files to Word, PPT, and even convert multiple PDF files in batch.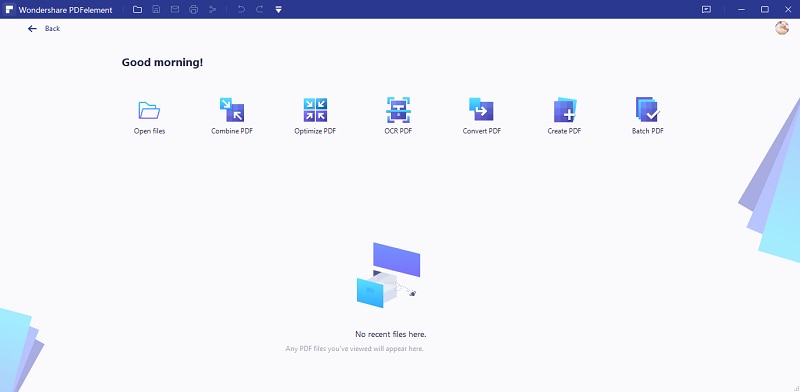 ---
Part 2. How to Edit PDF Text in Adobe Acrobat
If you do want to go through with signing your PDFs with Adobe Acrobat, you can do so easily so long as you have a subscription. First, you might want to download the free trial version, which you can download from its official website. It does take a few minutes, but the process is simple.
Step 1. Download and Import PDF to Adobe
Once you have downloaded this, you will be able to view and read the PDFs you have, however you cannot edit them until you purchase the editor version.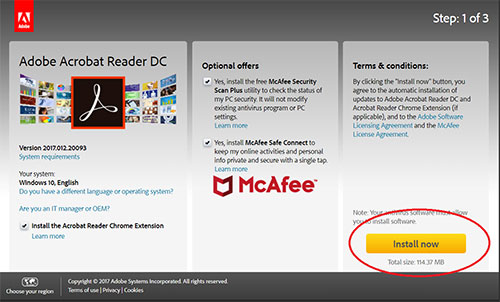 Step 2. Sign PDF with Adobe Acrobat
If you do want to be able to sign your PDFs through Adobe Acrobat. First, you will have to press the "Tools" button. Find the "Fill & Sign" > "Open" it will bring you to this page, which will basically prompt you to subscribe to the paid version.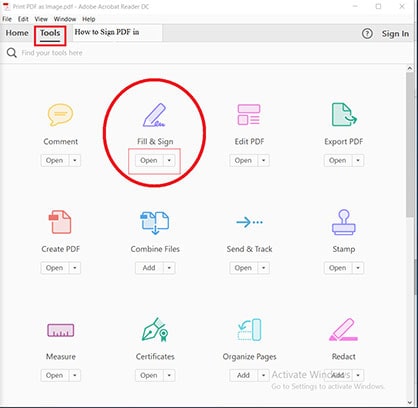 However, If you have the paid version downloaded and installed, just click on the calligraphy icon that is titled "Sign" this will ask you to choose between adding a signature or adding your initials.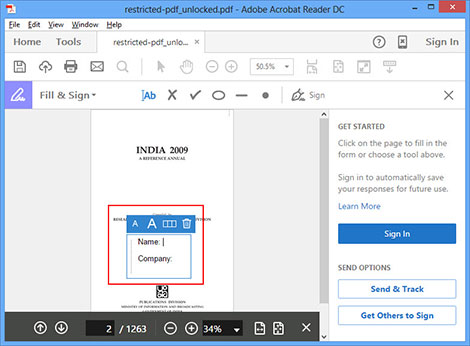 ---
Part 3. Comparison on Adobe Acrobat vs PDFelement Pro
Their capabilities are about the same. However, PDFelement Pro does allow a lot more during the Free Trial stage. For example, being able to edit text or images, converting files into other formats, or even optimizing the file in order to be able to use it easily for different platforms. Adobe Acrobat is good for reading PDFs, however, outside of viewing PDFs you will have to purchase a subscription with them before being able to do anything.
The feature discussed here was the ability to sign your PDF files, this is something you can do easily in PDFelement Pro. Not only that, but there are a lot of other options involved. Like being able to modify the look of your signature or being able to make it a 'read only' part of the file, meaning that no one else will be able to make changes to it. It beats having to scan a physical document with your signature on it, which might lead to ruining the integrity of your signature.
Items

PDFelement Pro

Acrobat Standard DC

Single License
One single payment of $99.95 for one PC.
Annual payment of $14.99 per month with commitments. Monthly payment of $24.99 without commitments.
Multi-license
One single payment of $187.91 for up to 20 PCs.




Annual payment of $14.99 per month with commitments. Monthly payment of $24.99 without commitments.
Supported System
Windows
Windows 10, Windows 8, 7, XP
Mac OS X 10.13, 10.12, 10.11, 10.10
Customer Support
Excellent
Excellent
Edit PDF Files
Markup PDFs
Convert PDF Files
OCR PDF Files
---
Redact PDF Files
---
Bates Numbering
---
Compress PDF
---