Splitting your PDF files into separate smaller files can often be beneficial, and there are numerous ways of going about this. However, with the Adobe products getting far out of the reach of the average user with their pricing policies, we have seen several online options appear to fill the void, the question is, are they any good and can they reliably replace a desktop application for working with PDF documents? We have a look at some of the best online PDF splitters and see if they offer a viable alternative.
PDFelement Pro - The Best PDF Splitter
When it comes to desktop options, PDFelement Pro has everything you could want. This desktop PDF splitting software can make the work of splitting PDF very easy. With a wealth of features that cover the splitting and merging of PDF documents, but it also includes a full complement of editing features including the ability to create, convert and even add watermarks to your PDF files.
Why Choose This PDF Splitter:
Easily split your PDF documents as your needs.
Convert PDF to images, Word, Excel, PPT, EPUB and more formats.
Edit PDF texts, pages, links, images and other elements with ease.
Create PDF from other formats and create PDF forms easily.
Easily mark up and annotate PDF files with multiple markup tools.
Combine multiple files into PDF and split PDF into several files.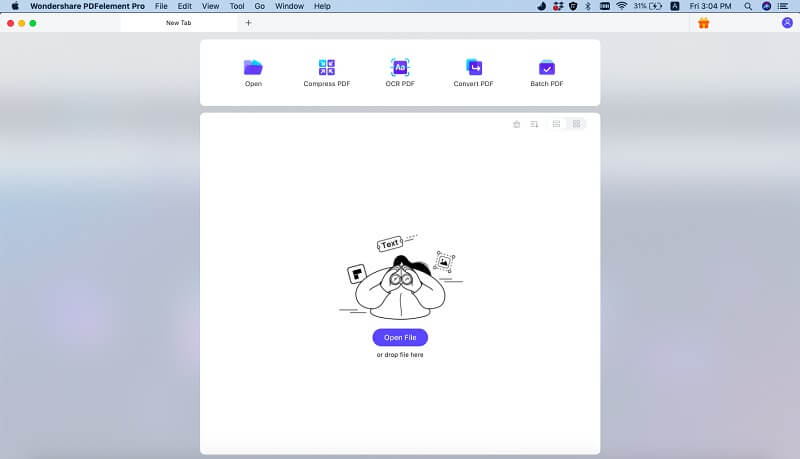 ---
Part 1: Top 3 Best Online PDF Splitter
#1. PDF Split!
PDF Split! is an easy to navigate site, there is just a single page, with a lot of blank space (depending on your screen size) and one basic user interface in the middle. From here you can upload from your computer by either dragging a file onto the marked box for automatic upload or through a more traditional browser menu to choose a file. In addition, you can import PDFs directly from your Dropbox or Google Drive accounts. Once the file is chosen by whatever method, you can then split into chunks by assigned page ranges or 1 page per piece. You then simply press split and the file will be ingested into the system, and the split files downloaded back to your system automatically. You can customize the file naming but that is really the limit of the options here.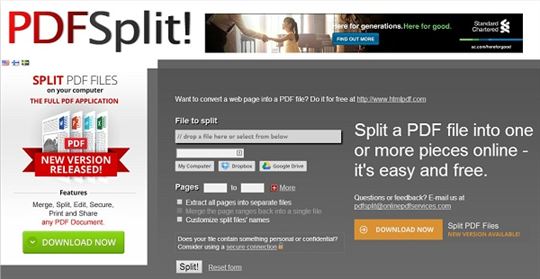 ---
#2. Split PDF
This website takes a slightly different take, presenting a clean white site with a big "Drop PDF Here" box where you can simply drag your PDF files to start the process. In addition there is a small box underneath that allows you to open a standard file browser to choose your files if you prefer that method. Underneath here we find a well laid out, if basic, instruction area, that explains the splitting process in easy to follow steps. Dragging a file onto the box (or using the file browser) uploads your PDF file, and presents it to you in its individual pages. You then simply click on the pages you want to be split off, holding down shift to select multiple pages, and click "Split PDF" to initiate the operation. The resulting file is then downloaded back to you.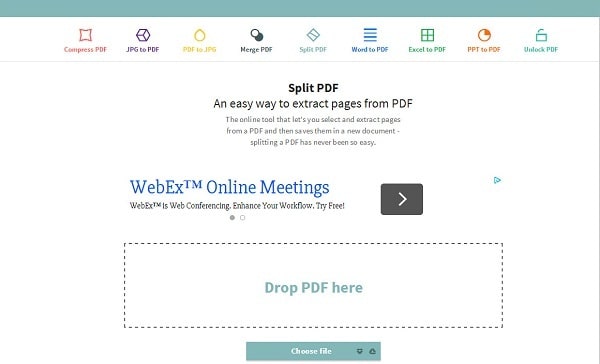 ---
#3. I Love PDF
This one is a very minimalist design, with just a large red "Select PDF File", although there is a link to a separate help page with a short user guide. Clicking thee red button opens a standard file browser for whatever platform you are working from, and you simply browse to the required file and select it. The file is then uploaded automatically. One uploaded, you can then choose the page ranges you want to be split off, click to start the operation, and the completed files are downloaded to your system once finished.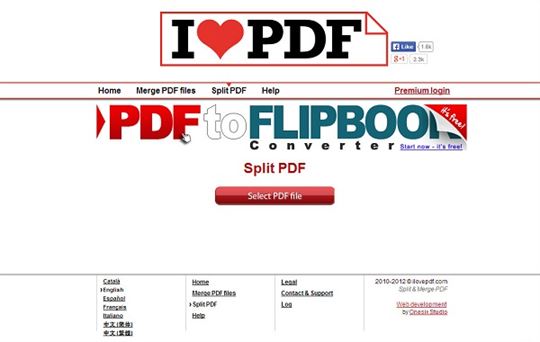 The Limitations of Splitting PDF Document Online
Whilst all three can accomplish the task, there are several reasons why online may not be the best solution.
Firstly, there are restrictions on file size for all of these services and in many cases using them will simply not be an option, however there are other reasons for thinking twice about going down this online service route. If you are dealing with confidential files, uploading them to the cloud can be troublesome in the long run, this is not to suggest that any of these services would endanger your privacy of course, more that the simple process of uploading your files to the internet adds an element of uncertainty that you would perhaps prefer to avoid. Finally, whilst they function well at what is offered, all three are very basic in terms of options and a desktop solution is perhaps a better alternative.
---
Part 2: How to Split PDF Easily
Splitting files with PDFelement Pro is incredible easy, and can be accomplished in just a few steps as we can see below. But first, please click the Download button to install the fabulous program on your computer.
Step 1. Load a PDF File
Open the program and click the Open File button to import the PDF file you wish to split. After the file has been added to the program, you can then go to the "Page" menu bar and select "Split" option. If you cannot find the option, you can click Customize and drag the option to the Menu bar.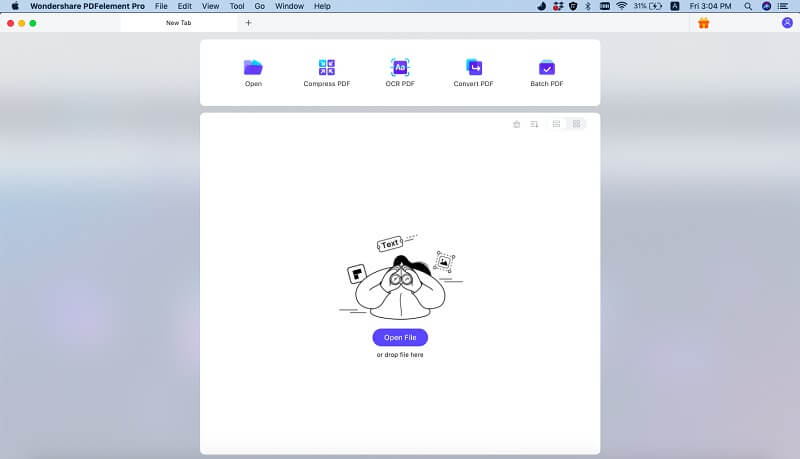 Step 2. Split a PDF into Pages
After click the Split Document button, you will see a pop-up window. Select the pages you want, you can choose from page ranges for each spate file or each page an individual file. In the meantime, choose a destination folder then click Split to initiate. After a short while, you will then have your newly split PDF files.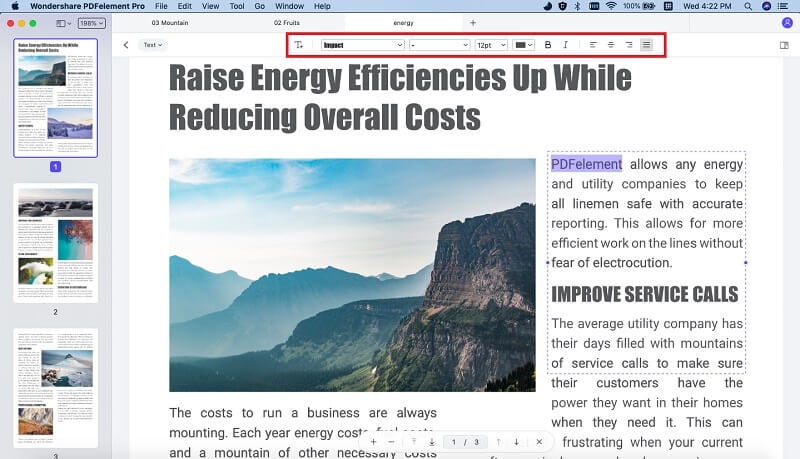 Tips: When going through and splitting your PDF files it is important to make sure you specify the pages you want in each section, to ensure you have the right files at the end of the process. Related to this is the destination folder, which may seem trivial, but especially if you are splitting into many pieces, is essential to keep everything in order. This can save many headaches when you come to use the split files later.