If you are using an iPad and want to annotate your PDF files with ease just like in the case of Windows and Mac, you need to find the right tool. While there are plenty of iPads annotator PDF tools, finding an appropriate one can prove tedious, especially if you are an amateur. Therefore, you need to choose wisely for a better annotation experience. Nevertheless, there is no need to get cold feet because we have a solution for you. In this article, we are going to give you a crystal clear guide on how to annotate PDF on iPad.
How to Annotate PDF on iPad
PDFelement Pro is a powerful all-in-one PDF solution tool leveraged by diverse groups of people from different fields. It has plenty of features which include edit, convert, create, protect, compress, organize, perform OCR, read, view, and sign PDF among others. Besides, it is also a good annotation tool for Windows, Mac, iPad, iPhone, and iPod. This is because it offers several annotation tools like text markups, stamps, drawings, and comments. So users can highlight texts, underline, and strike through the target texts, insert time and date stamps, and draw desired shapes. Scores of people like doing area highlight on PDFelement because it offers plenty of color options and properties to choose from as well as notes to explain why you are highlighting. Speed, ease of use, and several other excellent features explain why people love PDFelement.
Step1: Open PDF on iPad
First, make sure you have installed PDFelement on your iPad before proceeding. Now locate where you saved the target PDF file on your device then select to open with PDFelement.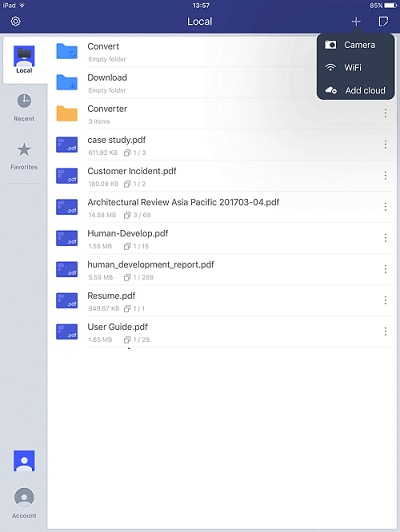 Step 2: Tap to choose annotation tools
When the PDF is opened, you now need to choose the annotation tools to annotate your PDF. To do so, click the annotation icon at the top (the one that resembles a pen) and you should see several annotation tools at the bottom.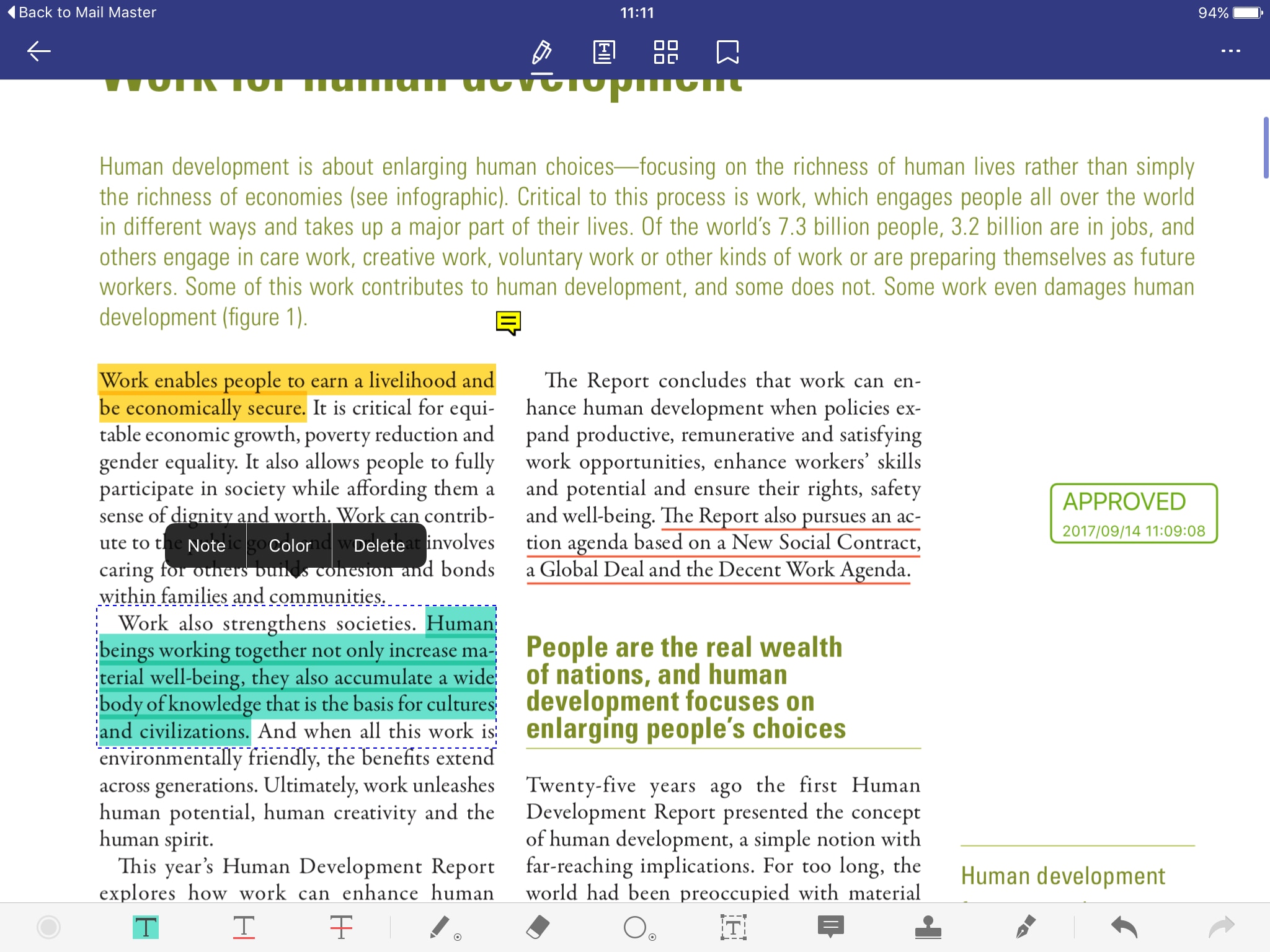 Step3: Annotate PDF using Highlight, Underline and Strikethrough PDF Text
To highlight a text, click the "Highlight" icon at the bottom and proceed to tap and drag the text segment you want to be highlighted. The program will automatically highlight the selected texts using the default color. You can click on "Color" and select the desired color. Also, you can utilize the "Note" option to add notes to the highlight.
To underline a text, click the "Underline" tool and select the text you want to underline. You should see the texts automatically highlighted.
To strikethrough a text, tap the "Strikethrough" button at the bottom and select the target text. The selected texts should be stricken through.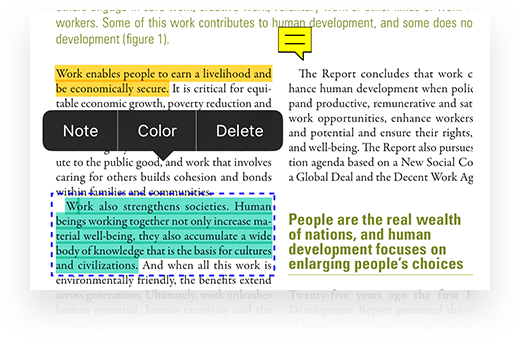 ---
Other PDF Annotators for iPad
Finding the right PDF annotator for iPad is not an easy ride especially if you are a newbie. The list of iPad annotators is long and can be much confusing. Fortunately, we have made your task seamless by compiling a list of the top 4 PDF annotators for iPad to choose from.
1. PDF Expert
PDF Expert easily slots in as one of the best PDF annotators for iPad. This tool is fast, robust, and suitable for all Apple devices. Whether it is iPhone, iPad, or Mac, PDF Expert works fine. Annotating with PDF Expert on iPad is very easy. You just open the file and navigate to the annotate tools and get started. Here, you can annotate by highlighting texts, underlining, putting strikethroughs, making desired drawings, and adding text boxes among others.
Pros
It is incredibly fast.
It supports other PDF functions besides annotation.
It is easy to use and hence newbies won't experience navigation challenges.
Cons
It doesn't offer more advanced annotation tools.
It only supports Mac and iOS systems.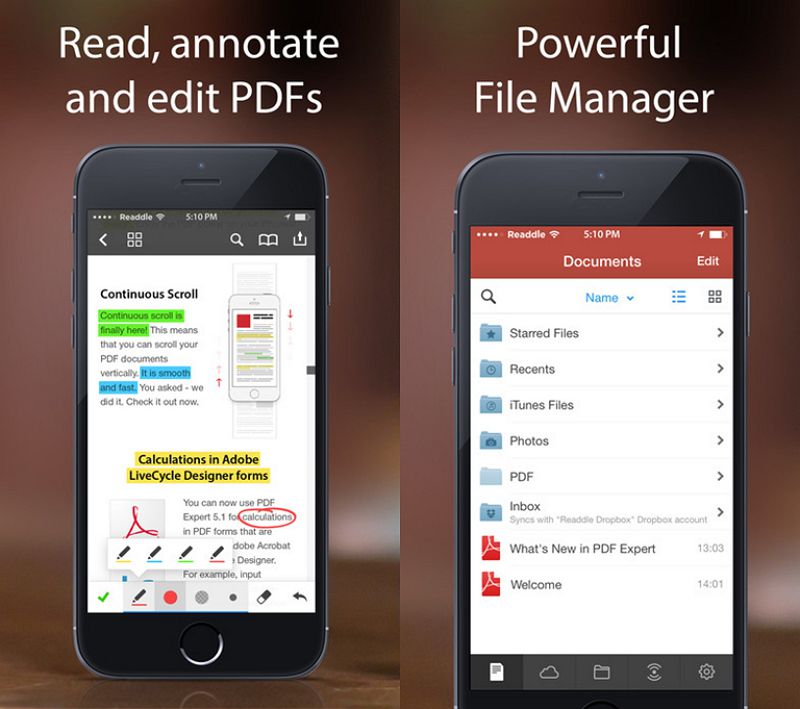 ---
2. iAnnotate
iAnnotate is an as the name suggests is majorly designed to help Apple users to annotate their PDFs with ease. It also provides other functionalities such as read, and share PDFs, Word files, images, and web pages as well. There are scores of people who use this program to annotate their documents. There are plenty of annotation tools to choose from and make your document more appealing. You can use the pen, highlighter, stamp, typewriter, note, underline, photo, voice recorder, rectangular, arrow, circle, strikeout, and straight-line just to mention but a few.
Pros
It offers plenty of annotation tools ranging from basic to advanced ones.
Users can connect and open directly their PDFs from email and other apps.
It has a good user interface that makes note-taking easy and full of fun.
Cons
The populated toolbar takes a lot of space.
Users are complaining about the latest update that disorients their document navigation.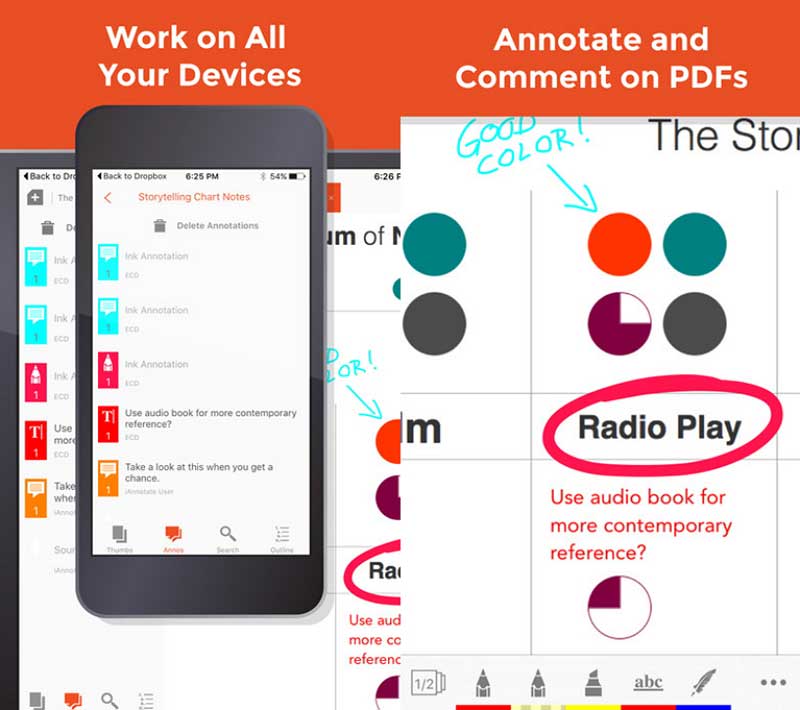 ---
3. Adobe Acrobat Reader PDF Make‪r‬‬‬‬‬‬
Adobe Acrobat Reader PDF Maker is also another common name amongst the best iPad PDF annotation tools. It offers a seamless yet effective way to view and print PDFs, read PDFs easily with Liquid mode, share PDFs and collaborate, Edit PDFs, fill and sign PDFs, and manage files among others. The various annotation features include notes and comments through sticky notes and highlights, texts, drawings. Once done, you can share your PDFs to collect all comments in one place.
Pros
It offers plenty of PDF functions.
It has a user-friendly interface that makes user-navigation seamless.
You can connect to the cloud for easy sharing and viewing of PDFs.
Cons
It doesn't have more advanced annotation tools.
You need to subscribe to get better features.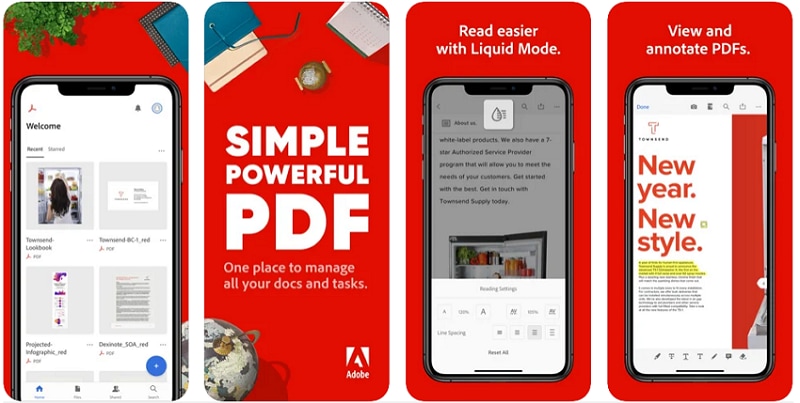 ---
4. Notabilit‪y‬‬‬‬‬ ‬‬‬‬‬‬‬‬‬‬‬‬
Notability is an easy note-taking and annotation tool for iPad, iPhone, and Mac. It's highly-ranked and is useful for students, teachers, and business professionals. With this tool, you can annotate your PDFs through note-taking and drawing tools like highlighter, ink, text, and audio. Use markup tools to markup imported books, documents, images, and assignments with ease. You can handwrite and sketch naturally, share ideas in presentation mode, and organize your work as per your need.
Pros
It can view two notes side by side.
Users can link with the Cloud for easy access and storage of files.
Cons
Users can link with the Cloud for easy access and storage of files.
It cannot delete multiple pages quickly.