iLovePDF PDF is used by many people to convert PDF to Word. However, many still struggle to convert PDF to Word with iLovePDF. You could be tired of iLovePDF PDF to Word conversion and need an alternative tool, or you just don't know how to use this program. Irrespective of the cause, getting quality output is important. Fortunately, this article gives you a complete guide on how to use PDF to Word converter iLovePDF and its best alternative.
How to Convert PDF to Word with iLovePDF
iLovePDF is a simple yet efficient online PDF to Word converter. This program is easy to use and supports several other file formats. It has a fair collection of PDF features and is generally a good online PDF tool. With this program, you can source your PDF files from your local computer, Dropbox, and Google Drive. It also supports the easy drag and drops method; hence amateurs won't struggle to perform iLovePDF PDF to Word conversion. The following steps illustrate how to convert PDF to Word with iLovePDF to Word converter.
Step 1. Using your browser, navigate to the iLovePDF PDF to Word page.
Step 2. Click the "Select PDF file" button and proceed to choose the target PDF file in the subsequent file explorer window. Select the PDF file and click "Open."
Step 3. When uploading the PDF file, click the "Convert to WORD" button to trigger the conversion process.
Step 4. Finally, click the "Download WORD" button to download your new Word file.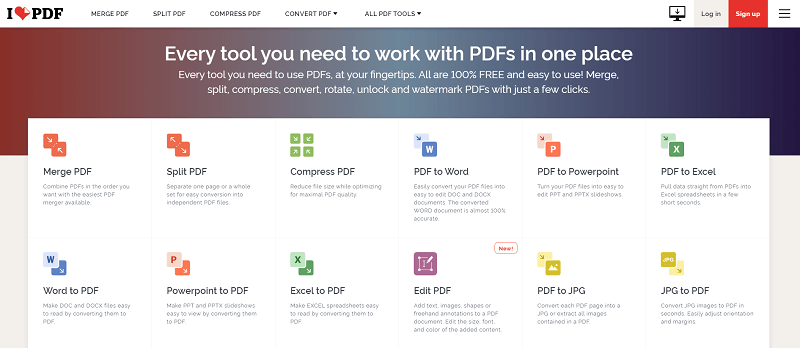 ---
Tips for Converting PDF to Word with iLovePDF
Working with online PDF to Word converters like iLovePDF PDF to Word is helpful in several situations. However, it has several flaws, and you cannot bank on it, especially if you are working with important or sensitive files. To help you make the right decision, we have listed the pros and cons of these online converters below.
Pros
These online converters are often free.
They can be accessed anywhere at any time, provided you have an internet connection and a suitable browser.
There is no installation required.
It is easy to use because they have simple interfaces.
Cons
It raises security and privacy concerns because uploading files to the internet makes them vulnerable to hackers.
These online tools have limited features, and hence you will need third-party tools to complete your tasks.
Online programs limits users on the size of the file uploaded. Therefore, it is not suitable for bulk conversion.
The quality of the output file is lower than on desktop platforms.
When downloading the output file, the chances are that you can easily download a malicious file alongside the output file.
It is crystal clear that online PDF to Word converters suffer from several drawbacks, and you cannot bet on these programs to get the best service. The best resort is to use desktop PDF to Word platforms, especially when dealing with official, important, or sensitive files.
---
How to Convert PDF to Word with iLovePDF Alternative
PDFelement is the best all-in-one PDF software designed with the user in mind. This wonderful software is enriched with plenty of top-grade PDF features that seamlessly transform how you interact with your PDF files. PDFelement is fast, easy to use, affordable, compatible with several devices, and supports nearly all file formats. With this amazing tool, users can convert PDF to and from any file format, print, edit, annotate, protect, share, perform OCR, create, compress, merge, and share PDF files. You can download the free or affordable premium versions for an unlimited experience.
How to Convert PDF to Word with iLovePDF Alternative - PDFelement
PDFelement provides a seamless platform to convert PDF to Word. Whether you want to convert a single PDF or multiple PDFs, this program makes everything easier for you. The steps are illustrated below.
Step 1
Open a PDF File
First, open PDFelement on your Mac computer to access the primary window. Click the "Open files" icon and select the target PDF file in the file directory window. Click "Open" to import the PDF file to the PDFelement interface.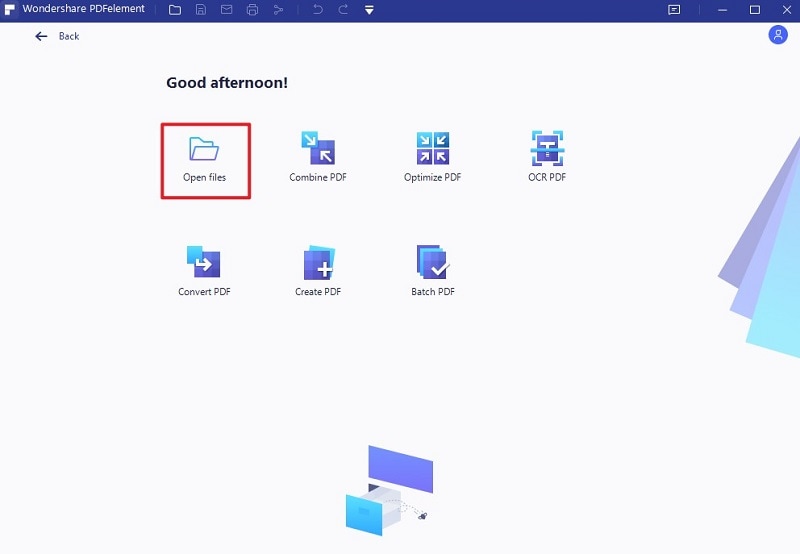 Step 2
Convert PDF to Word with iLovePDF Alternative
Now that the PDF file is uploaded, proceed to the toolbar and hit the "Convert" tab. from the options displayed choose the "To Word" option.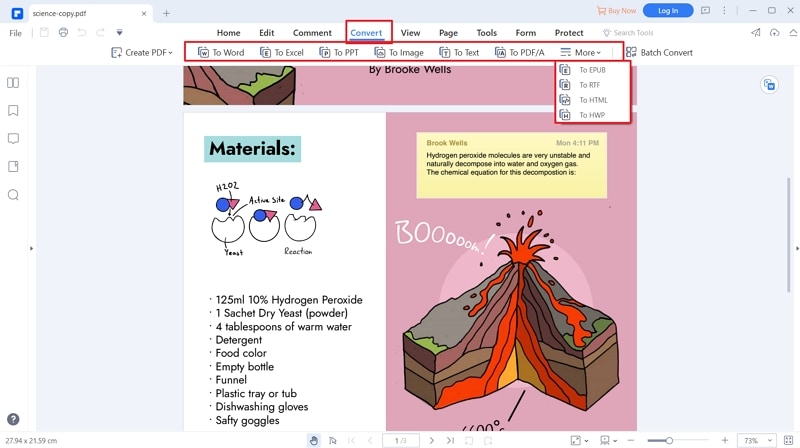 Step 3
Select a Folder to Save
Now, PDFelement will open the output "Save As" window. Here, choose a suitable save path, then click the "Save" button to convert your PDF to Word.