PDFs have become a part of our daily life now. When we talk about online documents we know they will be in PDF format. The reason why PDFs have become so excessively common today is the ease, convenience, and reliability that they offer. PDF files are easily edited, simply stored and quickly shared between different terminals. There are many software programs to edit PDF files such as Bluebeam. Bluebeam markup, takeoff, collaboration and organization tools allow you to edit PDF files professionally. The Bluebeam markup annotates your PDF document, however, sometimes Bluebeam markups not showing can be problematic for many users. This is why today we will tell you how to use Bluebeam markup and what to do if Bluebeam markups not showing.
Part 1. How to Use Bluebeam Markup PDF
Bluebeam is a popular software used by industry professionals to markup, organize, collaborate and take off with PDF files quickly and easily. It is not just a PDF file viewer or an annotation tool but also works as great collaboration software for professionals in technical fields. Therefore Bluebeam is widely used in industries like construction architecture manufacturing engineering energy-related et cetera. The tools and features in Bluebeam allow you to create power for and sleek PDF documents.
Let us tell you how you can annotate PDF files using a Bluebeam markup tool. Guide to Markup PDF with Bluebeam:
Step 1. Open PDF
Download Bluebeam markup and open your PDF document in the software. Select the desired profile from the toolbar at the bottom of the window.
Step 2. Use Markup tool
On the right side of the interface, you will find different tools so to add markup select the Bluebeam markup tool from the bar or from under markup in the command bar in the top toolbar.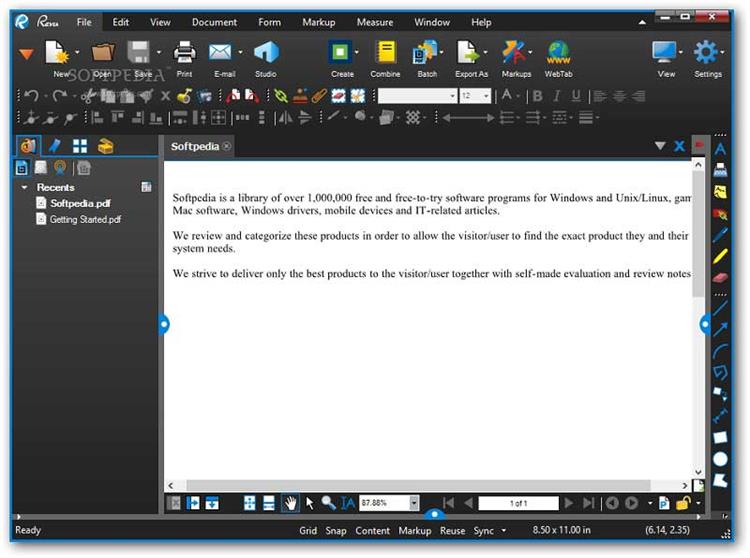 Step 3. Save File
Once you are satisfied with the way the PDF file looks, simply click on the File and save it.
---
Part 2. How to Use Bluebeam Alternative to Markup PDF
While Bluebeam is a popular software for PDF markups there are actually better software out there. Sometimes Bluebeam markups not showing cause a lot of lag and inconvenience for professionals. This is where the PDF element comes and saves the day. PDFelement Pro makes it easier for you to edit, create, convert, secure and share your PDF documents. It features several tools that allow you to markup, scan and organize your PDF files. It has very affordable subscription plans and can be downloaded on both Windows and Mac.
Follow the step-by-step guide to learn how you can market pdf with PDF element pro.
Step 1. Launch PDFelement Pro
Download PDF on your desktop and open the PDF document in the software.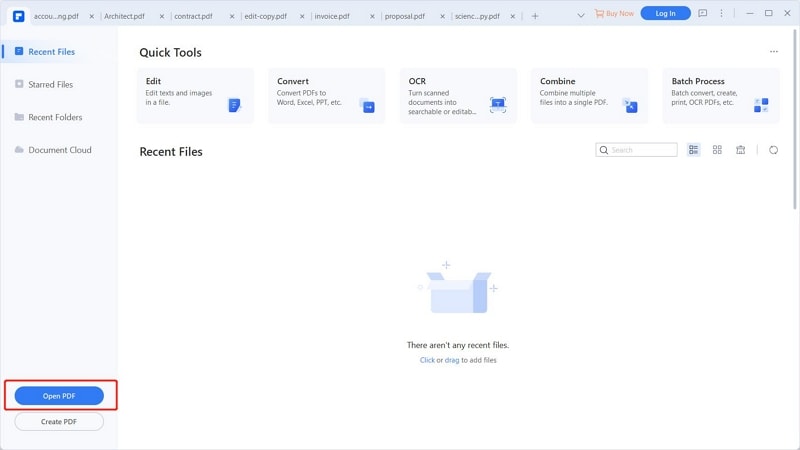 Step 2. Use the Markup Tool
At the top of the interface, you will find different tabs. Click on 'Comment' and you can select different markup tools, such as: higlight, strikethrough, underline, shapes, pencil and more. Therefore, you can change the file and it at multiple times with these markup tools to fit your needs.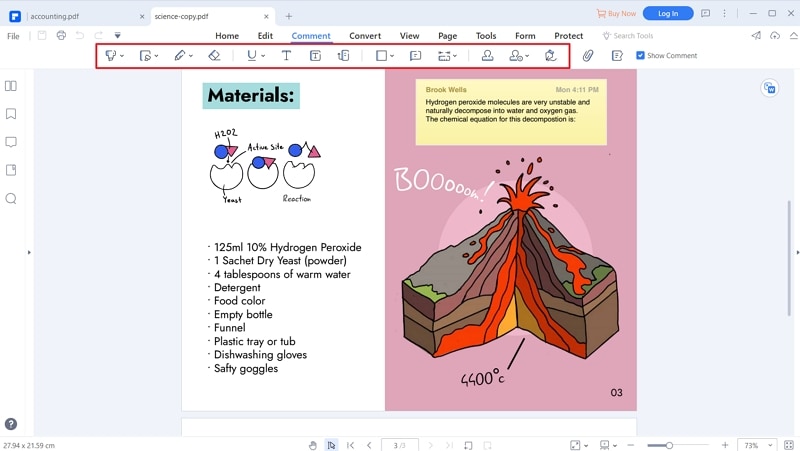 Step 3. Save PDF
To save your PDF document go to File in the topic left side of the interface and click on the 'Save' button. Select the desired file location and name your document then finally click save.
That's it in just 3 simple steps you can make a PDF in PDFelement Pro quickly and easily.
---
Part 3. Comparison of PDFelement Pro and Bluebeam
| Features | PDFelement Pro | BlueBeam |
| --- | --- | --- |
| Supported System | Mac, iOS, Windows and Android | Mac, iOS, Windows and Android |
| Price | from $79 / perpetual | From $ 349 / perpetual |
| Edit PDF | Excellent | Excellent |
| Convert PDF | | |
| OCR Languages | 23 | Limited and only available in Extreme Version |
| User Friendly Interface | | Not suitable for beginners |
| Customer Support | One time free customer support and online help center | Paid customer support and no online help center |
To conclude, PDFelement Pro offers better tools and does not have any issues like Bluebeam markups not showing.