When we think of churches, we think of prayers, hymns, and lessons on leading a spiritual life. What we do not consider, is accounting software, however, many churches do need automated software to handle financial matters. Churches must handle financial transactions like paying bills and fulfilling tax payments. The church must also use their money responsibly and avoid overspending. Church accounting software allows priests to automate accounting operations and reduce the chances of error. Accounting software also frees up time, allowing priests to put greater focus on their area of expertise. We explore the five best accounting software packages for churches, specifically for Mac.
Top 6 Church Accounting Software
PDFelement Pro
ChurchPro
CCIS Church Management Software
PowerChurch Online
ChurchTrac Online
Servant Keeper
These top 6 church accounting software will help you to manage your business. You can choose the most suitable one to manage the bookkeeping, create the PDF reports with ease and PDFelement Profor Mac(macOS 10.15 Catalina) and Windows (Windows 10 included) could be the best choice for you.
#1. PDFelement Pro
Church accounting software packages do not have every feature you need. For example, you may not have the option to edit PDF reports. If the feature to edit PDF documents is not available, you will have to download PDF editing software, thus here comes best accounting document management software in terms of PDFelement Pro. PDFelement Pro is the best software package for editing PDF documents. The software gives you unprecedented freedom to edit and change PDF documents as you like. PDFelement Pro is the best complementary package to church accounting software.
PDFelement Pro is incredibly useful for anyone who uses PDF in their line of work. The software gives you the chance to edit PDF documents like you would Word documents. If you have any form that needs to be filled out, use PDFelement Pro to fill them out. Do you want to protect confidential information about church business? Encrypt the document or add watermarks. Need to organize information on a PDF file? Customize pages or add bates numbering. If you are a church administrator working with a lot of PDF files, then PDFelement Pro is perfect for you. The option to edit PDF files will save your time and make it easier to complete daily operations. You can download and install PDFelement Pro for both Windows and Mac. The software has fantastic support in the form of a comprehensive user guide. Everything you need to know about using the software to its full potential is noted on the user guide.
Key Features:
Encrypt PDF forms with passwords.
Add watermark protection.
Edit images on PDF documents.
Create free drawings by hand.
Add stamps to PDF documents.
Combine several PDF documents.
Annotate PDF documents with multiple PDF annotation tools.
Customize the calculation order in a PDF form.
Pros:
Easy to access navigating feature with editing, converting, cropping, organizing all PDF document related task that will assist in managing your accounts.
Acts like a document management software ranges from excel, word, power-point etc with its smart editing and conversion tool.
Cons: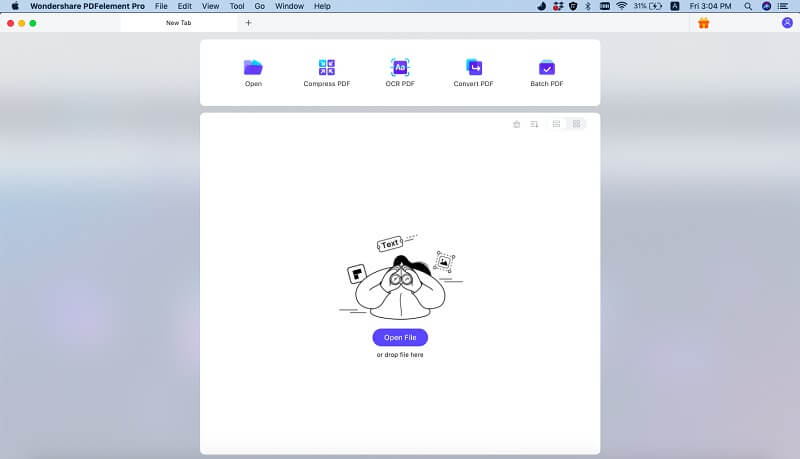 ---
#2. ChurchPro
ChurchPro is a cost-effective, all-in-one integrated solution for running your church efficiently. The software lets you cover all aspects of running a church from filling out forms to tracking out donations. The software features a user-friendly interface to help you manage the many facets of running a church. ChurchPro works with MAC provided you have Parallels software installed.
Key Features:
Track payroll and donations management.
Complete budgeting and forecasting.
Manage assets.
Maintain a general ledger.
Perform fund accounting.
Manage accounts payable/receivable.
Pros:
Easy to complete operations.
Includes management features.
Cons:
Customer support is limited.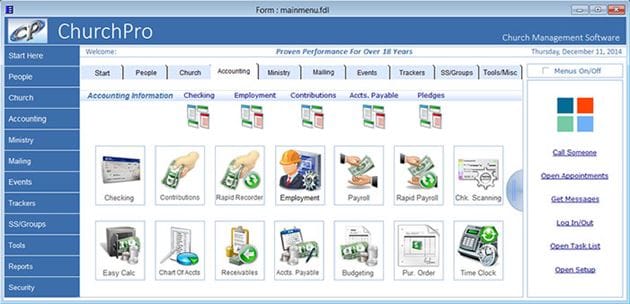 ---
#3. CCIS Church Management Software
Serving more than 1000 churches throughout the United States, Church Management Software knows what is needed to run churches efficiently. CCIS is a top of the line software guaranteed to help you keep a firm grip on church finances. The best part about CCIS is customer support, where experienced representatives can help you sort out any issue you might have.
Key Features:
Payroll management.
Comprehensive database information.
Budgeting.
Customize financial reports.
Pop up calendars and calculators.
Journal entries both recurring and reversing.
Pros:
On-line help.
User-friendly and precise.
Cons:
May need customer support to complete certain actions.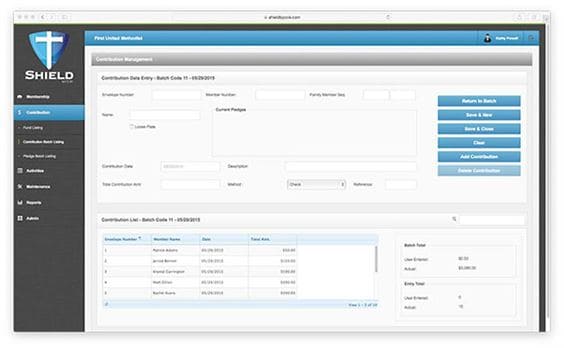 ---
#4. PowerChurch Online
PowerChurch is perfect for church administrators looking to complete their tasks quickly. The church accounting software is cost-effective, all in one package that streamlines daily operations. PowerChurch is an experienced developer, serving both churches and non-profit organizations since 1984. If you are interested in PowerChurch, you can download a free demo to see if it suits your needs.
Key Features:
Create budgets and forecasts.
Manage donation funds.
Maintain a general ledger.
Payroll management.
Create and manage accounts payable and receivable.
Pros:
Functional and easy to use.
Excellent for identifying trends.
Works as a directory.
Cons:
Needs more options to customize reports.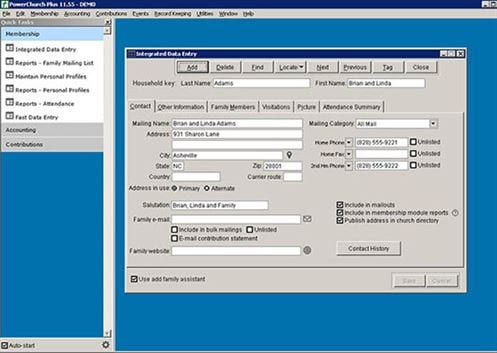 ---
#5. ChurchTrac Online
ChurchTrac Online is a powerful church accounting software designed to help you manage church finances efficiently. ChurchTrac is unique because it gives you the power to collaborate or manage your team. The software is used by thousands of churches across the US because it offers an impressive host of features for a low price. ChurchTrac offers everything you need, from contribution tracking to congregation access.
Key Features:
Track church attendance.
Calendar for scheduling events.
Manage events.
Co-ordinate groups.
Directory for managing church membership.
Complete online payments.
Create and manage newsletters.
Pros:
Excellent customer service.
Accessible interface.
Cons:
Cannot format reports, requires PDF editor.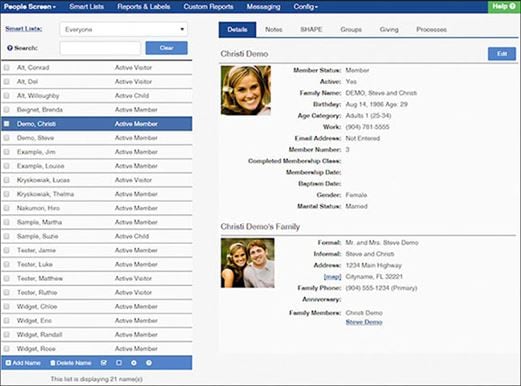 ---
6. Servant Keeper
Servant Keeper is an all-in-one software application to manage every facet of church operations. By using this software, you not only manage finances but handle different functions needed to maintain a thriving community. Manage finances, track members, set up events, communicate and perform outreach with Servant Keeper. Servant Keeper is well-regarded, it has been downloaded and used by administrators in 30,000 different churches.
Key Features:
Customize data fields.
Track important events.
Conduct email campaigns.
Do surveys and polls.
Send messages using email, text, and voice.
Create multiple groups.
Pros:
Unlimited data entry.
Features to enter data quickly.
Track non-family relationships.
Personalize communication.
Cons:
A large volume of features can be overwhelming to new users.