Small businesses are now turning to cloud based accounting tools so they can do their accounting anywhere as long as they are on the move. Clod accounting software is robust and offers a wide range of benefits as opposed to desktop solutions. These tools can easily be tailored to suit certain industries. They are also secure and you have no worry of your financial information being accessed illegally. Cloud computing allows you to save on resources and get more done. It also allows or easy collaboration especially within companies that have offices in other countries. This article will show you the best cloud accounting software solutions.
Part 1. What is cloud accounting?
Cloud accounting involves the use of accounting tools that are hosted on the cloud. This is similar to a SaaS business model, where the data is sent to the cloud, processed and then returned to the user. The user does not have to install and manage any tools on their local computes. Cloud accounting also allows for the use of the tools in remote areas by employees of the same company. The fee for this service is based on the usage, which is different from the license that you buy when you install desktop accounting tools.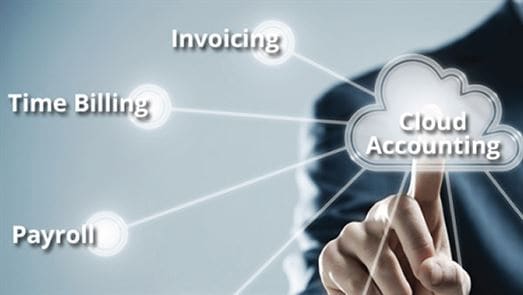 ---
Part 2. Top 5 Cloud Accounting Software for Small Business
1. Wave Accounting
Wave Accounting is new cloud based accounting software that has taken the world by storm. It is integrated with bank accounts and online payment gateways. It allows you to create invoices and track them and send reminders. It has a fantastic user interface and allows you to add your own logo to the invoices.
Pros:
The main advantage is that it is free for businesses that have 10 employees or less.
It has a mobile application for ease of use when on the move.
Cons:
The application only deals with the basics of accounting and cannot be used by large corporations.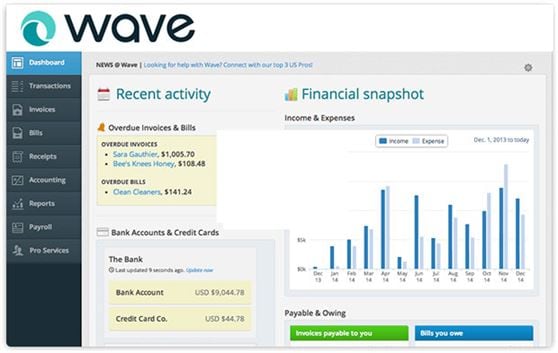 ---
2. CheqBook
CheqBook is another cloud computing tool that is ideal for small businesses. Most of the functions are automated, allowing you to do your accounting in a short time. The automated features ensure that there are no accounting errors and is highly efficient. You can sync bank accounts and credit cards, and also do the reconciliations.
Pros:
It is automated for less accounting mistakes.
Color coded transactions enable you to get information fast at a glance.
Automatic invoicing and follow-up.
Cons:
It is targeted at small and medium sized companies. It is not robust enough for large corporations.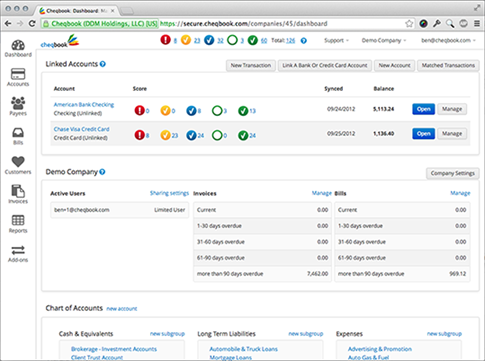 ---
3. QuickBooks Online
QuickBooks Online is the online solution from Intuit. It is targeted at self-employed people and helps in tracking income and expenses. This tool also comes with tax calculating features which make it easy to pay tax. However, the cloud based system from Intuit does not have as many features as you find on other cloud accounting options. This is quite surprising given that it is one of the leading desktop accounting tools in the world.
Pros:
Great for tracking your cash flow.
It helps in the calculation of taxes.
It provides basic accounting for entrepreneurs.
Cons:
It is just too basic for large companies.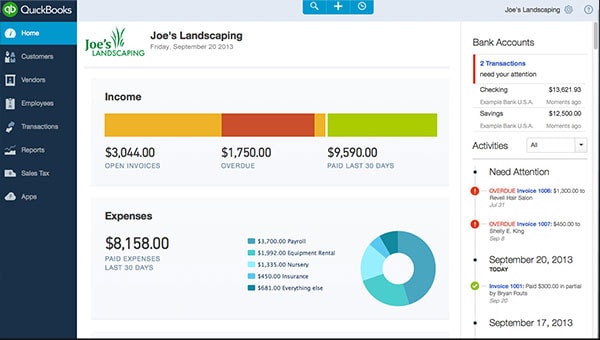 ---
4. FreshBooks
FreshBooks is a cloud accounting tool that has taken the world by storm. You can use this to manage your billable time, create invoices and track your expenses. The simple user interface allows you to use the tool with ease, and also generate clean and useful reports. It is best for small businesses that do not need double-entry accounting. Pros:
It has a simple and clean user interface.
Allows for tracking of billable time and also track invoices and expenses.
Cons:
It does not support double-entry accounting and this limits it to be used by small businesses.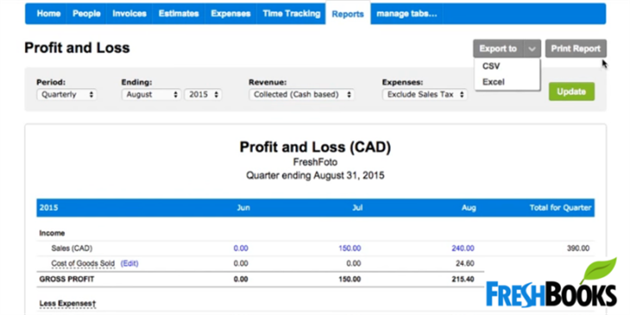 ---
5. Xero
This cloud-based version of Xero comes with several advanced accounting features. You can manage your invoices and expense, and also offer payroll management. The service is updated every 3 to 6 weeks, which enables it to remain a leader in this field. It is able to integrate with over 400 external applications.
Pros:
It integrates with more than 400 CRM, POS and Inventory management tools.
It is frequently updated so you have access to the latest accounting tools
Cons:
It can be somewhat complicated for new users. The payroll feature is only available in a few States in the US, the UK, Australia and New Zealand.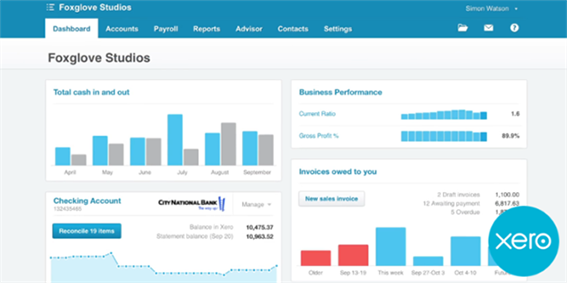 ---
Part 2. The Best PDF Software for Accounting
You may be surprised to know that you can use PDFelement Pro as an accounting tool. This is possible because the tool allows for the creation of custom forms which can have accounting functions. You can compare this to the way people do accounting on Excel spreadsheet. All you have to do is define some form fields, and when you input any financial data, the fields will be automatically calculated.
The main features of PDFelement Pro:
Set Calculation Order - You can change the order of calculated fields in a PDF form with ease.
Convert and Create PDF – You can begin with a blank page and add information, images and objects to create your own PDF document.
Craete PDF Forms – Use the form fields to create your own accounting templates. You may also edit forms that have been created by others.
Edit & OCR PDF Files– Scan any data and then take it through OCR and input the digital data into an accounting tool.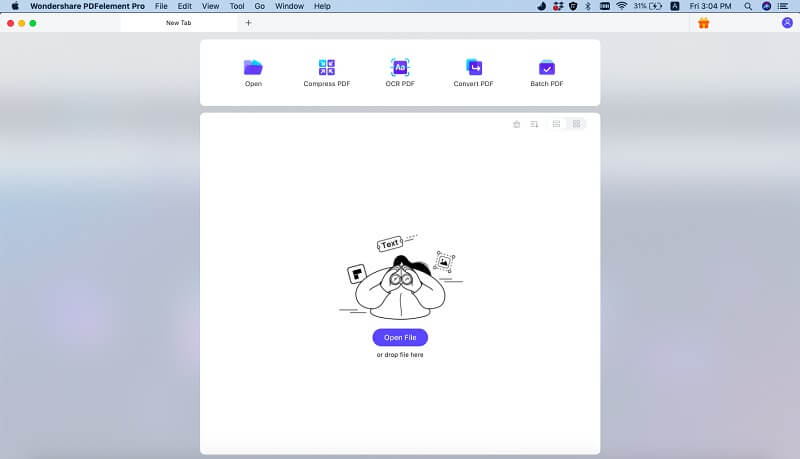 You can now do your accounting on the cloud. This means that you have the flexibility to work from anywhere in the world. The tool allows for collaboration for companies that have offices in many countries all over the globe. Cloud computing software for small businesses helps in keeping you free from management and installation of desktop applications. Cloud accounting is the new way to do your accounts, especially if you do not have the resources to create an internal accounting team.