A file with an extension of the ASPX file is an active server extended page file made for the Microsoft of ASP.NET. ASPX files are the file that is generated from the webserver and contains the scripts and some codes also which help to understand the browser how the page should be opened and also displayed. We can easily convert ASPX to PDF files. PDF is one such file format that is not dependent on an operating system, software, hardware, and even a particular device. The website of Microsoft uses the extension of ASPX instead of the Html format. The extension stands as Active Server Pages. It is necessary to convert the ASPX file to PDF file which makes the end-user read the file regardless of the system and its specifications.
Convert ASPX to PDF with Easy
ASPX is one of the internet media document and thus it is important to open the file by the web browser such as Google Chrome, Firefox, Internet Explorer and opera mini. The step provided below is important to open the ASPX file in Chrome and to save as a PDF document.
Here are the steps to Convert ASPX to PDF:
Step 1. Follow the mentioned above steps to open the ASPX file using the Chrome browser or any modern-day browser.
Step 2. Press 'Ctrl+P' to open the Print page pop-up window.
Step 3. At the left, under the 'Destination' section you will find an option Change.
Step 4. Press the 'Change' button and choose the 'Save as PDF' option.
Step 5. Press the 'Save' button which is marked blue to save the apex file in a PDF format.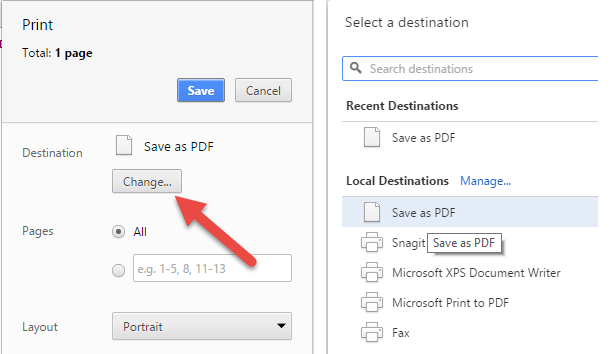 ---
Recommendation - The Best PDF Editor
Out of all the PDF conversion software available PDFelement Pro is an advanced, robust, easy to use PDF editing software, where one can modify content like create, edit, convert, open, organize and secure the files. This tool can be perfect PDF software for every company serving people's needs.
PDFelement Pro is utilized for altering PDF's rapidly and effectively, this product improves altering, changes and alters watermarks, pictures, writings, header and footers connections and more.