What is EDM (Electronic Document Management)?
Electronic Document Management is a series of activities to manage, create, store, index, retrieve and organise documents in electronic form. It helps enterprises and organisations go paperless by managing all its data, records, files and documents on computers as soft copies. Electronic Document Management handles digital documents and also manages scanned versions of paper documents. It is a platform to safely store large amounts data stored in the form of documents an files at a centralised place and access such data easily whenever required. Electronic Document Management relies on elements like meta data to classify and save documents easily. Meta data essentially helps in finding documents depending upon key words, title, date, etc. Read on to know more about electronic document management systems and the top 5 digital document management software which can benefit you and your organisation in the long run.
Top 5 Electronic Document Management Software
Electronic Document Management Systems are a set of tools to facilitate electronic document management. These software help in creating, editing, storing and sharing documents electronically with ease and without having to rely on various Solutions for different purposes. Given below is a list of top 5 Electronic Document Management Software. Go ahead and compare them:
1. iSkysoft PDF Editor 6 Professional for Mac
PDFelement Pro, as the name suggests, is a PDF Editor which can not only edit PDF documents electronically, but also create, convert, save and share them. This software is best suited for organisations which deal with a lot of electronic and paper based PDF Files as it can manage scanned PDFs too with its OCR feature.
iSkysoft PDF Editor 6 Pro can be the best electronic document management software. And you can free download this electronic document management system software on Windows and Mac. It provides a plethora of features to choose from. Some of these features are listed as hereunder:
Key Features of This Office Document Management Software:
Edit PDF text and images and also make scanned documents editable with OCR.
This software can markup, highlight, tag, watermark, sign and stamp PDF Files electronically to customise them.
Organising PDF Files has never been easier as this tool can index PDFs and also add bates numbering for simpler classification of documents.
Its password protect feature allows users to share PDF Files securely.
It allows users to compress PDFs and convert them to different formats.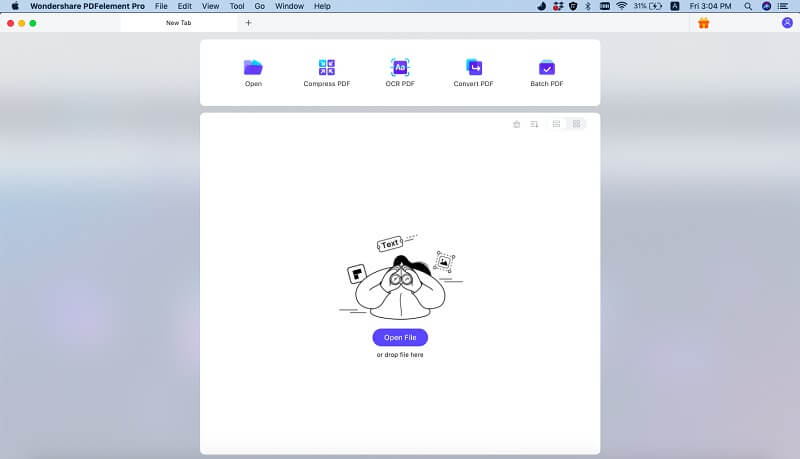 ---
2. Nuxeo Document Management
EDMS stands for Electronic Document Management System that manages, creates, stores and controls documents digitally. The main purpose of EDMS is to organise digital documents electronically and enable workflow automation in an organisation.
While choosing a suitable EDMS for yourself or your enterprise, make sure it contains:
Security features to keep your data safe.
Version control feature to track changes in your documents.
---
3. OpenKM
OpenKM is a Document Management Solution to manage and organise digital documents to simplify the work of an organisations and stimulate its productivity. This software specialises in document management, record management, workflow automation, task automation and is integrated with some leading web based and PC based software to facilitate document management electronically.
Features:
It allows enterprises to control the creation, management, storage and distribution of digital documents.
It boosts decision making and improves workflow by providing documents in times of need from its repository.
It can collect information and data from digital sources.
It comprises of ECM features as well.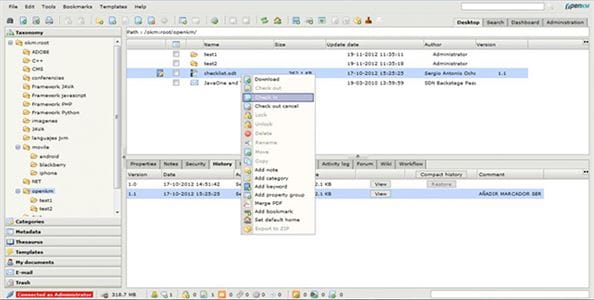 ---
4. eFileCabinet
eFileCabinet is a very popular Electronic Document Management Software which has a cloud based deployment and built-in compliance tools. This electronic document management system software can be used as free Mobile App too. This software is equipped for file retention, full text searches and so on.
Features:
It helps in management of digital documents and e-mails.
Document Conversion and indexing is also possible with the help of this software.
Its tools enable version control.
OCR features helps to edit scanned files.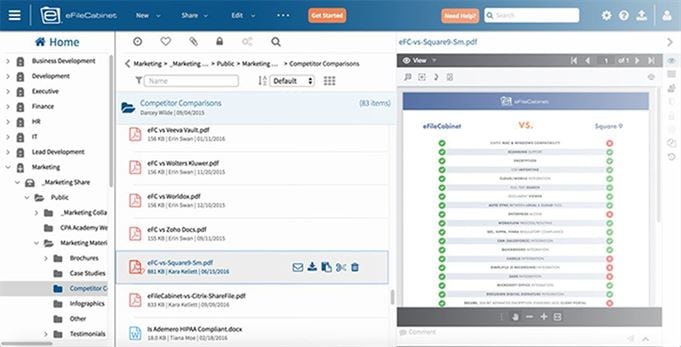 ---
5. M-Files DMS
M-Files DMS is an intuitive, economical and very efficient Electronic Document Management Software. It is easy to install and very reliable as it keeps your documents secure. It prevents data loss and has a unique capability to integrate with Windows Explorer.
Features:
Full Text and meta data searches are supported.
Enables version control by storing old, new and updated documents.
Comprises of Application Programming interface.