Using Bluebeam, flatten PDF can work accurately and efficiently. Bluebeam can even be used to unflatten PDFs to be recovered. Flattening documents allows you to prepare a commented or annotated document for distribution. This function removes these elements from PDFs or transforms them into selectable, movable and editable objects, for example using the Modify Object tool. Flattened objects are no longer considered annotations and are removed from the Comments pane. In this article, you will learn how to use Bluebeam flatten functions to reduce PDF documents for printing or sharing by a wider range of online readers.
How to Flatten PDF with Bludeam
Although Bluebeam is primary workflow management software, was developed primarily for the construction, building management and interior design industries, it is related to the ability to visualize precisely the visual content. This helps you ensure adequate project monitoring. Bluebeam keeps teams up to date throughout the design process, advances the project during construction, and eases the transition after the project is completed.
To flatten a PDF document, Go to 'Advanced Processing' > 'Document' > 'Flatten File'. In the Flatten dialog box, select the types of markups or other items you want to flatten, and then click OK.
If you want to flatten all Markups on selected PDF pages at once, do the following:
Go to Documents > Flatten markups. The Flatten Markups dialog box opens.
Select All Markups.
You can also select the page range to flatten markup on certain pages of a PDF file, choose one of the following options from the Pages drop-down list:All pages, Current, Selected, Custom.
Now click Flatten button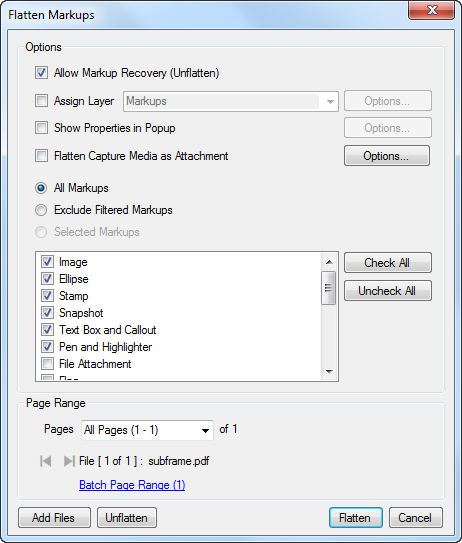 ---
How to Flatten PDF with Bluebeam Alternative - PDFelement Pro
PDFelement Pro is an affordable PDF editor that supports the functions and performance of advanced applications such as Adobe Acrobat DC and Nitro Pro. In order to make flattening PDF files easier, this software provides quick operations on the homepage. Here's what you need to do:
Step 1. Open a PDF Document
Start PDFelement Pro and click the 'Open File ...' button to import PDF files with layered elements (eg form, survey responses, etc.).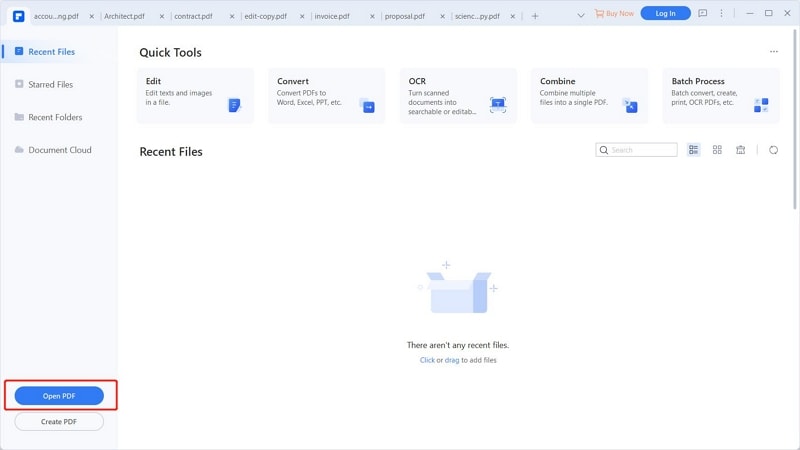 Step 2. Flatten PDF with Bluebeam Alternative
Find and click the 'Flatten' icon on the homepage. That's all there is to it! A flattened PDF file opens in a new window and should be saved accordingly.
Flatten: inlay and freeze all form fields and all Markups in the graphics layer, on a single page or in the entire active PDF document. They thus become part of the graphic elements of the page and can no longer be modified.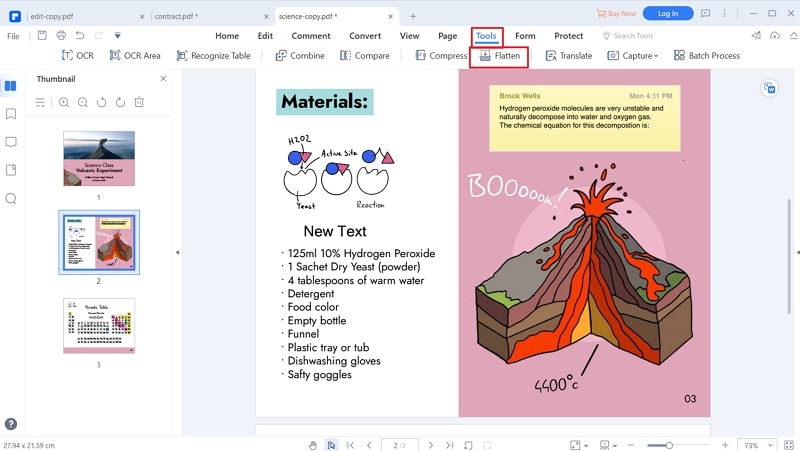 PDFelement Pro is an easier to use application because the focus is on the user interface and ease of use. The UI is clean and uncluttered, while the various tools are intuitively organized under main tabs representing a set of related PDF functions, such as editing, converting, protecting, and so on. Some key features are listed below:
Any component of the PDF file can be resized, deleted, moved, and edited.
To create PDF files, you can use more than 300 file types, just import them into the program and open in this way.
PDF can be converted to a variety of file formats, including EPUB, HTML, MS Office, etc.
Use comprehensive markup tools to annotate, comment, and share PDFs online.
Use password encryption, content editing, watermarks and secure digital signatures to protect documents.
PDFelement Pro is unparalleled as an affordable alternative to tools like Bluebeam Revu and Adobe Acrobat DC, which are expensive and often clunky because of how features have been added over the years. If you are looking for products with the same powerful features and capabilities at a reasonable price, PDFelement Pro is for you.