Document Management software assists in handling and organizing documents. Such software makes it possible to deal with thousands of software simultaneously without losing track of data and substantial information. People look for Document Management Software (DMS) to enhance file security, improve regulatory compliance, easier and quicker access to files, document backup and retrieve documents and never worry about documents and the information contained in them getting misplaced. This software replaces human effort and maximizes productivity. In this article, we shall learn about 10 free Document Management software for Windows and Mac. And PDFelement Pro is the best PC document management software available to users to manage and organize PDF documents.
Top 10 Free Document Management Software
SutiDMS is a document management software tool that allows you to  organize and manage pages and share  critical business content. SutiDMS is fully integrated, making it easy to collaborate with team members, manage project tasks, and make final approvals once a project is complete. You can work online anywhere, anytime with SutiDMS.
Key Features:
It provides unlimited tasks management and unlimited subtasks management.
This employee time management tool, has features for employee sign-ins, sign-outs, and break monitoring, allowing you to keep an accurate daily log of employee work time.
It has been integrated with SutiSign eSignature solution to simplify the approval process.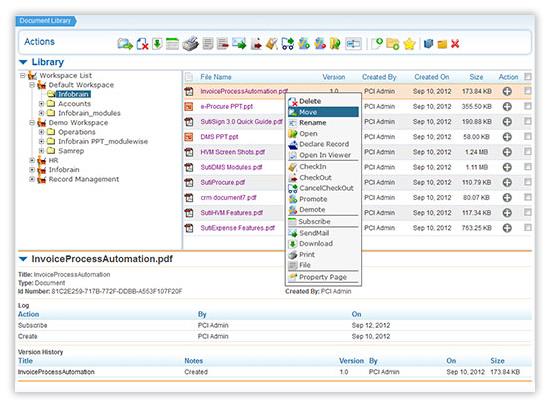 ---
OpenDocMan is an open-source DMS designed to centrally store and access documents. It has an easy-to-use interface that is very intuitive and attracts users. It has a Web-based deployment and is compatible with Windows and Mac. You may also use it as an App on iOS, Android, Windows, or Blackberry devices. The document management software can be the free downloaded full version.
Key Features:
Enables Application sharing and Application security.
Document storage and indexing are its key features
Supports multiple languages.
Workflow and e-mail management are also possible with OpenDocMan.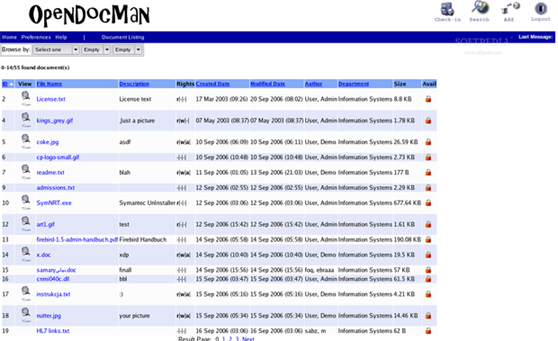 ---
LogicalDOC is an open-source document management software and a cross-platform Document Management Solution. It has cloud-based storage, which allows you to access your documents anywhere, anytime. It works towards saving your enterprise's time and enhance its efficiency and productivity. The open-source version allows users to use the features for free.
Key Features:
Its intuitive interface does not require any training to use it.
It automatically imports all business documents and stores them centrally.
Its central repository keeps all files safe and secure in one place.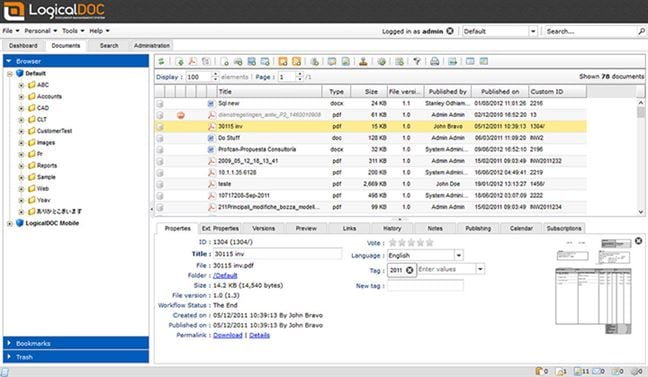 ---
OpenKM Document Management Software is developed to manage and organize all your digital files and documents to simplify your day-to-day work and improve your efficiency. It is an Enterprise Content Management software to store, track, edit, and manage e-documents.
Key Features:
It enables Metadata capture and classifies documents easily.
Reduces operational time by automated workflow execution.
Improves the quality of documents and keeps them secure.
Ensure a high degree of accuracy during document searches.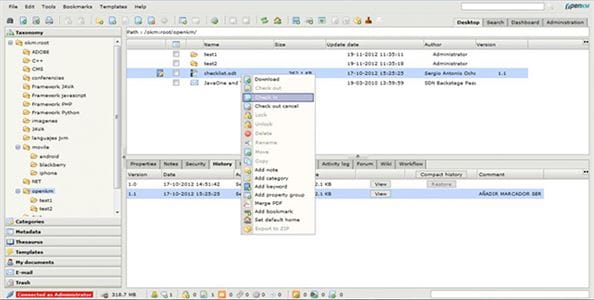 ---
Bitrix24 is an easy and free online document management software that has both a web and cloud deployment. It also gives users the flexibility to work on Android and iOS devices through its mobile App.
Key Features:
Classifies private and shared documents.
Easily collaborates documents of the same type.
It keeps the old and deleted Files in its record, along with the new and updated versions.
Document Lock is its key feature.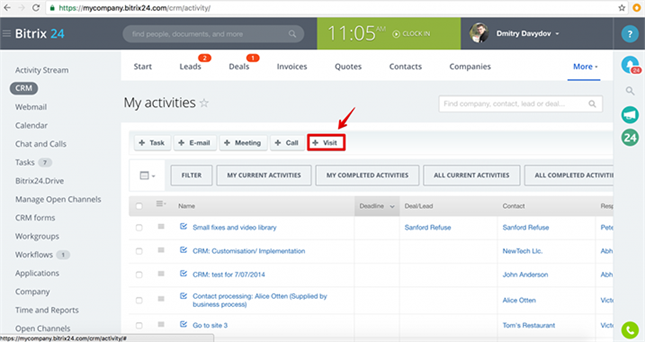 ---
M-Files makes document management an easy task by storing all files in a centralised place. It even has the capability to connect your existing folders and systems with smart, built-in AI technology that categorizes and secures your information automatically, without you having to lift a finger.
Key Features:
Organizes and structures content to manage documents.
Automate manual workflows and allow employees to work more productively.
All changes made to the documents are recorded and tracked.
This online document management software offers a clear and friendly user interface.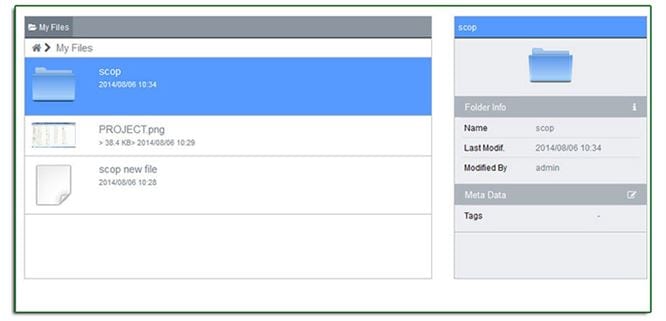 ---
OnlyOffice is a free personal document management software and the most powerful and feature-rich web Office Suite. It can edit documents online and manage them with its multifunctional services to cut costs and save time.
Key Features:
One-of-a-kind online document editor for HTML pages.
Real-time collaborations with teammates to work and manage documents together.
Enables creating presentations online.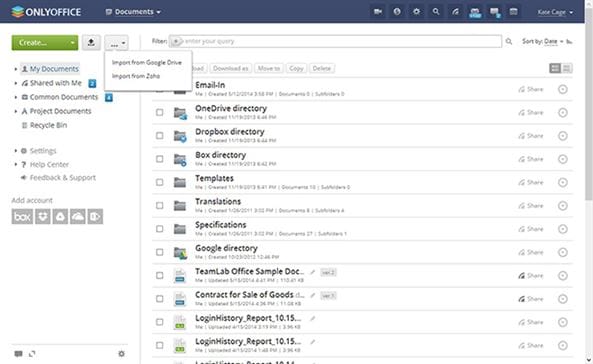 ---
FossLook is a fully loaded and very powerful e-document management tool that organizes all your files by doing away with paper documents and storing important information in its system.
Key Features:
Using FossLook will improve the efficiency and productivity of your organization and lead to better growth and financial results.
This software can be put to use depending on the needs of the enterprise.
It improves business and workflow automation.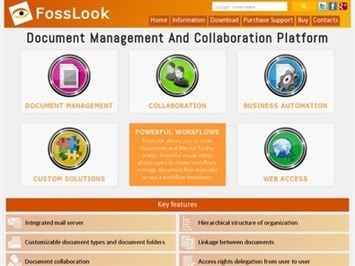 ---
MS SharePoint Online helps in managing knowledge, content, and documents quickly to enhance teamwork and make Document Management seem like an easy task. It includes file sharing and storage, content management, and external sharing.
Key Features:
Keeps documents and files secure by preventing hacking.
Collaborations with other Microsoft software enable smooth document management.
Users can find the information they're searching for in minutes through easy and efficient search functionality.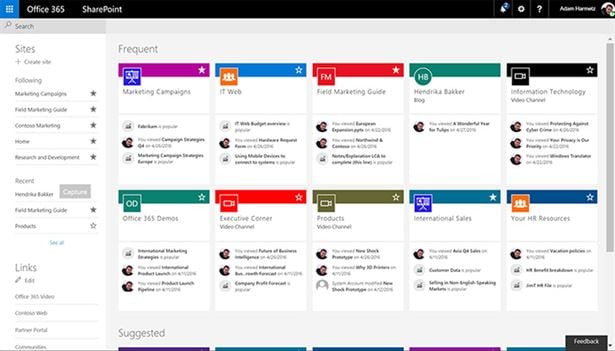 ---
Dropbox Business is another variant of Dropbox designed for business enterprises to enable them to share documents easily. Dropbox Business is great for making coworkers, employees, and teammates work together, share data instantly and work on it simultaneously. It works on Windows/Linux PC and Mac. It is also available as an App for Android, Windows, and iOS devices.
Key Features:
Allows users to tracks various activities.
Equipped to remotely wipe and transfer Files.
Unlimited Storage and file recovery tools.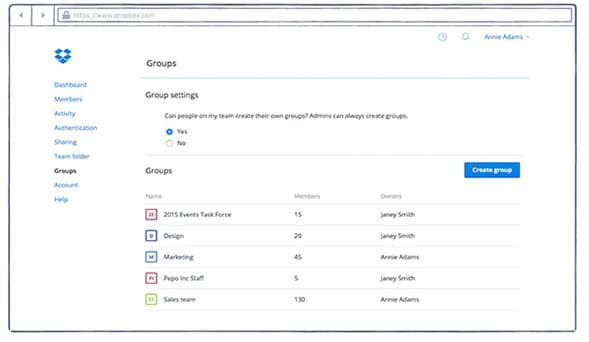 ---
PDFelement Pro - An Excellent PDF Document Management Software
PDFelement Pro is the best PC document management software available to users to manage and organize PDF documents. This software can be downloaded to your Windows PC or Mac. It can edit, convert and securely share PDF Files and also deal with scanned documents via OCR technology. This DMS manages PDF Files if well equipped to tackle all types of PDF documents.
Key features of This Document Manager Software:
Editing text, images, or pages individually or in a batch.
Highlighting, stamping, signing, crossing out, underlining, adding sticky notes, text boxes, etc., or freehand drawing on a PDF File is made possible.
Converting a PDF to any other file format, combining PDFs, or splitting them into different PDFs.
Filling an online PDF Form or creating one is an easy task with PDFelement Pro.
This free program provides password protection and secure sharing options, as well as watermark capabilities.
You can bookmark PDFs, as well as customize content and add bates numbering.