Struggling to calculate your taxes and monthly payments? Do you need help managing your finances? Then you need home accounting software to calculate your monthly payments and equities. Accounting software is useful for people who do not have a knack for numbers and would rather spend their time pursuing tasks more suited to their abilities. If you are an entrepreneur hoping to run a home business, you will need a tight handle on your finances. Simple home business accounting software is the perfect remedy; the software converts raw data into information, and save your time. Home and business accounting software is a great asset for maintaining tight control on their finances. Hence, we take a look at the best home and business accounting software for Macs and Windows.
Top 6 Home Accounting Software
1. PDFelement
PDFelement Pro is a PDF editor software is complementary software for best home business accounting software because it gives entrepreneurs more flexibility in managing their business. This PDF Editor designed to let you create, and edit PDF documents. With the help of this PDF editor you can easily create fillable PDF forms according to your own needs, you can also customize the calculate order and so on. PDFelement gives owners the power to edit, convert, OCR and secure PDF documents. The software is so comprehensive, it gives you the freedom to edit PDF documents like they were Word documents.
Key Features:
Fill, create PDF forms.
Extract data from PDF forms.
Customize caculation order.
Edit text, image, and pages.
Markup, annotate and stamp PDF documents.
Combine, convert, create and split PDF documents.
Pros:
Compatible with both Mac and Windows OS.
Best document managing software for accountant with editing capability for MS office tools such as Excel to maintain all law, account related data.
Support all PDF document related editing, form creating, data transferring facility with cost effective interface and password protected enhancement.
Cons: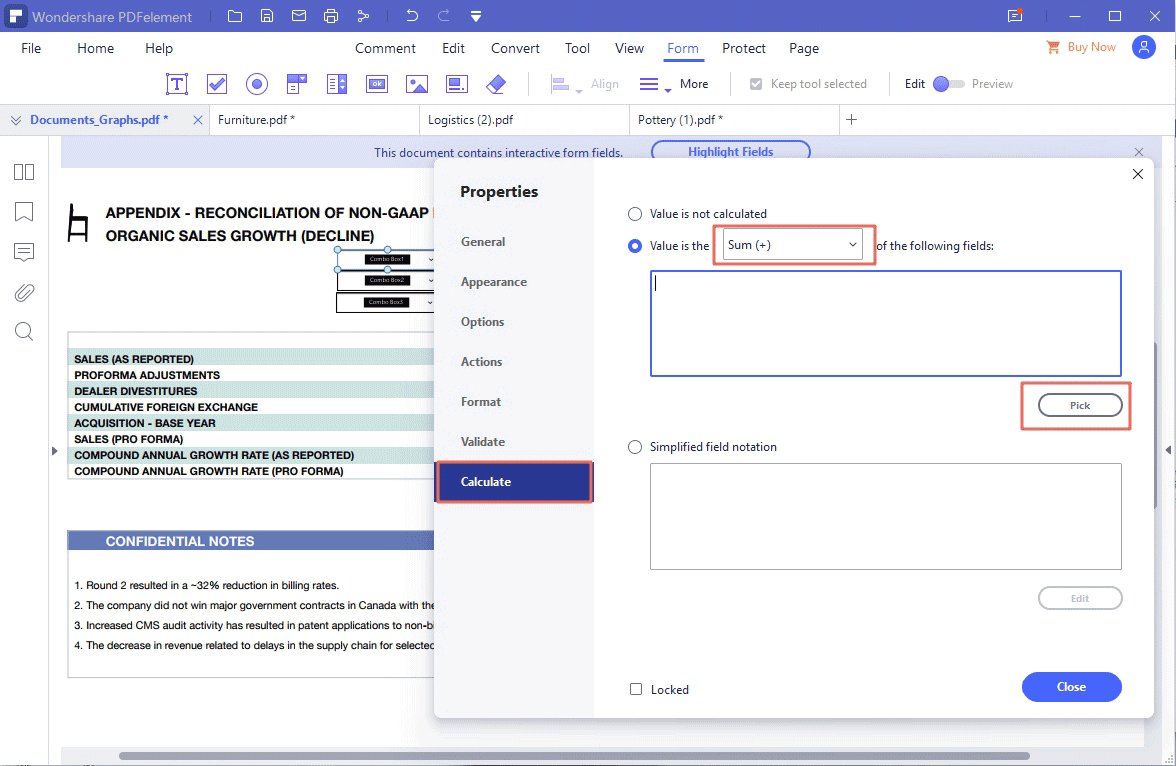 ---
2. Moneydance
Moneydance is best home accounting software for personal and home use. The software gives you an overview of your finances and lets do a number of functions, like online banking. Moneydance even features a companion app available on Android and iOS operating systems, so you can manage your finances wherever you might be. The user interface is slightly different compared to other accounting software, but easy to adapt and use. If you are interested in the software, but not yet willing to pay, then try it for yourself. You can use the software as a free trial lasting 90 days.
Key Features:
Automatically completes online transactions.
Track investments.
Create graphs and reports based on information.
Account register that calculates transactions automatically.
Set up a payment schedule.
Pros:
Manage finances on mobile devices.
Handles multiple currencies.
Works on Mac, Windows, and PC.
Excellent customer service support.
Cons:
The software is not free.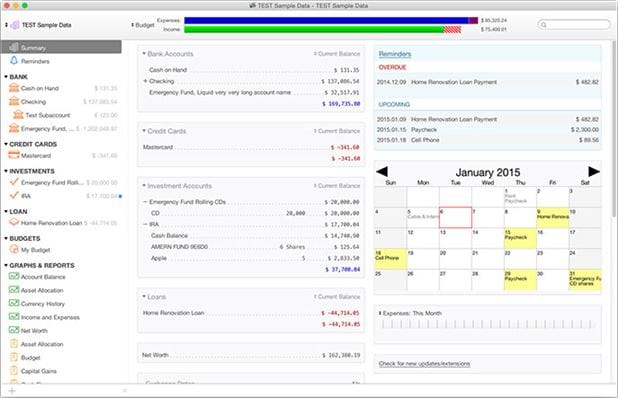 ---
3. GnuCash
Are you searching for a simple, free solution to your accounting woes? Then try GnuCash accounting software perfectly suited for both personal and business finance. GnuCash is an open source home business accounting software, available on several platforms. The software works on Windows, Mac, Linux, Android, FreeBSD and more. You can use the accounting software to handle transactions in different currencies.
Key Features:
Manage stock/mutual fund accounts.
Complete double entry accounting.
Schedule transactions.
Create graphs and reports.
Checkbook-style register.
Statement reconciliation
Pros:
Works for charities, smaller businesses, and personal.
Import documents from other sources.
Constantly updated and improved on.
Excellent customer support.
Cons:
The user interface is not attractive to new users.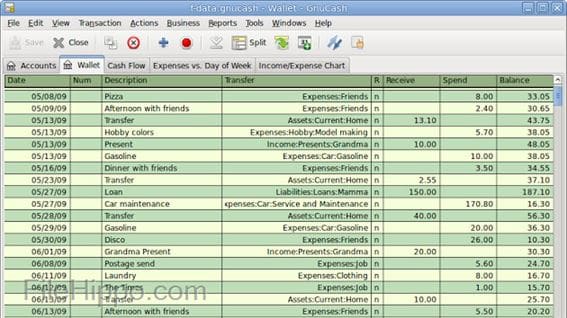 ---
4. QuickBooks
QuickBooks is a small home business accounting software for individuals and small businesses. It's web-based software which allows you to do perform many functions like tracking expenses, drafting invoices, and monitoring financial reports. QuickBooks is different from accounting software because of the freedom for customization. Business owners can customize templates by adding logos and filtering access to confidential information.
Key Features:
Reconcile credit card transactions.
Take photos of bills.
Share accounting books with others.
Connect with the bank to compile reports.
Money tracking.
Track bank deposits.
Complete payroll function
Pros:
Works on mobile devices.
Connects with banks and popular apps to sync data.
Different products to choose from.
Rich tutorial resources.
Lets multiple users access books
Cons: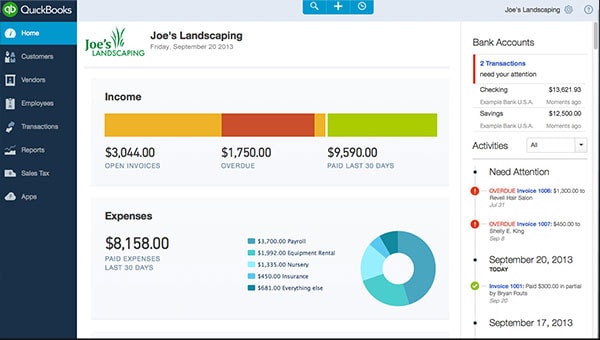 ---
5. Wave
Wave is home accounting software free created to help people organize their finances and manage their cash flow. Wave is unique because it's designed to keep financial management simple so that non-accountants can manage their finances effectively. The home accounting software comes free of charge, you do not have to pay to use its features. Wave is more than just, it works for managing business finances as well. Entrepreneurs can use the software to perform functions like invoicing and payroll. Wave is considered one of the best home office accounting software due to its rich feature set completely free.
Key Features:
Built-in invoicing system.
Instant collaboration.
Works with cloud to backup data.
256-bit encryption connection.
Generates automatic reports.
Works in several countries with different currencies.
Unlimited bank and credit card connections.
Pros:
Simple, intuitive interface design.
Several functions in one place.
Free online support.
Run multiple businesses on a single account.
Connects with PayPal.
Unlimited invoice and receipt scanning.
Cons:
No dedicated time-tracking features.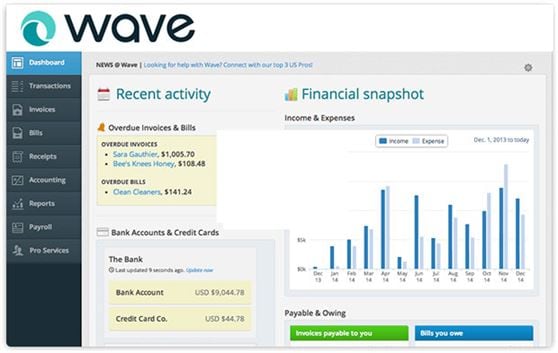 ---
6. Zoho Books
If you are looking for the best accounting software for home-based business, consider Zoho Books. The software is an online accounting software for budding entrepreneurs who need a clean, efficient way to manage their finances. Zoho Books lets you manage invoices, payrolls, and expenses efficiently to give you a clear track of your expenses. You can create powerful, detailed reports about cash flow and balance sheets.
Key Features:
Automated banking transactions.
Track your inventory in real time.
Integrates different software like PayPal.
The track, categorize bill payments.
Collaborate with others through Client Portal
Pros:
Suited for businesses across different industries.
Winner of several awards and accolades.
Manage multiple projects easily.
Choose from several invoice templates.
Time tracking.
Cons:
Zoho Books is not free, it must be paid for.