PDQ deploy is a deployment tool that permits the system administrators to stealthily install an application or patch into many Windows PCs at the same time. In this article, you will learn how to deploy software with PDQ deploy. And we also introduce an alternative choice: PDFelement Pro - the best PDF software to deploy for business. With the help of this PDF tool you can easily manage PDF documents.
Part 1. What is PDQ Deploy?
PDQ Deploy is a tool for software deployment which permits the system administrators to stealthily install an application or patch into many Windows PCs at the same time. PDQ Deploy is quite time saving and it minimizes the efforts by facilitating system administrators to install, update, patch-up or make any changes across the network very easily – without the need of remote logins or hopping from one computer to the other computer. Hence your time and energy both are saved and work is done with more ease and comfort.
Using PDQ Deploy, system administrators will be able to develop customized deployment packages and use them on any computer using their network. For the sake of suitability and user-friendliness, administrators can also make use of around 150 instantly usable packages of common and free software or applications from the PDQ Deploy Package Library. All the pre-built packages are properly updated and periodically tested to guarantee quiet placement, eradication of needless add-ons and removal of auto-updates wherever possible. How to deploy software with PDQ deploy? If you have any doubt in PDQ deploy – Please read the article completely!
---
Part 2. How to Deploy Software with PDQ Deploy
A deployment tool is very important in all type of organisation. The PDQ Deploy enterprise is used for analyzing the deployment. At workstation, it gives the patches and it supports the EXE and MSI file. It does the process without notifying the target device. The PDQ is famous in all organisations from top to bottom. You have PDQ deploy free versions and paid versions too. Following is the step by step process of deploying software with PDQ Deploy.
Step 1. Create New PDQ Package
The first step will be to select the "New Package" from File and give your own name to the project. Now set the "Copy Mode" to take the option suitable for installation of large magnitude. Else, you can simply just select the pre-built packages from the "Package Library" where all the pre-created packages are stored for reference.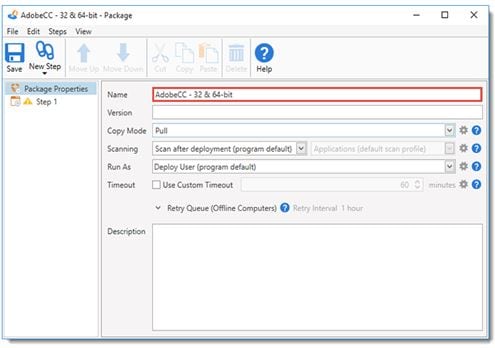 Step 2. Package Selection
Under "Package Library" you will see all available packages, you can select the most suitable one which you wish to deploy. After selecting the same, click on "Import Selected" icon to bring in the package you have chosen to deploy. Now set the needed options in the pop-up screen.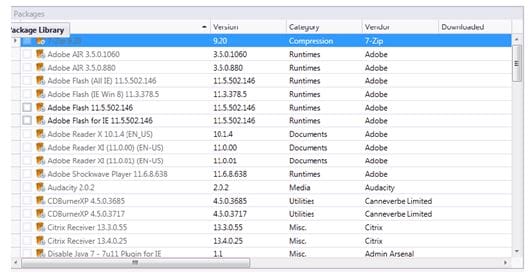 Step 3. Software Deployment
In the next dialog box you need to enter the name for the deployment after that you will be given five option under "choose the target option", as per the need select any one. After that simply select "Deploy Now" option to initiate the process of deployment of PDQ Deploy download.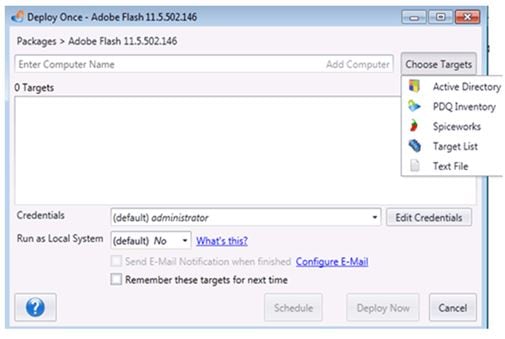 Note: Just 3 steps and the software deployment are over. It is that simple.
The Pros and Cons of PDQ Deploy
Just like any software tool, PDQ Deploy enterprise also has a set of advantages and disadvantages of its own. Some of them are listed as under:
Pros
It offers a wide range of inbuilt applications which are ready to be deployed; thus making it quite time and effort saving.
It has a unique ability to delineate the targets from different AD groups.
The package of PDQ Deploy free is very adaptive in nature.
Cons
Although it saves a lot of time of the administrator, the initial set up process is quite time consuming.
It can bite your pocket. And the free version has a very restricted functionality.
---
Part 3. Top 3 Best PDQ Deploy Alternative
It is really worthy to employ a good tool for the deployment purpose, though you will find a long list when your try to search out for, but not all really that must optimized as required by your organization. Thus we have taken the initiative to include the following Top 3 best alternatives to PDQ Deploy. Here we go with details:
1. Ninite
Ninite is indeed the easiest way to install any software on your device. It just needs 2 simple steps for installing apps or software - select the apps, and run the installer.
You can pick from the assorted apps present on the software as per your requirement, and Ninite installer will easily and automatically download and install the selected apps simultaneously on your device. Ninite has the unique capability to automatically reject the browser toolbars and other pre-packaged castoffs and junks. You can say it as the alternative to PDQ Deploy Free to enhance the minor feature. Ninite is compatible with Windows 10, 8.x, 7, Vista, XP Service Pack 3, and other corresponding Server versions.
Steps to deploy applications:
Step 1. You must ensure the full system back and the folder has to be creating in name of "LT Share". LTSHARE\Transfer\Scripts\MP\Ninite.
Step 2. Download the plugin installer utility and enter the credentials of LabTech as the root admin authority.
Step 3. Choose the Ninite solution from the list of plugin. Tap the button "Installer selected Plugin (S)". You will get the prompt window and choose "Yes".
Step 4. Installation takes place and after the process gets over you will get the confirmation command to restart it. Click "OK".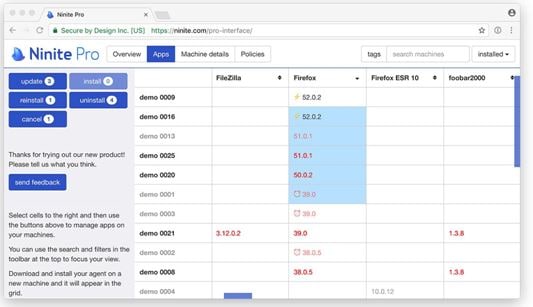 ---
2. VBDeploy
VBDeploy enables you to install multiple applications and programs on your computer without any breaks, and it also allows batch installation. It has an extensive support for most of the types of installers which is alternative to PDQ Deploy free.
Following are the types of files supported by VBDeploy:
Windows Installer (.MSI)
Windows Update (.MSU)
Executable Installer (.EXE)
Wise
Wix
NSIS
Inno
Custom
Batch (.BAT and .CMD), to name a few.
Steps to deploy applications:
Step 1. Install the VBDeploy network installer.
Step 2. You will get the VBDeploy runner window and enter the command line as described above.
Step 3. After entering the command line, you will get another window "VBDeploy Creator". There you can modify the creator command as per your requirement.
Step 4. Save and configure the creator. You can modify the creator settings such as simple mode or advanced mode.
Step 5. Now, the installer will be placed inside the folder automatically.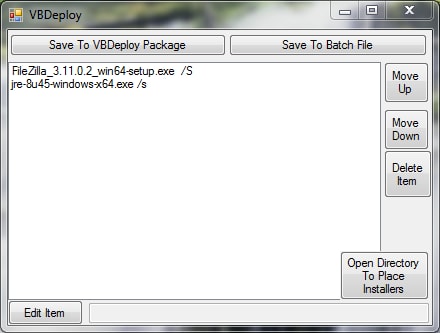 ---
3. Chocolatey NuGet
Chocolatey NuGet is actually a package manager particularly for Windows. It is somewhat like apt-get, but totally targeted towards Windows. It is built above the NuGet command line and the NuGet infrastructure. Talking about the updates, it permits you to update almost everything on your computer by following some very simple steps. Chocolatey can process complete software deployments in less than 10 seconds! It is believed to be the fastest software deployment tool in the market. It comes under the process of PDQ Deploy alternative.
Steps to deploy applications:
Step 1. You have an option to access the account as administrative or non-admin.
Step 2. In your command shell, enter the file cmd.exe or powershell.exe.
Step 3. Now in your shell, paste the copied content and tap "Enter".
Step 4. Wait for few minutes to run the command line.
Step 5. If you didn't get the error then your process is correct. Type choco – or choco.
The entire process PDQ Deploy download is very easy and no need of awareness on technologies. The steps provided above are solidly proven by PDQ Deploy enterprise.
---
Part 4. The Best PDF Software to Deploy for Business
There is a PDF software deploy tool which is better than the best! PDFelement Pro has fantastic features which makes PDF editing process and conversion task quite simple. PDFelement Pro with which you can edit the PDF document entirely as well embed additional things such as links, images and texts. Further it allows to create the new PDF files which are based on already existed documents by inserting additional new pages, or deleting useless pages, further you can remove unwanted pages also.
Staring from simple editing tasks to converting PDF files to other formats – PDFelement Pro is capable of everything. Besides editing your PDF files, it has a few great features with which you can do a lot more to your PDF file.
Key features of PDFelement Pro:
Having control to the PDF document.
Beside editing already existed PDF file, you can create the new PDF files also.
Here you can Convert the PDF files to different formats like MS Word, PPT , MS Excel, HTML, ePUB, PNG, text, RTF, just to name a few.
You can Merge or split your PDF documents.
Option for editing the objects on the PDF file, resizing images, or charts, etc.
You can also search for the text to edit from the large PDF documents.
OCR function made you to search text, or copy to the scanned PDF file also.
Set password protection and digital signatures on your PDF documents.