PDF was designed for easy sharing of documents. Long before PDF was created sharing documents with others often resulted in problems. Available document formats were not designed for document sharing. For example, if you created a word document where you send it somewhere else who used a different version of Microsoft word the document will get distorted. This is because the document relied on the program opening it for its structure. The PDFs are quite popular these days thanks to the fact that they don't change your document format irrespective of the program you use to read them. Furthermore, the internet and more so email has made sharing documents easy. So how to send PDF to email to some else? This article will give you a step by step guide on how to email a PDF file irrespective of the size of the file and the system you are using.
How to Send Email to PDF with PDFelement Pro
PDFelement Pro is a powerful tool for creating and editing PDF files. It is also great when you want to share PDF files with your friends. If you want to send PDF files to friends and acquaintances then this tool will come in handy. If your PDF file is too large, you will need the PDFelement Pro to compress it and if the file you want to send is not a PDF you can use the same tool to convert it to PDF.
Method 1: Send PDF to Email as an Attachment
The easiest way to send a PDF file is to attach it to an email. This way you send your PDF file just like you will send any other document format. It is easy and fast and does not need many steps. If you have never sent a PDF file as an email attachment then follow these steps:
Step 1: Download and install the PDFelement Pro Program
Download this tool, click to install the tool by following the on-screen directions.
Step 2: Attach your PDF file to an email
Now open your PDF file using the PDFelement Pro. Once the file is open click 'Share' then 'Email' and your file will automatically be attached to your email on your default browser ready for sending.

Step 3: Send PDF to email
Now add email address of the person you want to send the file to and then add the title of the email you are sending. Then click 'Send' your file will then be sent.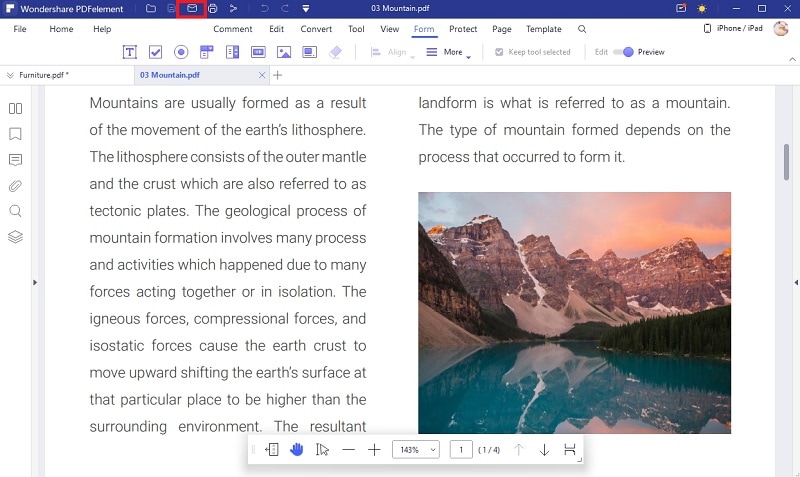 ---
Method 2: How to Email Files as PDF Attachments
Sometimes you are required to prepare a report for the trip you took or even some filed work you did and you have to add photos, tables, and figures showing clearly what you did. This means that you will end up with a non-PDF file such as an excel file, a word document or a PowerPoint presentation that you have to send to your boss via the email. The problem with sending through mail is that your file may get distorted because the recipient by be having a different PC operating system to yours. In such a case you may want to know how to attach a PDF to an email without experiencing any problems. To do so follow these steps:
Step 1: Download and install the tool
First, you will need to download the PDFelement Pro and then install it on your computer. Now you have to register as required and then launch it.
Step 2: Create a PDF File
The next important step is to turn your file into a PDF file. To do so, simply click the 'Create PDF' button and then select the 'Choose File' icon. In the window that opens choose the file you want to convert to PDF on your computer then click 'Open'. This will take a few seconds to convert it to a PDF file that you can now send PDF to email.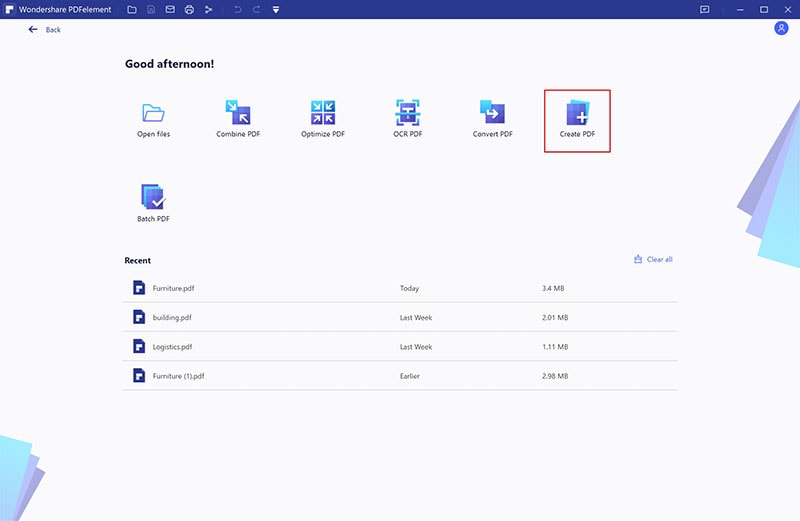 Step 3: Send PDF to email
Here simply click 'Share' on the PDFelement Pro interface and then select 'Email'. The file will automatically be attached to your email from where you will add the address of the recipient, the title of the email and a message to the recipient and then click 'Send' to have it sent.